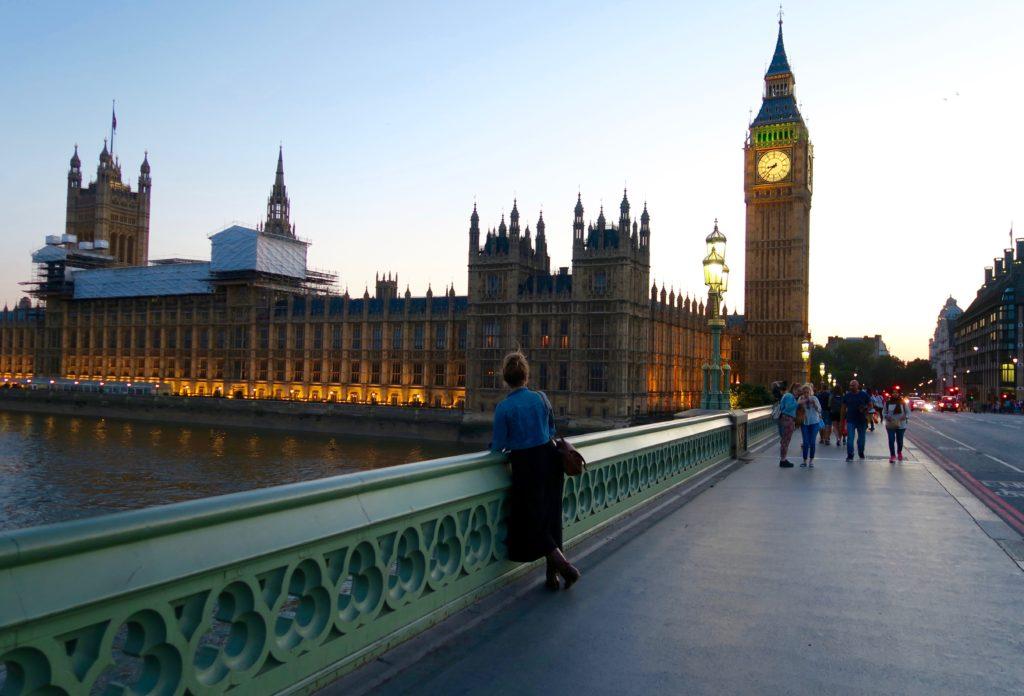 At Big Ben
I have a lot of memories of London from before I lived here. In one, I'm wearing Spice Girl shoes, you know, those platform trainers that all of us wore in 1997. I had bought them on Oxford Street, at Miss Selfridges, my new favourite store. It was my second time in England and I was there on a school holiday; my first visit, in fact my very first visit to another continent, was to London and Windsor for a Christmas holiday with my family only six months before. My sister and I had gone to see Spice World in Convent Garden that holiday, and let me tell you – the Spice Girls were a big deal in London at the time. Anyway, in this memory, I'm on the tube, wearing my Spice Girls shoes, being very thirteen, when I stepped on a woman's foot.
"Watch it!" she hissed, and I remember thinking she was extra scary because she had a British accent.
In another memory, I'm staying at a big, crowded hostel smack dab in the most touristy part of the city. By this time I had been to London a few times, passing through on my European backpacking adventures over the years. I was in the city in order to interview for a Japanese company, to see if I would be a capable English teacher. As I was living in Edinburgh at the time, my closest interview point was London. I remember looking out the window at the grey skies, feeling very small, very eager to get home to Scotland.
Full confession: I didn't like London then. I never really did, to be honest – it didn't click with me, and it felt overwhelming and drab and like everyone was in a hurry. It was exciting to be there as a tourist and see Big Ben and Trafalgar Square and the British Museum, but when I was given the opportunity to live there in 2008, I balked.
"No way, I really don't want to live in London," I told my then-boyfriend. A Kiwi, his Canadian visas were up, and he decided to take advantage of his UK passport and live somewhere in the British Isles. I was going to follow him, using Europe as my base for a year before we got jobs in Asia. "But what about Edinburgh?"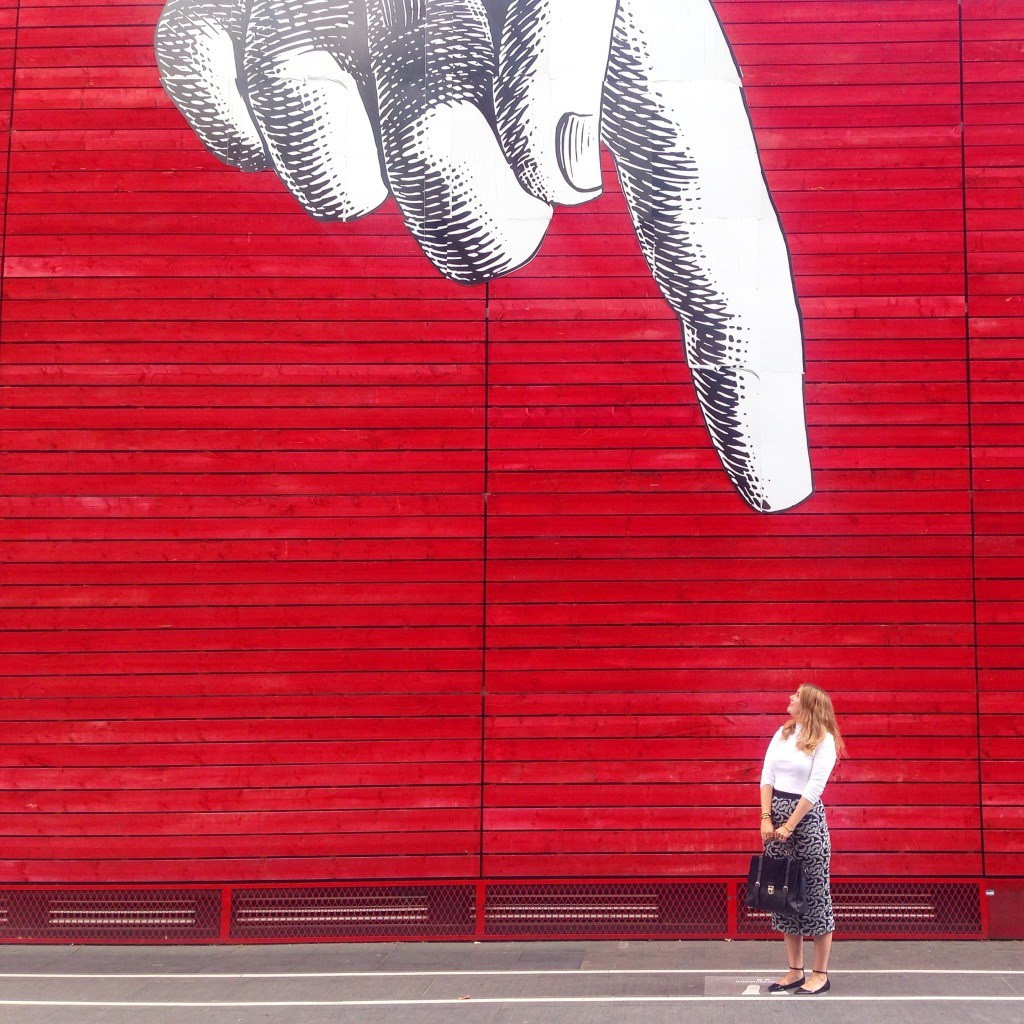 On the South Bank
Fast forward five years. I had indeed taken that job in Japan, and lived there for just over two years. After that came a year travelling around Russia, India, Southeast Asia, Australia, and North America. Following that came almost a year of backpacking through Central and South America. And somewhere along the way, with my bank account dwindling and those "what am I doing with my life" thoughts growing ever stronger, I started to look into master's degrees.
I have always valued education as much (OK, fine, almost just as much) as I value travel. And I knew, just as strongly as I knew I would travel, that one day I would seek higher education and return to university. I had graduated from Dalhousie University in Nova Scotia in 2006 after completing a BAH in English, and I missed formal education. I love learning and reading things I wouldn't normally choose for myself. I love being introduced to things I didn't know existed. I love having discussions with people about books and writing. But I hit a roadblock in my search for the perfect master's program, because a) I am not a creative fiction writer or screenwriter and b) I'm not a journalist. I didn't want to do another literature program, journalism didn't fit, and I have very limited desire to write fiction. Basically, I wanted to get a master's degree in blogging, and I was convinced that existed somewhere, somehow. After what felt like months of searching – I considered programs in Melbourne, Amsterdam, and just about everywhere in between – I found a program at City University London.
"London?" I remember my mum asking me. "Would you want to live in London?"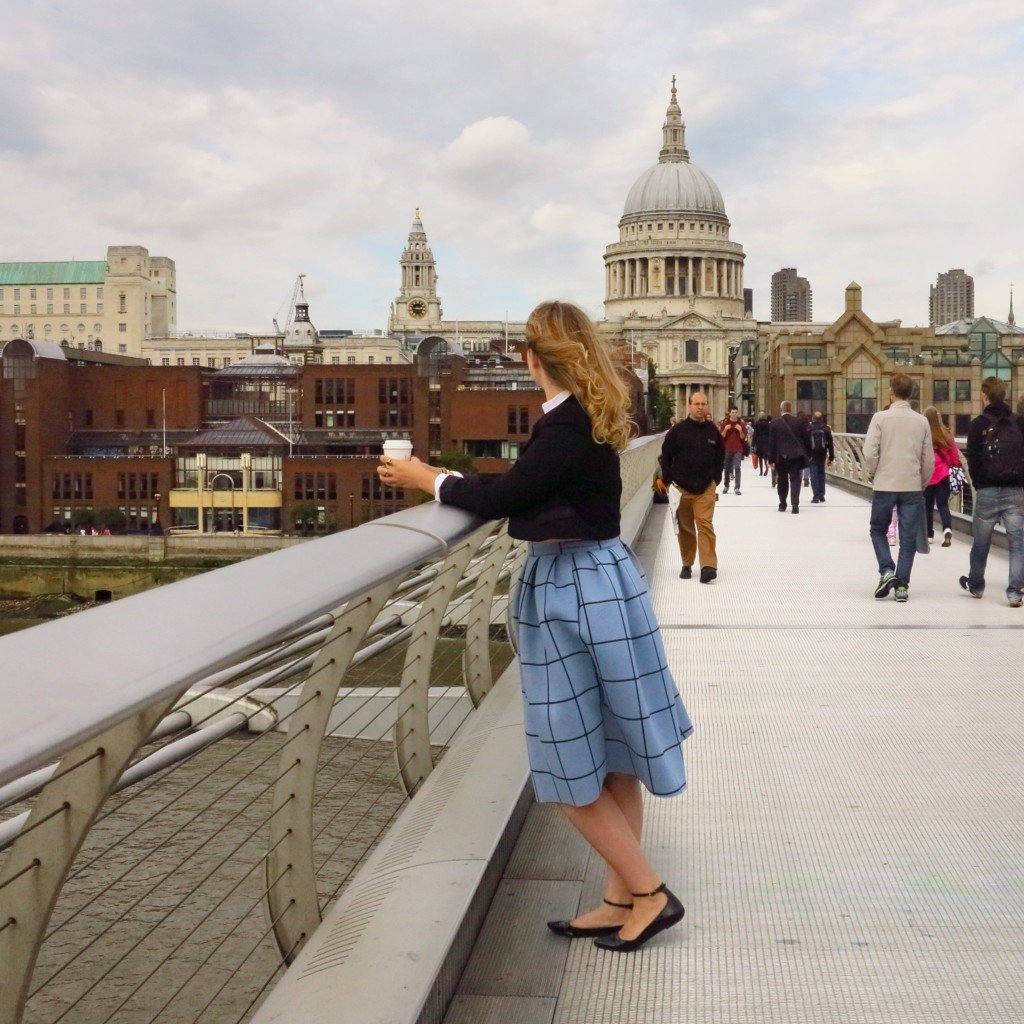 With St. Paul's Cathedral
I wasn't totally sure. All I knew was that the program was perfect for me – a Master of Arts in Creative Non-Fiction. So I could keep writing my rambling, naval-gazing blog posts, but, like, get a degree at the end of it. Sold.
I pulled together a portfolio from some writing I'd done for this blog and for other publications. I nervously sent away my application from Canada – expedited, of course – and then went on holiday to Arizona with my dad. Only a week after my application was sent away, I got an email from the university that they'd like to speak with me. I was elated – it was the only program I'd applied for. While they offered to speak to me on the phone, I thought I may as well go big or go home… and so I flew to London instead. I landed at Heathrow airport with only one thought in my mind… what if I still don't like London?
And, to be honest, those first few weeks, I truly wasn't sure what I felt about the city. I was staying with a friend who worked in the financial industry, so I wasn't really into his scene of swanky cocktails and expensive dinners in Soho. But one Saturday morning, we took the tube to Broadway Market, a small food market in East London, found on Regent's Canal.
"I like it here," I remember thinking. East London just felt right to me. I'd heard all the jokes about Hackney hipsters, but I couldn't help but love all the coffeeshops, the graffiti, and the creative vibe I felt, something I never personally felt when I was in Chelsea or Kensington or anywhere west.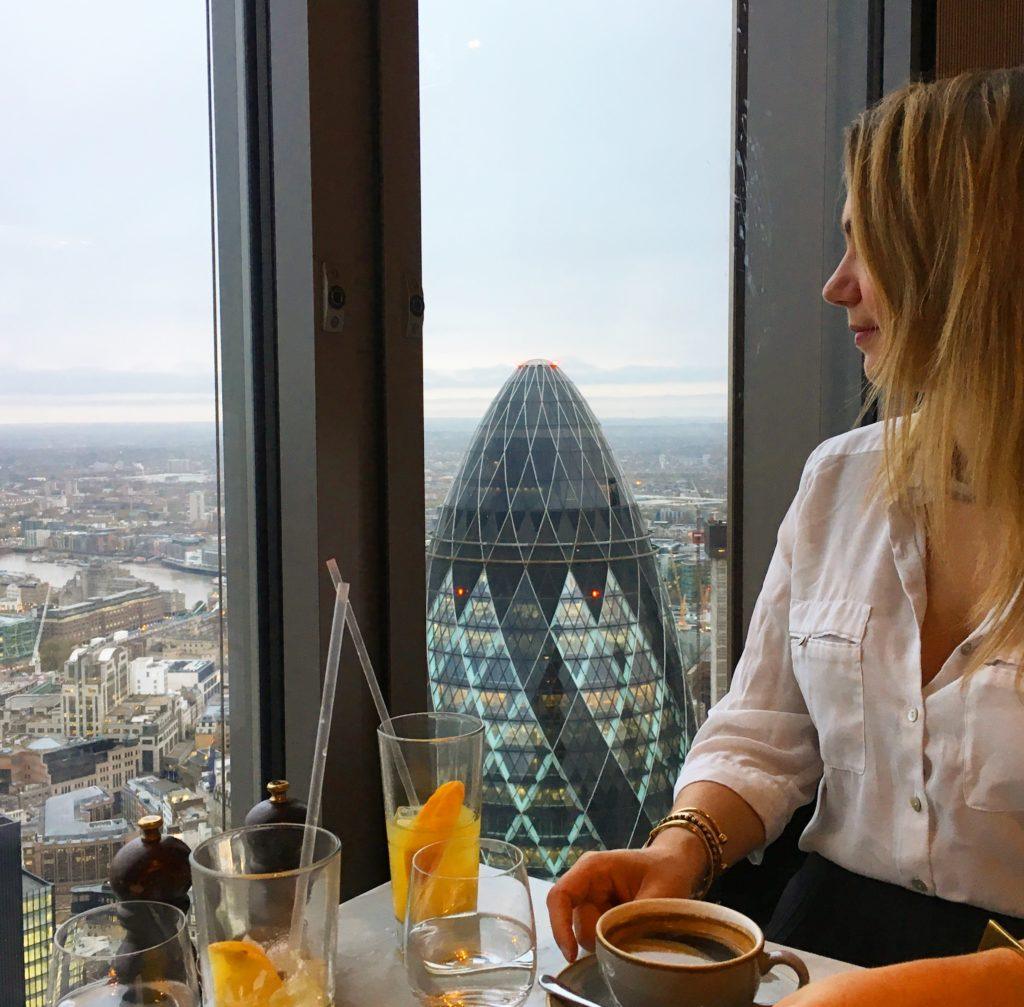 With the Gherkin 
And so, on August 28th, 2013, I officially moved to London to start my degree, quickly making my base in the east of the city. And, almost instantly, as soon as I knew it was going to be my home for a while, I fell head over heels in love. I think part of me was scared to take that leap before – I had been moving around for so long, living in so many different cities, that I was frightened to show my hand. I knew, in any of those other places, that I could easily pack up and move on. London was different; I had a two-year degree to think about, so I knew I was going to be around for at least a little bit. Once I felt like I could relax – there was no frantic middle-of-the-night google searches for my next place to travel to, or next place to live – I could finally let go, and learn to love a place enough to want to stay.
I've written about why I love London before – I wrote about it after less than a month of officially living here and again, a year later, when I wrote about why it feels like home. I even wrote about why settling makes sense. I love London for the sheer fact that you will never run out of interesting things to do. That you will never run out of people to meet. That you will never run out of surprises, or excitement, or laughter, or cheap flights abroad. So when I finished my degree in 2015, graduating with an MA in Creative Non-Fiction Writing, I knew that my time in London wasn't over. I applied for the Graduate Entrepreneur visa through my university, citing this blog as my growing business, and I was granted another year to live in London and develop my freelance writing and blogging career. It's quite difficult to live in the UK as a Canadian if you're over 30, you're self-employed, and you have zero chances for snagging a British husband anytime soon, so I feel pretty fortunate that this has all worked out for me, visa-wise.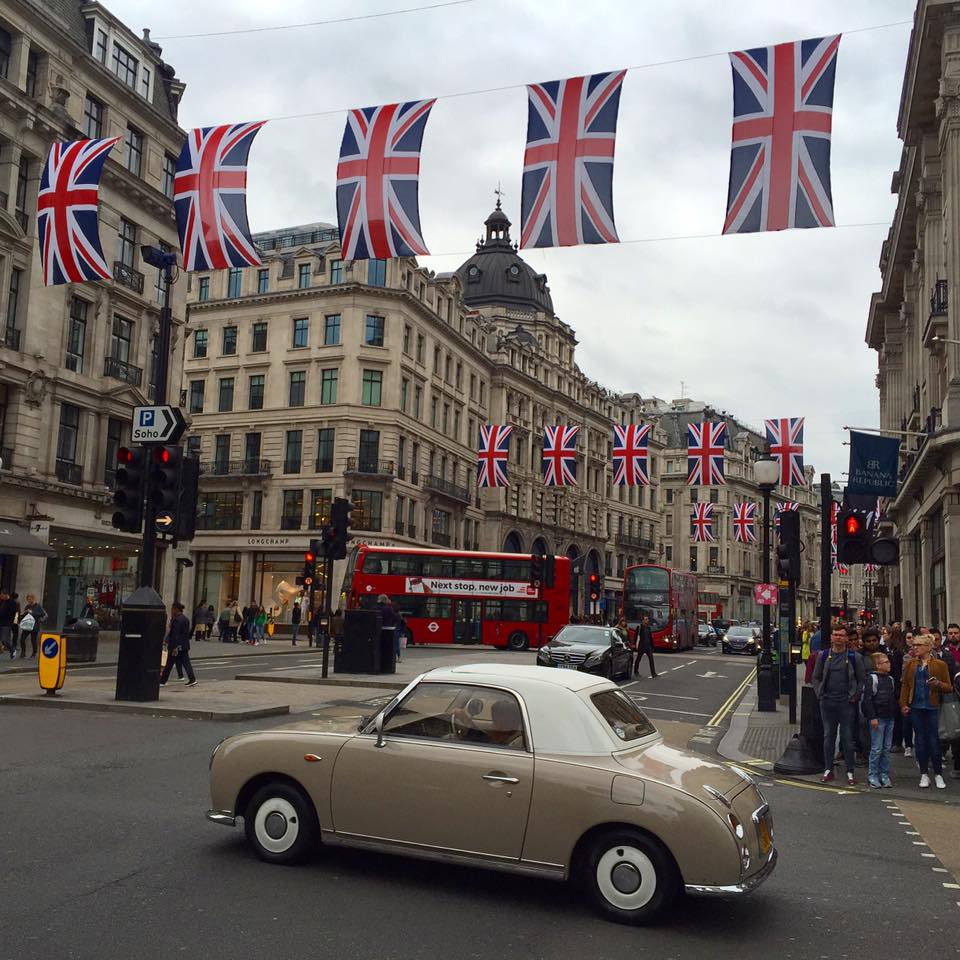 On Regent Street
But oh, how fast a year goes. All sorts of thoughts started playing up: do I leave London on a high, now that I've worked hard and saved some money? Do I leave now and try to make a life on the road again, because as much as I love London, my wanderlust is still all-consuming, never satiated, and oh my God, what if I could base myself in Argentina/Italy/Thailand/Mexico for a little while? These thoughts were exacerbated last summer by the fact that I was stressed about a variety of things, a classic case of when-it-rains-it-pours. Would life be easier if I travelled again, or if I moved somewhere else?
But as much as I want to go out and explore the world again – to live nomadically, to travel long and slow – the fact of the matter is that London and I aren't done yet. There's still so much to do and see here, there's still so much to discover and explore. This doesn't even account for the fact that I love my flat, I love my East London neighbourhood, I love my job, and I love all of the incredible friends I've made in this city over the past three and a half years. Eventually, I will run out of visa options and have to leave (my current situation is that I'm applying for an extension on my current visa). But for now, given the opportunity to continue living in London, I'm choosing to stay for another year. Part of the reason I went down to part-time with work, other than wanting to travel more and write more, was so that I could spend more time exploring the city, to give it as much time as it deserves.
Confronted with the thought of actually leaving – of actually packing up and saying goodbye – my heart dropped. I'm not ready to leave. London and I are going into our fourth year together, the longest I've ever lived in one place in my adult life. All these years later, I still get a rush out of saying I'm a Londoner, of walking its crooked cobblestoned streets, of looking out at the city skyline and realising I am lucky enough to call it home.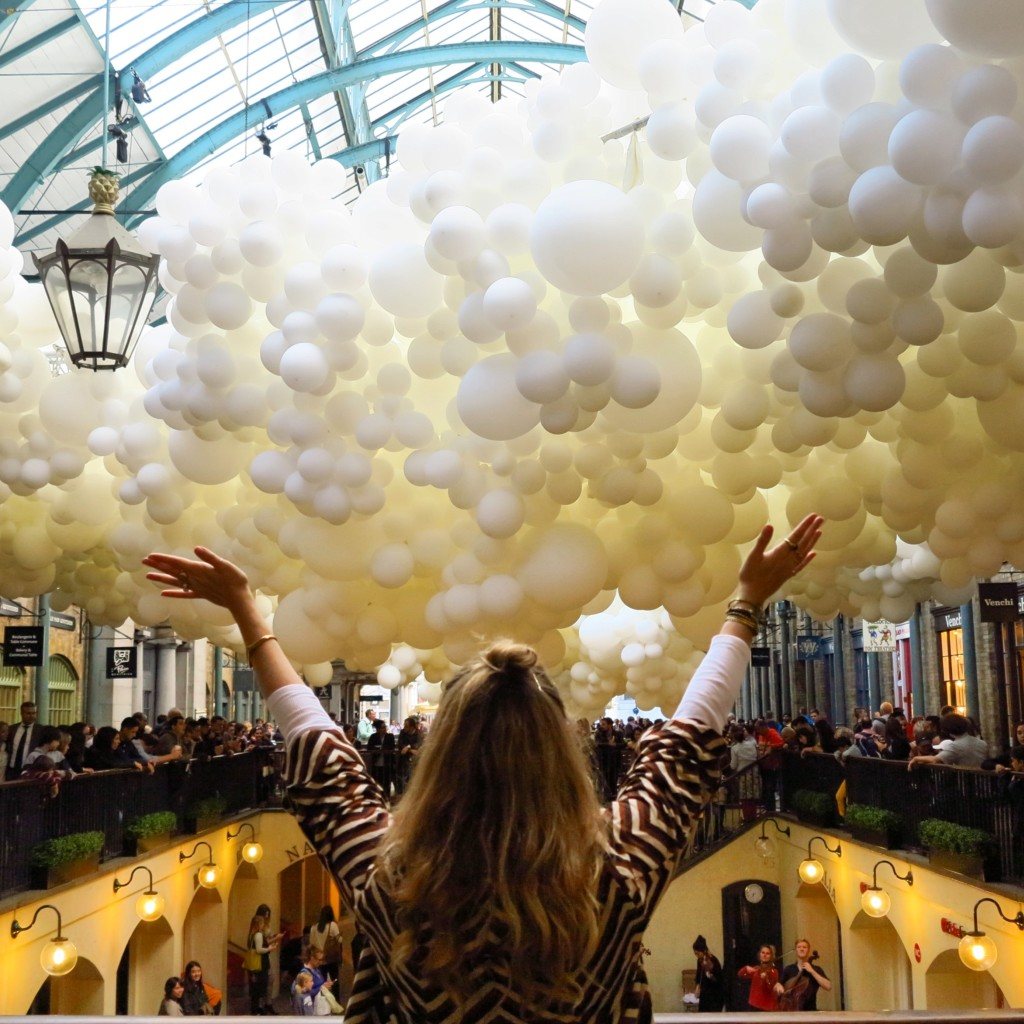 At Covent Garden
I have another memory of London, a more recent one. On New Year's Eve 2015, I made the choice to stay in and spend the night on my own. At midnight, I climbed the stairs to the roof of my building; there's a communal garden up there, with lots of plants and benches, and it overlooks the city (yes, it's the reason I went £200 over my monthly rent budget). I stood there with a glass of Prosecco, knowing the entire city was on bated breath, waiting for the clock to strike twelve. And when it did, the sky exploded into colour and light; standing on a bench, I could see fireworks all around me, a 360 degree celebration of shouts and cheers and jubilation. I watched the fireworks at Westminster – I could see them all the way from my flat – and goddamn it, if it wasn't one of the happiest I've ever felt in my life.
All those years ago, if you had told me one day I'd not only be living in London, but that I'd love living in London, I would have laughed. But now I know, that no matter where I live in the future or wherever life takes me, I will always love this city – it has welcomed me, it has made me feel at home, and, more than anything, it has made me feel happy. It has made me feel alive. It has made me feel loved in return.
Here's to another year in this place I call home. To London, my love.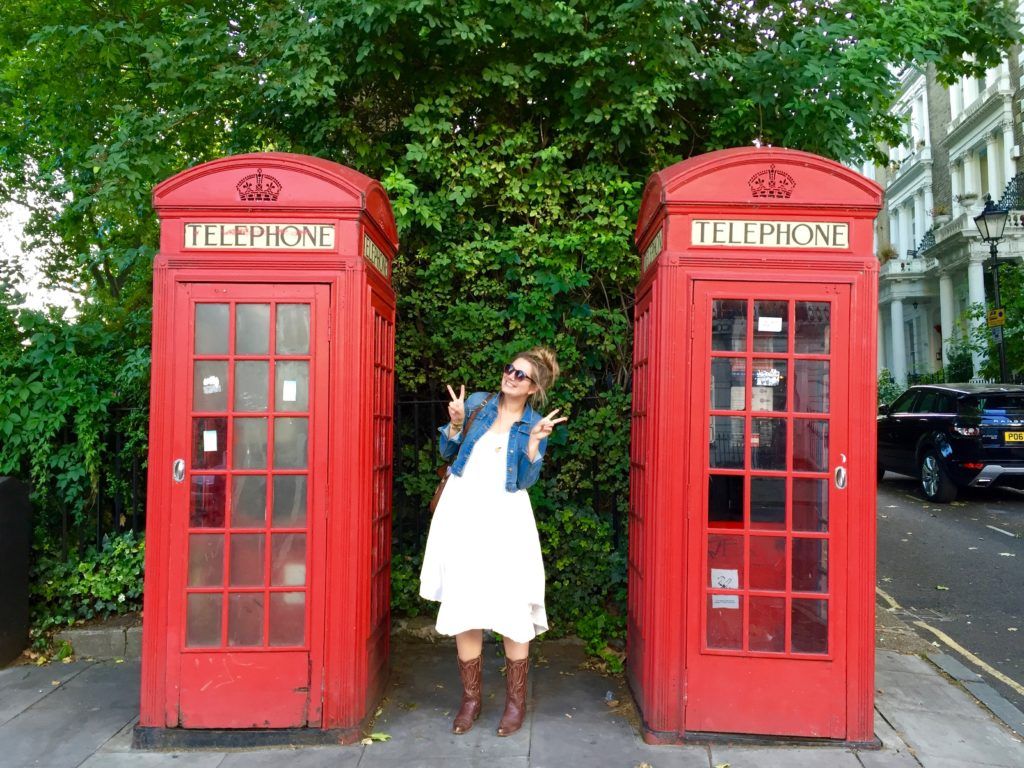 In Primrose Hill
For more blog posts on London, check out the Best of London series as well as the London tag. 
Have you ever been to London/lived in London? What do you think of it? Do you have a city you really love?