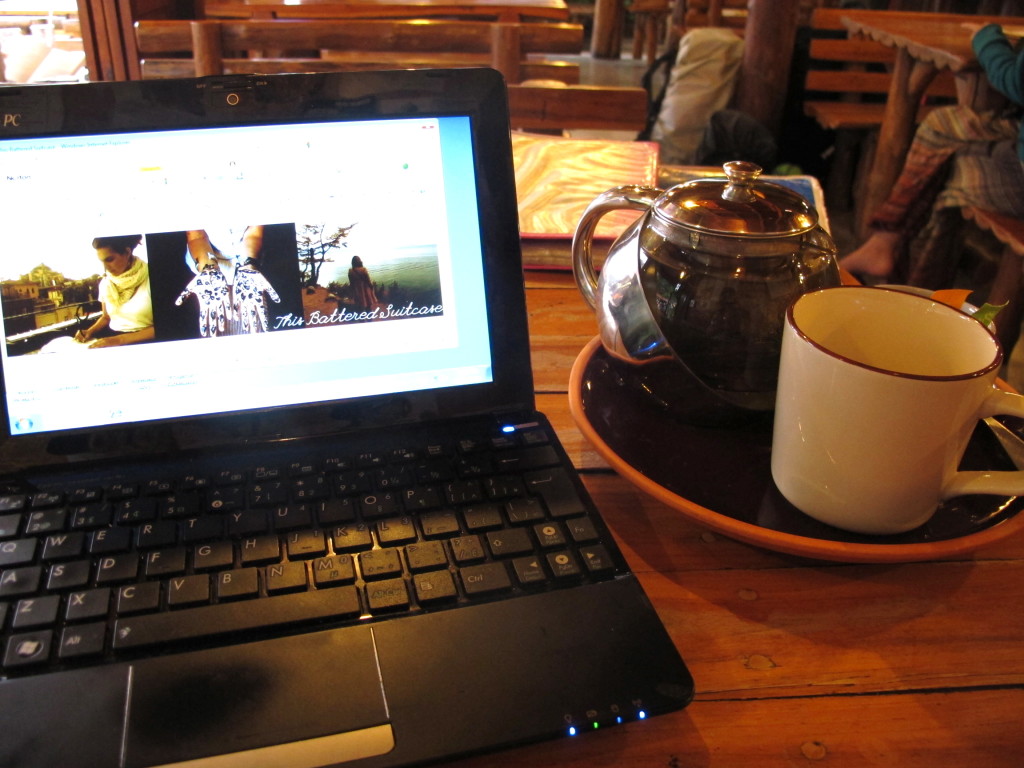 One of the original blog designs (2011)
OK, so I feel like I just wrote the post discussing the five year anniversary of this blog, but nope, that was already a year ago. On April 12th, 2010, exactly six years and one day ago, I posted the first of many blog posts on This Battered Suitcase. I wasn't new to blogging, however – I had been writing on a Livejournal account for seven years before that, which brings my blogging total to 13 years. It's been one hell of a ride, and it's nowhere near over – I love blogging and being a part of the blogging community more than ever. And because some of you have been reading for a while (some even since Livejournal!), and because I know that many things I've gotten out of blogging have been because of readers like you, I wanted to talk about the future of This Battered Suitcase as transparently and as honestly as I hope I've always been. For more on my history with blogging, check out what I wrote on the four year anniversary of the blog; much of what I say there still totally stands. I feel kind of silly writing these posts, but it also feels silly to let the anniversary slide when it's something that takes up such a huge part of my life.
As I've mentioned many times before, I credit blogging with everything in my life: my job (which I got through networking at a travel blogging event), my master's degree (which I applied for after I learned I loved writing through blogging), my friends (many of whom I've met through blogging), my book (as I took many stories from this blog and expanded them into chapters of a cohesive whole), and now, more recently, some of my travels (through opportunities with tourism boards and travel companies). I think a lot of people believe that I'm a full-time or professional blogger, but that is not the case; while this blog is my passion, I do a lot of other things, and I rarely make any money through this site (more on that in a second). I work full-time, and I travel when I have the time and the money to do so, much like the average person.
As some of you may know, I was previously living in London on a student visa with my master's degree. Thanks to this blog, I was able to apply for and was subsequently granted a Graduate Entrepreneur visa, proving that I had a solid business and that I was able to earn revenue either directly or indirectly from it. So again, thanks to this blog, I am able to live in London for at least another year. But that also means that I have to act accordingly, as I am monitored regularly and have meetings with mentors every month to discuss how the business is growing – it's not necessarily enough to say that I'm posting on my blog.
And while I love the creative aspect of blogging the most, and that is what will forever drive me to blog, I am indeed interested in the business aspects as well, and how I could eventually grow what I've been working on for 13 years into something self-sustaining. My dream is to have the ability to be settled somewhere for most of the year, but then travel for a few months every year, too. I can see a future in that through this blog and through the opportunities that are starting to come my way, including my current freelance job that I love. I'm also quite proud of the fact that all of this hard work has amounted to something with potential; I've already spent thousands of hours and dollars on blogging, and it's fun to think about where it's all headed. I read far too many books on entrepreneurism for my own good, by the way.
With that in mind, I have started building my own business on the side, which will eventually be connected to this site (i.e., it will have its own page). I have, for the past two years, worked with travel brands and tourism boards I truly believe in and use already, and you may still see the (very) occasional post about that. As I've had this blog design for nearly three years, I'm planning on freshening it up and making it much easier to navigate, including changing the colours to something a bit lighter and brighter.
And so, there will be some small changes made over the next year, but, as always, I'm not going to allow ads on this blog, meaning there will never be banners, pop-ups, side-bar ads, etc. There will also never be links placed in posts for companies and products I have not tried or used personally, i.e. "guest links". The only links I will place in posts will be ones related to the trips I've taken, i.e. if I work with a tourism board to promote a destination, I'll put a link to their site. I promise to only post about things I would want to write about anyway. The majority of this blog, as it always has been, will be for stories – nothing is changing in that regard. The kind of content you see now will remain the same in the future, although I do want to write more helpful guides/posts about topics I receive a lot of emails about in between my rambling posts about wanderlust, romance, and… well, whatever I feel like, really. As much as I think it's kind of boring when bloggers write about blogging, the truth is I get a lot of emails about it, so I may post more on the topic.
Some of you participated in a survey I did last year, and I want to thank you very much for your honesty about the blog. The majority of you wanted more personal stories, both regarding travel and just life in general, which is why I'm going into such detail about the future of This Battered Suitcase – I've shared pretty much everything else in my life, so why not this? The overwhelming majority of you either did not know or did not care that this blog doesn't have any ads on it, but it's still something that's important to me, which is why I don't have plans of adding advertising. One reader said, "I like the fact the blog is ad-free, but I'd understand if this were to change – a gal's gotta make a living," and many responses mimicked that, which I am so appreciative of. I know a lot of bloggers say this, but I believe I have the best damn readers out there, and I love all of the comments, messages, and emails I've received over the years.
Only a few people said that they would stop reading if I changed anything about this blog (and in the past I've had a couple readers write to me to say they won't read anymore because I've accepted a press trip, or, as one person wrote, that they now hate me because I joined a well-known travel blogging group… yeesh). But the fact is, after 13 years total and 740 posts on this blog, I like the idea of embracing change, and being open to opportunities with this site. These changes will possibly allow me to travel more, and that in turn will allow me to create more content for the site and to hopefully provide as much helpful, relatable, and authentic content as I can. I'm very excited to share these things over the next year, but again – the content isn't changing. You might just see a few more tabs and/or pages, but I imagine that's all that will be noticeably different after the design update.
And so, to reiterate, if only for a personal record:
I will always keep blogging, sharing stories, and making this site something I'm proud of.
I will continue to work with tourism boards and travel companies, but only the ones I feel genuinely suit how I travel anyway.
I will be changing the blog's design to make it easier to navigate and search for things, and will create sections where you can read all of the long-form posts in one place.
I will begin work on the business venture I discussed, with an aim to make it public in six months or so.
I'm writing this while sitting in a hostel common room in Pisa, Italy. I'm surrounded by travellers of all ages and backgrounds, the room filled with sounds of chatter and music. I love to think about everywhere this blog has taken me, and all the people it has introduced me to, and honestly, I just feel so fucking lucky to be doing what I love: travelling and writing. Thank you so much for all of your support along the way, and I hope you'll stick around for a while yet.
-Brenna