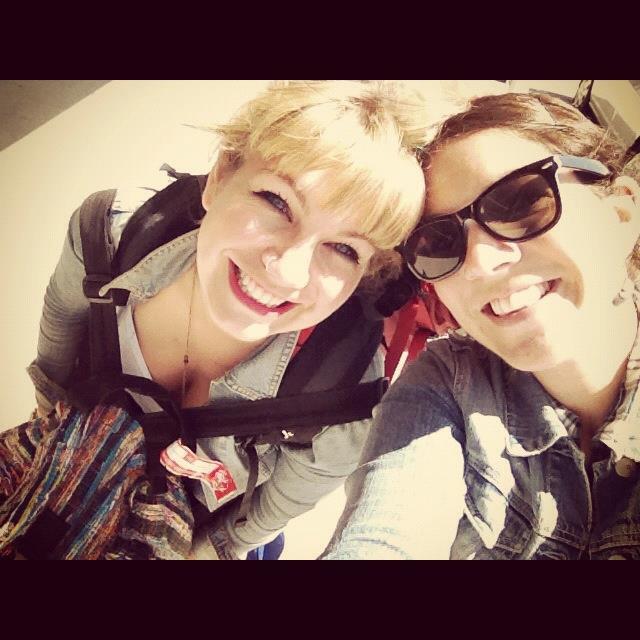 At the airport before I flew to Central America, 2012
I went to South America because of my sister. She went to South America because of a bottle of mezcal.
Wait. Let me back up. At 22 years old, I took my first long-term solo trip around Europe. That led to years of solo travel and living abroad, including a year travelling through Asia. In that year, I'd met another backpacker who became my boyfriend. When we broke up, I felt totally lost; we had made all of these grand plans together, and suddenly I was stuck in a Winnipeg winter trying to save my pennies as a bartender. I had no idea what to do next.
"You should go to South America, you'd love it," my big sister Zalie said to me the night I got dumped, as if it was the natural next step. And just like that, a seed was planted, a fire lit. Within five months of that conversation, she was dropping me off at the airport to fly to Belize, where I'd start a nine-month journey through Central and South America.
People often ask me where I got the confidence, the bravery, or the idea to travel the world on my own.
"Easy," I say to them. "I simply followed in my sister's footsteps."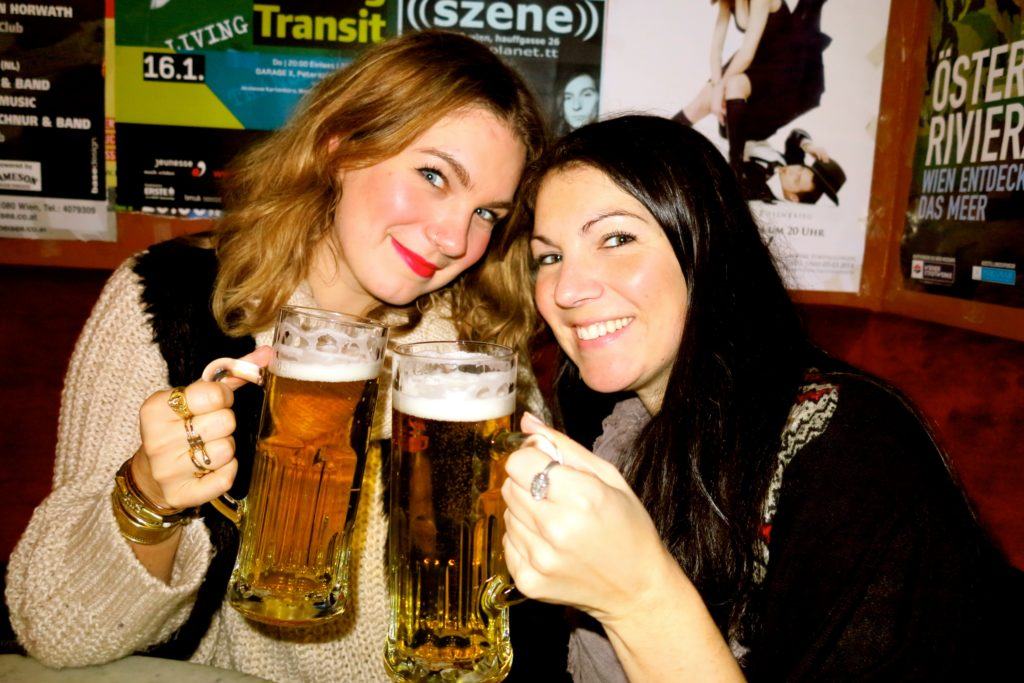 Zalie and I spending Christmas in Vienna together
When I was 15, I went with my family to the airport as we said goodbye to Zalie. She, fresh out of high school, was on her way to travel Southeast Asia and Australia for a while. This was pretty uncommon then, at least in Canada. With today's social media and travel blogs, the idea of solo travel for women has become a more recognised notion of independence. Then, it seemed wildly exciting – keep in mind we didn't even have email addresses, let alone any idea how to use the internet. The only travellers we read about were in books or magazines, and they were mostly men.
Over the next decade, Zalie continued to travel, and I continued to be inspired to do the same. We often spoke over shaky phone connections, using calling cards to get five minutes of conversation. Sometimes I called her in Mexico while I was in Russia. Sometimes she called me from Israel while I was in Japan. I wouldn't have done any of the travelling I've done if it wasn't for her carving the path for me, showing me that travelling the world was safe and fun and eye-opening and beautiful and so much more than anything you could ever imagine. Every day I am thankful to come from a family of people who value, support, and appreciate travelling.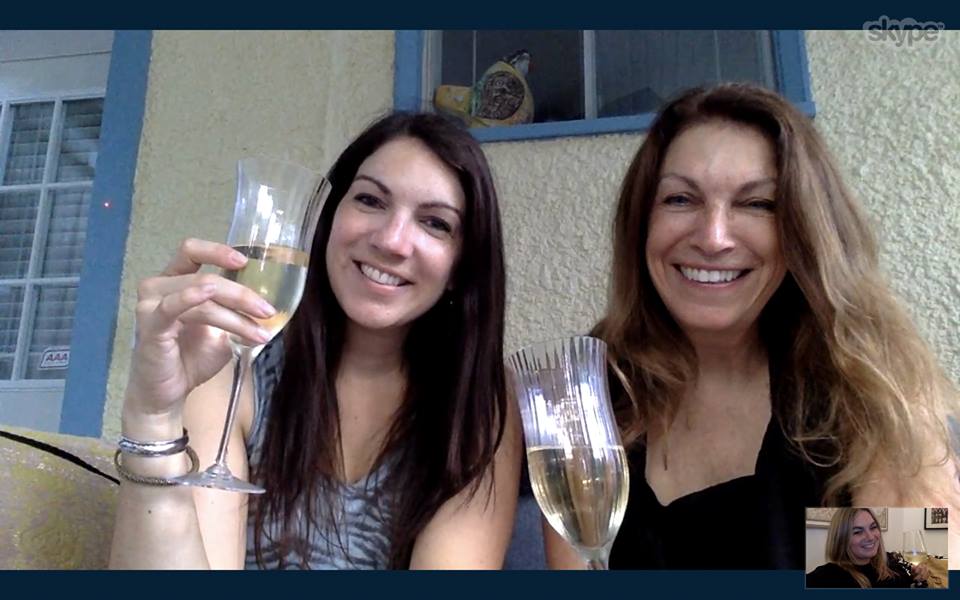 Skyping/drinking with my family from London to Canada (my mum has always been a huge influence on my choice to keep travelling, too, because she does the same)
A couple of years after I returned from South America, I found myself living in London and working on my master's degree. One of my assignments was to interview someone who had influenced my life. I, of course, chose Zalie, and interviewed her about her decision to move to Mexico at 21 by herself, even though she had no friends there, no job lined up, and didn't even speak Spanish. I never published that interview, but it's such an inspiring story about turning your wanderlust into something tangible that I thought it should have a home on this blog.
In Zalie's words:
"I remember tearing up as the plane was landing. I suddenly thought, "What am I doing?" I only had a backpack, a one-way ticket, and a guidebook. I knew nothing of Mexico before I went. I knew that people spoke Spanish, and that was it. On the plane people talked to me, and I couldn't even say, "My name is" or "How are you?"
Right after high school, instead of going to university, I worked for a year and then went to Southeast Asia and Australia with a friend. Although I travelled when I was growing up, that was my first big trip without anyone in the family. It really gave me the push to see what else was out there, and as that old cliché says, I was bitten by the travel bug. When I came back from Asia, I went to university for a year, but I was always thinking about travelling. I made the decision to take another year off, and to finish my degree at a later date.
My friend was living in Mexico, and she brought home a bottle of mezcal. It said Oaxaca on it, and I asked her, "O-ax-a-ca? Where's that?" She told me it was a state in Mexico, and it was pronounced wa-ha-ka. I was so young, and I had nothing to lose, so I just thought, "Hmm, that sounds good."
I loved all my friends and family, and it was hard for me to leave them, but I needed to see other things. There was something inside me that was pulling me away to see the world. I also knew I had to do it by myself, because I didn't want to wait around until someone else was ready to join me. 
I was 21 when I got off the plane in Acapulco, and I had no clue what I was doing. Gradually, over the first three days, I started to think, "Okay, I can do this." It was the first time that I was really by myself, but I knew that I could do it on my own. Even though it took me a really long time to do things, and I got frustrated, I eventually figured it out. Even buying a phone card to call home was difficult, but I needed to prove to myself that I could do it.
I then took the bus to Oaxaca and moved into a hostel. I went door to door, to different English schools, asking for a job. I started working, I met an artist who became my boyfriend, and I found an apartment. I just knew I had to be courageous and push myself to create the life I wanted. I eventually learned the language and made lots of friends, both foreigners and Mexicans. Sometimes there was no electricity or hot water, but that made me appreciate the things I had growing up in Canada, and I learned to be a bit more humble. Most importantly I learned the joy of living elsewhere, and of experiencing a whole new life.
Once, when I was travelling to Chiapas in the south for a holiday, I fell asleep on the bus. I woke up to an army man with a machine gun kicking my legs, telling me to get off the bus. He ransacked my bag; to this day I think it was because I was the only tourist on board. When I got back on the bus, I was crying, and everyone offered me candy and alcohol to calm me down. Those things do happen, but it's part of the adventure; it can be an adventure just to get on the plane and leave home in the first place. People sometimes choose not to travel because they are frightened, because it's difficult. They are scared of the unknown, scared of any sort of change. I guess I was different – more than it scared me, it excited me. I didn't let being scared stop me. And I never wanted to go home. As much as I was frightened sometimes, and thought, "Shit, what am I doing?", nothing inside me told me to leave.
Travel makes you stronger. You learn to deal with things, to not be afraid and to confront your fears. And the more places you see, the more you want to see; you meet people and discover so much, and that creates a cycle of travel. Living in Mexico led me to travelling around South America, which led me to living in Israel.
I don't know what I was looking for when I got on that plane, but I knew that, whatever it was, I couldn't find it if I stayed still. If I hadn't travelled, I would be married and have kids, but I have absolutely no regrets. The experiences I had living abroad and travelling made me stronger and more confident, and those experiences can't be replaced. Over ten years later and I still get excited thinking about the next destination, I still get excited thinking about what adventures I can have. I know I'll always have a life of travel."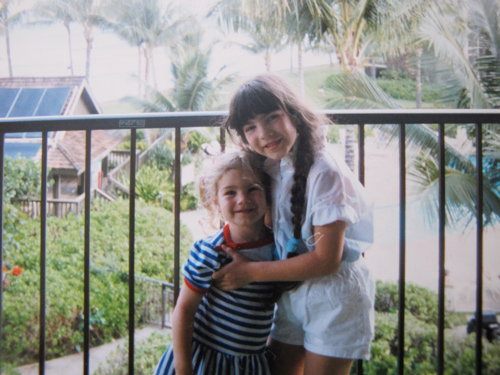 Zalie and I in Maui as kids
Today is my sister Zalie's birthday. She is my biggest supporter, one of my greatest inspirations, and my very best friend in the whole wide world.
Do any of your family members, loved ones, or friends love to travel, too? Have they influenced you to travel?