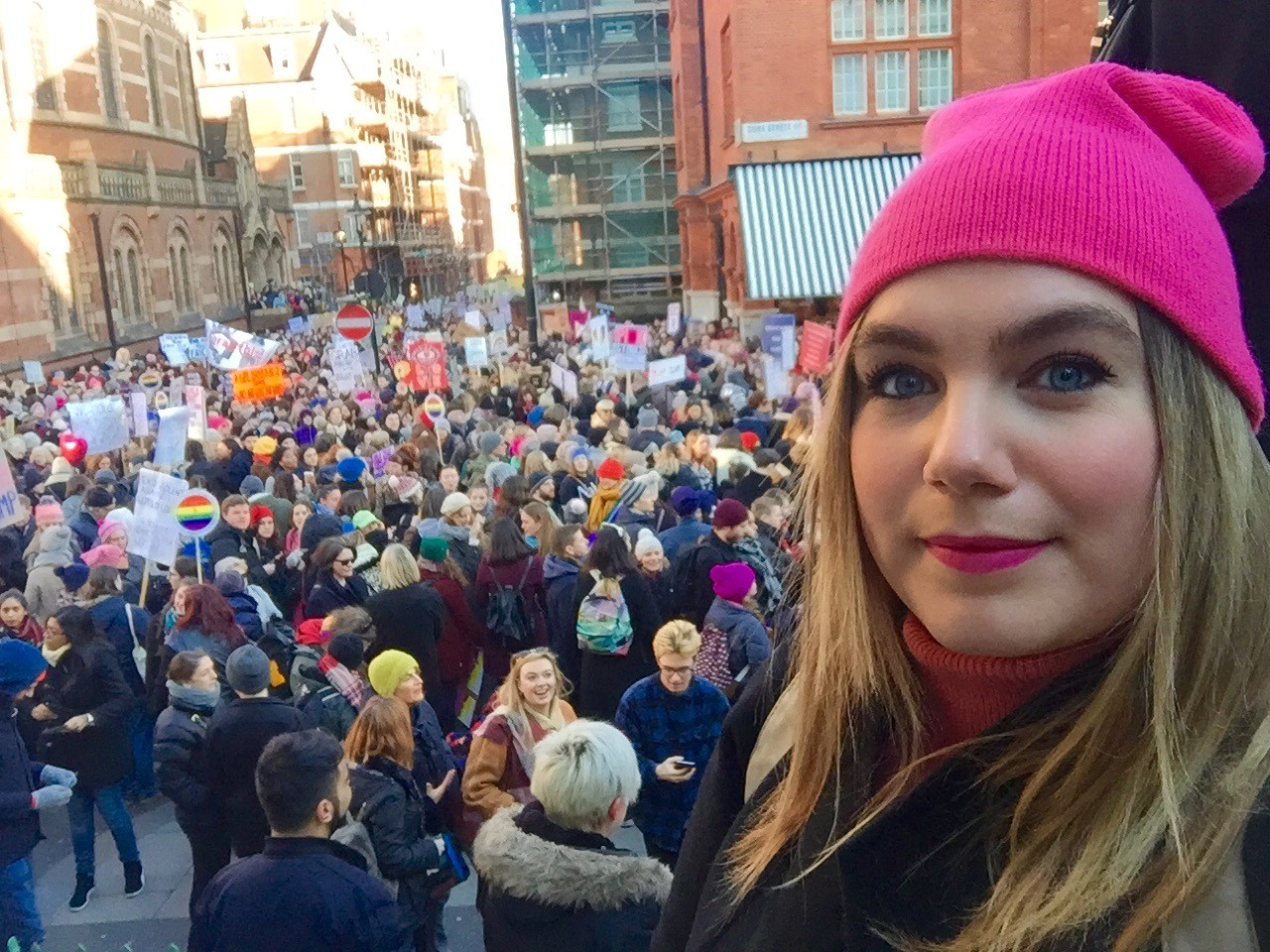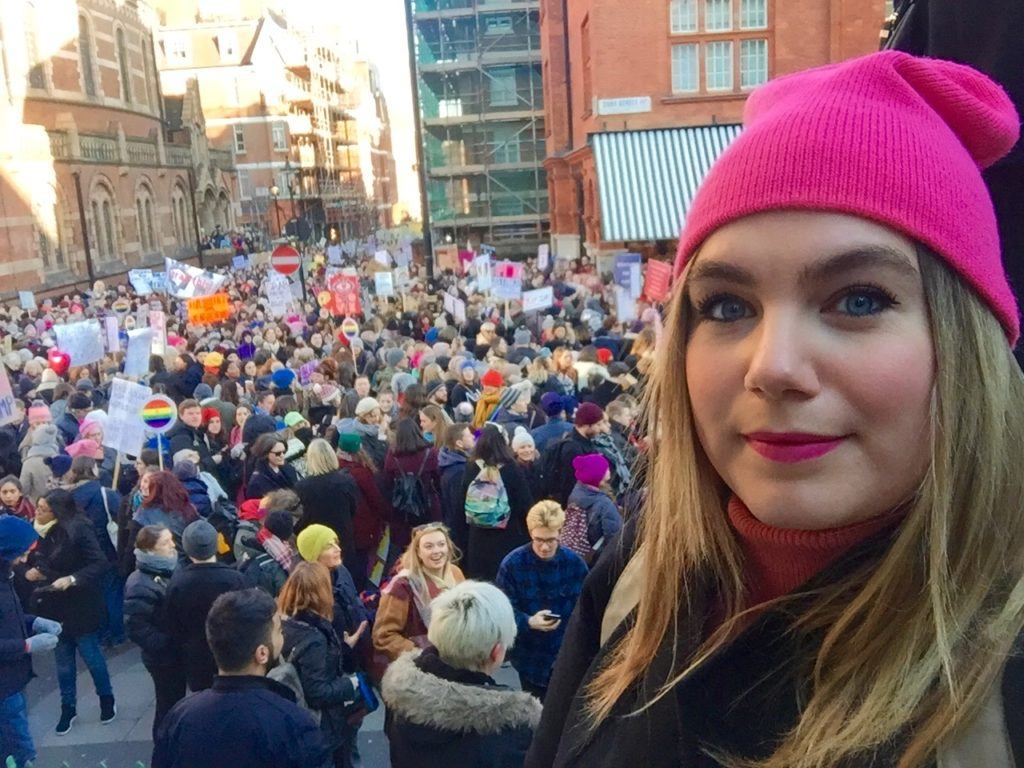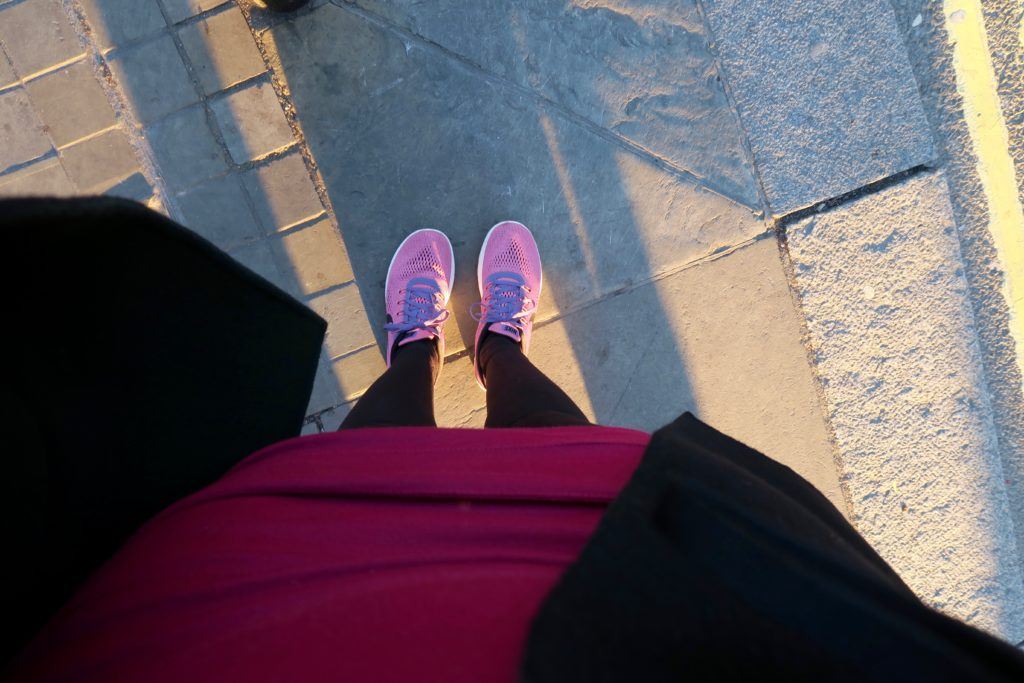 On Saturday, January 21st, I walked over 10,000 steps with approximately 100,000 people in London – millions of people when you include the entire world. Together, we marched for women's rights (for all women's rights), for LGBTQIA rights, for worker's rights, for immigrant rights, for disability rights, for reproductive rights, for civil rights, for environmental justice, and for ending violence. I don't need to tell you what event prompted this march.
It was a cold but beautiful day, the sun coming out to cast light on our route. I showed up alone, but from the moment I stepped out of Oxford Circus tube station – Bond Street was already overcrowded and closed – I felt a sense of unity, of solidarity.
Thousands of us walked down Oxford Street towards the American Embassy, but the streets were already so crowded that we were soon brought to a halt. We didn't start marching for at least an hour or so, but it didn't matter; we were all talking to one another, cheering, singing, and making new friends. I saw people of all ages, of all backgrounds, of all walks of life.
From Buzzfeed, describing the march in Washington, D.C., "At the march, women reappropriated the colour pink, meant to shoehorn us into a specific understanding of docile femininity, as a symbol of organizing power, and the word "pussy," intended to denigrate and objectify them, as a call to arms. And they also used the skills in which they have been forced to become adept — skills of organization, of forethought, of listening and detail-mindedness and getting shit done — to protect women's rights, protest any attempt to denigrate them, and push for actual equality, not just the semblance of it, and not just for those who are white, or privileged, or cisgendered, or straight, or Christian, or born in this country."
We marched from the embassy to Trafalgar Square, walking down some of the biggest streets in all of London. To look ahead and to see thousands, and to look behind and to see thousands, and to look all around me and see passion, and support, and strength… no march I've ever been a part of felt this electric before. I am so incredibly happy that I could be a part of it. And yes, I wore all pink.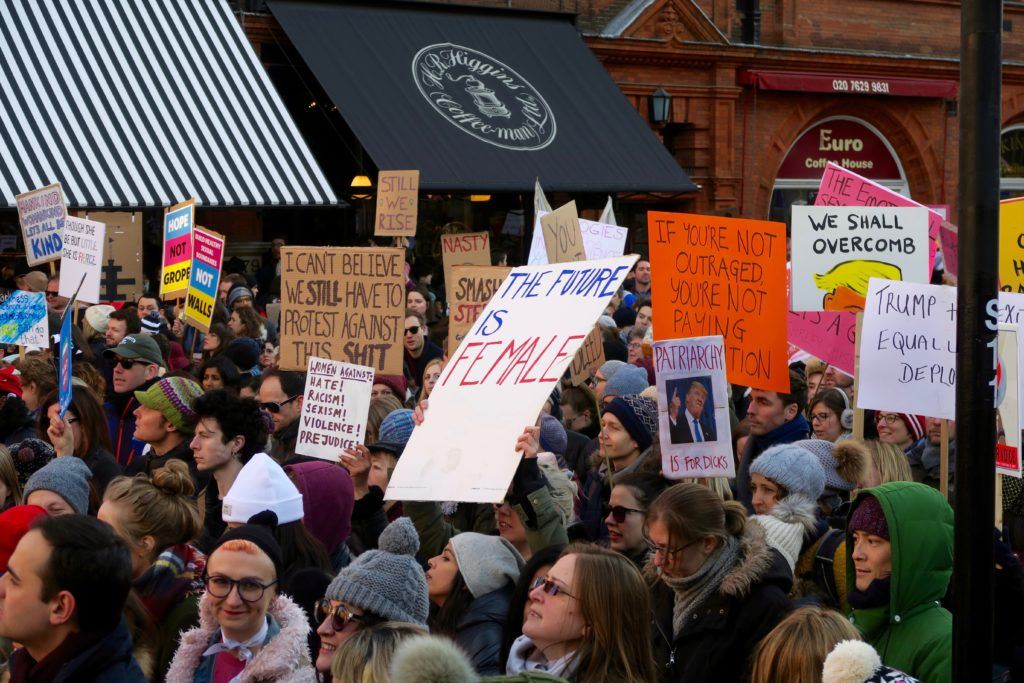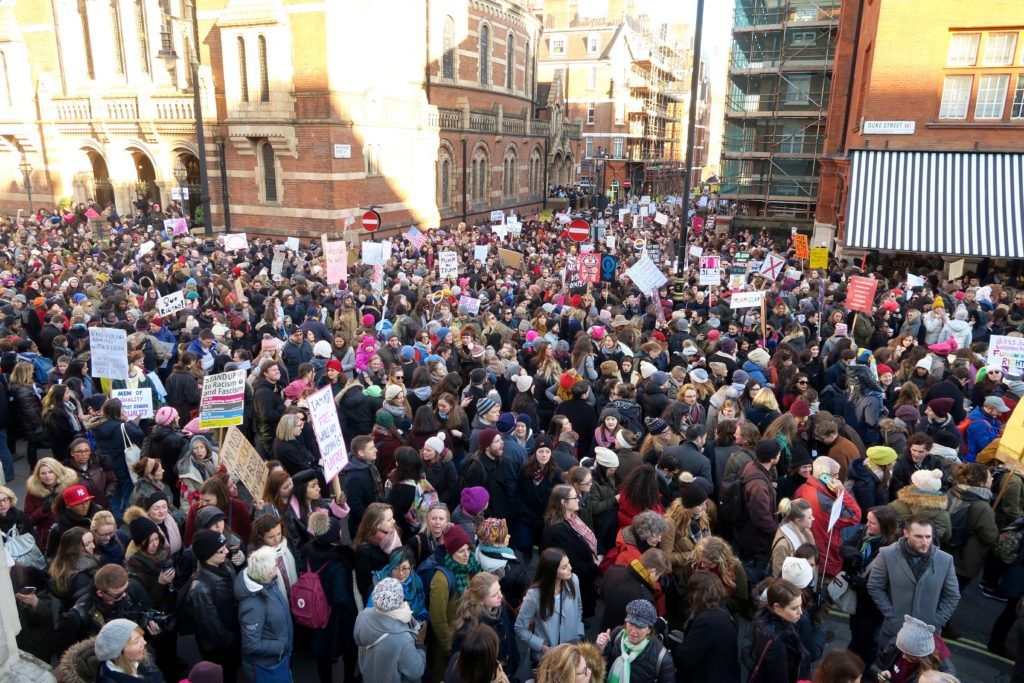 As a white, middle-class, able-bodied, educated, heterosexual woman, I am one of the most privileged people in the world. I like to think of myself as open-minded and culturally aware, but I have a lot of learning to do, and a lot of listening to do. And while I had an amazing day on Saturday, I asked myself some questions, too: Would I have marched for women's rights if Hillary Clinton was elected president? Will I be joining the next Black Lives Matter march? What will I do today, now that the march is over?
While the march was an incredible, inclusive force of solidarity, and we should be so proud of ourselves for coming together around the world, it's imperative that I, and everyone else who marched, continue to support, defend, and use our voices to propel our message. It's imperative that we recognise all forms of feminism, and that means intersectional feminism. It's also imperative that we recognise that not all feminists supported the global march on Saturday, primarily some women of colour – it's only through these kinds of dialogues that we will collectively learn to do better and be better. It's imperative that we listen.
Personally, I didn't march solely for myself. As a woman, I have felt sexism, misogyny, sexual harassment, and even sexual assault. But as a privileged white woman, I can never know what it feels like to be someone in an even more marginalised group. On Saturday I marched to show my support for these groups, to show my belief that all women should have the right to choose what's right for their bodies as well as have access to the health care systems that support it, and to show solidarity with people around the world who are frustrated with the way things are.
Sure, you could argue that it's "trendy" to be a feminist (for the record, everyone called me Brenna Holeperson instead of Holeman in high school, because I was annoyingly quoting Simone de Beauvoir and Gertrude Stein any chance I got), but I believe that if it spreads the message and it gives an even stronger platform for communication, I'm all for it. Hopefully Saturday's march encouraged many people of all backgrounds and all ages to get involved, even if they are first-time activists. If fighting for equal rights for ALL women is becoming the next bandwagon to jump on, well hell, I say let's ride this as hard as we possibly can and hope that enough people realise fighting for these rights is for life, not just for a four-year presidential term.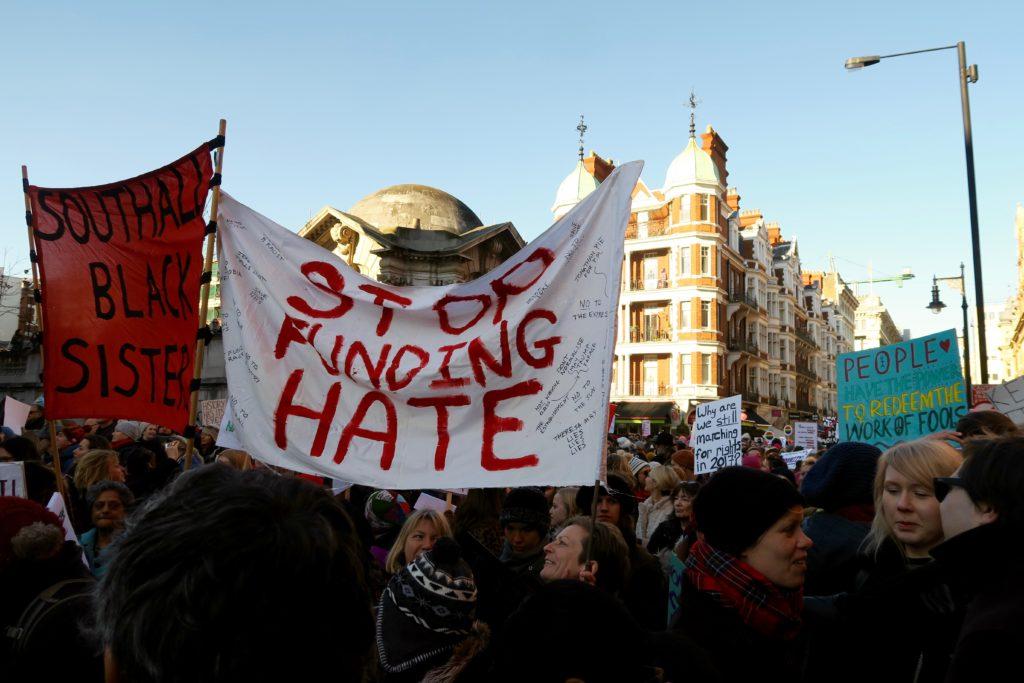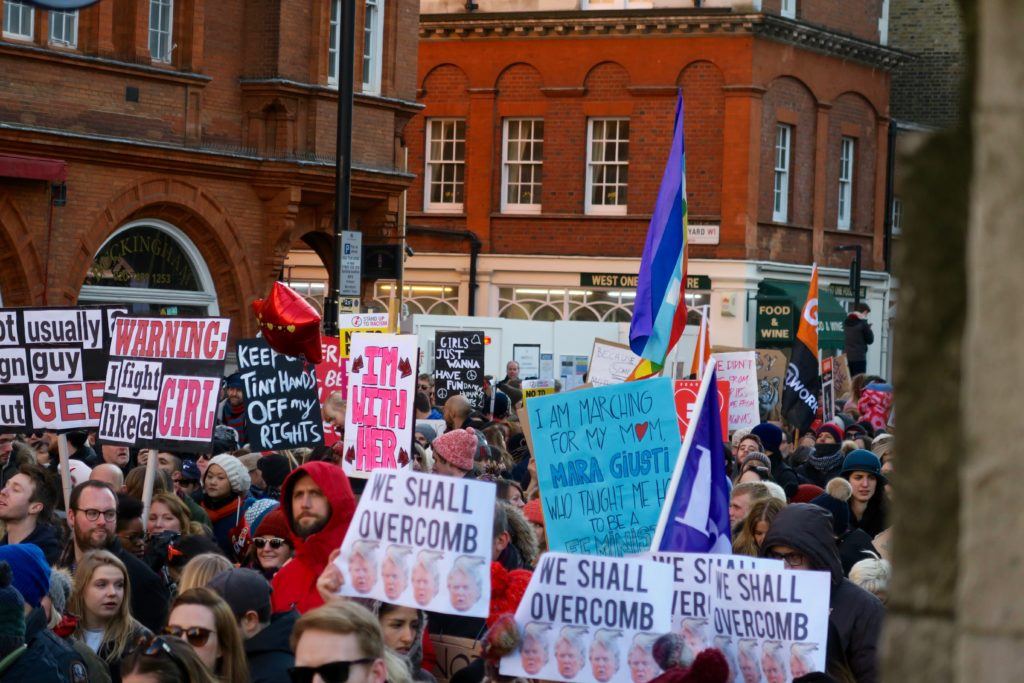 And yes, I'm a Canadian living in the UK, so one could argue that this isn't my fight. To that I say: I don't want to sit idly by until something affects me directly. No, right now I do not personally feel threatened or marginalised, but, as there are millions of people who do, I felt the need to show up and stand up in solidarity, just as I have at other marches.
For as long as I can remember, I've cared about civil rights; I have gone to numerous marches, donated to various charities, volunteered for rights I believe in, and I try to call people out when it's necessary (or call people in, depending on the situation). I have been told, many times in my life, to "loosen up", "chill out", or "stop being so politically correct" because I won't tolerate casual racism, misogyny, or pejorative terms that are loosely presented as jokes. I'm not saying any of that to brag or to sound sanctimonious; I believe what I'm doing is the bare minimum of what any human being should be doing, and that I can do even more. I think we should all be doing more, especially those of us who live lives of privilege.
It's something I think about a lot – how can I justify travelling the world, especially travelling through developing countries, if I then go home and do nothing to support the communities I visit? Our privilege is wasted if we do not use it for good. I also think it's important to point out that it's only the most privileged who feel threatened by equality for others, or who get defensive when confronted with the possibility of equality. I live in a democracy, one where I can vote and one where I can express myself through protest, and I think it's important to exercise those rights. So many people in the world, especially women, do not have those rights.
So what will I be doing now that the march is over? I'm going to continue to educate myself by reading as much as I can about the topics at hand, especially when written by women with different backgrounds than my own. I'm going to continue to donate to organisations I believe in. I'm going to join another march in February that supports immigrants in the UK. I'm going to continue to use my voice, and to listen to the voices of others, because I understand that I am only beginning to scratch the surface of this often conflicting, confusing topic. The modern feminist movement needs work, but there isn't going to be a next step until we take the first step. To me, the march felt like a unified first step of supporters from around the world.
Stronger together, indeed.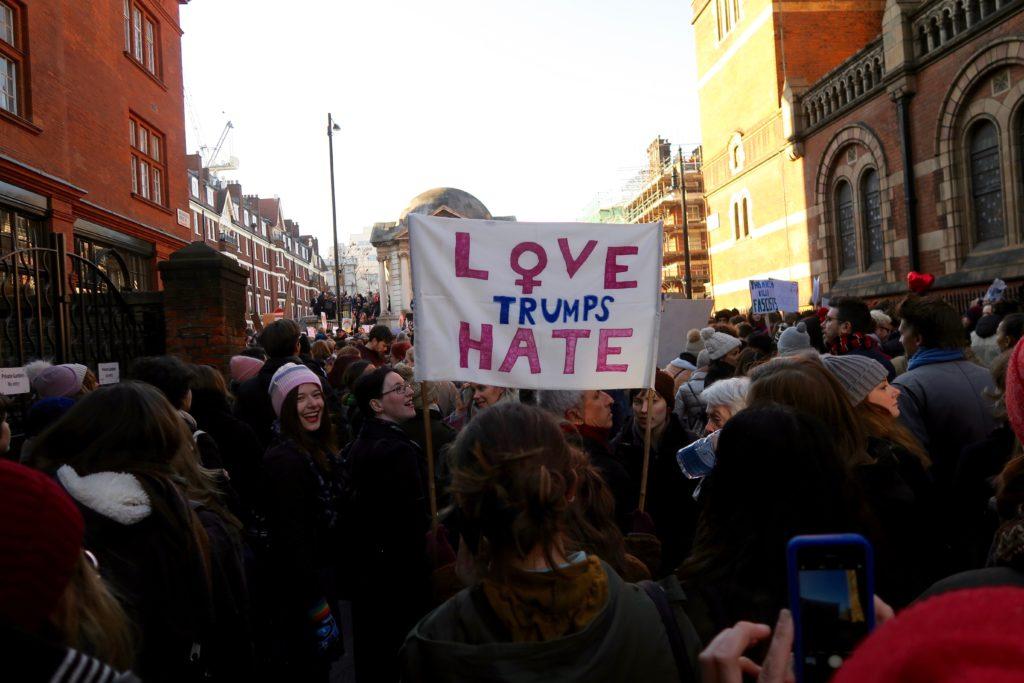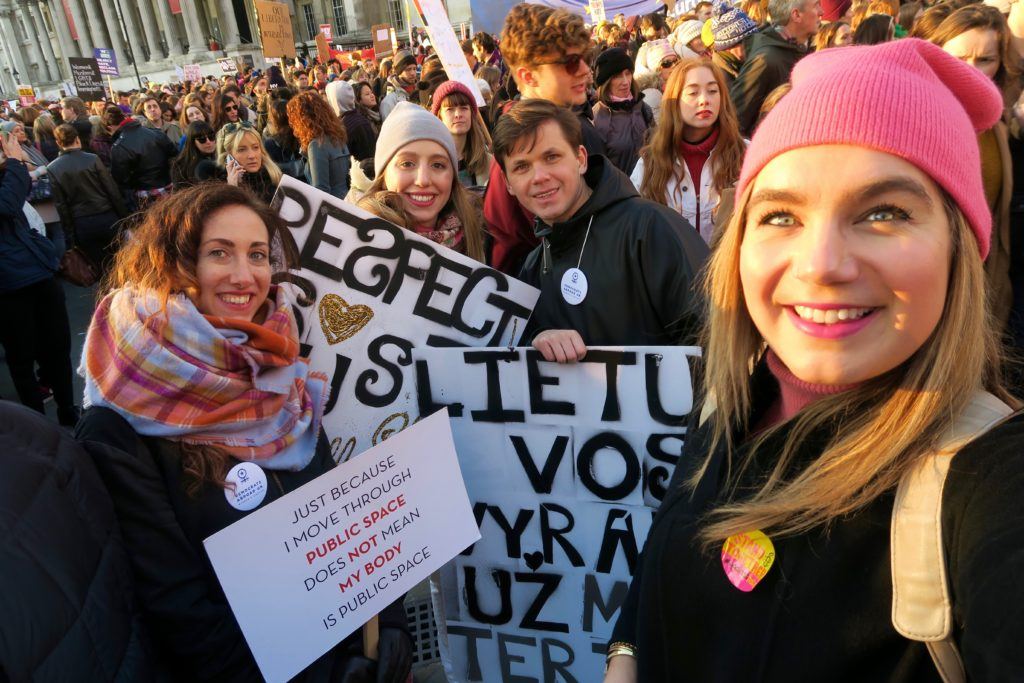 I found friends Gabriella, Abigail, and Deividas!
So why did I march on Saturday? Sometimes, when you're feeling helpless, useless, or just downright awful about something, it helps to be around others who believe in the same things that you do. Sometimes it's just about coming together as a unit, walking and singing and laughing together. Will anything change after the march? I'd like to think that yes, things will change – if anything, I hope that a lot more individuals are more impassioned, more eager to learn, and more willing to stand up for what they believe in. As for whether the powers that be will listen to us, I don't know. What I do know, marching the streets of London on Saturday, is that we heard each other.
These women never met till today and practiced this song online. Show them some love. #Icantkeepquiet #WomensMarch #WomensMarchOnWashington pic.twitter.com/rPA4dDTIYz

— Alma Har'el? (@Almaharel) January 21, 2017
Further Reading:
Seven Things You Can Do to Keep Up the Women's March Momentum in London (by TimeOut)
Women's March on Washington official website, including a list of actions to take now that the march is over
Scenes from the Women's March on Washington 
The Three Very Symbolic Things People Carried to the Women's March
7 Things Feminists of Color Want White Feminists to Know
Hey, White People! If You Really Want to Help End Racism, You Need to Invest in Other White People ("We have a responsibility to cultivate a deep well of patience and compassion for working to change the hearts and minds of our people, just as our hearts and minds were changed somewhere along our own journey.")
Why I'm Conflicted About the Women's March (I don't agree with everything Oneika has said here, but I really respect her opinion and think it's an important topic to discuss. I highly recommend checking out her Facebook page, too, as she just did a great live video on her thoughts.)
The Pussyhat Project (Because women weren't wearing them to look cute. It's a movement, not a moment.)
How These Six Women's Protests Changed History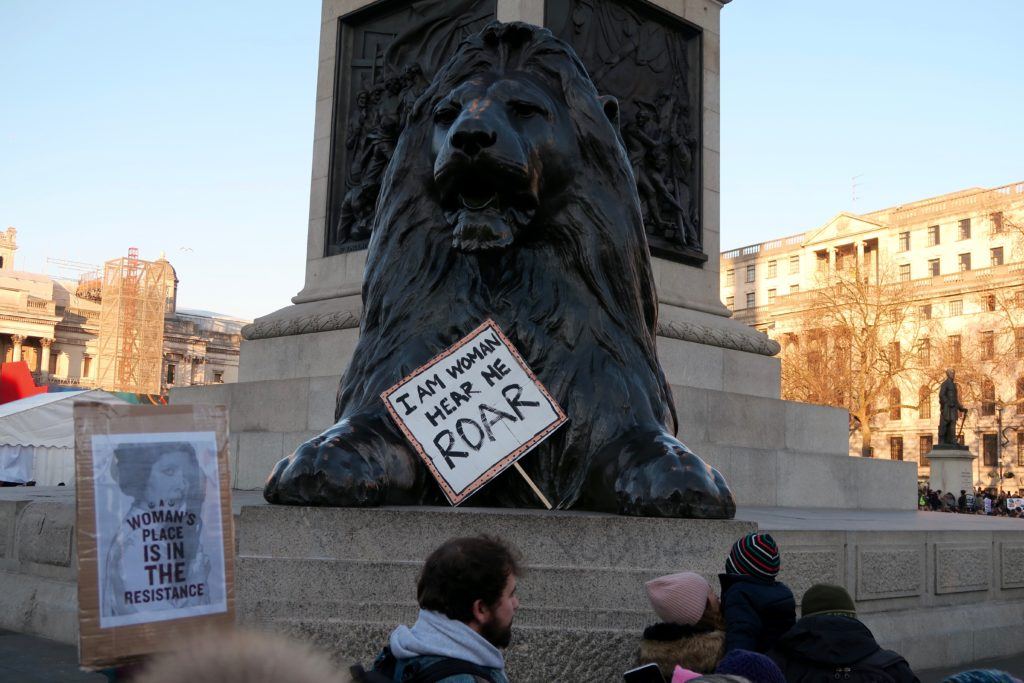 Did you march on January 21st?