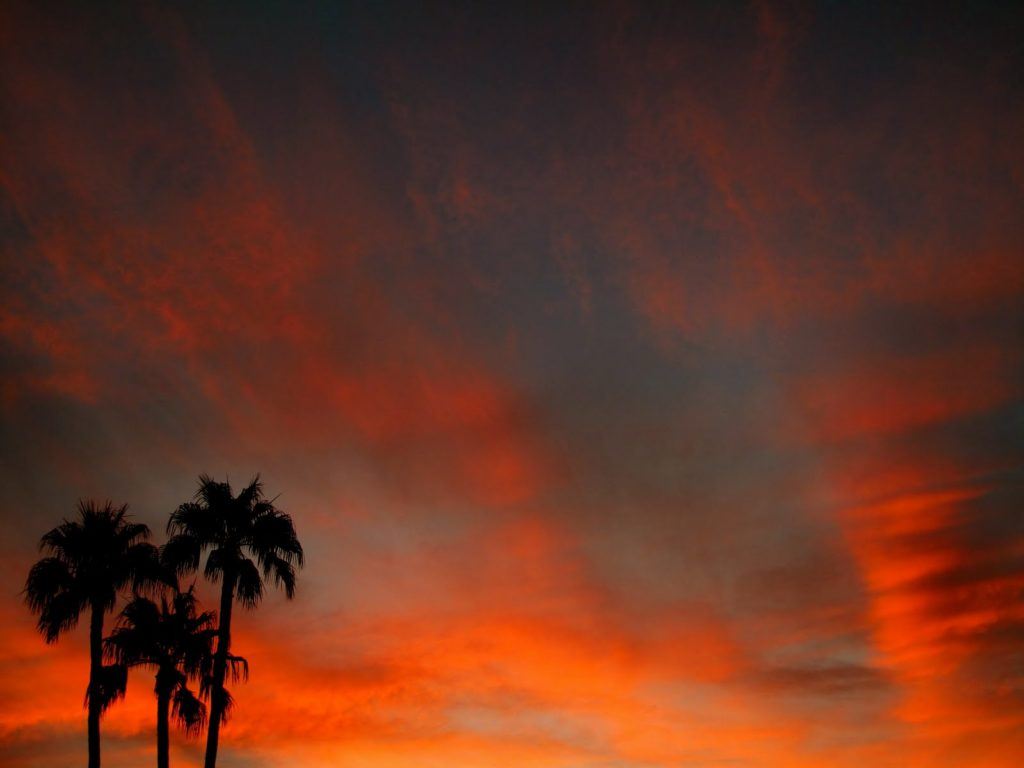 Sunset in Phoenix, Arizona
The night of November 8th, I went to my local pub with a friend. We talked about a lot of things, but mainly we talked about the American election. Though he's Scottish and I'm Canadian and we both live in London, it's pretty difficult to deny that American politics don't affect us all in some way, no matter where we live in the world. The president of the United States, after all, is "the leader of the Free World", arguably one of the most powerful positions on the planet.
That night, I couldn't sleep. I kept checking my phone and reading the news, hoping that something might change. At 6am, I texted my friend.
"We should have kept drinking," I wrote. As the sun slowly rose over the city, I cried.
***
It's hard for me to put into words how I've been feeling since yesterday morning, just as I imagine it is for so many people around the world. I was at a conference at the ExCel Centre, and the air among everyone there was one of disbelief and horror. I can't even fathom how it must feel to be an American who did not want this result. My Facebook and Instagram feeds are all filled with sorrow, anger, and fear. There is so much I want to say and yet I, too, am too angry and too sad to articulate it properly. But, I have to admit, I am not completely shocked at what has happened. After watching what the UK decided this summer with Brexit, and after watching the American presidential campaigns unfold over the last year, I have been horrified at the racism, misogyny, bigotry, homophobia, and hatred that has emerged – especially from certain voters and members of the public (though it would be close-minded and incorrect to assume that everyone who voted Republican feels this way). Perhaps it was inevitable that it would come to a boiling point. My fear is that this result will make some people feel that they have the right to be openly racist and/or intolerant of others, that this result will legitimise hatred.
But now, the day after the results of the election, I sit here wondering what I can do. As mentioned, I'm a Canadian living in the UK – a privileged migrant – and some may argue this is not my fight. However, I believe that it is, in fact, our duty to reach out in times of need, no matter where we come from or what our backgrounds may be. I have spent considerable time in America, have many American friends, have lived next to America for the majority of my life, and, most importantly, I do not want to idly stand by when there is so much work to be done. The fight for human rights is on all of our shoulders, no matter our gender, religion, sexual orientation, country of origin, or colour of skin, but those of us with privilege – white, straight, able-bodied, financially stable, take your pick – need to fight even harder.
So how can those of us who aren't American help out right now?
We can donate our money. There are a variety of organisations in America that help minority groups and champion equal rights for all. Jezebel has a great list. I have personally donated to Planned Parenthood and the NAACP today and I urge you to find an organisation that you feel passionate about, too.
We can reach out. I would wager that most of us around the world know at least a few Americans who are affected by this outcome. Reach out to people and send your love and support.
We can use our voices. If we live in countries where free speech is allowed, we should use it. Champion the rights of minorities and groups who need our help, be that on social media or in person. I'm ashamed of myself for not doing more online in the months leading up to the election because, I'll admit it, I was scared of the backlash and the trolls. While this blog will always primarily be about travelling, I plan on writing more essays and opinion pieces, including those about human rights.
We can stay educated. Personally, I follow The Guardian, The Globe and Mail, The New York Times, The New Yorker, and BBC and CBC. I also follow many politically-minded American comedy shows with hosts like Seth Myers, Samantha Bee, and Trevor Noah. There are many more news outlets that I trust, and many that I don't. But staying on top of news from around the world, and staying educated on what is happening in our own countries and abroad, will help all of us communicate better and with more meaning. Similarly, following people from all different backgrounds on social media is a great way to see life from all sorts of perspectives, not just from the perspectives of people who look exactly like us.
We can open our arms. There has been a lot of talk about Americans wanting to leave the USA and relocate abroad, especially to Canada. If anyone follows through on that decision, and decides to move abroad, let's welcome them with open arms. I've so often been proud of Canada's acceptance of immigrants, and that won't stop today.
We can travel. Recently, I discussed Why We Need Travel More Than Ever in regards to terrorist attacks around the world. I strongly maintain that view, because I believe that travelling opens our minds and our hearts – it helps us learn about each other, communicate with each other, and empathise with each other. I for one am going to continue to travel to America; to paint all Americans with the same brush is foolish and unfair.
We can talk to one another. Clearly, as Hillary Clinton said in her concession speech, "America is more deeply divided than we thought." And, seeing what happened with Brexit, perhaps the world is much more divided than we thought, too. It's easy to forget how much miscommunication there is when you only follow liberal, progressive people and media on Facebook – I admit that I live in a bubble. I wrote a post earlier this year called, "People Are Good," and yes, of course, in times like this it's hard to believe that. But what is true is that tens of millions of people voted for the man who will take office in 2017. And it wasn't all just straight, white, uneducated men who voted for him, either. We are all on this Earth together whether we like it or not, and the only way that we can stop fear and stop hatred and stop violence is by opening our minds to one another and listening to one another, no matter who we vote for. If only it were so easy.
And yes, I get it, I'm preaching to the choir, because I'm confident everyone who reads this blog is already open-minded and culturally aware. But we cannot assume that everyone who voted for that man is evil, nor can we even assume that they are racist or sexist or xenophobic or homophobic. We need to know why they cast their vote that way before we can truly judge. We cannot use violence, but we can use our words. It might be hard, so hard, but the only way we'll contribute to meaningful change is if we keep going, and keep fighting for the rights of all human beings, no matter where they pray or who they love or where they come from.
***
Further Reading:
Kate just published a post called "Leaving is Easy. Fighting is Harder." In it she discusses being an American expat and why she decided to come home. As she says, "Travel bloggers may extol the virtues of leaving, but coming back to fight for your country is admirable as well."
Jackie published a very honest account of her anger, titled "Still With Her, Still a Nasty Woman."
The New Yorker posted "An American Tragedy" by David Remnick: "despair is no answer."
The New York Times did a round-up of the thoughts of their opinion writers. I especially like what Roxanne Gay, the first black woman to be a lead writer for Marvel, wrote: "For now, we need to breathe, stand tall and adjust to this new reality as best we can. We need — through writing, through protest, through voting in 2018 and 2020 — to be the checks and balances our government lacks so that we can protect the most defenseless among us, so that we can preserve the more perfect union America has long held as the ideal." And in this round-up, when Lindy West said, "The fact that we lost doesn't make us wrong; the fact that they don't believe in us doesn't make us disappear."
Wait But Why posits, "But if we want to make the best of this, we need to ask a question: Why did those 50 million people vote for [the president]?" I don't agree with everything in this post, but there are some points to consider.
A Letter to America by Leslie Knope, because fictional or not, she outlines some very important points regarding the future, especially for the girls of America.
Jezebel posted How to Fight Back, saying, "Everyday resistance needn't be huge or flashy, but you can fight back every time you step out of your house."
Electric Literature provides a list of Practical Ways for Writers and Teachers to Get Involved Right Now.
If you have other articles you feel are worth sharing, please leave them in the comments below and I can continue to add them to the post.
***
So yes, I am angry and I am sad, and I think that it is entirely natural and even healthy for people to grieve about this for a while. But it's always darkest before the dawn. As someone wrote in a Facebook comment today (I can't find the proper accreditation for this, my apologies): "Even in the chaos and darkness, challenge yourself to be the light." Seeing what has unfolded over the past 24 hours – the outpouring of love, donations, support, and togetherness – has given me faith that this is something that will be overcome.
To my friends in America who are scared, angry, and dismayed, please know that there are millions of people around the world who will help you fight for human rights in every way that we can. We're with you. If enough of us donate our money, our time, our support, and most importantly, our voices, I believe we can create meaningful change. We cannot stand by and do nothing because "it's not our country". We must join the fight.