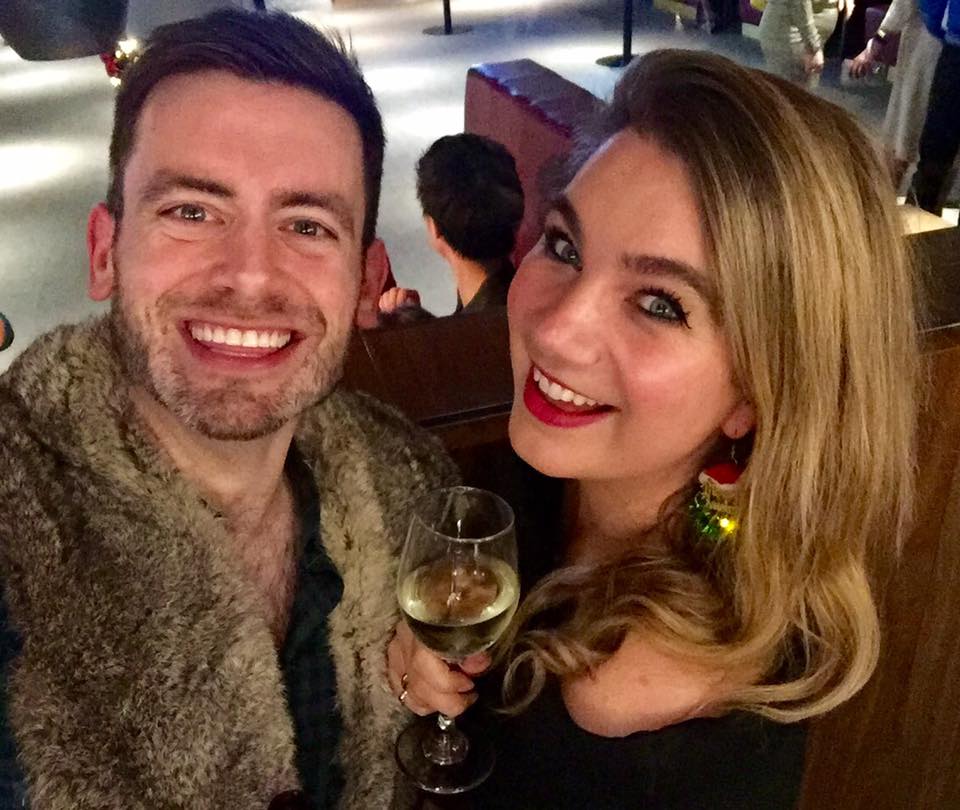 With my wonderful friend Ryan. I realised that in a solid third of my photos on Facebook, especially any selfies, I'm holding a glass of wine. Trust me, this month really has been an exercise in self-restraint. I've only taken, like three selfies, guys! 
Please note: This post will make a lot more sense if you read the previous weeks first. Click here to read Week One, click here to read Week Two, and click here to read Week Three.
January 22, 2017
It's the final week of this experiment, but I'm starting to realise it no longer feels like an experiment, one with a hard end date. Technically, next Sunday (or, if we're counting all of January, next Wednesday) I can have a drink. Technically, I can go on all the dates my heart desires… though truth be told, it's not like I'm getting offers for dates left and right. Dating, for me, has always felt like a "when it rains it pours" scenario, because I either go through long spells of no romantic encounters or periods of time when multiple people seem to be interested.
I once read an article that said that men can smell sex. First of all, ew, and second of all, I'm not sure that that drunk guy at the bar is like, "Wait a second, my spidey-sense is tingling. Are those PHEROMONES I smell?! Did this fair maiden perchance copulate with someone else recently, therefore making her much more attractive and worthy of my competition?" I've also read an article – probably by the kind of guy who quotes The Game and thinks that "negging" is a great way to pick up chicks, man – that said that men can smell desperation.
If I had a nickel for every time somebody said, "It will happen when you're not looking for it!" I would be able to buy, I don't know, a really fancy blender or something (it's never your single friends who say that to you, by the way). No, I'm not desperate for love, but I am open to it. I'm the kind of person who goes after what she wants – a plane ticket, a job, a degree – and I feel the same way about dating. I'm not just going to sit back and hope that some man waltzes into my life. I'm going to stay open to it, I'm going to try dating sites or apps, I'm going to go to events where single guys might be, and I'm going to make eyes at that cute barista (who, on second glance, might be ten years younger than me. Isn't that a weird feeling? When you start to recognise that some guys are actually too young for you? It's like when Carrie sleeps at that guy's house on Sex and the City and he uses toilet paper for a coffee filter and she's like, "Oh shit, nope, I'm out." Once I kissed a guy in a jungle in Thailand on a dare and then tried to, you know, get to know him. He told me he had just finished school. I thought he meant university. He meant high school. I wish I was joking).
At 32, nearly 33, I've also recognised that I might fall into the category of "second wife" one day, that is, if I even get married (the thought of spending a bunch of money on one day sickens me, and I've always said that if a guy got down on one knee and proposed with some huge rock of a diamond I'd have to say no, because he clearly doesn't know me at all. No judgement on anyone who does want those things, but it's definitely not for me). To be honest, over the past few years I've accepted that I'll probably meet the person I'm supposed to be with when I'm older, anyway. You know, after I travel Central Asia for a while, maybe get another degree, write some books, live on a couple of other continents, and learn how to sail. When I was younger, God, there was nothing more I wanted than to be in a relationship with a man (at that point, any man would do). Now, there are so many things I want just as much or more, so much more. I picture meeting the guy I'm going to be with at some little tequila bar in Mexico when I'm in my late 40s. I'm also wearing a lot of turquoise jewellery in this image, FYI.
And because I'm not sure that I want to have babies, either, I'm perfectly happy to be the cool stepmum one day. You know, the kind that takes you to Disneyland, not the dentist. The kind that lets you stay up half an hour late, not the kind that makes you sweep cinders all day and banishes you to the cellar when there's a ball going on, forcing you to invoke a fairy godmother who gives you a pumpkin carriage and glass slippers. But seriously… glass?! That would have been so uncomfortable and sweaty. I can barely wear leather without getting blisters.
January 23, 2017
Today I go to the office. I write this post when I get home. I realise I stared at a computer screen for approximately 15 hours and wonder if that's why I now need glasses (answer: yes).
January 24, 2017
Another day at the office. I'm trying to avoid drinking lattes from the office's Starbucks machine because I'm trying to be healthier, and I'm assuming drinking four large glasses of whole milk with added brown sugar does not equal exemplary health. The Starbucks machine also happens to be in the kitchen closest to where my former office crush gets his tea, and is the site of the two conversations we've ever had, so I may have had an extra incentive to drink those lattes. Thankfully, as mentioned last week, I no longer have this office crush, so it's a good thing I no longer have the motivation to go to that particular kitchen.
I try to tell myself that when I see him in the hallway and laugh a little bit too loudly at my colleague's story.
January 25, 2017
Today I hand in my passport and residence card, because I'm applying for a new visa to stay in the UK. It's a scary process of a 41-page application and £665 (yes, I pay that every year) but I'm relieved when it's handed in, because it's now out of my control. It also means that I have to stay in the UK for at least six weeks to two months while it's being processed, which, I know, boo hoo. But as someone who grew up in the Canadian prairies, I am all about jumping on airplanes to different European countries every chance I get. It still blows my mind that I can take the train to Paris. That I can fly to Italy in two hours. That I can drive the length of England in about the same time that it would take me to drive from my hometown to Fargo, North Dakota (yes, like the movie, and no, I don't have the accent).
But these passport-less two months are just motivating me to see more of the UK, so I'm planning a trip to Rye in February and a road trip around Scotland in March. You can take away my passport, but you'll never take away… my… um, never mind, that Braveheart reference totally doesn't work (*quietly removes blue paint on face*).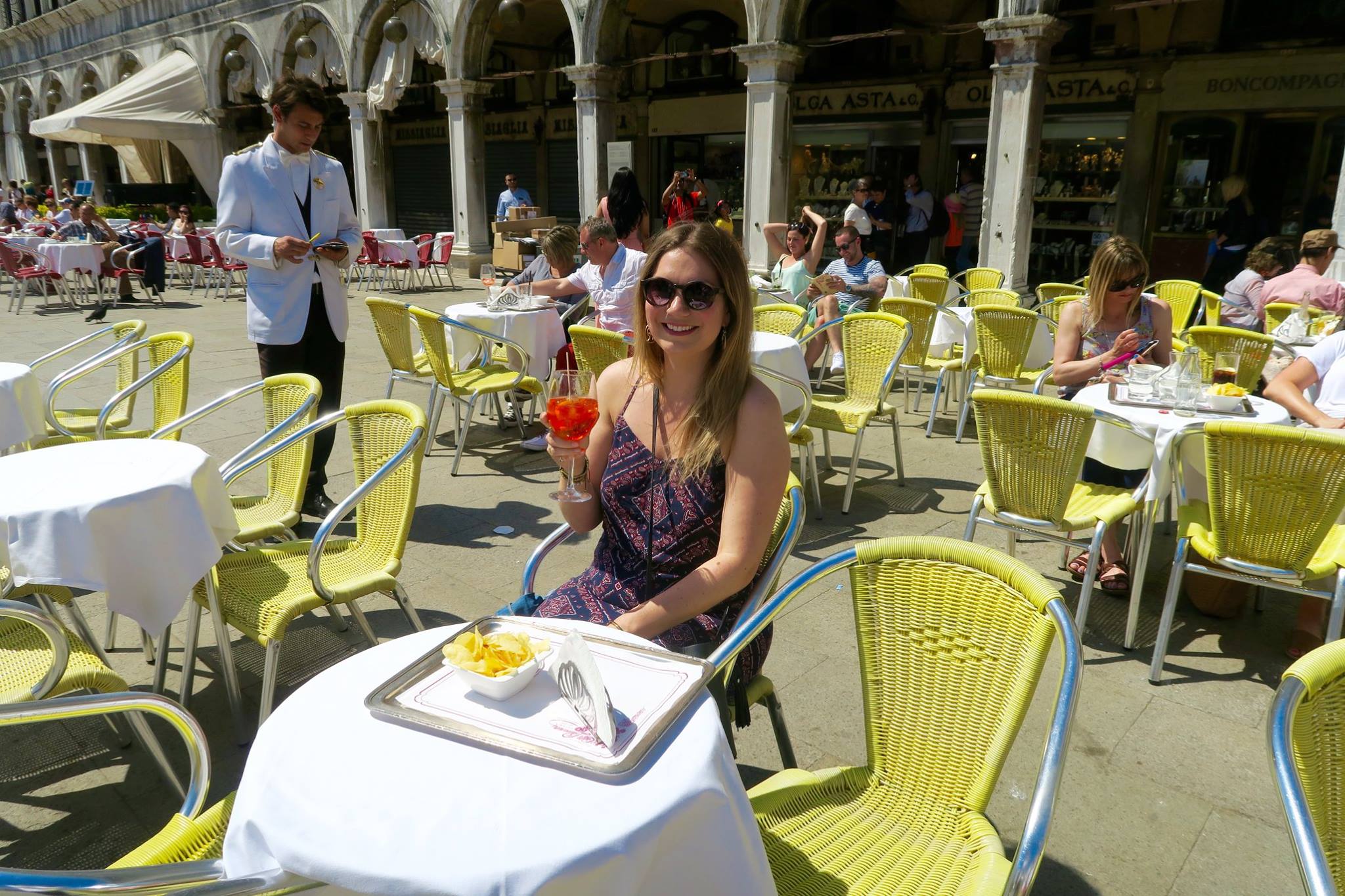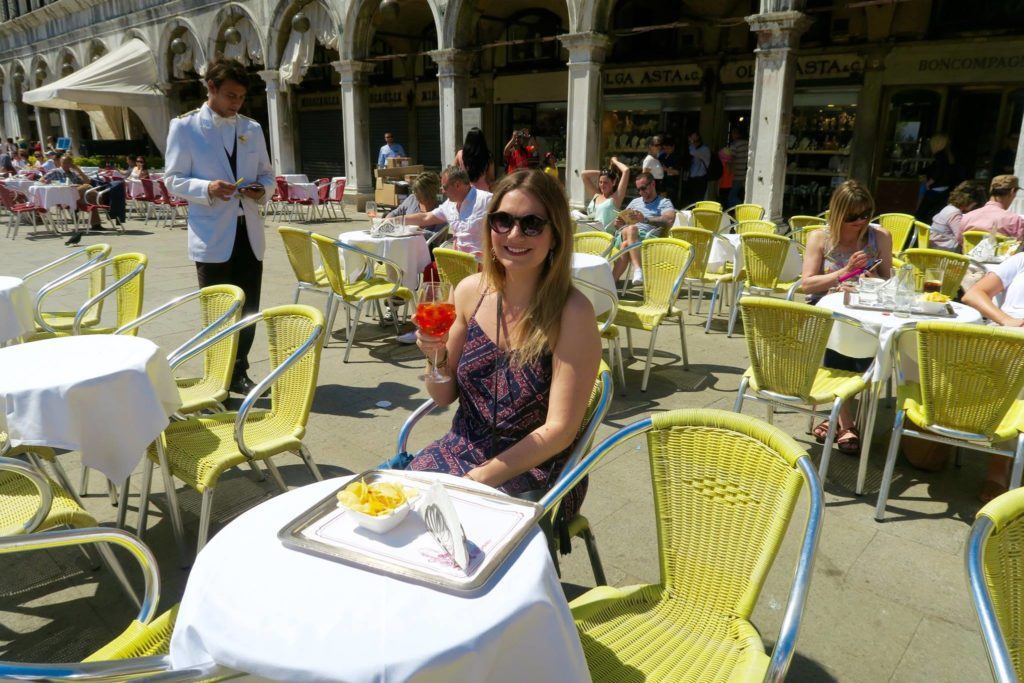 Aperol Spritzes on my own in Venice… a few minutes after this photo was taken the people next to me got engaged, but I got extra chips, so I feel that things really balanced out. 
January 26, 2017
Today I have a fantastic day with my friend Claire, who was in the same master's program as me. We don't see each other often enough – she lives in Kent – so it's so nice to catch up. We wander around Borough Market with Monmouth coffees, go to the Tate Modern's new Switch House, head to Gail's Bakery for amazing corn pancakes, and then meet up with Abigail and Gabriella, also former classmates of ours, for coffee. We have a lively, wonderful chat about books, writing, and life.
Inevitably, one of them asks about my dating life. They are all in happy relationships with fantastic men, and it's sometimes hard to articulate what it's like to be single to people who have been in relationships for a long time.
"I finally figured out what it is," I tell them. "I'm too goddamned nice. I'm a complete pushover." They all wholeheartedly agree.
And it's true. I have dated men from all kinds of backgrounds – ethnically, religiously, financially, everything from how old they are to what language they speak to whether they like football or not – and guess what? The only thing they have in common is me. I don't think that I seek out bad guys, or that some of them even ARE bad guys, but I have sure let them get away with a lot of bad behaviour in the past. These are just a few of the things I let slide in relationships when I was in my early twenties, and, just to warn you, it gets pretty heavy:
-cheating
-calling me names
-criticising my wardrobe, my beliefs, my weight, my intelligence, my cooking, my sex drive (too much or too little, what am I, goddamned Goldilocks?!), and just about everything else about me
–gaslighting (a form of manipulation in which someone tries "to overwrite another person's reality")
-blatantly flirting with and checking out other women in front of me
-finding out, after I took him on a family vacation, that he was telling people, "Nah, I'm not serious about her, but do you really think I could pass up a free trip?"
-not calling or texting when he said he would, sometimes disappearing for days
-pushing me, punching the wall next to me, throwing objects at me, throwing my belongings out the window
-getting angry enough to flip a heavy coffee table that landed on my friend's foot and broke her toes
-"accidentally" punching me in the head while getting into a drunken brawl at a concert
-having sex with me while I was passed out, and then getting angry when I woke up crying and asking him to stop
-having Skype sex with another girl on my laptop in my flat while I was asleep in the other room
-saying "Fuck you" to me so many times I lost count, including in front of my mother
-drinking so much he urinated all over me in bed
-telling me nobody else will ever love me, look at me, or want to touch me
To reiterate… I CONTINUED TO DATE THESE PEOPLE AFTER THEY DID THESE THINGS. I would eventually go on to break up with them, when the culmination became too much, but none of those individual actions sparked me to speak up and get really fucking angry (OK, the urine actually was the catalyst for me to break up with that one guy). Why? My best guess is that I was so desperate (there's that word again) to please, and that I was so desperate to make the relationship work, that I put up with anything. Remember, I said that, in my past, the number one thing I wanted was to be loved by a man. Does this stem from my parent's divorce? Perhaps. I was so determined not to rock the boat that I shut my mouth, never speaking up against my boyfriends and also downplaying my emotions when talking to my friends or family.
But one day I woke up and I was just tired. I was tired and angry and sad for being treated like this all the time, or, perhaps, of letting myself be treated like this all the time. My mum once told me that I come across as so confident and self-assured online, and yeah, I've travelled the world and accomplished a lot of things I'm really proud of and not been afraid to speak my mind about so many topics I believe in. But I've also let myself be a fucking doormat in almost all of the early relationships I was in, and I think it's important to sometimes pull back the curtain and expose the voice behind the wizard, to show that it hasn't been all sunshine and lollipops and making out with hot guys on beaches (don't get me wrong, though, there was a lot of that, too). One day I woke up and just felt worn down by past boyfriends' behaviour, and I decided I didn't want to feel that way ever again. And when did that day occur? It occurred after I'd gone out and travelled. I've often talked about how longterm, solo travel changed my life, and it really did – it made me stronger, more confident, and more in tune with who I really am. I would never put up with the things I put up with in my early twenties today, but I was also young and naive and not as independent as I am now, so I try not to judge myself too harshly for staying in those toxic relationships.
I've never really written about any of this on the blog before, and to be honest, it was very difficult for me to write it now. I cried writing it, because all I could think is that if my sister or my friend came to me and told me any of those stories, I'd tell her to run like hell. But, chances are, there's someone reading this who can relate (for the record, I'm telling you to run like hell). I didn't mean for this to get so serious (what's that you say, Freud? My hour is up? Oh, ok then, up off the couch I go…) but the truth is that being single is often much more complex than just, "OMG guys are so lame LOL" or "Wahhh, I didn't get any matches on Tinder today." I realise I've kept potential serious relationships at arm's length in the past six years or so because I didn't know if I was ready to be in a relationship again, not until I knew that I was 100% ready to stand up for myself and 100% ready to BE myself. It's probably why I've found travel romances much more appealing sometimes, and also why I write about them so much more than any serious relationships (oh Jesus, this IS getting deep). The fact is, while I've since dated some really wonderful, great men, I'm now happy to wait until I find a relationship that stems from mutual respect and admiration, one that just feels right, even if it means it's years and years in the future on that Mexican beach (oh, I'm also wearing a white kaftan in this scenario, just to give you an even clearer image. I'm barefoot, too. It's also probably sunset).
On the flip side, my sister (it's actually her birthday today) has always been very strong, vocal, and confident in her relationships. She has always spoken up for herself, and does not put up with any bullshit or bad behaviour. Incidentally she has dated wonderful, caring men, ones who treat her with respect. I don't think that's a coincidence.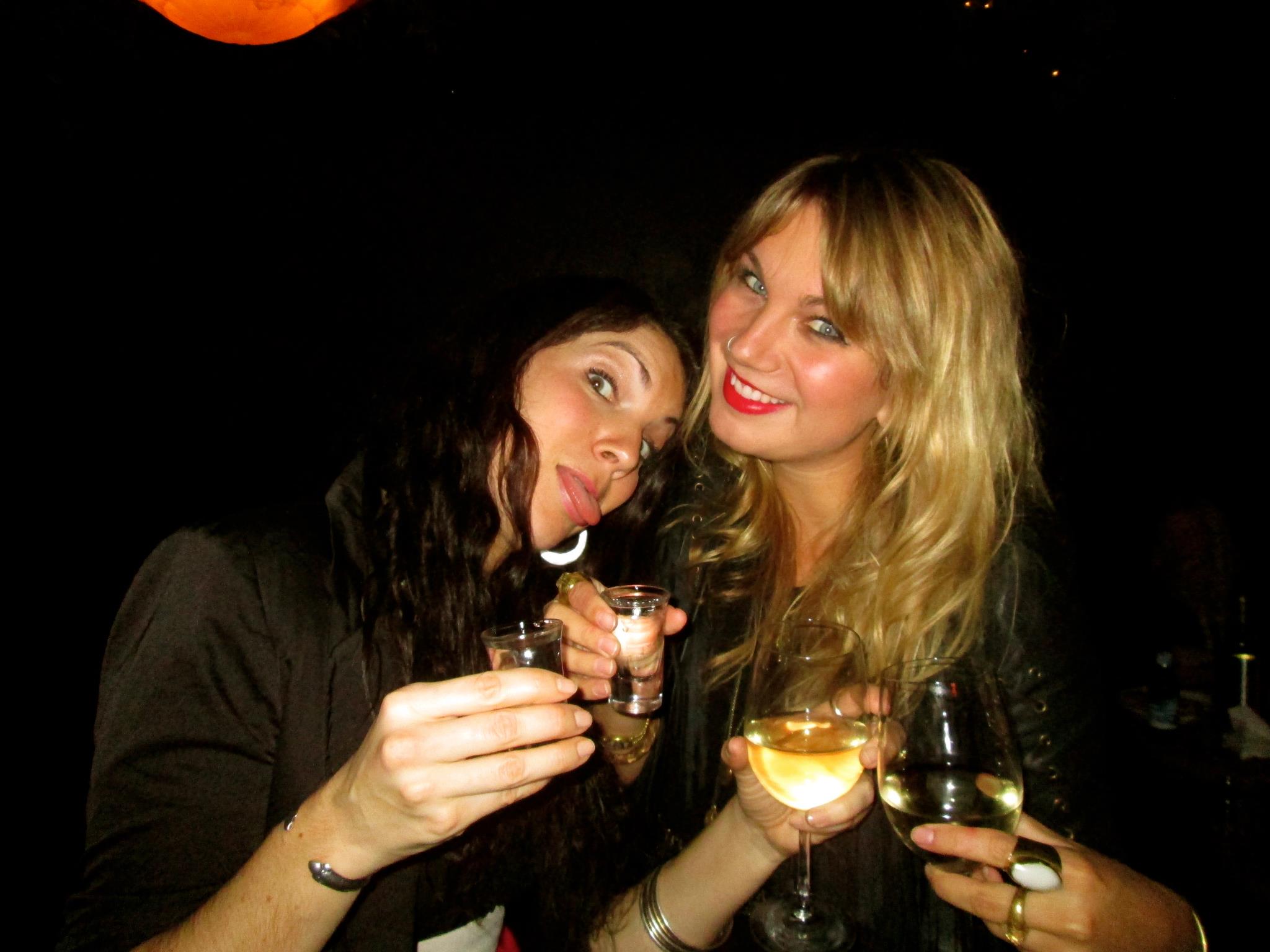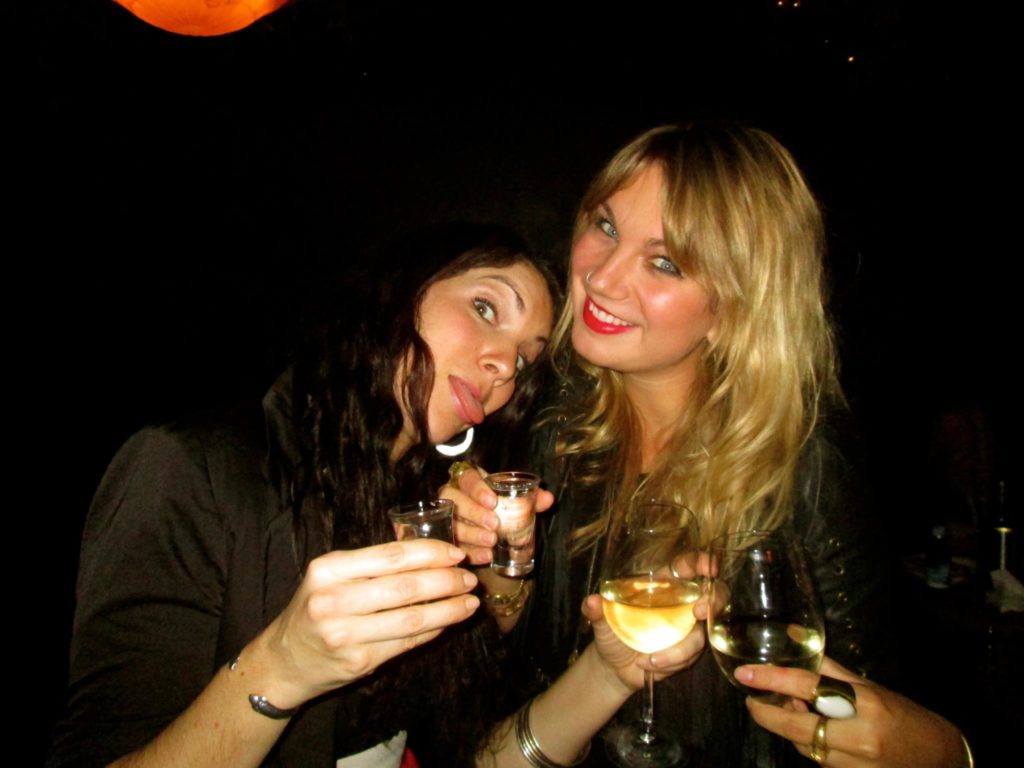 My sister and I on The Night of the Easel Smashing (that will make more sense in a minute)
January 27, 2017
Today I work from home. After my usual walk around East London, I also do a 20-minute workout routine on YouTube, and spend the rest of the afternoon flexing my arm muscles in the mirror because I'm convinced I can see a difference. I go and meet some friends in the pub, and once again nobody says anything about me not drinking. In fact, they're all kind of in awe of the fact that I kept it up all month (remember, what happens in Italy stays in Italy).
"You better not become one of those people who doesn't drink at all," my sister says to me on the phone, and I assure her that I will not become one of those people (the horror!). But this month has made me evaluate both my physical and my mental health; there's no denying that I have seen huge benefits from a month without alcohol, including clearer skin, brighter eyes, less headaches (actually, no headaches), a bit of weight loss, and, most importantly, a happier and more productive brain. I've decided that I'm not going to drink as much anymore – no more wine at home for dinner, for example. And it really wouldn't kill me to order a half-pint once in a while instead of a full pint (which goes against my theory that Guinness only tastes as good in a proper Guinness pint glass, but I guess I'll just have to deal with it).
But no, I will never become one of those people, because man oh man, I have had FUN while drinking. Off the top of my head, here are some of the best times I've ever had while imbibing the devil's drink:
1. The Night of the Easel Smashing
It was early 2013, I had just returned from Brazil, and my sister was just about to move to Israel. She threw a goodbye party in Winnipeg with her closest friends and we drank far too many bottles of wine and hugged each other all night. We were crowded round her friend's living room when someone went to sit down in a wooden chair… which wasn't a wooden chair at all, but an easel, complete with a large canvas on it. He smashed through the canvas, through the easel, and lay sprawled amongst the painting supplies all over the floor. Even now, I can't think of that scene and NOT burst into laughter; to this day my sister and I refer to getting really drunk as "easel-smashing". I thought I was going to die laughing.
2. The Night of the Table Flipping
It was mid-2012, and my friend Kerri and I were travelling around Peru. We were the only ones who signed up for a trivia night in Mancora, so we got progressively drunker and drunker trying to beat each other at trivia (much to the organiser's chagrin). We met these three Chilean dudes who took us to a beach bar where they proceeded to buy us tons of tequila shots. Kerri and I have this thing about Rihanna songs, in that when we're drunk we just NEED TO DANCE TO THEM (another one of our "must-dance" songs was that "I Just Came to Say Hello" song that was really popular in Southeast Asia a while back… once Kerri went up to a DJ and requested that song and he said, "Oh wow, that's really nice, thank you so much for that". Again, I thought I would die laughing). So Rihanna comes on, and I'm so pumped to dance that I stand up abruptly, flipping the plastic table we're sitting around, spilling beer all over the Chilean guys (who, by the way, we had quickly discovered were weird and creepy and MARRIED so I'm gonna go ahead and call that karma). In the end, it was just me and Kerri dancing all over this beautiful Peruvian beach, having the time of our lives.
One other funny tidbit about that night was that after tee many martoonis (my favourite expression in the world), Kerri signed us up for surfing lessons at 9am the next day, completely unbeknownst to me. When someone started knocking on our door at 9am, I answered it, hungover and naked save a sheet wrapped around me. I assured him over and over again that we did not sign up for surfing lessons, closed the door, and fell back asleep. It was only around 7pm that evening that Kerri remembered that, yes, she had actually signed us up after all. This is my public apology to that poor dude who had no idea what he was in for when he knocked on that door that morning.
3. The Night I Saved a Man's Life
It was mid-2011, and Kerri and I were on the island of Koh Tao, Thailand. We were tanned and happy and without a care in the world, and we had just finished our Open Water scuba diver certifications. We drank a couple of buckets of Thai whiskey at a little beach bar called Lotus (does that still exist?) and danced like crazy. When Kerri and I dance, we dance to have fun. We don't dance to look sexy or look cool, we dance to laugh and jump around and sweat. It's the best. The night wore down, the music eventually stopped, and we sat on the beach talking with a group of other backpackers. "Our friend Harley is out there swimming," one guy says to us, and sure enough, there's a guy in the water about twenty metres from shore. "Oh my god," I said. "Has he been drinking? He shouldn't be swimming!" I was half joking, half serious… the water there was only about two feet deep, but I had no idea how drunk he actually was. "I will save you, Harley!" I called out, and marched into the water fully clothed. Harley decided to play along with it, and I dragged him back to shore with both of us laughing the entire way, the black sky above twinkling with stars. The group of us took a bunch of funny photos and ended up hanging out on both Koh Tao and Koh Phangan. Once in a while on Facebook I remind Harley that I "saved his life", and it still makes me smile.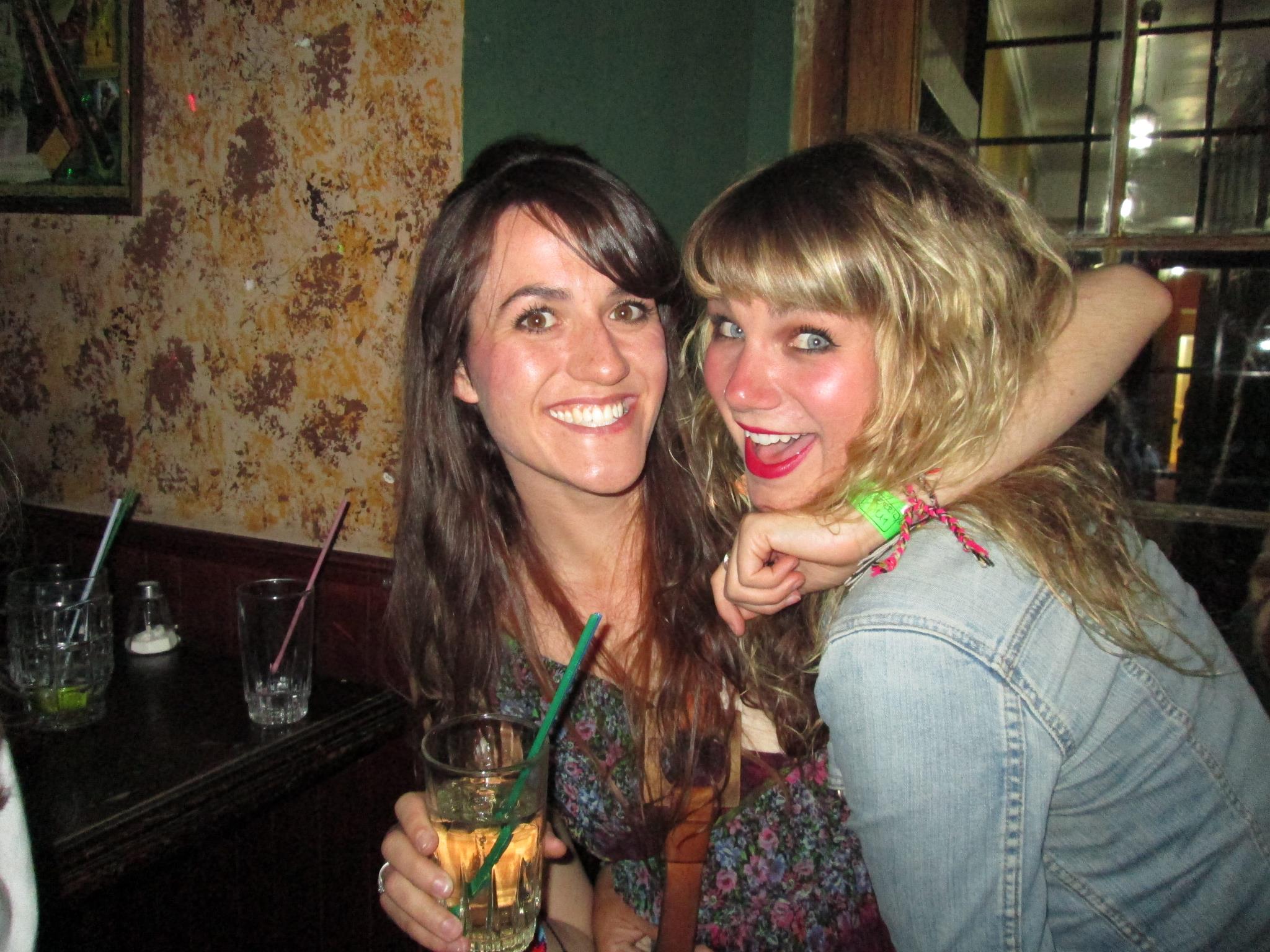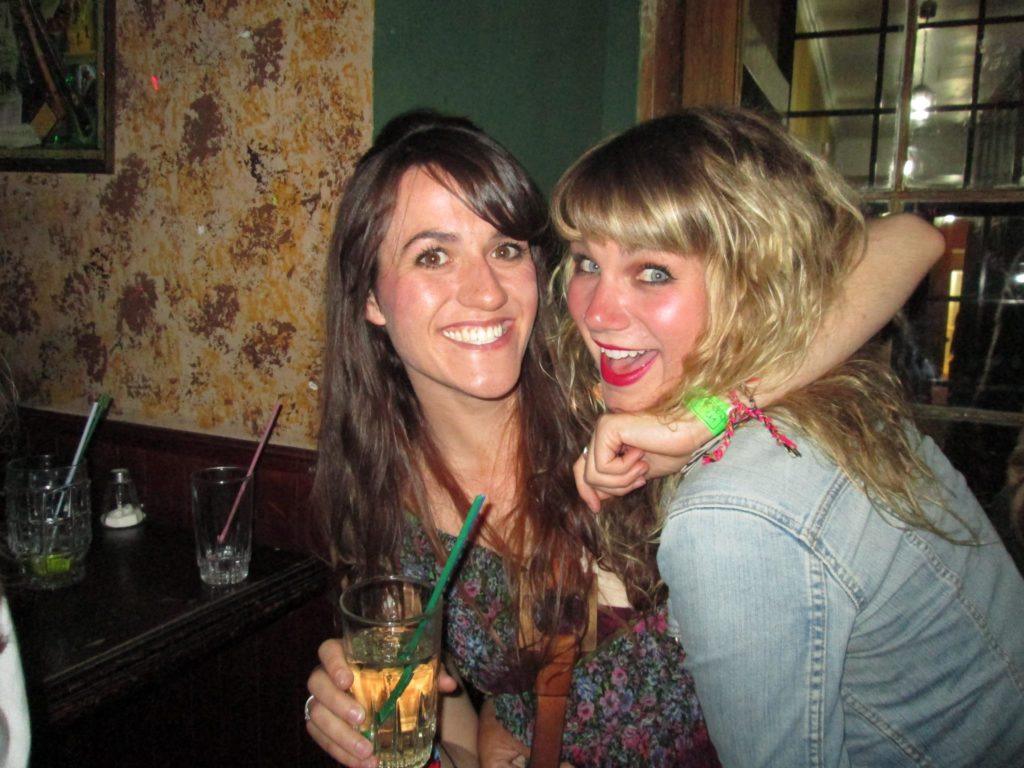 Kerri and I in Bolivia. I have hundreds of photos of us on dance floors across Asia and South America, but trust me, you don't want to see them.
Don't get me wrong, I've also had a couple of bad nights while drinking, including any night that ended in tears, vomit, or every night I spent in Cape Town (it was my 30th birthday and I drank too much on a couple of nights, so I spent my four days there either drunk or hungover, and I barely saw the city. I still regret it). But for the most part, I'm a responsible, fun, and happy drunk, and I love drinking with good friends and family. I've had some absolutely amazing nights (and a few amazing days, too) because of alcohol, so I don't think I could ever give it up completely. It sure will be interesting to see what happens next week, though.
January 28, 2017
I did it. I made it four weeks without drinking or dating (*cough* again, ITALY DOESN'T COUNT *cough*). Today, the last day that I technically have to hold myself to these restraints, I meet Isabel at Broadway Market and we walk to Hackney Picturehouse to see La La Land, which is a perfectly pleasant movie about falling in love (but seriously, why the hell isn't Hidden Figures out in the UK yet?!). I spend the evening cooking a great dinner for myself (take THAT, Shitty Boyfriend Number Two who always complained about my cooking), reading a bunch of feminist memoirs (Lindy West, I love you), and reflecting on all that I've learned over the last month.
It actually wasn't that difficult. The combination of not drinking and not constantly checking my phone to see if some guy texted me back has made me fitter, happier, and more productive (I wrote that sentence and then realised I was subconsciously quoting Radiohead, one of my favourite bands, so it stays). I managed to publish nine blog posts including this one, as opposed to my regular three or four. And in keeping this blog series, I realised that I really enjoy writing in this personal, free-flow style, so you may see more of it in the future. Writing all of this gave me a lot of clarity into my life, and what I want out of life going forward (I'm dead serious about that turquoise jewellery).
So do I recommend giving up your greatest vices in order to see how you change or grow? I honestly don't know – you do you, as they say. For me, this was a huge wake-up call, a massive push in the right direction, and a jump start on what I hope to be a very happy and successful year. I sincerely thank you for coming along for the ride.
That concludes this series! Were you entertained? Bored? Horrified? All three? Would you like to see more of this style of writing on the blog? Do you think I should have a glass of wine tonight (there has been a mini bottle of Sauvignon Blanc in my fridge for a month, silently mocking me)? I'd love to hear your thoughts in the comments!