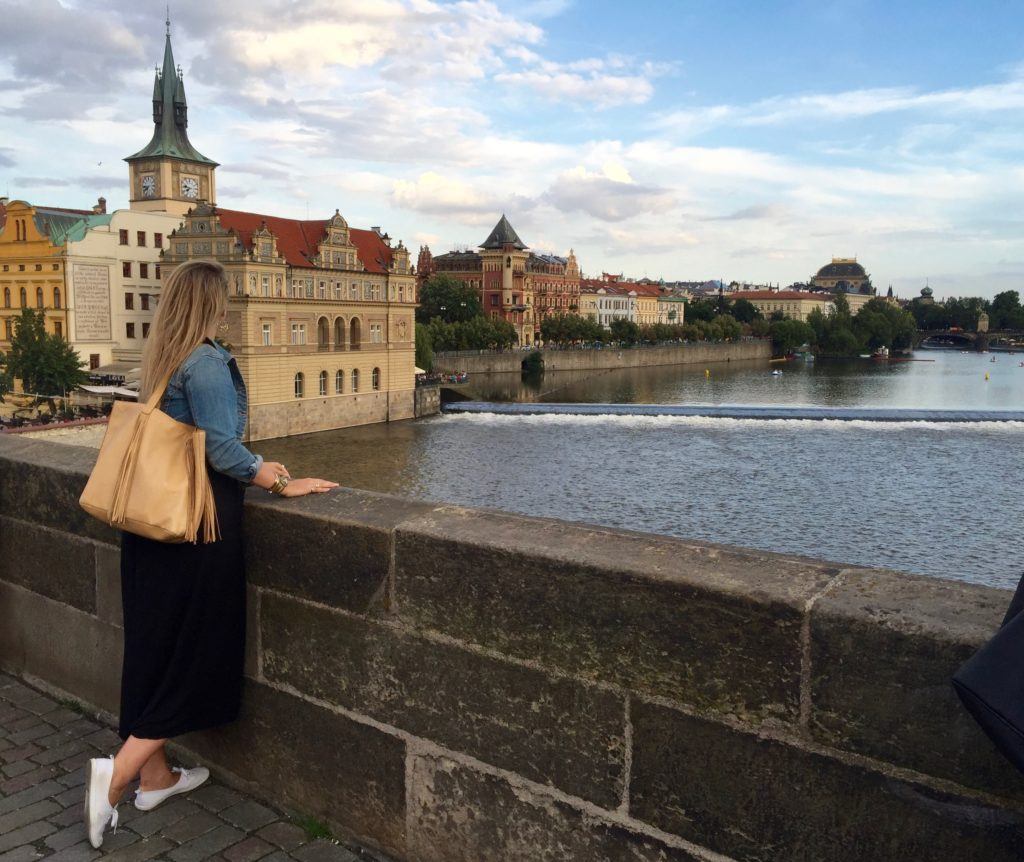 "What are you up to this weekend?" Mike, another regular at my local pub, asked me over a pint.
"I'm going on holiday," I replied, taking a sip of my beer.
"Lucky you," he smiled. "Where are you going?"
"That's the thing," I responded, smiling back. "I have absolutely no idea."
***
I've always dreamed of planning a surprise trip for someone. I can't imagine anything more fun than secretly booking a holiday, planning the flights, hotels, and activities all while the other person has zero clue what's going on or where we're going. I've always thought that the absolute coolest thing I could do for someone is to say, "I have our weekend planned. Pack a small bag, and bring your passport. Meet me at Heathrow at 5pm this Friday"… all mysterious like I'm James Bond or something (how James Bond always looks so stylish when he travels on a whim, I will never know. Does he take a travel-sized iron with him? Get dry cleaning at the hotel? I'm rambling, I'll move on).
On the flip side, if someone ever did this for me… oh my. I would take that person straight to the chapel and marry them, because, as mentioned before, it is THE ABSOLUTE COOLEST THING. A spontaneous holiday? Not knowing where you're going until you get to the airport?! For me, someone who loves spontaneity and adventure, I can't imagine something more fun.
And then, as if they could read my thoughts, along came Surprise Trips. Because Surprise Trips does exactly that.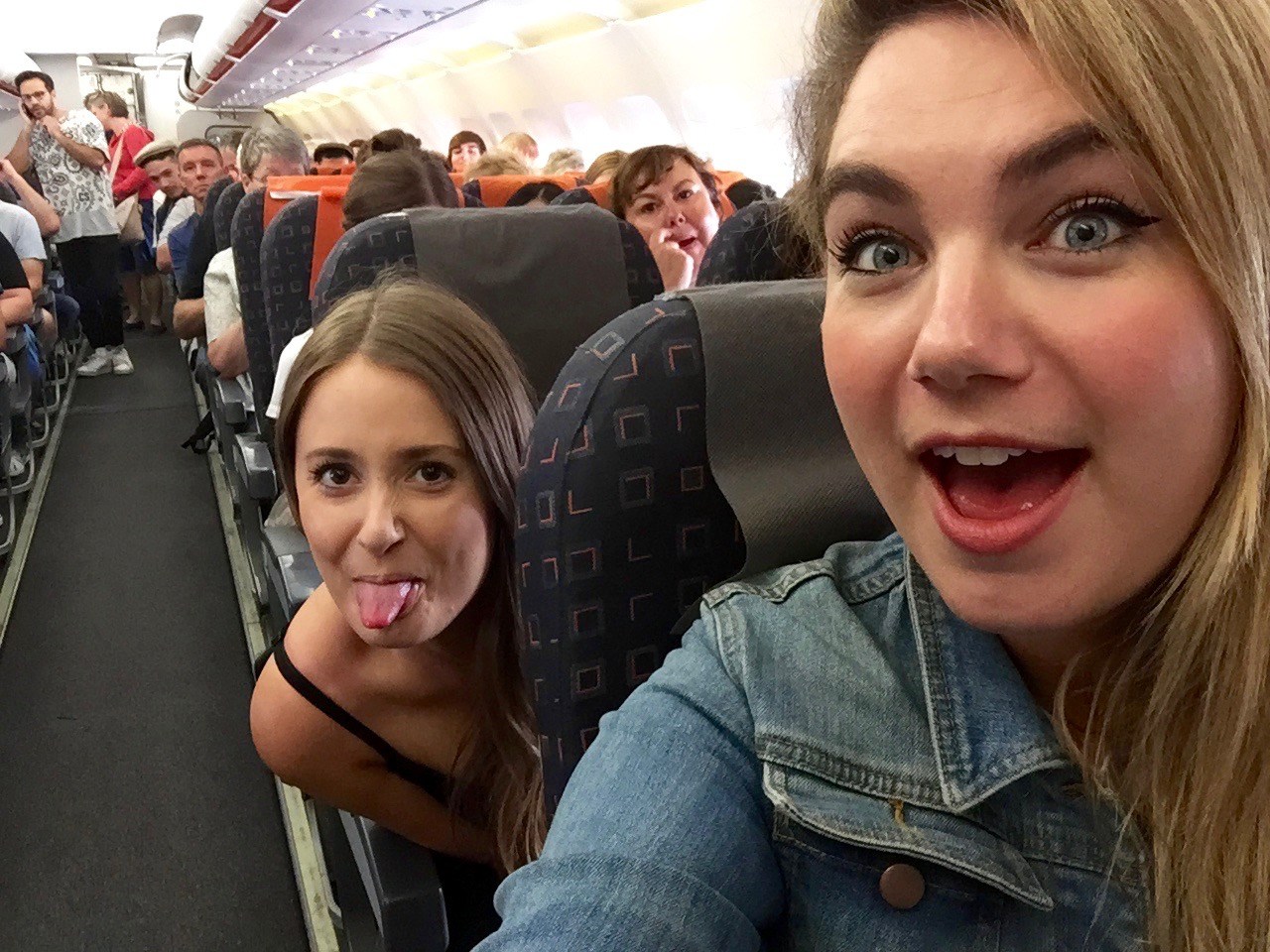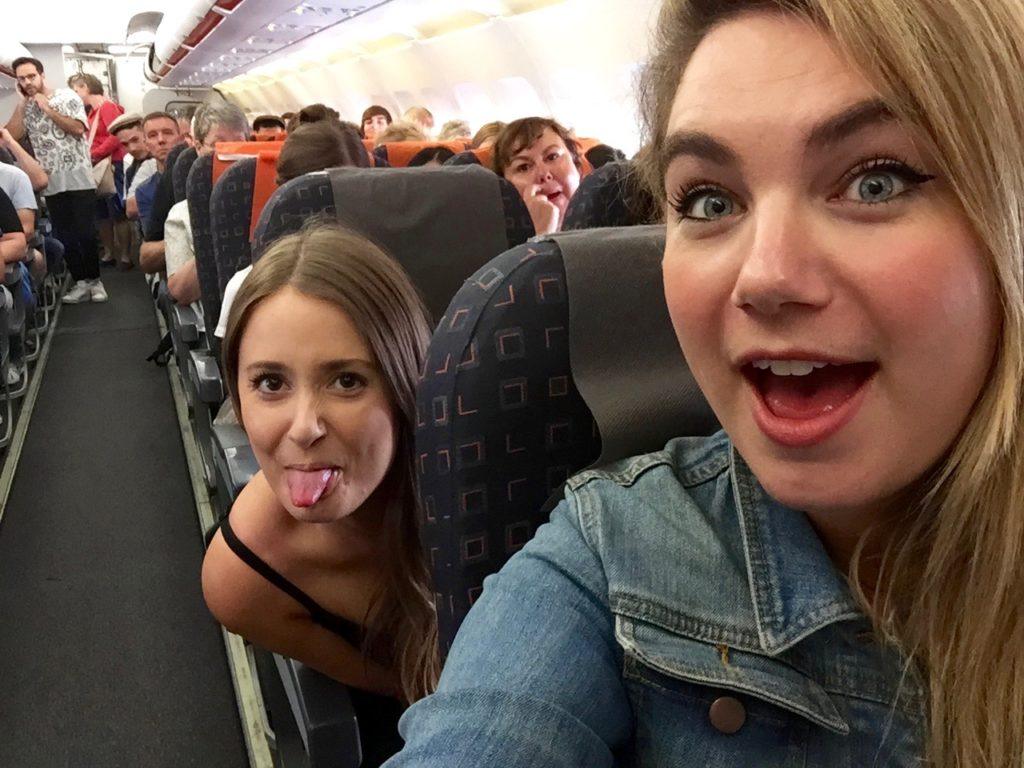 Surprise! We're on an airplane, flying to… wait, where are we going again?
The premise behind Surprise Trips is this: they plan a surprise holiday for you, booking your flights and hotel to a mystery  destination in Europe. A few days before you're set to depart, you get a weather update, so you know what to pack. And then, the day of your departure, you arrive at the airport at the designated time, and… you get an email telling you where you're going. To reiterate: you have no idea where you're travelling to until you get to the airport. When they approached me and asked if I'd like to be one of their guinea pigs – the idea only came to fruition this summer – I couldn't contain my excitement. (Full disclosure: I work for the company that hosts Surprise Trips, though I don't work on Surprise Trips itself. Despite that, I would never post anything but an absolutely genuine and honest review on my blog, so please know that all opinions are my own.)
I asked my friend Jen if she'd like to tag along, and she was also game. As the date of our departure loomed closer, we started to look at the possible destinations – all 77 of them – and wonder where we might be going. Even as someone who works in travel (and who plays way too many online geography quizzes for her own good), there were many destinations I barely knew anything about: Trondheim, Caen, Limoges. This made it all the more exciting to me… just where the hell were we going?! I had given Surprise Trips a few cities I didn't want to go to – you're allowed to exclude some cities from the list – mainly because I had been within the last year (Stockholm, Aarhus, Madrid).
When we got the weather report a few days before, we knew it would be fairly warm, from the mid to the high 20s. As this was July, that narrowed our guesses down to… well, it barely narrowed it down at all. We were up for anything, though, whether that was Italy, Iceland, or anywhere in between.
On the Friday morning of our departure, Jen and I headed to Stansted Airport for 9:45am. Surprise Trips emails you exactly two hours before your flight, so you have to have a smartphone or device with working internet/4G in order to check it. We tried not to look at the board of departures, because we wanted it to be the ultimate surprise. Hovering around the departure gates, we finally got the email… that told us were were going to Prague for the weekend!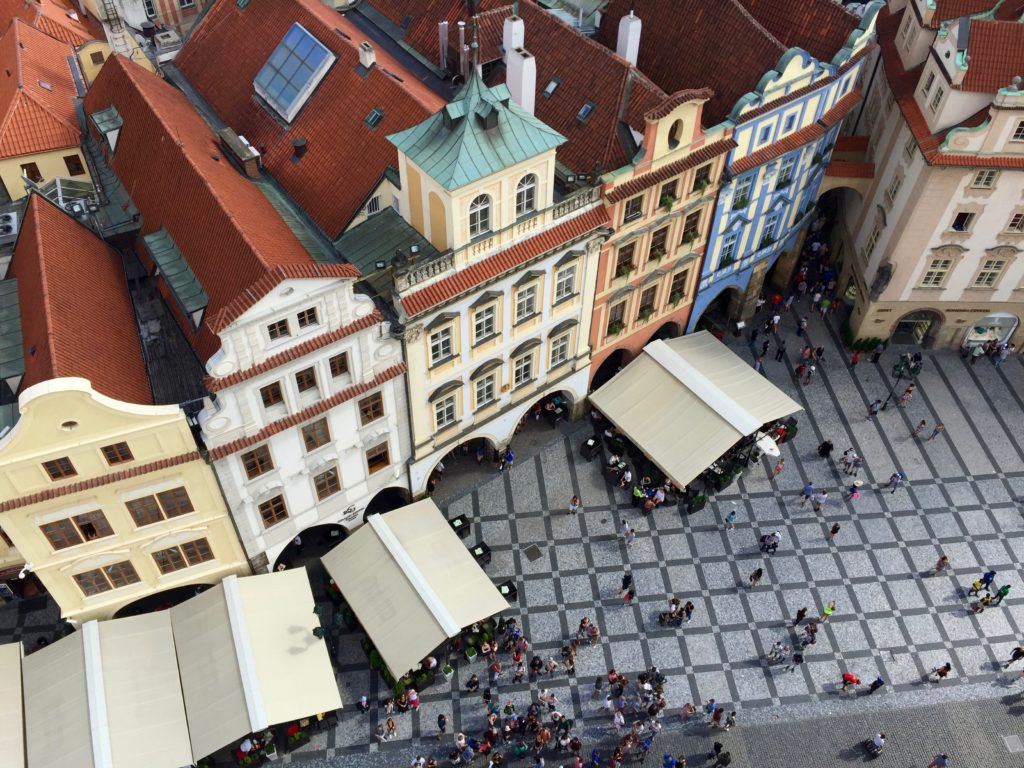 I honestly couldn't have been happier – Prague is a city I first fell in love with ten years ago, and I had been aching to go back ever since I moved to London. I'll be writing a post all about what to do in Prague on a long weekend very soon (including my best photos from the city).
I was also very happy with how everything worked out with our Surprise Trip. Our flights were booked for reasonable times, meaning we left early enough on Friday to still enjoy most of the day in Prague, and, returning that Sunday, our flight wasn't so late that we missed the last trains back to London. Our hotel was standard, but clean and comfortable, and it was in an absolutely amazing location (three minutes from Charles Bridge). Overall, we had an absolutely fantastic weekend, and it was made even more special by the fact that we had no idea where were going until we got to the airport.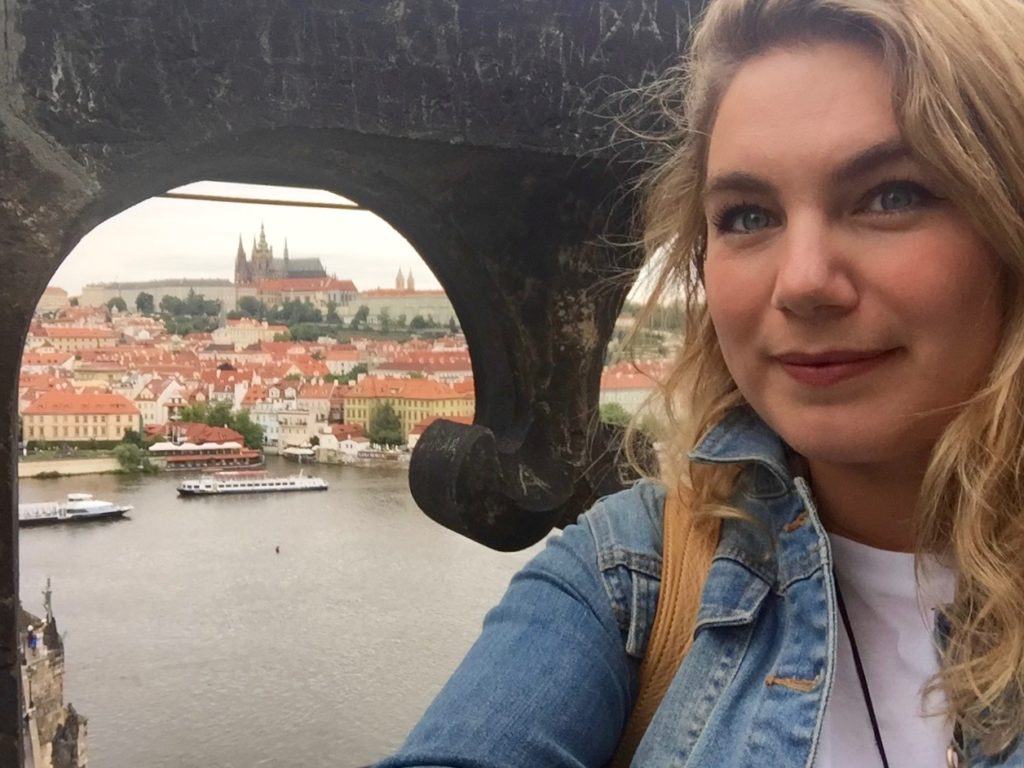 Bit of a moody selfie overlooking Charles Bridge
Some notes on Surprise Trips:
-Right now, Surprise Trips only books holidays that fly from the UK or Ireland.
-All final destinations are European, and no flight is longer than 3.5 hours.
-What you pay (you decide how much you want to spend on your trip… I imagine that the more you spend, the farther you go and/or the better quality your hotel) covers your flight and your hotel, but nothing else.
-Surprise Trips can be booked if you have a UK, IE, CA, AUS, NZ, US, or EU (Schengen) passport, and you can designate if you'd like to travel to a Schengen country to avoid a potential visa issue.
-All airlines used are those that allow you to walk up to the departure desk and check in, meaning airlines like Ryanair – which charges you if you don't have your boarding pass printed before you arrive at the airport – are excluded. No need to worry about printing boarding passes.
-As many airlines charge to check baggage, it is recommended to pack carry-on only, as Surprise Trips does not pay for excess baggage.
-Because you'll be checking in only two hours before your flight, there is a chance that you won't be sitting with your travel companion on the airplane. In our case, Jen and I were seated one row apart, and as it was a short flight, it was no big deal.
-For more, including a fun video, check out their site.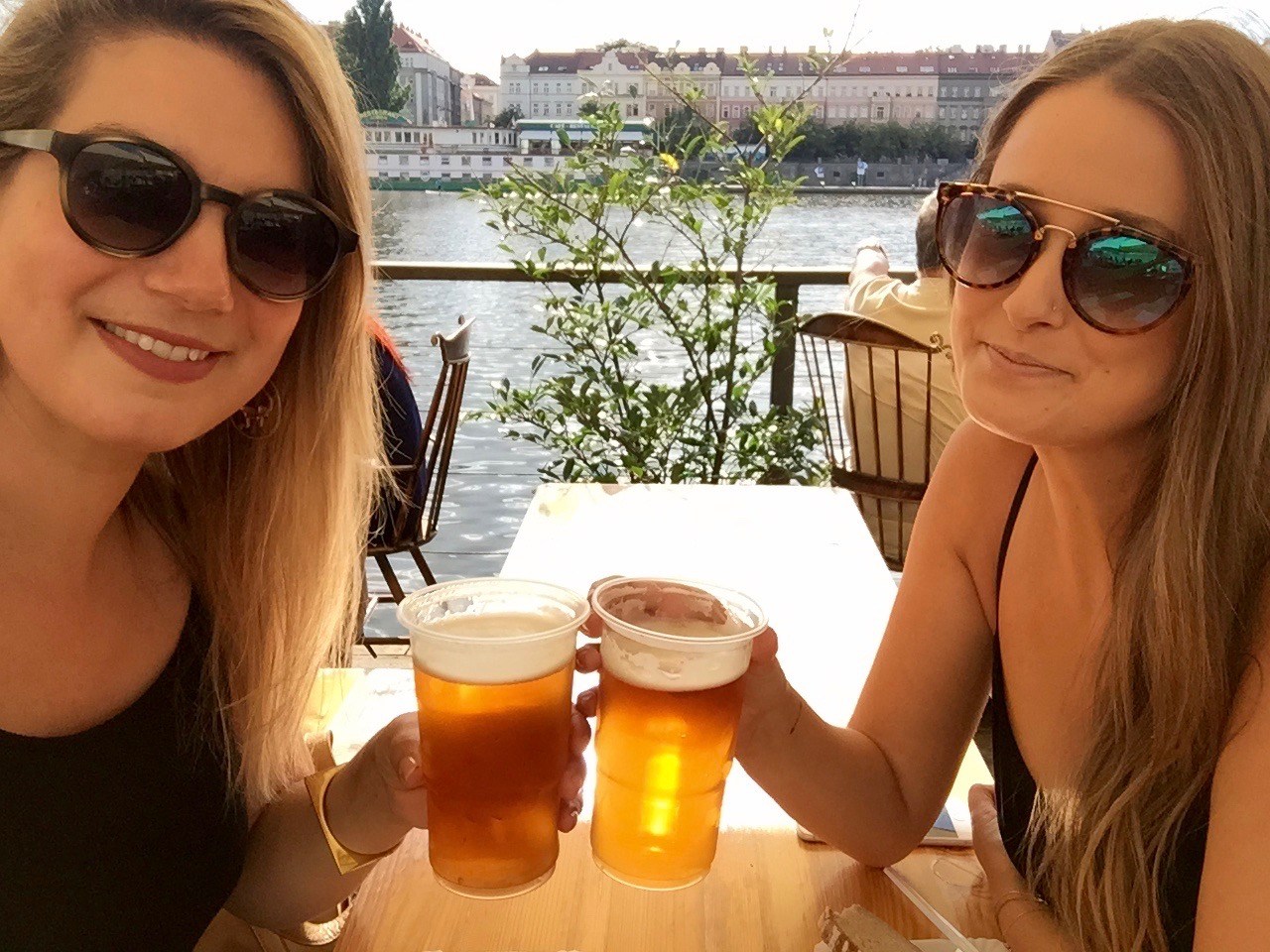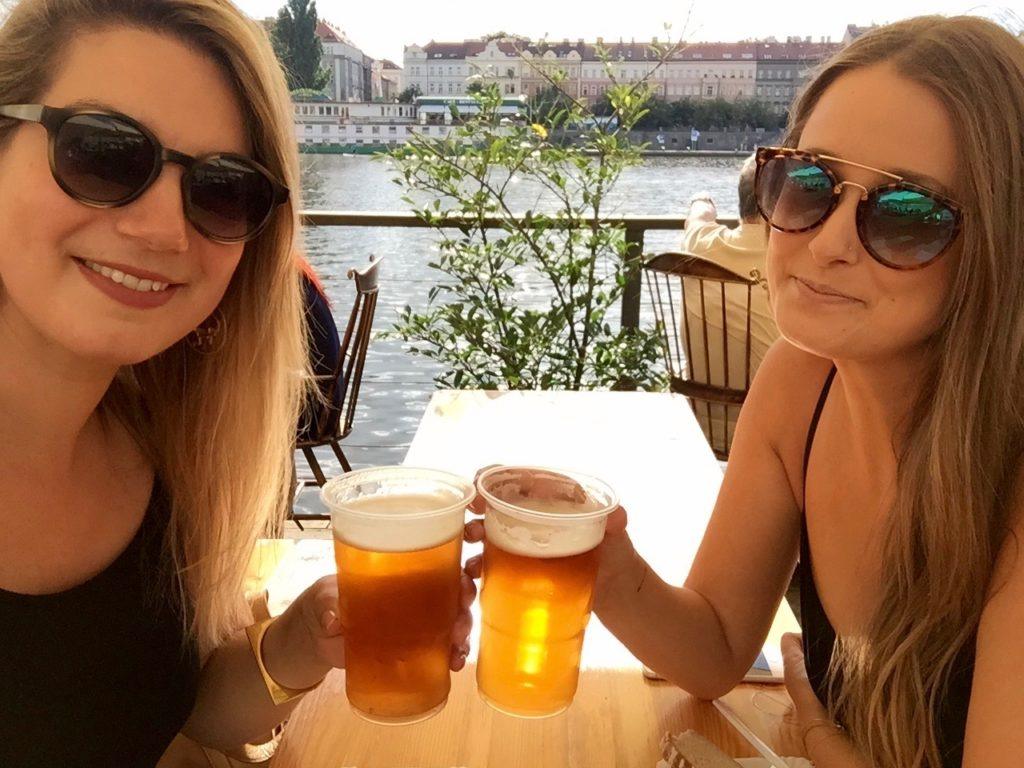 First beers in Prague
So is a Surprise Trip right for you? I think this type of holiday is ideal for a couple or small group of friends (the maximum amount of people per booking is four, and all travellers must be over 18… but I believe child-friendly options are coming). You have to be fairly adventurous and laid-back; if you absolutely must stay in a luxury resort when you travel, for example, you might not like that you don't have control over your hotel booking. You also obviously won't be able to do any research about the place you're going to, but in today's age, I find that "things to do" lists are only a Google search away, and you'll have some time before your flight to do a wee bit of research or buy a guidebook in the airport. Finally, you have to have a bit of flexibility with your budget, as even though your hotel and flights will be paid for beforehand, prices can vary quite a bit across Europe.
All in all, I think a Surprise Trip is perfect for someone who wants to shake things up a bit and have a bit of an adventure; I also imagine this would be ideal for a birthday or celebration of some kind, like an anniversary.
And would I take another Surprise Trip? Absolutely, in a heartbeat. I thought it was such a fun idea, and I loved the spontaneity and excitement I felt before going. It was exhilarating to show up in a place without anything planned; I'm not much of a planner anyway, but this took it to a whole other level. And do I still think that having a surprise holiday planned for you is THE ABSOLUTE COOLEST THING? Yes, 100%, and I can't wait to do it again.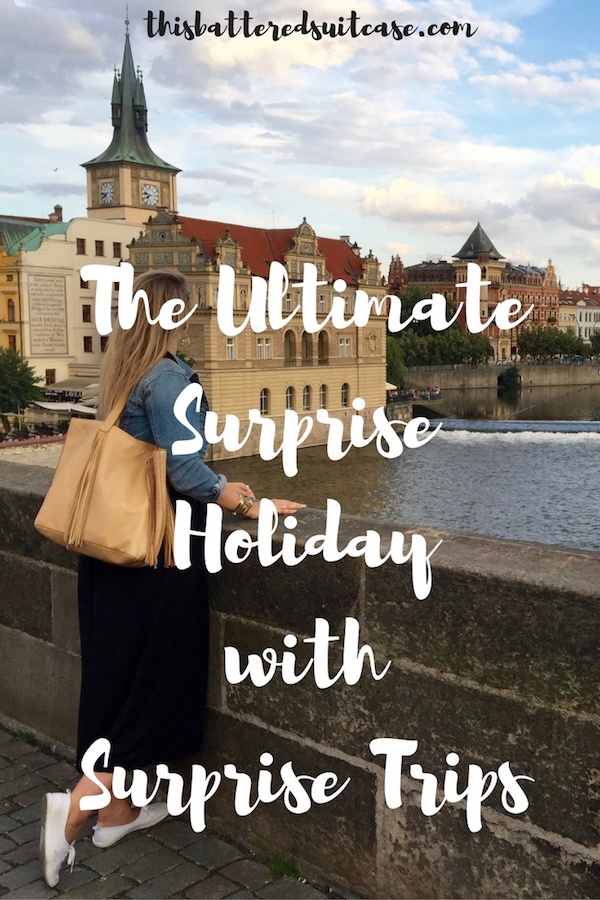 Thank you very much to Surprise Trips for hosting me in Prague. While they covered my flight and hotel, I paid for the rest, including all ground transportation and food. As always, all opinions are my own. 
Would you go on a Surprise Trip?