Somehow, in the blink of an eye, it is December again. It honestly feels like only a few months ago that I was travelling on my own to Switzerland and Liechtenstein before spending Christmas in Vienna with my sister. But now the holiday season is upon us again, and, whether we like it or not, or believe in it or not, that means a time that many people expect to give and/or receive gifts.
I've always loved Christmas. I absolutely love every stereotype about it: the scent of fresh pine and oranges, the cozy jumpers, the fact that you don't need an excuse to drink eggnog. Growing up in the Canadian prairies (and in the so-called Christmas capital of Canada at that), I always had a picture-perfect Christmas.
Since leaving my hometown, I have had some odd Christmases. There was the hungover McDonald's meal last year with my sister; a day on the beach in Borneo springs to mind, too, as does a barbecue on a warm Christmas in New Zealand. This year, I'll be spending the holidays in Nicaragua with my family. It's the first time my sister, brother, and mum have been together for a Christmas day in seven years, and I can't wait.
The trip is obviously the most amazing gift I could ever ask for. But, if I was going to be completely greedy, here are a few things I would put on a Christmas list. Some of them I already am lucky enough to have, and so would love to give a friend or family member (hi sister), but these are the things I think make perfect gifts for travellers.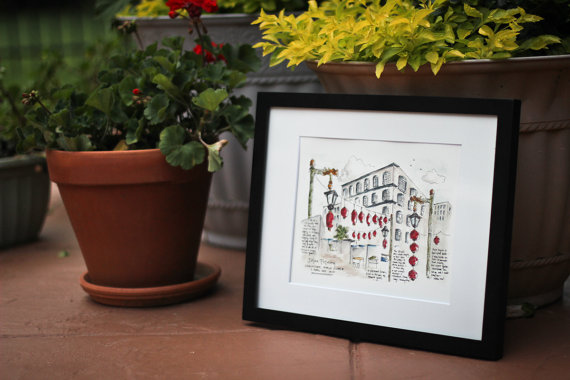 Image from Candace's Etsy shop
1. Anything by Candace Rose Rardon. Candace is a friend of mine and, in my opinion, one of the best bloggers/writers/artists out there today. For those who don't know, Candace travels the world and sketches/paints along the way. Her work is absolutely exquisite, and she sells a lot of it in her Etsy shop, including stationery, travel prints, and custom paintings. I would die for one of her custom maps…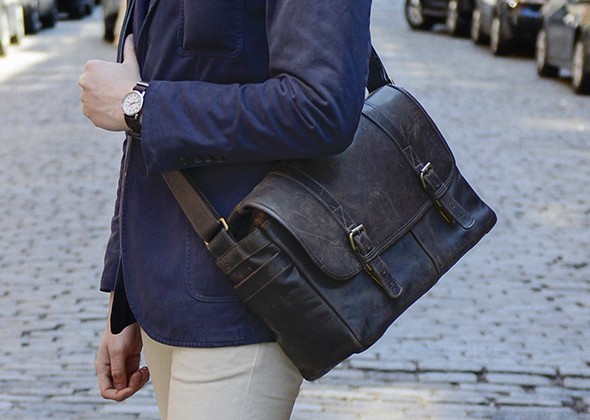 Image found here
2. An ONA camera/laptop bag. Honestly, these are way out of my price range, but they are just so beautiful and practical that I'd love to save up for one. I've seen a few bloggers with them and I've heard they are terrific investments.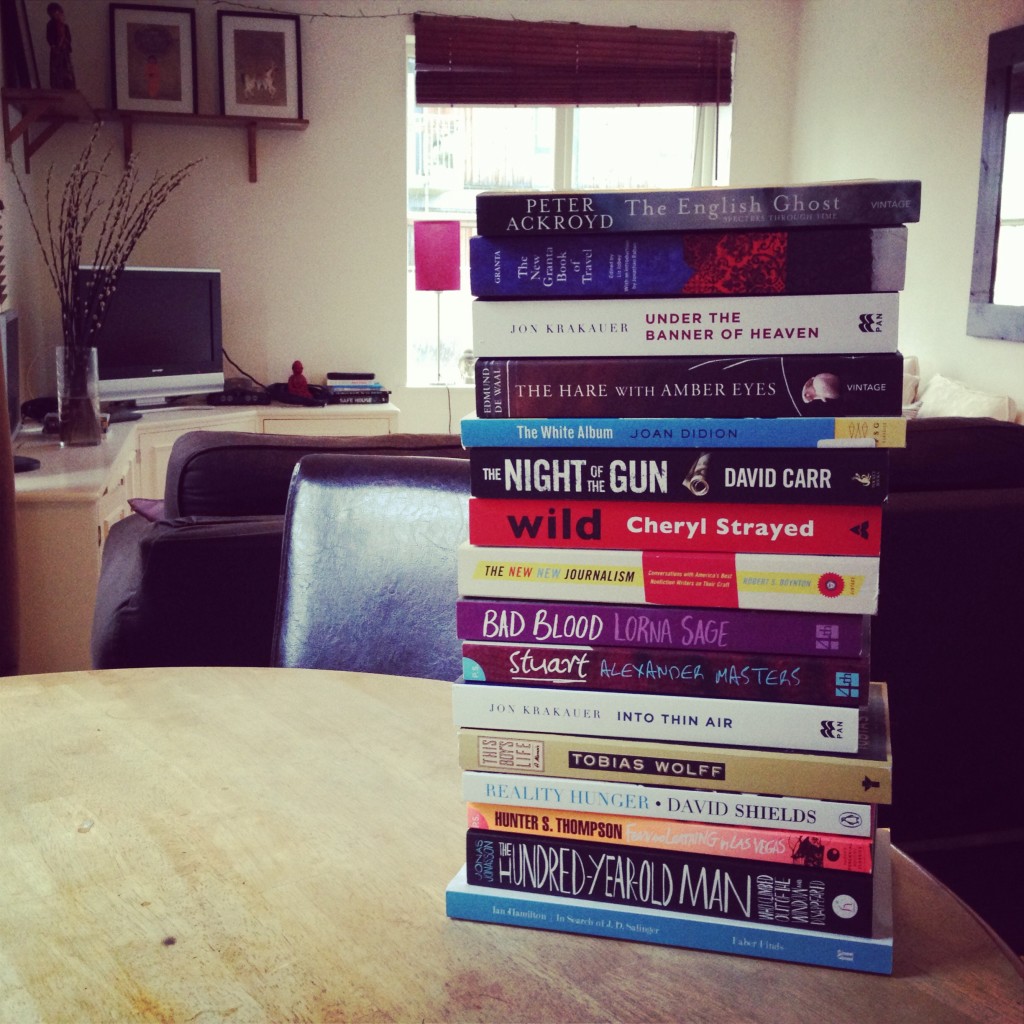 3. Books. Almost every traveller I meet loves reading. I guess it's all those long waits in airports, or romantic train rides through the country – we turn to words for comfort and for entertainment. I always write my name and the city I read a book in on the front cover. While I suggested a lot of travel-related books in this post, I can also recommend a few more that I've just read recently: Yes Please, by Amy Poehler, The Devil On Her Tongue by Linda Holeman (yes that is a shameless plug for my mother's most recent book, sue me), and, for any aspiring writers out there, the classic Bird by Bird by Anne Lamott. I think books make great gifts, and can be very personal.
4. Journals. I'm always surprised when somebody travels without a journal – a real, live notebook and pen. I would hate to rely on a laptop or tablet or whatever other gadget all the time. I often write important information, like addresses or directions, in journals, and I also try to keep a diary when I am on the road. My favourites are, of course, moleskines; they're often the only notebooks I buy, whether as journals, day planners, or for work/university.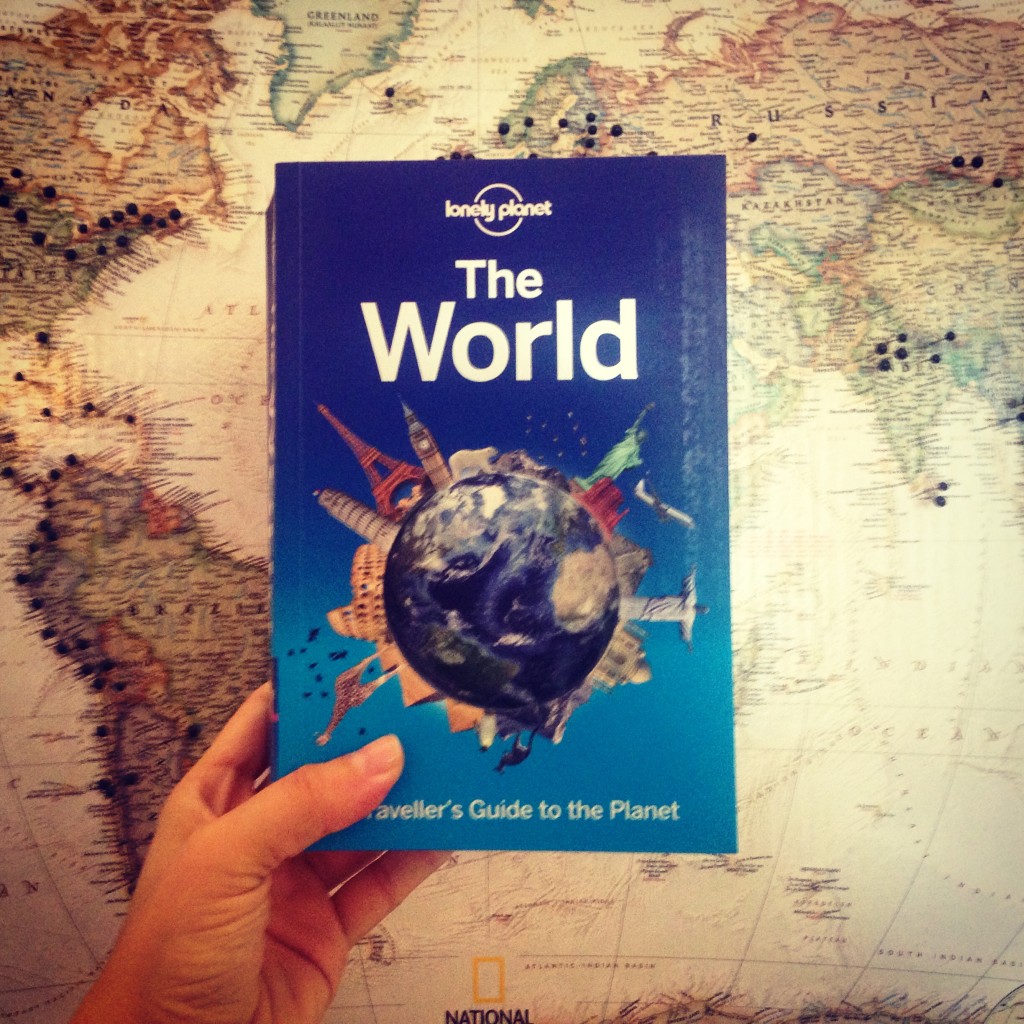 5. The World Guidebook by Lonely Planet. Lonely Planet were kind enough to give me one of these books when I attended their launch a few months ago, and I absolutely love it. It is a stunning book, filled with facts and photos from every country in the world. While I doubt anyone would actually take it travelling, it is such a great book to flip through. Open any page and I guarantee you'll be inspired to travel, or to remember a fantastic adventure.
6. The National Geographic Cork Board Map. I bought this for myself when I moved into my new flat, and, I kid you not, putting pins in the cities I've been to was one of the most fun things I've done in a good long while (do not judge my sad life). I'd love to buy this for a traveller in my life!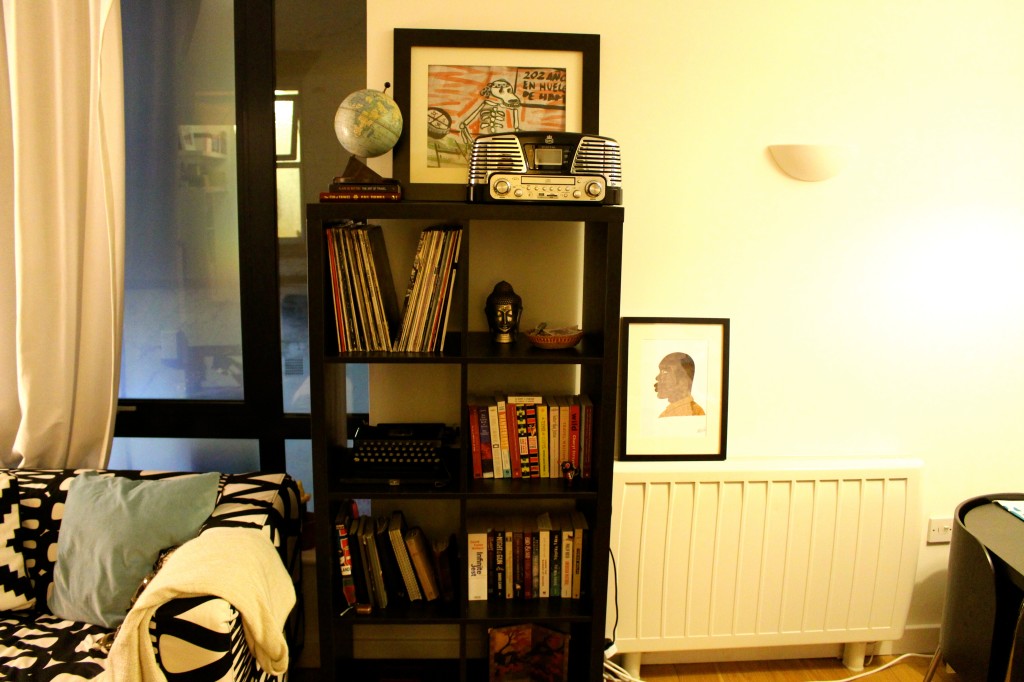 My flat in London, UK
7. A globe… specifically an antique one. I bought myself a small antique globe from Broadway Market a few months ago, and I love it. What is it with antique globes? Why are they just so damn cool?! If you can't afford one of these, I have it on good authority that Tiger sells an inflatable globe beach ball for only £3. I may or may not own two of them. (For more of my flat, click here).
8. A GoPro Camera. I can't believe I have never put my money where my mouth is… I've been saying that I'm saving for one of these for years and years. They are just so versatile, and so cool (especially if you happen to heli-ski on a regular basis and/or play with lions). While I know that, in my current travels, I don't really need one, I just want one, okay?! (I am well aware that this has to do with very clever marketing. I just love their videos. I watch them and I want to travel the whole world and hug every human and then ride a wild horse. Just me?)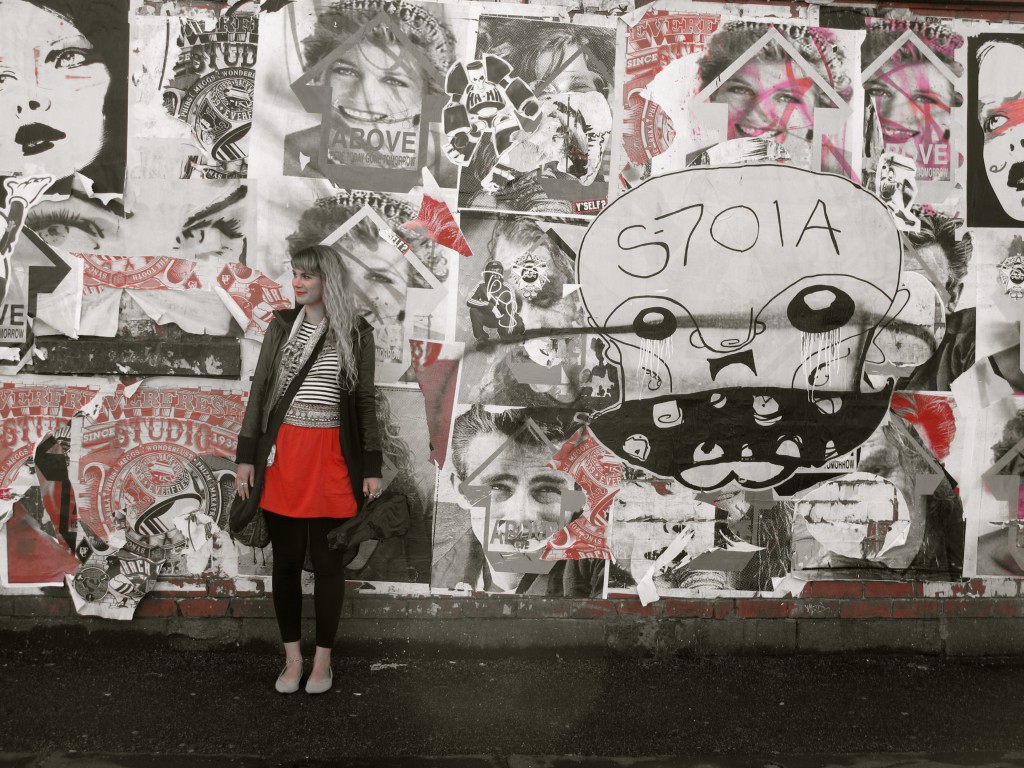 With my ukulele in Melbourne, Australia
9. A ukulele. Not just for Hawaiians or hipsters, ukuleles are great for travellers who are also musicians. I own three of them despite being horrible at it (although I can pull off a fairly good "Leaving on a Jet Plane" which works with the theme… but it means that, immediately after playing it, I must switch hostels in case anyone finds out it's the only song I can really play). Because I am that rare breed of traveller and hoarder, I would now like a banjolele to add to my collection.

10. Plane tickets, accommodation, a new backpack, a DSLR. Oh, and a selfie stick. I mean, that's the dream gift package for any traveller, right? I have to admit that I still love my Arc'Teryx backpack and am ridiculously happy with my new Canon 700D, but, you know, the plane tickets and accommodation wouldn't be too bad. And fine, I kind of do want a selfie stick, I'll admit it.
Honourable mentions go to: health insurance (boring but practical), immunisations (ditto), a silk sleeping bag (so luxurious), map-print clothing (this exists, and it's amazing), travel-y jewellery/scarves/bags (you know what I mean, but I personally prefer to buy those things for myself when I travel), an El Camino bracelet. 
What do you think are the perfect gifts for a traveller?
Psst: As always, I do not post sponsored posts. I legitimately want all of these things.