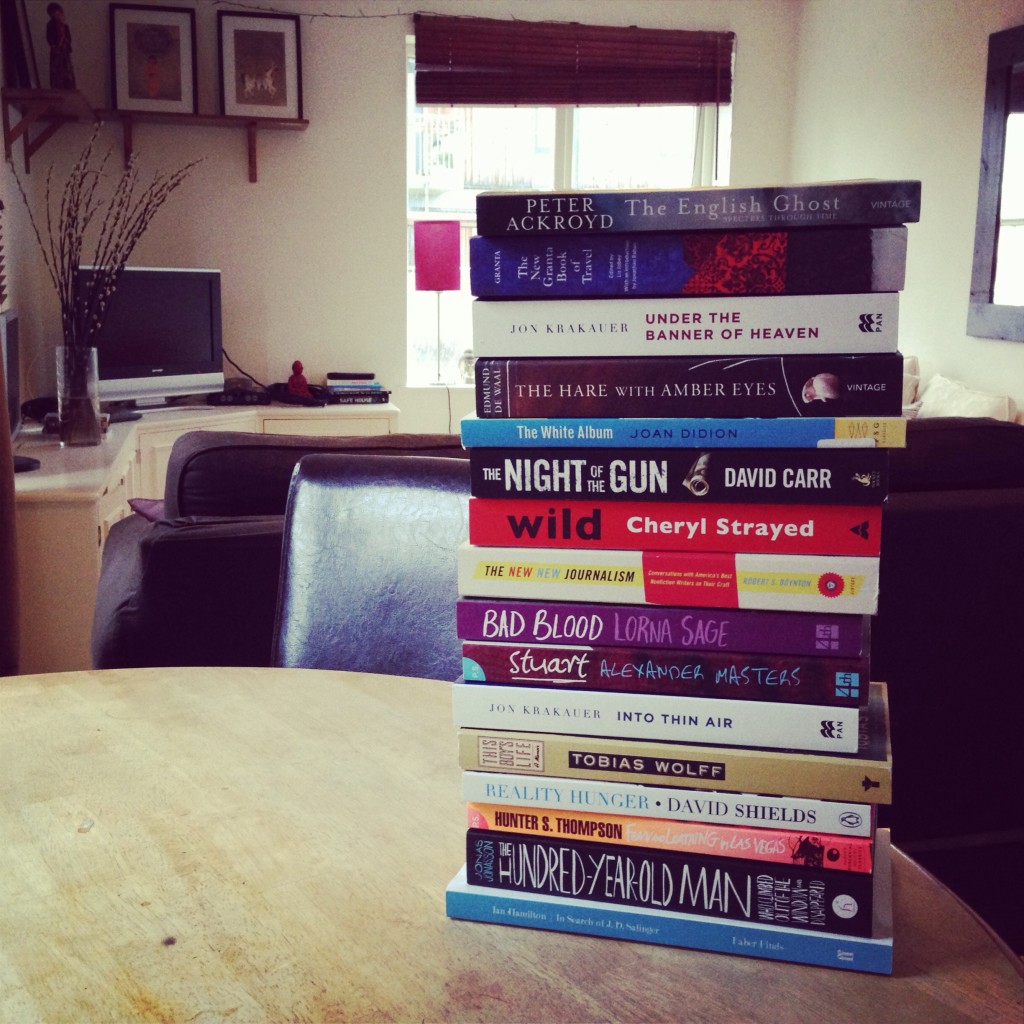 Perhaps nothing better than a giant order from Amazon
I read quite a bit – about a book a week. I like to read a variety of things, especially when I travel; I just finished Malcolm Gladwell's David and Goliath, for example, and had recently finished Nathan Filer's excellent The Shock of the Fall before that. In between, I read two collections of essays on non-fiction narrative and George Saunders' bizarrely wonderful Civilwarland in Bad Decline. I read a lot of wildly different things, but I think that's both valuable and fun.
What I always go back to, though, time and time again, is travel writing. This makes a lot of sense, for very obvious reasons. Besides a personal interest in travel writing, I read it in order to become better at both my job (writing) and my degree (writing), as well as brush up on my favourite hobby (coin collecting. Hah! Just kidding. It's writing). I certainly haven't read every travel writer out there, and often disagree with those who are meant to be some of the best; I'm not a fan of Bruce Chatwin or Bill Bryson, for example, and don't even get me started on Shantaram (I am shocked at how many people claim that this is their favourite book).
Here, then, are some of my recommendations for the best travel books. Read them at home, read them on holiday, read them to feel inspired, read them to reminisce. Just read them.
1. Into Thin Air by Jon Krakauer
I recently did a giveaway of this book, and since then I actually read it while I was in Cape Town. It tells the true story of the 1996 Everest disaster, which Krakauer witnessed. It is really well-written, and horrifically sad. Someone once described this as the saddest book he'd ever read; while I certainly wouldn't go that far (these people all chose to be on the mountain, and knew the risks involved), the way Krakauer writes the story is definitely worth a read. I also really enjoyed Into the Wild, which is perhaps his most famous book.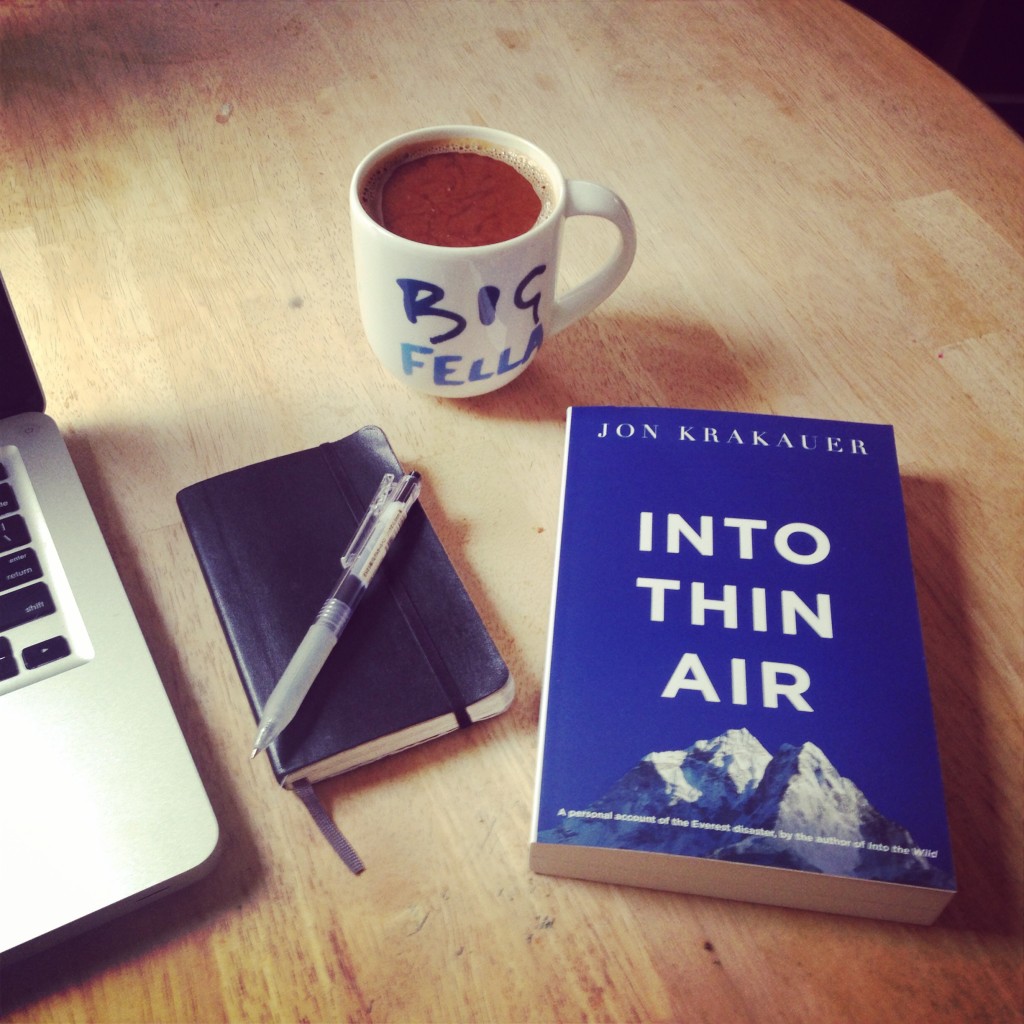 Catching up on reading in London
2. Travels with my Aunt by Graham Greene
This is a fictional account of a middle-aged man who, after the death of his mother, starts travelling the world with his once-estranged aunt. She really steals the show, with her vibrant personality and over-the-top stories, but Greene manages to capture some of the best of travel writing, too.
3. Stasiland by Anna Funder
This isn't so much a travel book as it is a book about a place and the people it ruined. Funder researched the stories of those trapped in East Berlin during the Cold War; her descriptions of the city, and her historical accounts, make for an incredibly moving and often infuriating read.
4. Wanderlust by Elisabeth Eaves
This is one of my favourite travel memoirs, and I wish to emulate Eaves' writing. Telling her story from a teenager in Canada to a young woman in the Middle East, Australia, and Europe, Eaves captures both the confusion that comes from travelling and living abroad as well as the passion, excitement, and adventure that finds us along the way. I love this book.
5. To Hellholes and Back by Chuck Thompson
Thompson's writing is an absolute delight. Funny, cynical, and self-deprecating, I've read his other book, Smile When You're Lying, which is equally enjoyable. In To Hellholes and Back, he decides to visit the locations in the world he swore he would never visit; the locations range from the Congo to Disneyworld. It's hilarious, and extremely well-written.
6. The Valley of the Assassins by Freya Stark
Freya Stark is one of my idols. Focusing mainly on travel through the Middle East, she paved the way for many of us solo female travellers. I am just starting Passionate Nomad by Jane Fletcher Geniesse, which is her biography.
7. The Beach by Alex Garland
Pretty much every backpacker who has ever set foot in (or anywhere near) Southeast Asia has read this one, but I think it really holds its ground, even after the so-so movie. I read it when I was much younger, but something about trying to find paradise really spoke to me, and still does.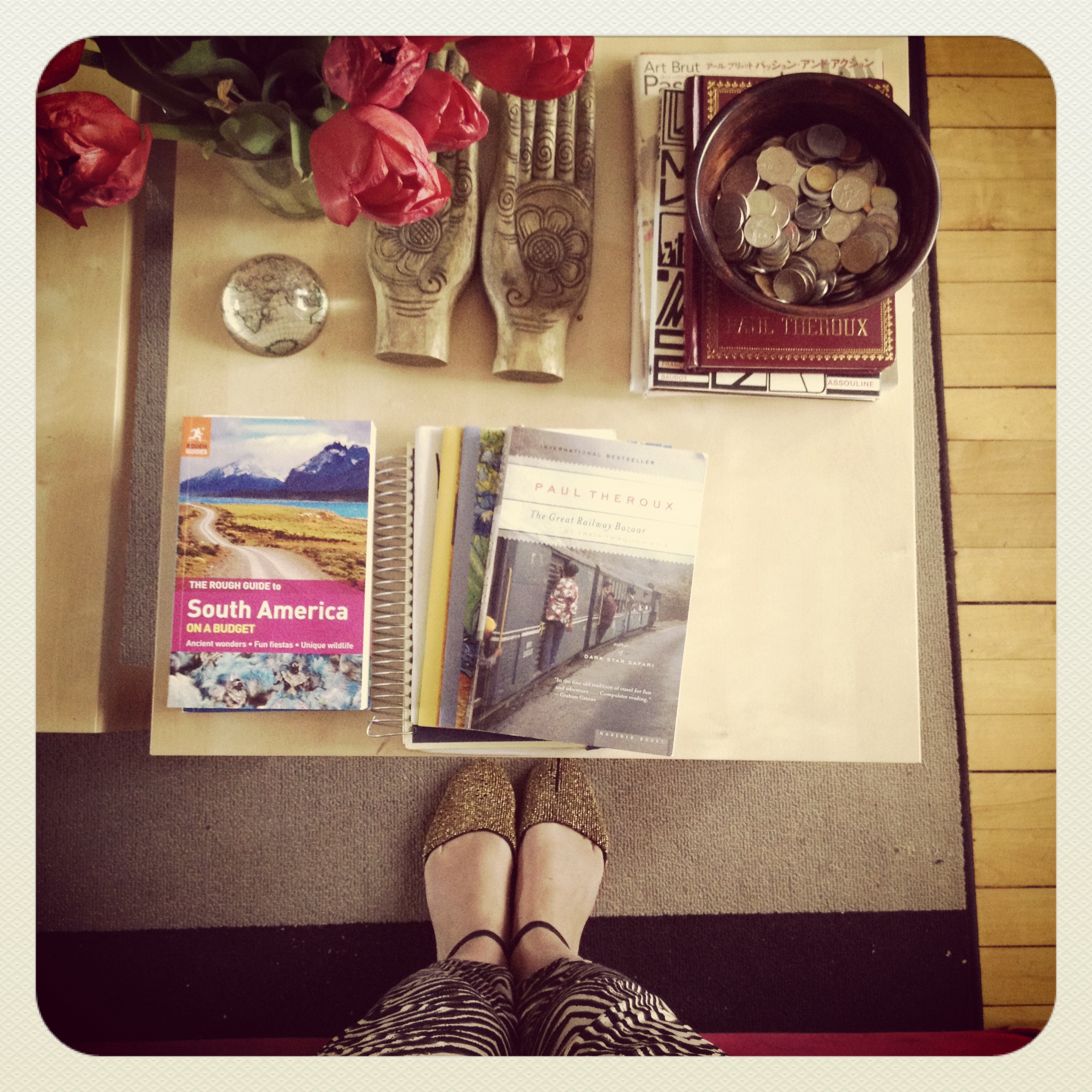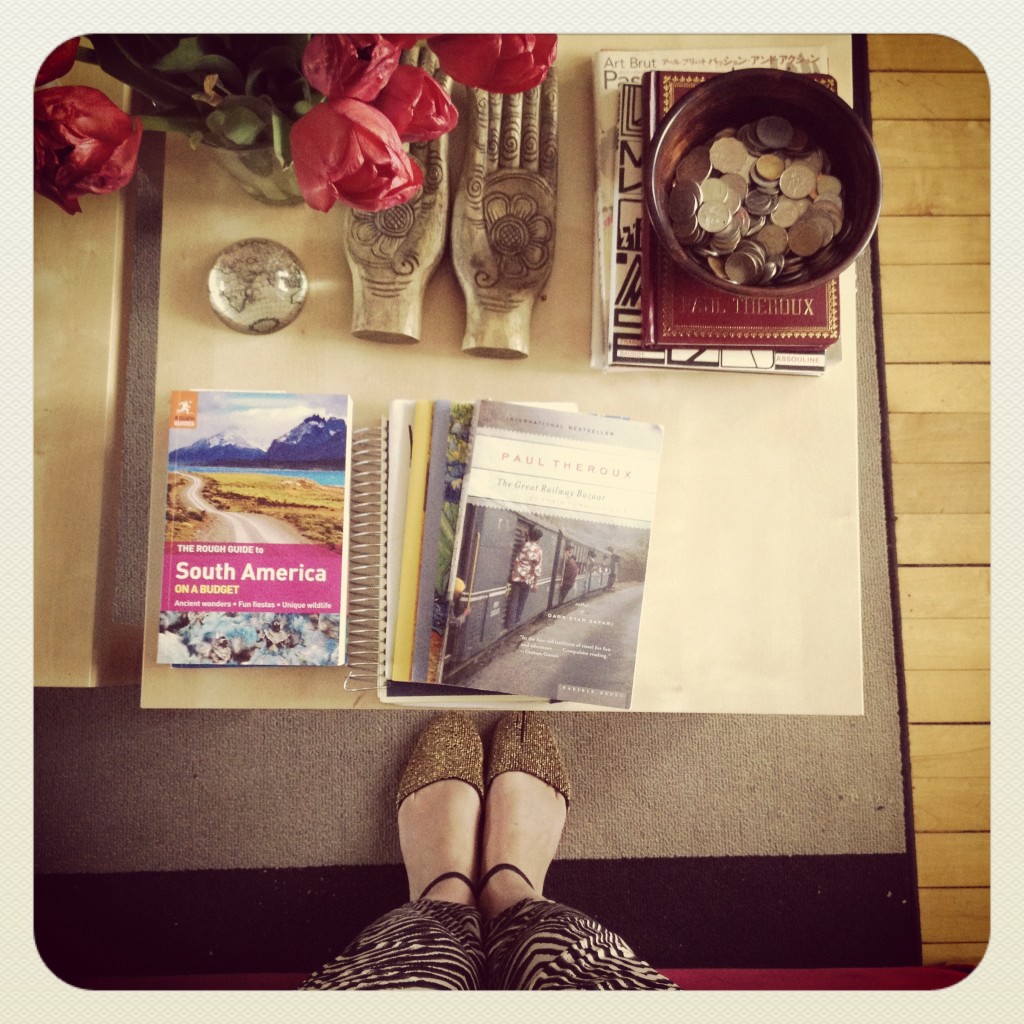 My coffee table in Canada
8. The Great Railway Bazaar by Paul Theroux
I have read quite a few of Theroux's books, but this one, his first, remains my favourite. What's not to love about train travel? I love all of his interactions with his fellow passengers; often, to me, travelling all comes down to the people you meet along the way.
9. Travels With Charley by John Steinbeck

I read a lot of Steinbeck when I was a teenager and really loved his descriptions of America. Perhaps one of my favourite lines comes from Travels With Charley, however, when describing the people he saw across the USA: "I saw in their eyes something I was to see over and over in every part of the nation – a burning desire to go, to move, to get under way, anyplace, away from any Here."
10. A Supposedly Fun Thing I'll Never Do Again by David Foster Wallace
You can read the entire essay here (it used to be called "Shipping Out"), which is absolutely brilliant, but I recommend buying the collection of essays by the same name. Although they're not all about travelling, they are exquisite.
Others I recommend include Travels with Myself and Another by Martha Gellhorn, Fear and Loathing in Las Vegas by Hunter S. Thompson, Homage to Catalonia by George Orwell, Lonely Planet's A House Somewhere and Stranger Than Fiction, and The New Granta Book of Travel. 
As for which travel books I'm reading next, I have Wild by Cheryl Strayed, Londoners by Craig Taylor, Our Man in Havana by Graham Greene, and In a Strange Room by Damon Galgut. I'm also extremely excited to read my mum's new book next month, which is called The Devil on Her Tongue. She writes historical fiction, and this one is set in Portugal – I can't wait!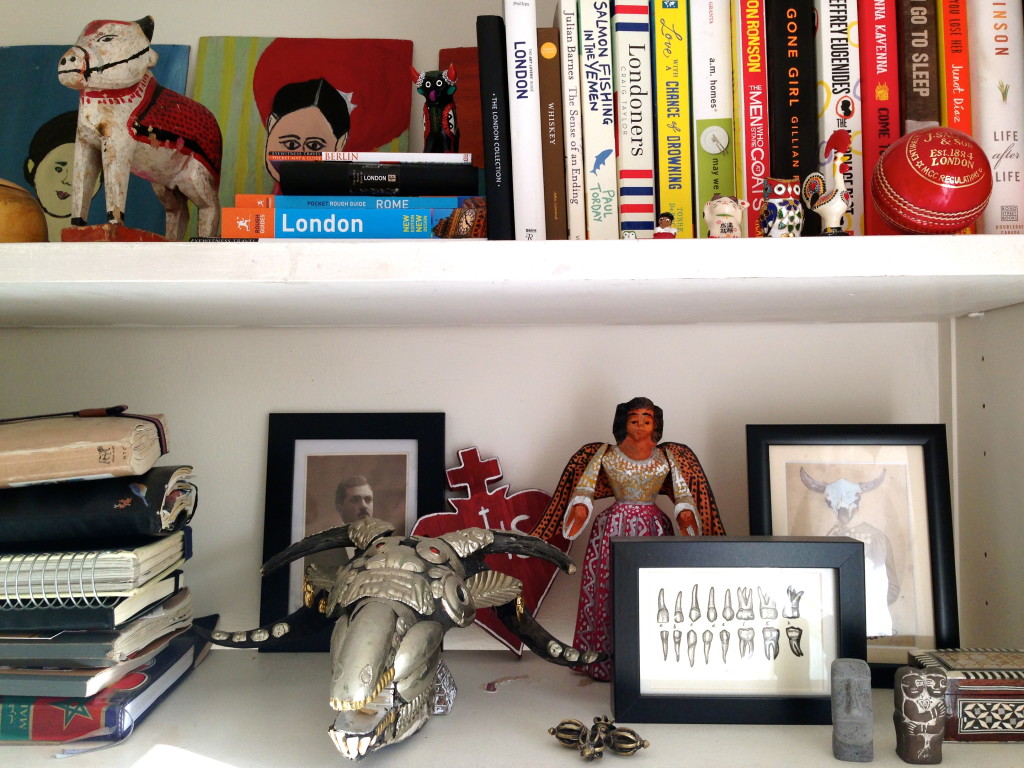 One of my bookshelves in my current London flat
I obviously couldn't list every amazing travel book or travelogue out there… what do you think should make the list of the best travel books?