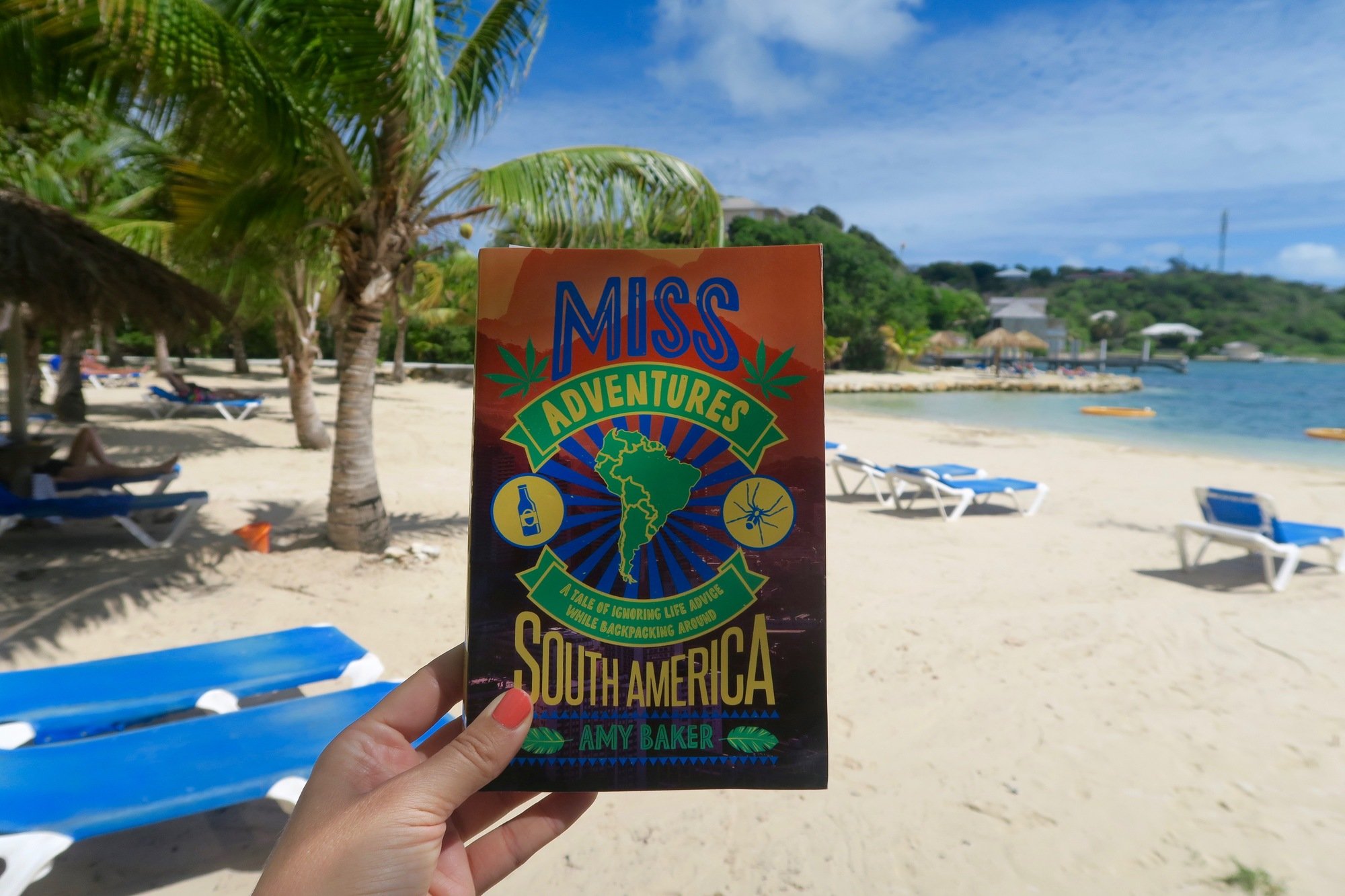 There's a moment in Amy Baker's Miss-Adventures: A Tale of Ignoring Life Advice While Backpacking Around South America that made me realise I was going to fall in love with this book straightaway. Sitting in a London office, giving in her notice before taking off to explore a new-to-her continent, her boss says to her,
"'This is a foolish, hasty decision. Chances are you won't be able to find a job when you come back, have you thought about that? […] I've worked in this business a long time, Amy, and I know that you'll come to regret this, mark my words.'"
Amy writes, "I knew in that moment that I couldn't carry on listening to these kinds of reasons for not doing what I wanted. If I did, I'd never do anything. I finally looked up and met his eye.
'I'm going to do it anyway.'
And I did."
***
I met Amy Baker a few months ago at a travel blogging event. I only had a few hours at the event; I was due to fly to Antigua and Barbuda that weekend, and was swamped with work and life and God knows what else. I wanted to make sure to network as much as possible and have time to chat with old friends before I had to take off. Somehow, over a glass of cheap red, I started talking to Amy. And then, quite frankly, all that networking and socialising went out the window, because upon meeting Amy I only wanted to hang out with her.
Because if you take away nothing else from this book review, know this: Amy Baker is fucking hilarious.
I almost immediately put two and two together that she had recently published a travel memoir, Miss-Adventures, a book that was sitting on my Amazon wish-list. After chatting (read: laughing and drinking lots of wine) for the better part of an hour, I knew I HAD to read her book. Amy very kindly sent me a copy the very next day, and I couldn't wait to dive in.
I've read quite a few travel memoirs and travelogues over the years, and I find myself, more and more, shying away from the classic and iconic books that shaped the genre, especially those by male writers. While I think it's important to read from the past, I naturally don't relate to the adventures had by many early 20th century or mid-century writers. I'm often looking for travelogues by people who I feel I can totally relate to both in their style of travelling and in their mindset. I've found some over the years, but there are few that I could relate to as much as Miss-Adventures. And remember what I said about Amy's sense of humour? Yeah. Miss-Adventures is ridiculously funny to boot.
The premise of the book is this: Amy sets out to travel through Argentina, Bolivia, Peru, Ecuador, and Colombia armed with loads of advice. Here's the catch – some of the advice is from people she knows (friends, colleagues, family members) and some is from "experts" (experts include Salvador Dalí, Lionel Messi, and Tina Fey). By the end of the chapter, she susses out who was right. It's a brilliant premise for a book, and Amy manages to showcase the lessons she's learned travelling on her own through South America with both a heavy dose of humour and a fantastic eye for detail.
As the book blurb reads:
Having announced her plans to quit her job and backpack around South America, humourist and gonzo journalist Amy Baker found herself on the receiving end of a whole bunch of over-the-top and seemingly unnecessary advice. Amy shrugged it all off of course… that is, until she ran into trouble.
After falling into a crevasse, swimming in crocodile-infested waters, dodging cocaine con artists and encountering handsome soothsayers, Amy soon starts to wonder if her Mum, boss and Carol from reception really were onto something. Weighing up their advice against that of known 'Clever People' like Tina Fey, Salvador Dalí and Mother Teresa, Amy finally establishes once and for all who it might actually pay to listen to.
And haven't we all heard the advice, each of us women who travels on her own? Amy shares all of the advice she was given before she travelled, advice like this, from Martin in the IT department: "Over here you know who looks dangerous. Over there, you're going to have relearn who's safe and who might slit your throat." Or the overly familiar barista who told her, "You mustn't let your guard down for even a moment. I've heard that the most dangerous people target women's toilets over there," (which reminds me of the overly familiar barista who told me, just before I went to Central America, that I was 100% going to get mugged in Guatemala. Spolier: I didn't). Or, my personal favourite, from Carol the receptionist, "Watch out for men with too much wooden jewellery, Amy. I know what you're like… you'll let them sucker you in with their yoga chat but essentially, they're unwashed… and you don't want to put your face anywhere near an unwashed penis, let me tell you."
And therein lies the beauty of Amy's book. It's extremely funny, yes, but it's also laden with anecdotes and encounters that really sum up how it feels to travel on your own as a woman… and why so much of that "friendly" advice – well, with the exception of Carol's advice, which really is spot on – is easily debunked. Sometimes you feel great, and on top of the world; other times you just want to go home. In between climbing mountains (her and I have the exact same opinion on climbing mountains, by the way), meeting men, trying new food, exploring cities, and learning about different cultures, Miss-Adventures takes us on a ride not just through South America, but through Amy's wonderful perceptions of life, love, and everything in between. I related so much to this book that I had to pace myself when reading it, because I didn't want to read it all in one go. Hilarious, honest, and incredibly well-written, it's one of those books that I felt sad to finish.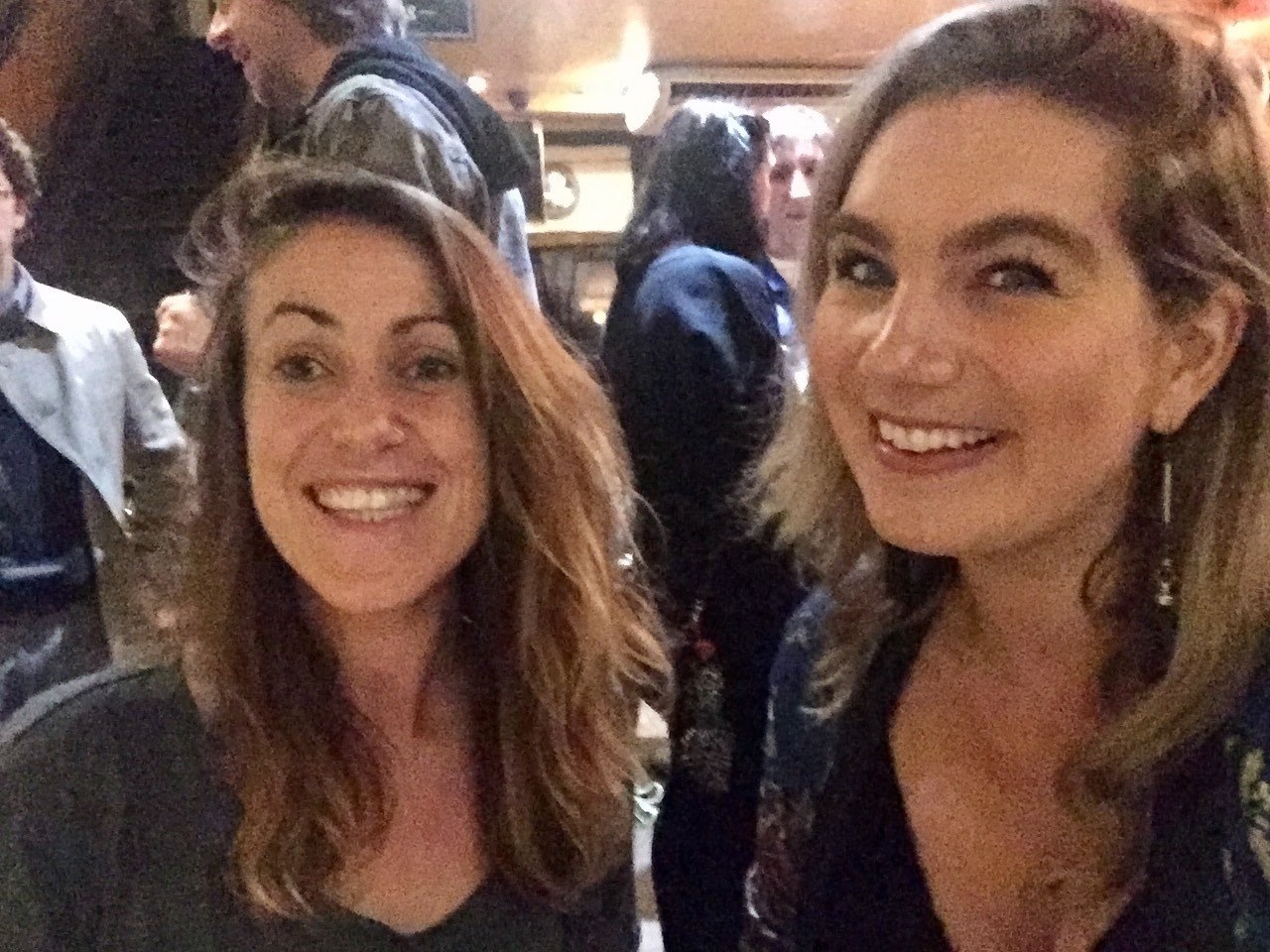 Amy and I in London, where I tried my hardest not to fangirl all over her after finishing her book
While Miss-Adventures is currently available via Amazon in the UK (affiliate link) and available on Summersdale's site, Amy is graciously giving away two copies of her book to readers from anywhere in the world! In order to enter the giveaway, please comment on this post with the worst piece of advice you've ever received before travelling. The two winners will be contacted by August 10th, 2017. 
Also make sure to check out Amy's podcast, The Riff Raff, and if you're in London, you simply must attend one of the Riff Raff events, a great place for writers of all levels of experience!