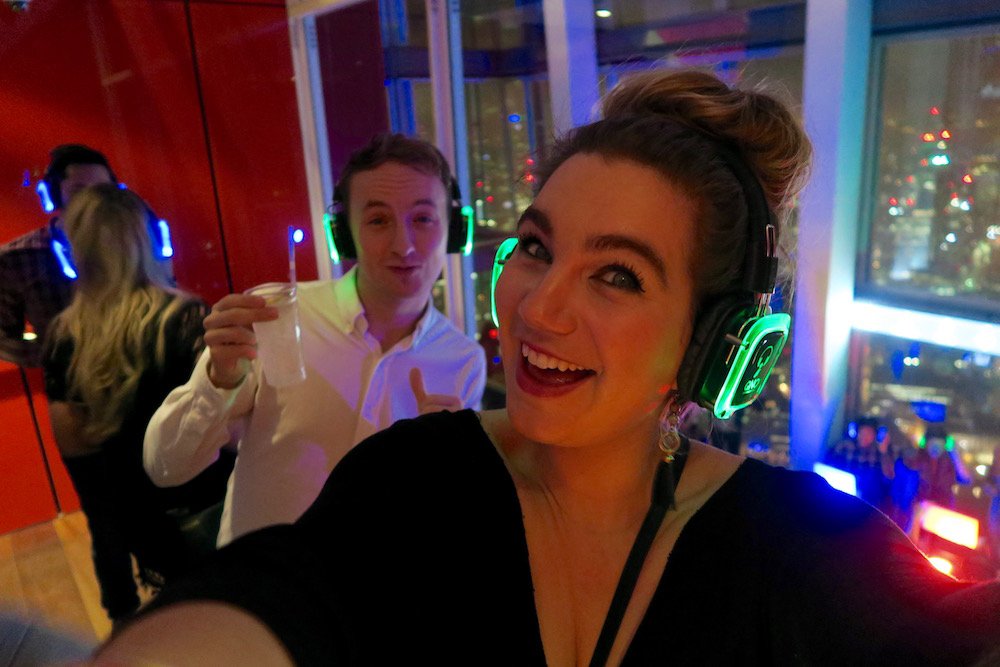 The reason I love London so much is that it has a never-ending amount of things to do. You know that saying by Samuel Johnson where he says, "Tired of London, tired of life"? I have to admit, I kind of agree with it. Despite living in London for over three years (going on four, actually, I can't believe it… it's the longest I've ever lived somewhere in my adult life), I honestly never run out of things to do. The list of things I still want to do in this city grows ever longer.
One of those things, and something that topped the list for quite some time, was a silent disco at The Shard.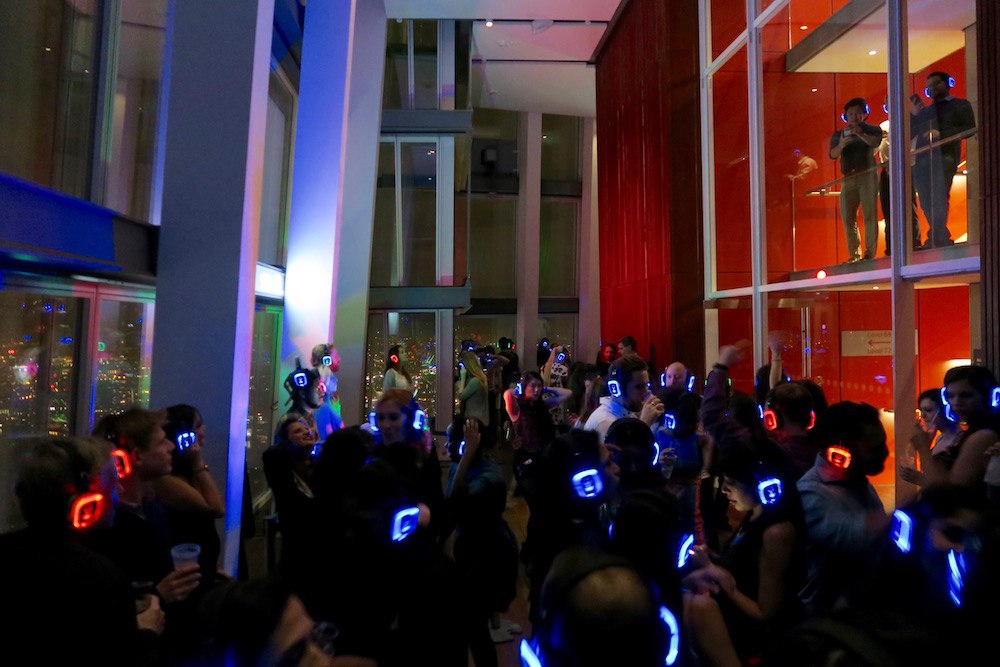 Firstly, for those who don't know what a silent disco is, it's an event where people get together, listen to music, and dance, much like any other club or party. There's just one glaring difference – the music isn't actually being played out loud, it's being played through wireless headphones. And yes, if you take those headphones off, it looks pretty ridiculous to see everyone dancing without any music being heard (especially as so many people are singing along, too, and everyone – everyone – sounds out of key).
Secondly, for those who don't know about The Shard, it's London's tallest building (and, in fact, the tallest building in Western Europe). It is so named because it looks like a shard of glass reaching into the sky. I have personally been up to the top viewing platform three times, once in the day, once for an event, and then, last week, for the silent disco. At 72 stories up, the views certainly don't disappoint, and you get a gorgeous 360-degree view over the city of London. The silent disco takes place mostly in the winter months, when there are fewer tourists visiting the viewing deck, and usually takes place on Fridays and/or Saturdays (as far as I know, it's not a year-round event).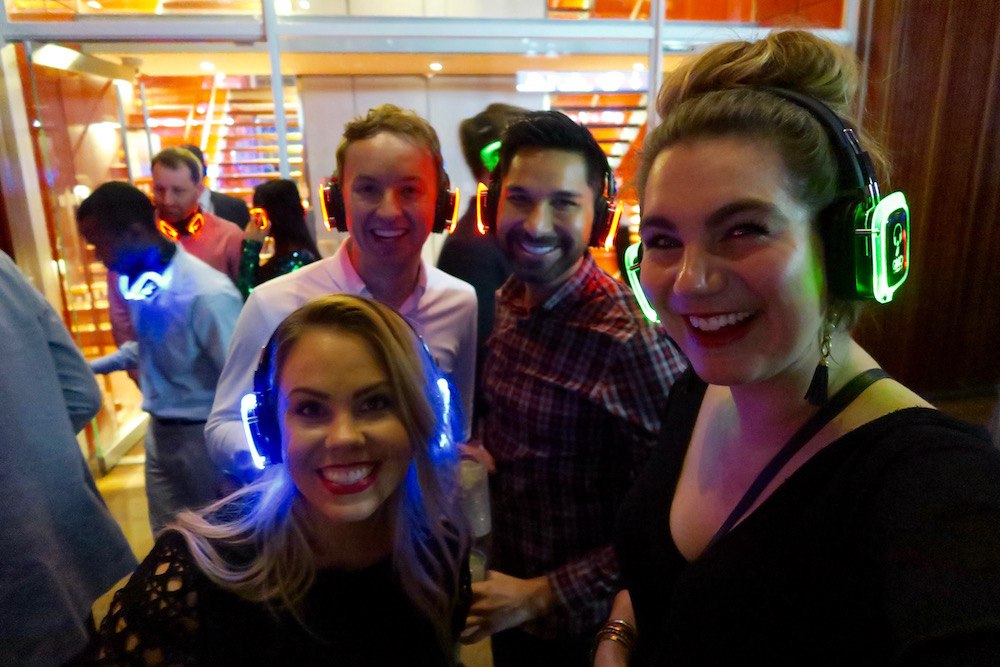 I was SO excited, then, when a few friends of mine (two of which are also Canadian expats!) invited me to join them for the silent disco. While it is a bit pricey – £37.50 if booked through the TimeOut website – it was one of those once-in-a-lifetime experiences, and one that I thought was unique to London. There aren't many dance parties that high up around the globe, I'd wager. Not only that, a regular ticket to the viewing platform costs £30.95 if not booked in advance, so it didn't seem like that exorbitant a price for the event.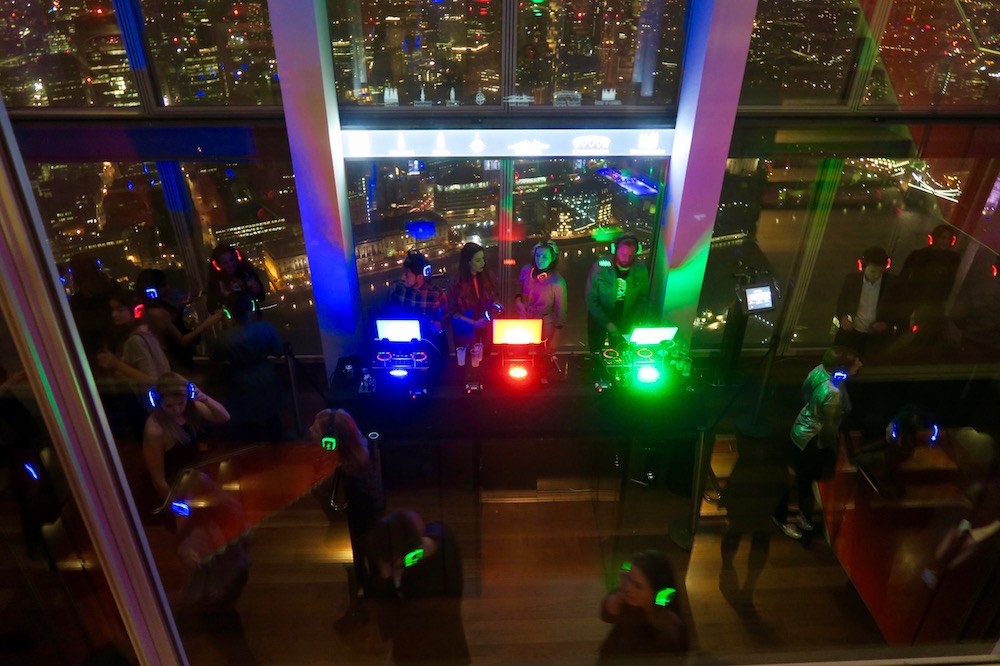 We showed up around 11pm – it starts at 10pm and lasts until 2am – and already there were lots of people dancing and moving around the various levels of the viewing platforms. What makes this silent disco especially fun is that there are actually three DJs playing at the same time, each playing different styles of music. Each DJ had a particular colour assigned (blue, red, or green) and so you could tell who was listening to which song depending on what colour their headphones were lighting up. It was so funny to listen to a green song while your neighbour listened to a blue song… each of us on our own wavelength, dancing to different beats!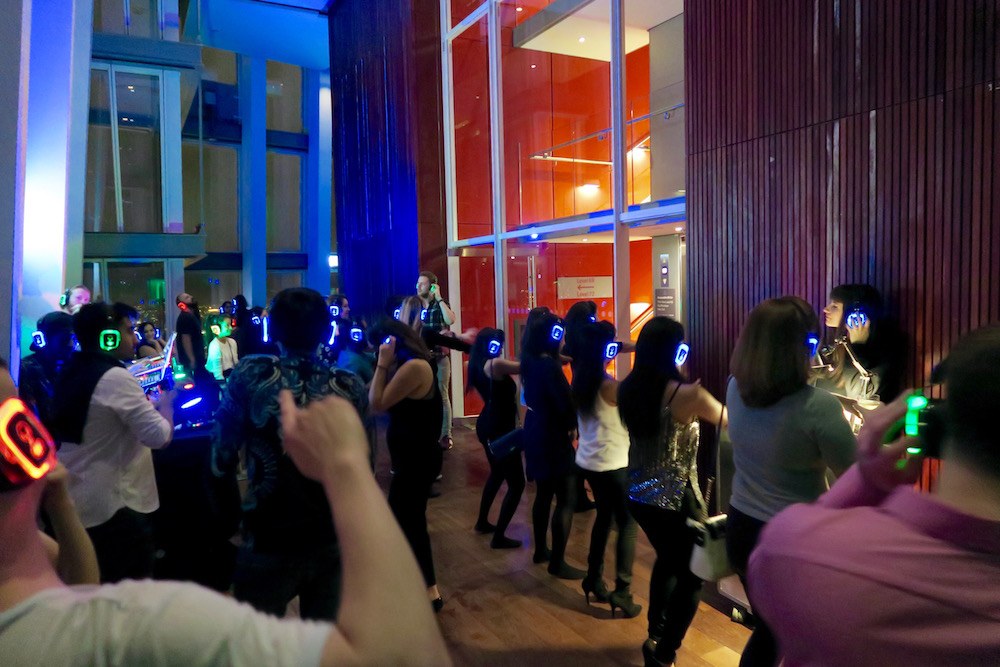 Dancing to the Macarena
As the night wore on, people got more and more into it (that may have been the alcohol – mixed drinks start at £7.50, which is fairly typical for Central London), and popular songs got more and more people singing along at the top of their lungs (which you can't hear, of course, unless you take your headphones off). What I loved so much is that, if you weren't that into one DJ's selection, you could just switch to another song, much like the radio. How many times have you been having a great time dancing when all of a sudden the DJ plays a song you don't like very much… but you're just sort of forced to dance to it unless you want to skulk off to the sidelines? (For me, by the way, those songs include "Blurred Lines", for obvious reasons, "Jump" by Van Halen, because it's just an awful song, and "Summer of '69", because as much as I love Bryan Adams, that song annoys the hell out of me.) What was also really cool was to watch a room of people listening to a "green" song quickly change over to a "blue" song when they realised what it was. And I always loved the lone person listening to a different song right in the middle of a crowd of everyone listening to another. You do you, man.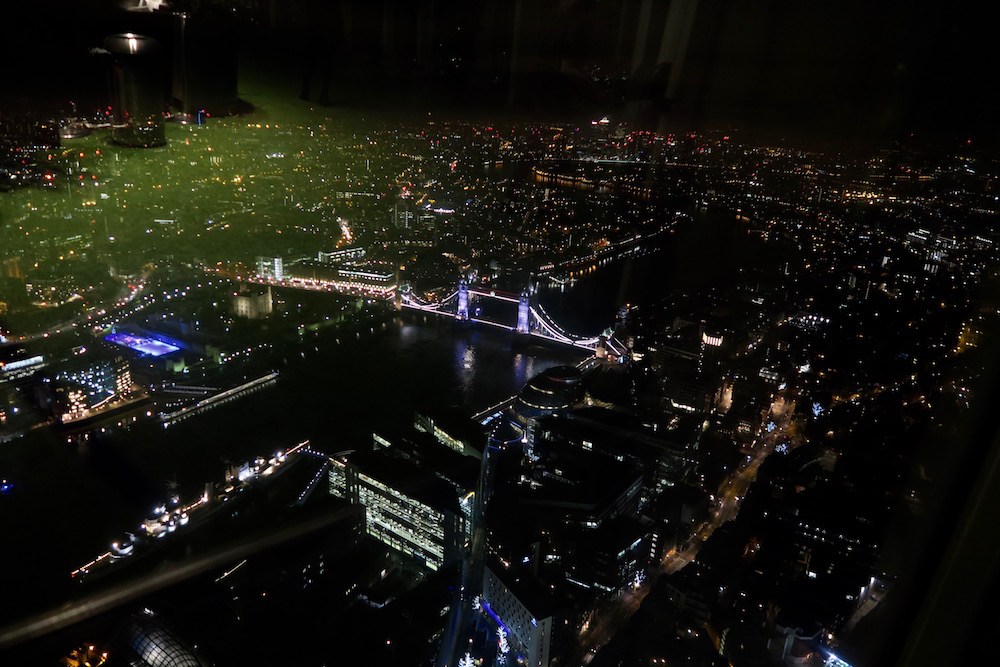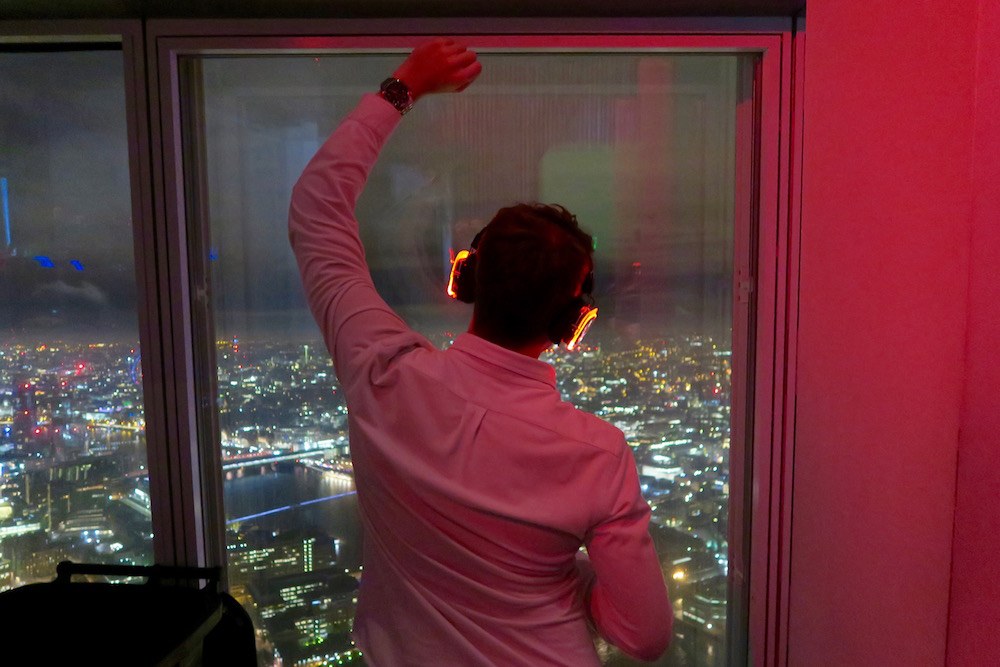 And while the dancing was incredibly fun, what made it all the more special were the views overlooking the city. I mean, how often can you dance along to Sam Cooke while looking out over Tower Bridge, or watching the London Eye in the distance, or picking out the buildings of Canary Wharf as they glitter on the skyline? Hands down, this was one of my favourite and most fun experiences I've ever had in London.
When I said it was once-in-a-lifetime, I'm not sure that that will stay the same for me – I'd happily go to the silent disco at The Shard again… and again. I highly recommend it whether you're a local or a tourist.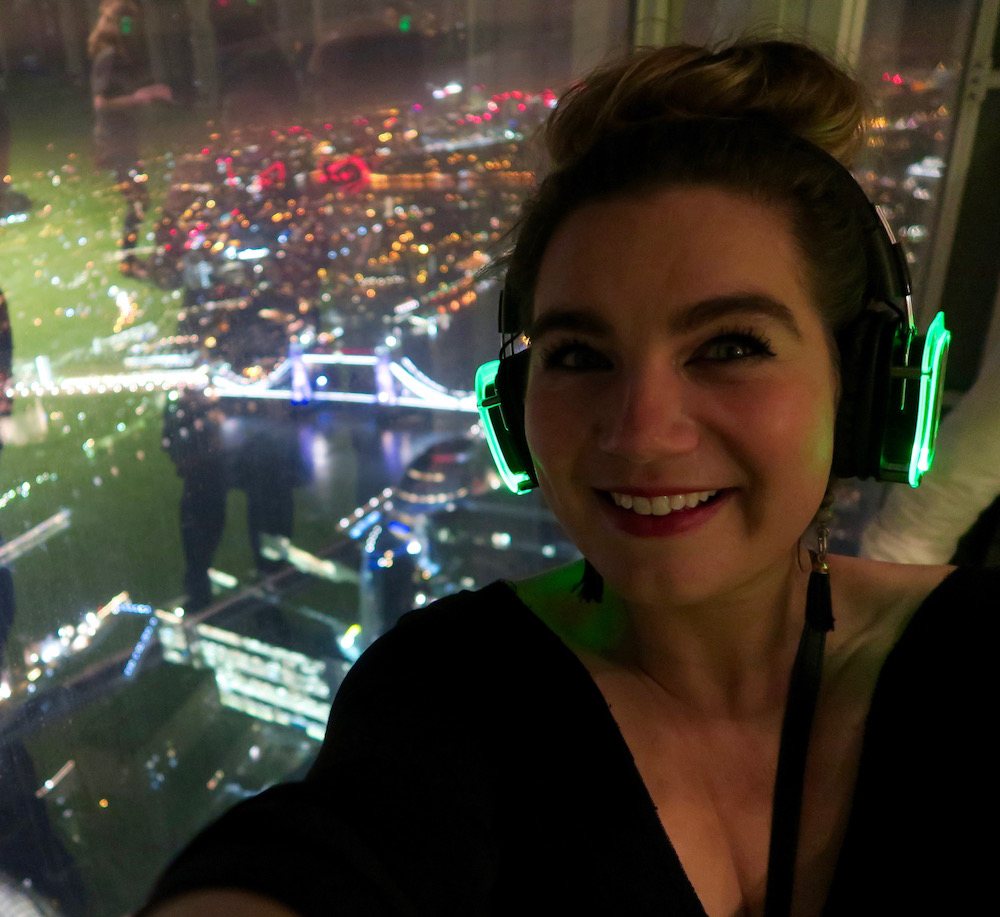 For other instalments of my picks for the best of the best in London, click here. Please note that nobody paid me or asked me to write this article – I paid my own way and had such a great time that I wanted to post about the experience! To book your own tickets, click here.
Have you ever been to a silent disco, and/or The Shard? Would you like to do this?