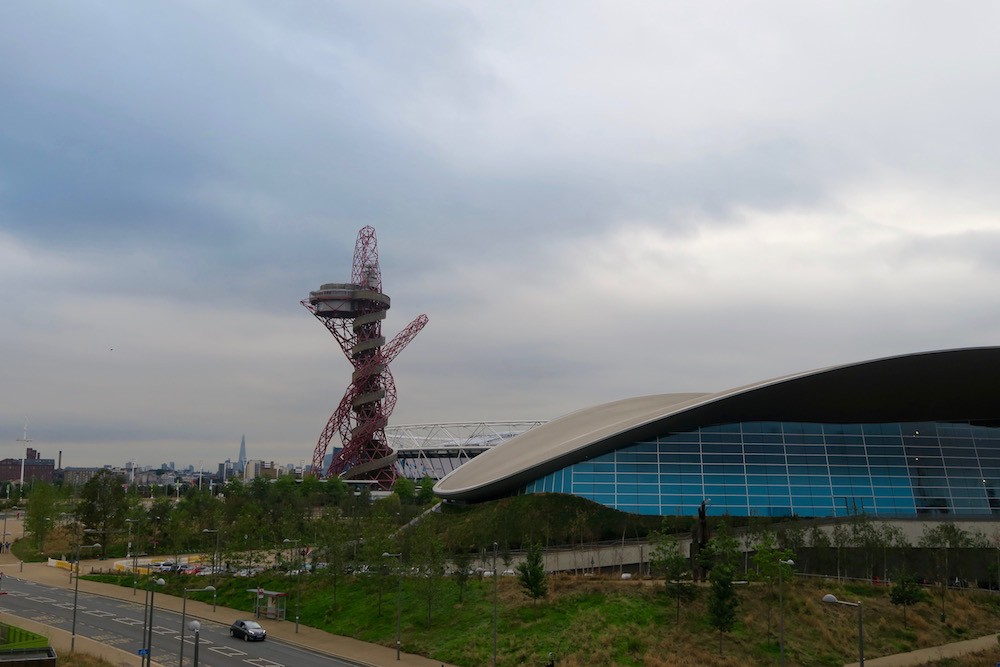 "What is that thing?" I thought to myself for the tenth time. I was on a bus to Stansted Airport; being an East Londoner, this is the most convenient airport to fly from when I go abroad. Looking out the window as I passed the area of Stratford, I saw a tall structure, red metal coiled around it. I had seen it every time I was on this bus, and yet I never thought to, you know, Google it, or ask someone, or figure it out. Not until that day a couple of months ago, when I did indeed whip out my phone and Google it.
"It's a giant SLIDE?!" I thought to myself, and I stared at the structure again. Because just when you think London can't get any cooler, or more interesting, or even more full of things to do, it turns out that the city now holds the longest and tallest tunnel slide in the world.
As I did a bit more research, it turned out there was much more to the ArcelorMittal Orbit, the name of the structure. Currently the UK's tallest sculpture, it was designed by world-famous artist Anish Kapoor; the slide was designed by another esteemed contemporary artist, Carsten Höller (who also designed the slides in the temporary exhibit at the Southbank Centre last year). While Kapoor designed the ArcelorMittal Orbit, complete with viewing platform, for the 2012 London Olympics (yeah – my knowledge of London is obviously pretty lacking, as I didn't know that until this summer… not to mention I don't follow the Olympics), Höller's slide only opened on June 24th of this year. And as cool as all this was, I just kept thinking that I really, really wanted to go down that slide.
Fast forward to a couple of weeks ago, when I was contacted by a team from AttractionTix who were putting together an event at the ArcelorMittal Orbit.
"Would you like to come ride the slide?" they asked. I didn't think twice. I immediately accepted the invitation.
Approaching the ArcelorMittal Orbit, you walk through Queen Elizabeth Olympic Park from Stratford Station (which is on the Central and Jubilee lines, DLR, and the London Overground). The sculpture looms large ahead of you, a fantastically surreal instalment of twisting red metal. As you get closer, you can start to see the curves of the slide as well, great coils of stainless steel. The closer I got, the more excited I got.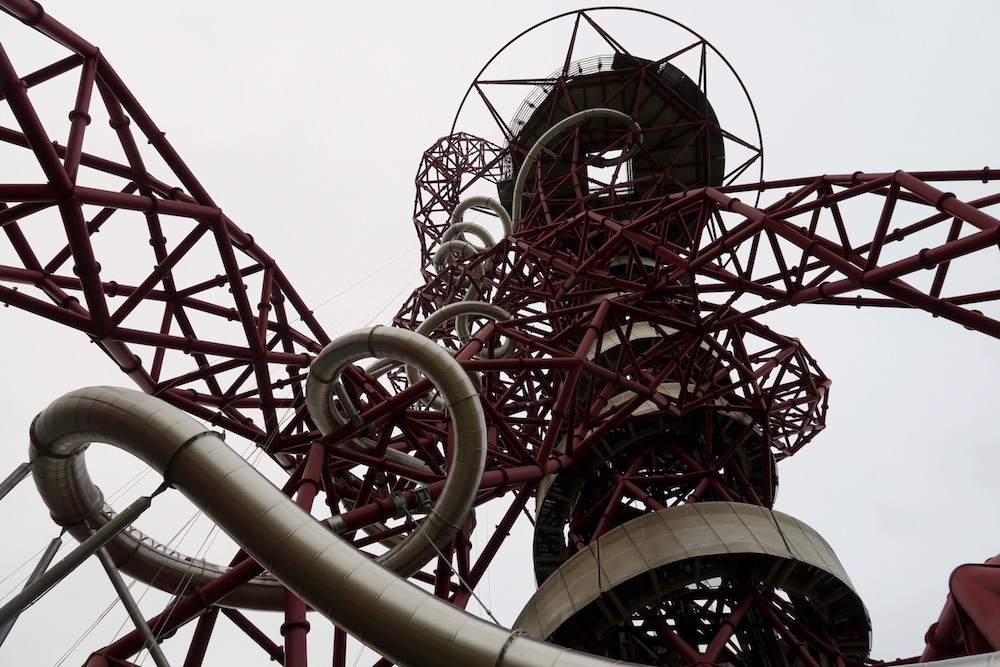 We took a lift to the start of the slide, and were soon suited up and ready to go. While you're provided with soft helmets and elbow pads (and slide down on a specially designed mat), it's best to wear closed-toe shoes, trousers or leggings, and a top that covers your shoulders, just in case. We queued up, and one by one took our turns going down the slide, whooping and hollering (and sometimes straight-up screaming) all the way down.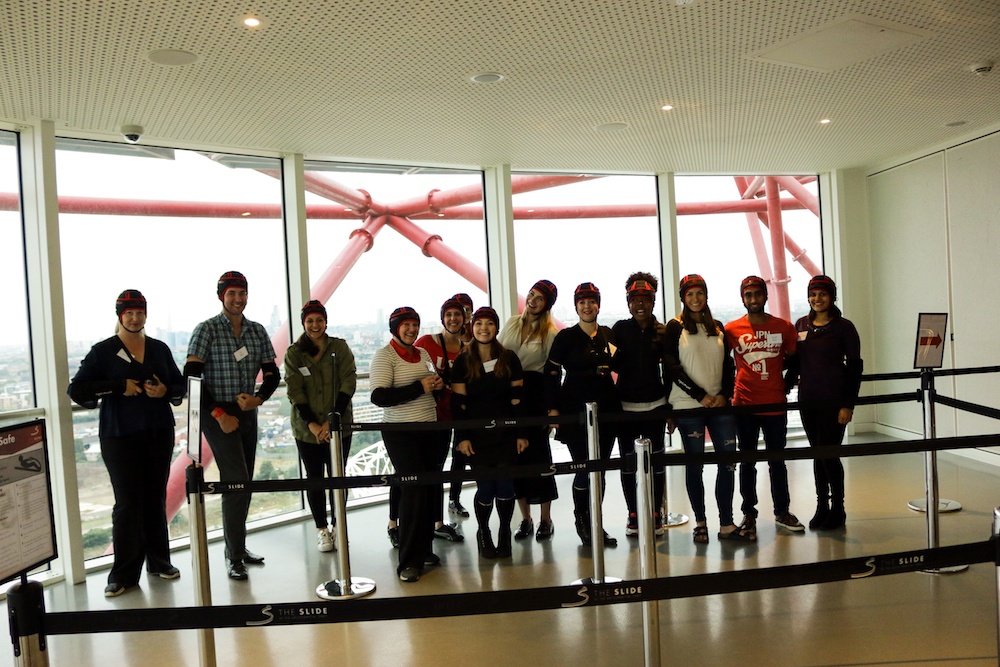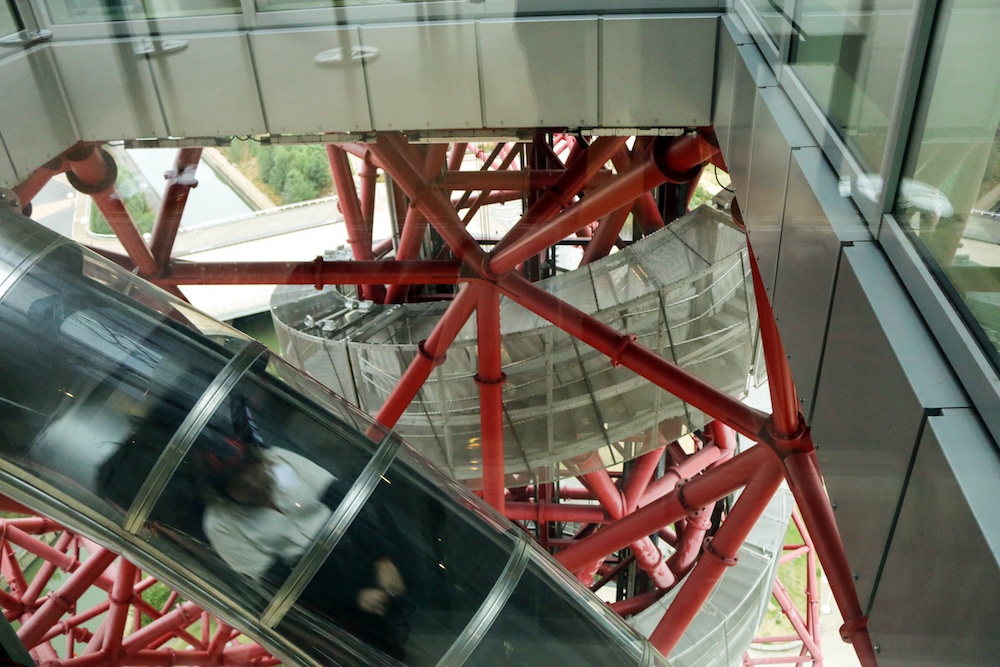 That's me! 
Because… oh my god. It is SO MUCH FUN. I didn't think I would like it that much, but when you're going over 15 miles per hour down a giant corkscrew slide that is 178 metres long and 76 metres high, adrenaline seriously kicks in. As part of the slide has polycarbonate windows on the top, you get glimpses of light before being thrown into darkness again, your stomach dropping every time. Each ride lasts approximately 45 seconds, and I was laughing and smiling and screaming the whole time. When I got to the bottom, the first thing I said was, "Can I do it again?!"
Seriously, look at how much fun this is!
After enjoying the slide, we took the lift back up to the very top floor, where we were greeted by the most beautiful views of the city of London. Despite being a rainy day, the clouds lifted long enough for us to watch the sun go down, basking the city in shades of pink.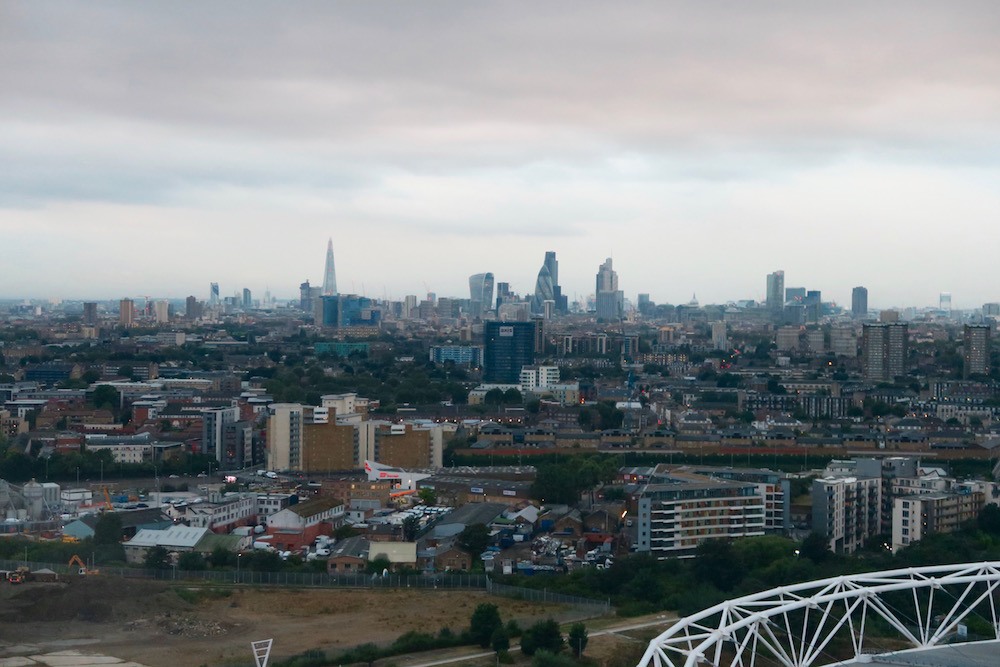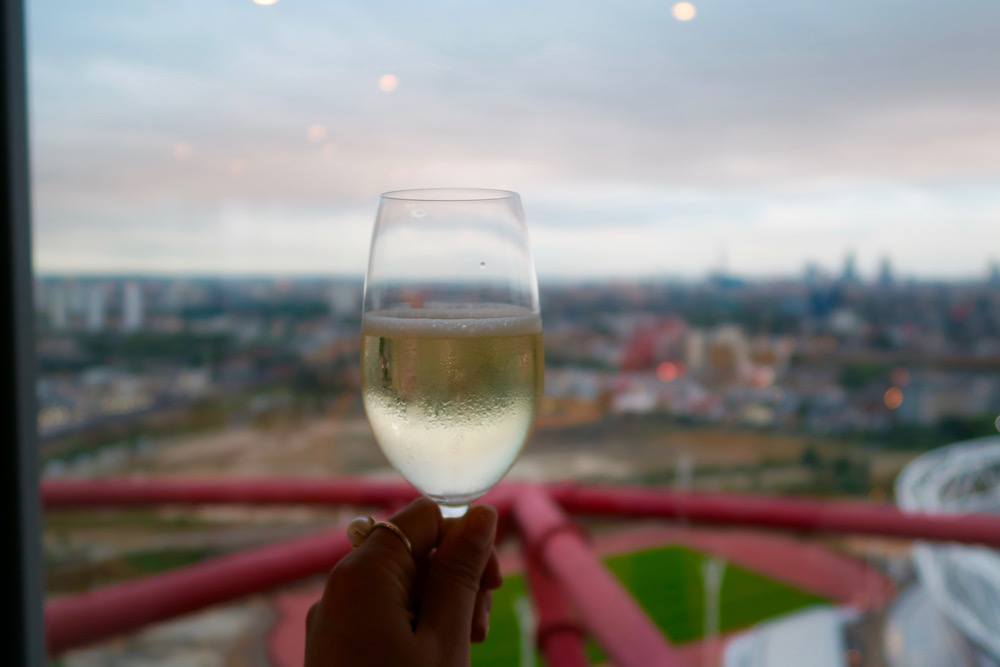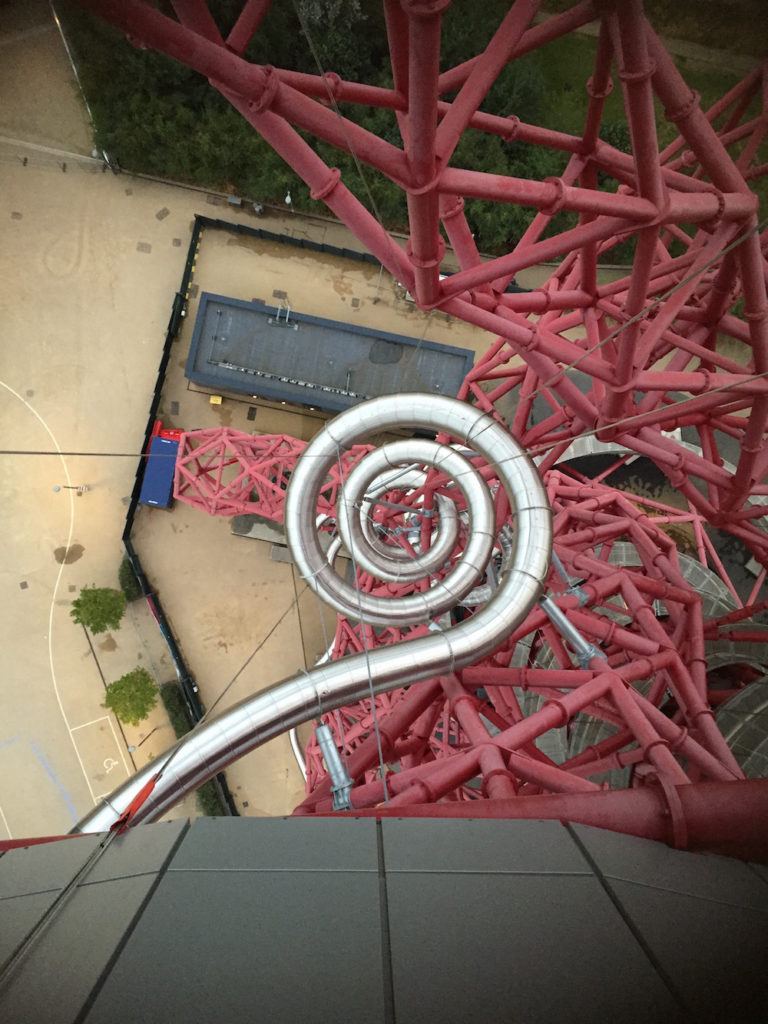 Tip: if you're on the outdoor viewing platform, place your mobile phone's camera over one of the holes in the grated floor to get this crazy shot of the slide in all its coiled glory!
All in all, I definitely recommend the ArcelorMittal Orbit and its tunnel slide for a quirky, fun few hours in East London. And because I'd like you to experience it, too, if you think you'll be in London soon to try it, I have a code for £10 off your visit; just comment below that you'd like to do it and I'll pick someone at random. You can even abseil down the side of the structure… I might have to try that next!
As mentioned, getting to the ArcelorMittal Orbit is very easy – it's only a ten minute walk from Stratford Station in East London. Combined ticket prices for the ArcelorMittal Orbit and the tunnel slide are £15 for an adult, £10 for children, and £46 for a family of four when booked in advance. Tickets are slightly more expensive when you walk up, and as the attraction is new, it is fairly booked up, so I highly recommend booking in advance. You can book your tickets on the AttractionTix website.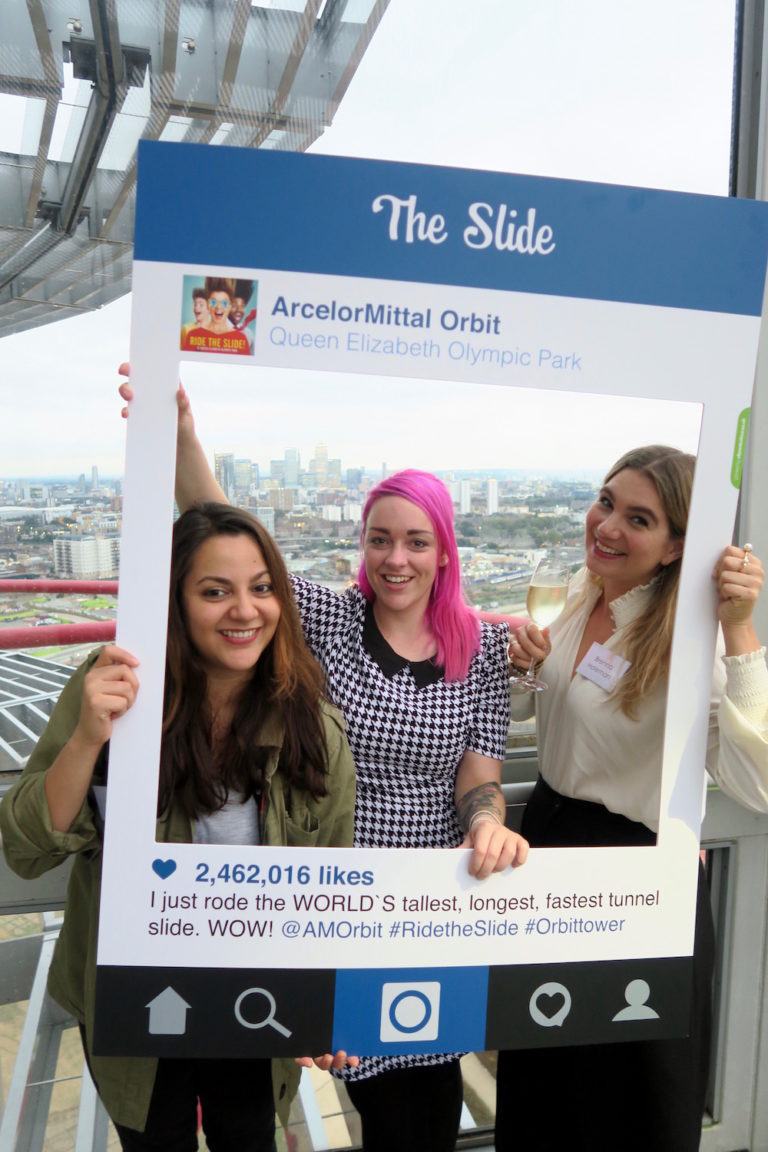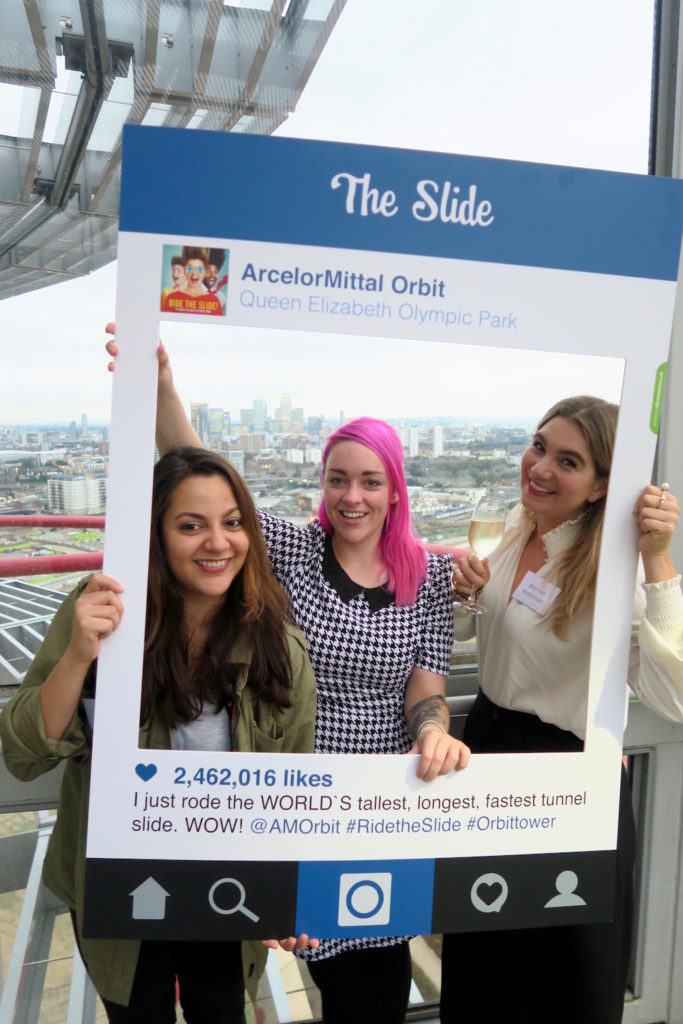 Would you like to go down this slide?
My many thanks to AttractionTix for inviting me to this event and to ArcelorMittal Orbit for hosting me. For more on the best in London, and activities and places I recommend, click here.