https://www.instagram.com/p/BKRMKkBgJcb/?taken-by=thisbatteredsuitcase
Over the past year or so, as I've enjoyed Instagram more and more (and simultaneously less and less with the new algorithms, if I'm honest), there have been some photos that have actually inspired me to travel somewhere new, or to explore a different part of a place I've already been. I fell in love with Cinque Terre through Instagram, for example, which inspired not one but two trips there this year.
In doing research for my recent trip to Paris, I noticed that a particular photo kept popping up – the "sinking house" or "tilting house". Although I'd been to the French capital a few times before, this seemed like a fun and unusual spot to visit, and so I decided to try to find out just how exactly to find the sinking house of Paris. It turns out I'd actually walked right past it quite a few times already. The reason I didn't notice it before is – no surprise here – the effect is actually an optical illusion. That's right, it's merely a case of tilting your camera. I hate to pull back the curtain on the Wizard of Oz here, but as I had fun taking these photos I thought I'd share the joy in case you find yourself in Paris. I also received a few messages after posting the above photo on Instagram asking me how exactly one can achieve the same shot.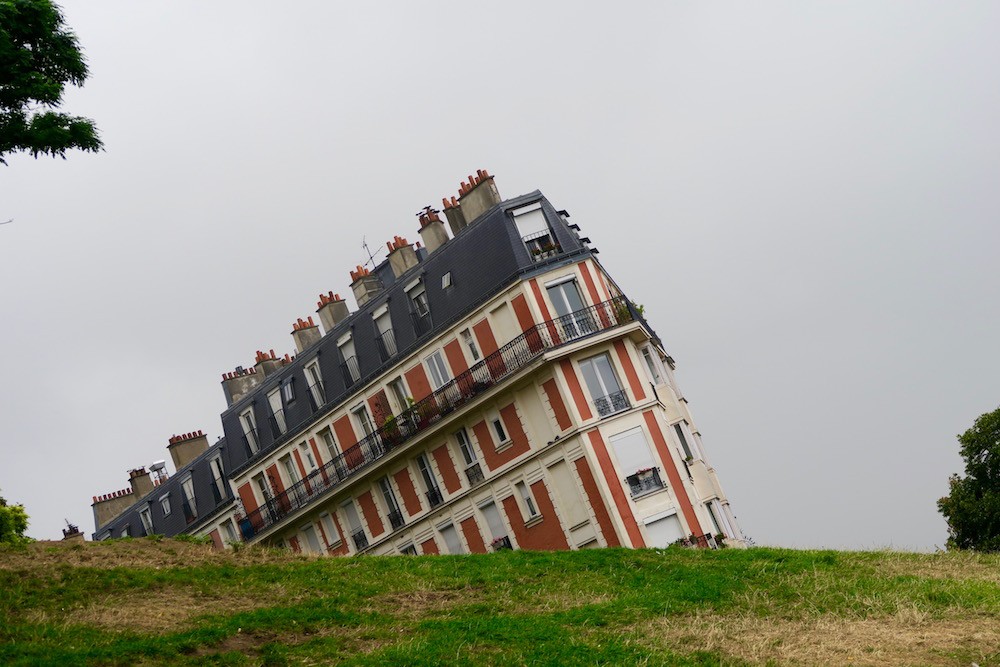 So… where is the sinking house of Paris? It's in Montmartre, right next to the Sacre Coeur (most easily reached from the Anvers metro station). Near the top of the many steps to the Sacre Coeur, on the right hand side, you'll see a small grassy bank. The orange house is behind that bank, but, because you're climbing a hill, you simply need to turn your camera about 45 degrees and… voila, as they say in Paris. You get the effect that the orange house is actually sinking in the background. Alternatively you can edit the photo later to get the same effect.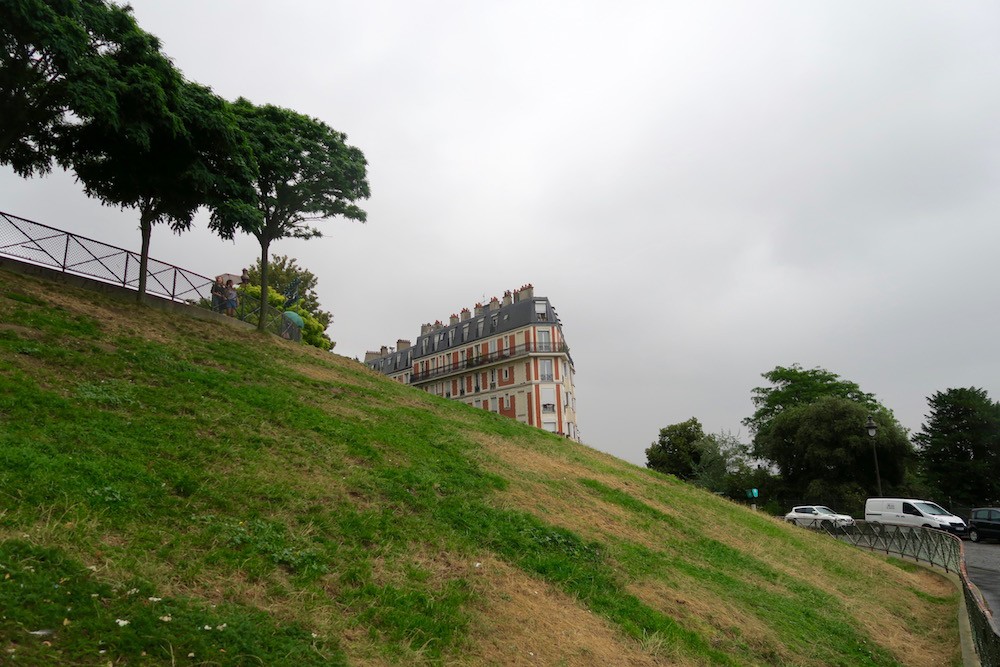 Yep – it's that inconspicuous. I hope you get some sunshine when you visit!
Montmartre was the neighbourhood of Paris I fell in love with the first time I visited, when I was 17, and not much has changed. Now that I know about this extra little bit of quirkiness, I love it even more.
Have you seen the sinking house of Paris? Do you know of any other cool optical illusions around the world?