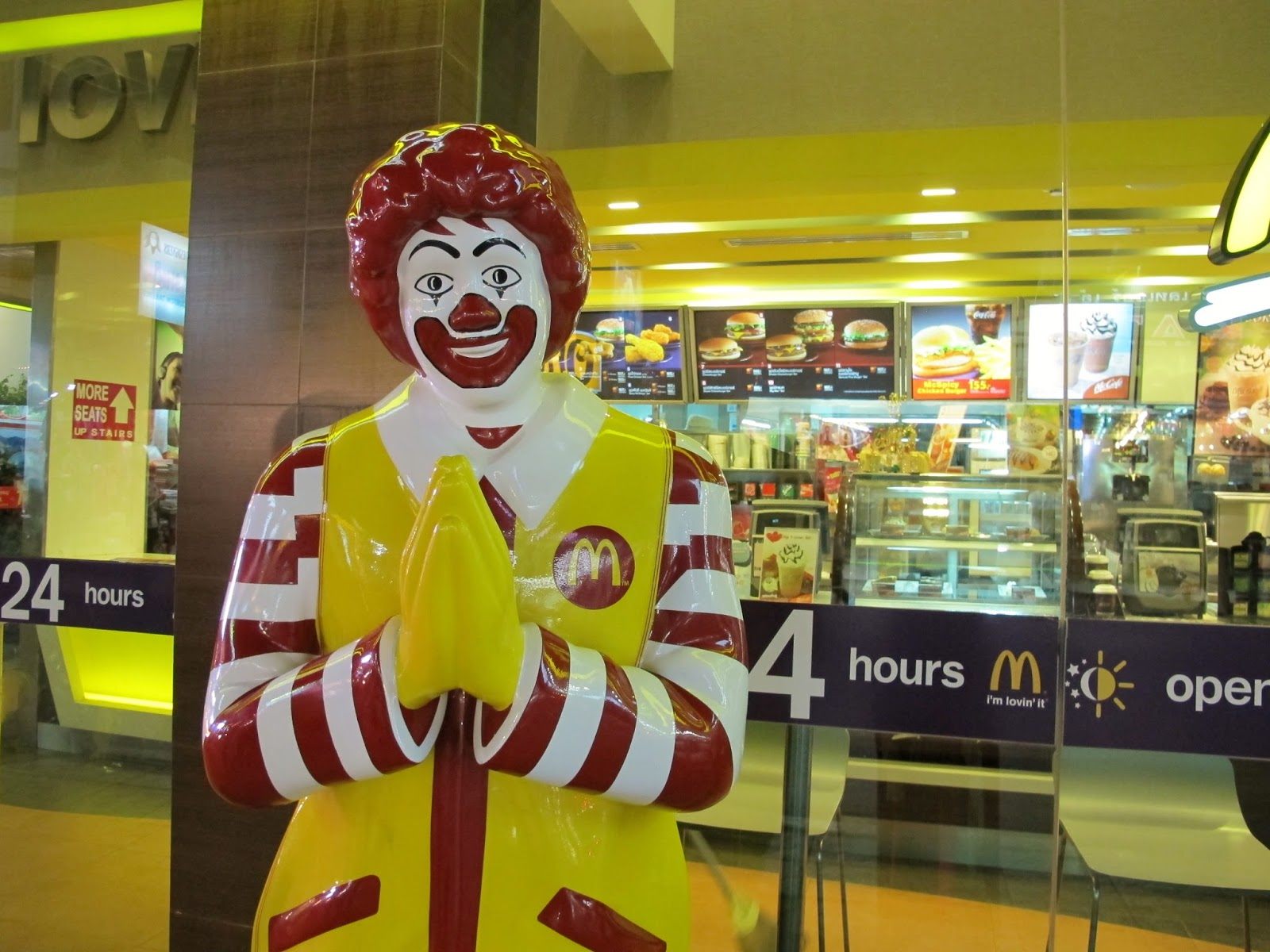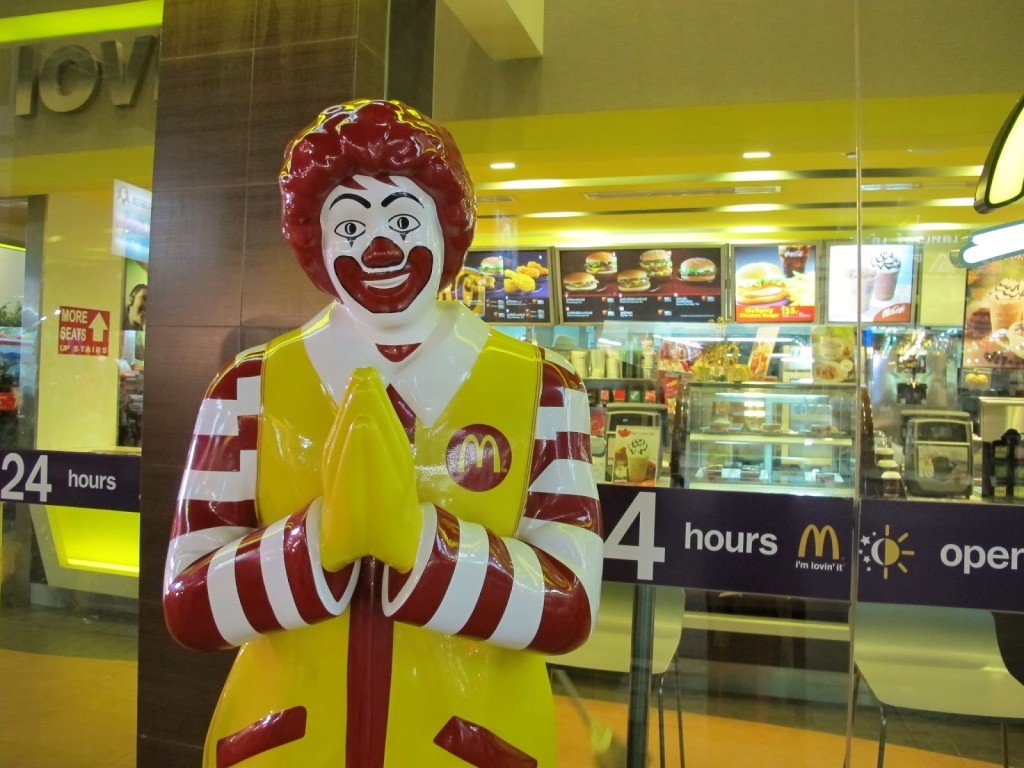 Phuket, Thailand
I have a confession to make: the very first meal I ate in Venice, ever, was at McDonald's. I have another confession to make: the very last meal I ate in India was also at McDonald's. Do I have to hand in my passport now? Will the travelling gods banish me to hell, AKA a smelly night bus in Laos with only snoring men and crying babies and ridiculously loud pop music and lawn chairs for seats (yes, I've been in this hell, and it is the route from Phonsavan to Vientiane)? Should we feel guilty about eating at McDonald's when we travel?
I have heard the question countless times from both fellow travellers and people at home: have you ever eaten at McDonald's when you've been on the road? Yes, I have. Am I supposed to be embarrassed of that? Am I supposed to answer with a meek yes, my head down in eternal shame? A few bloggers have also covered this topic, but here's my take on it.
Let's go back to Italy. I had just arrived in Marghera, one of Venice's boroughs. It's a short train ride away from the heart of Venice, and I was staying there because it was much cheaper. I dropped off my bag at the hostel, but decided to keep my exploring of the city for the following day; it was night, and I was tired from the journey from Florence. "I'll just get some food from a street vendor," I thought, "or go to the supermarket."
Wouldn't you know it, by the time I ventured out, everything around was shut. Everything but… McDonald's. I'm sure I could have kept wandering and found something else, but it was dark and I was wary of getting lost. So what did I do? I committed blasphemy, that's what! I bought a large order of fries and a chocolate milkshake.
And it was delicious. Delicious blasphemy.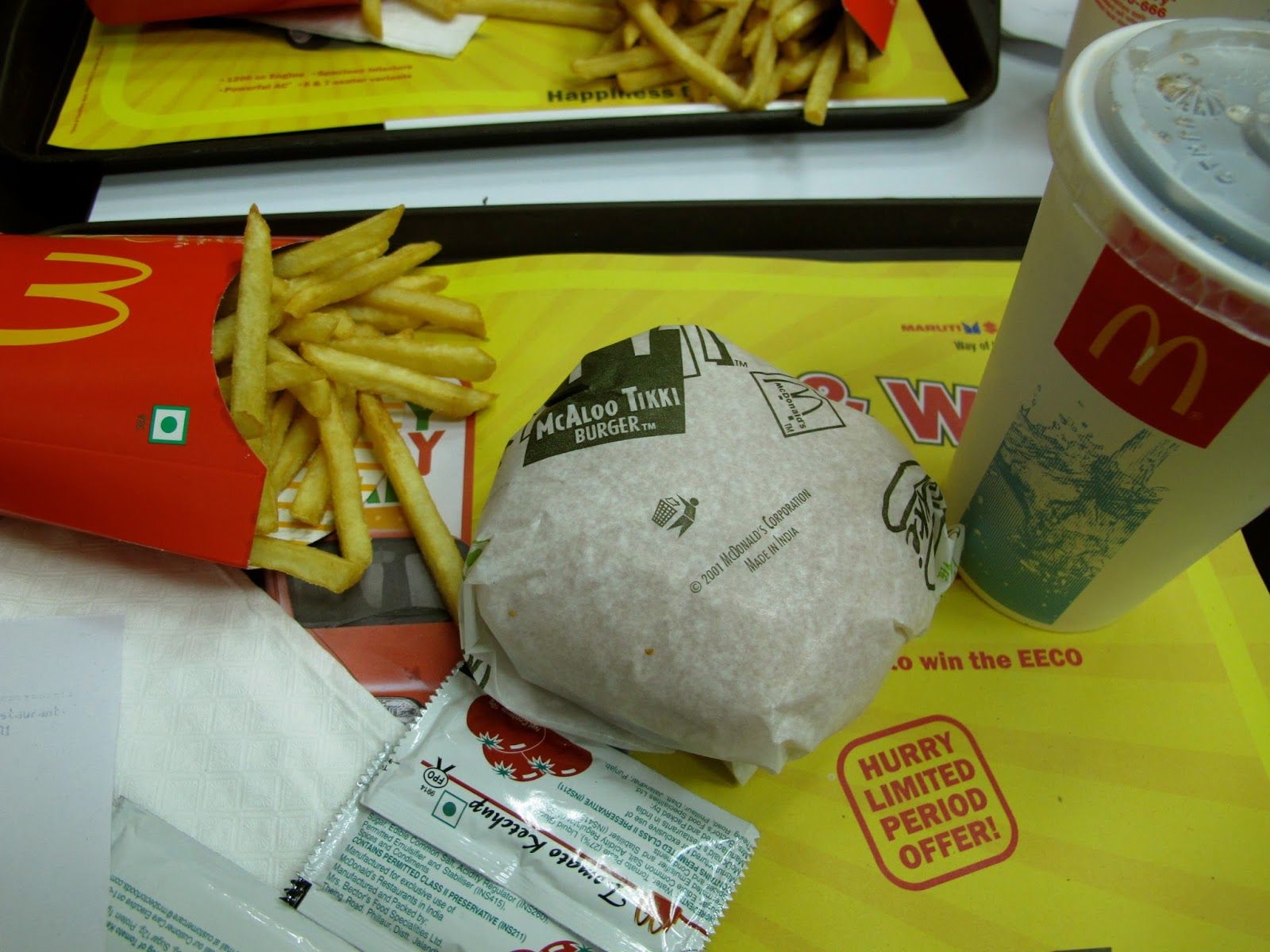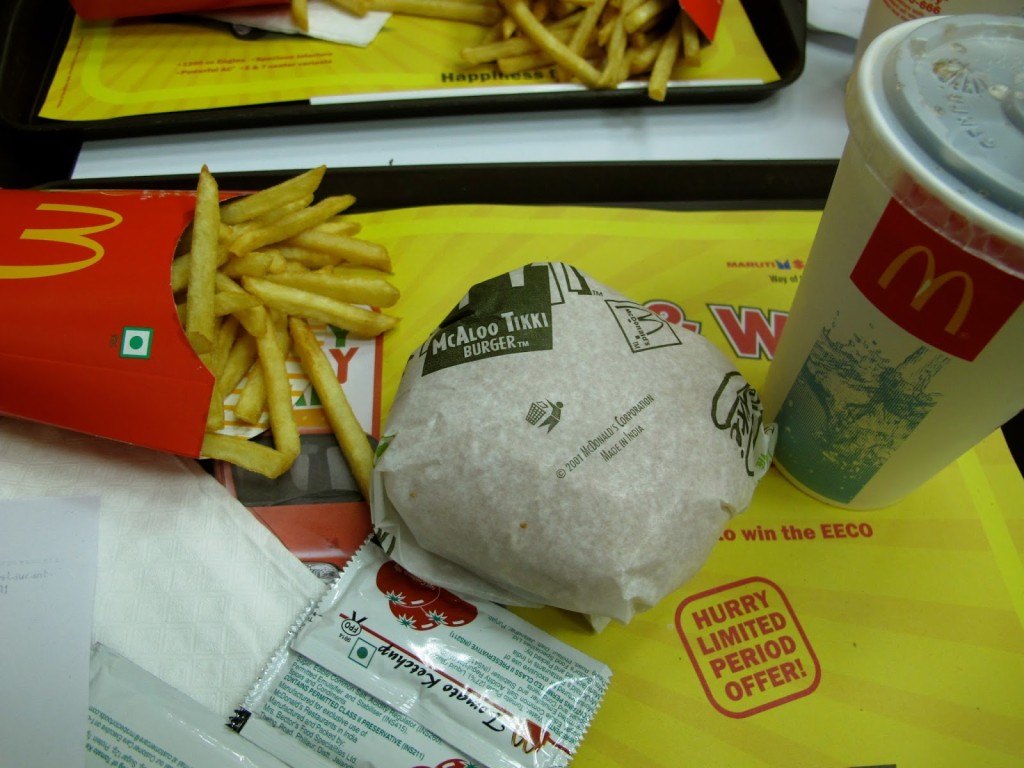 New Delhi, India
My experiences in India with the proliferous restaurant were similar; I actually ate there twice, both in New Delhi. The first time was with my beloved friend Kisha. She had just started her year of living there, and we met up (because that's what you do when you find out you're both in New Delhi). We went for a walk, did some shopping, and then decided that we were a bit hungry. Whatever part of the city we found ourselves in, it was quite corporate and modern, and we didn't see many restaurants. I don't remember who suggested McDonald's, but I was definitely intrigued: how does a chain restaurant famous for beef hamburgers survive in a country of sacred cows?
I'll tell you how they survive: the McAloo Tikki burger. It is not a fair representation of aloo tikki, a delicious dish made from potatoes and spices, but it was pretty damn tasty.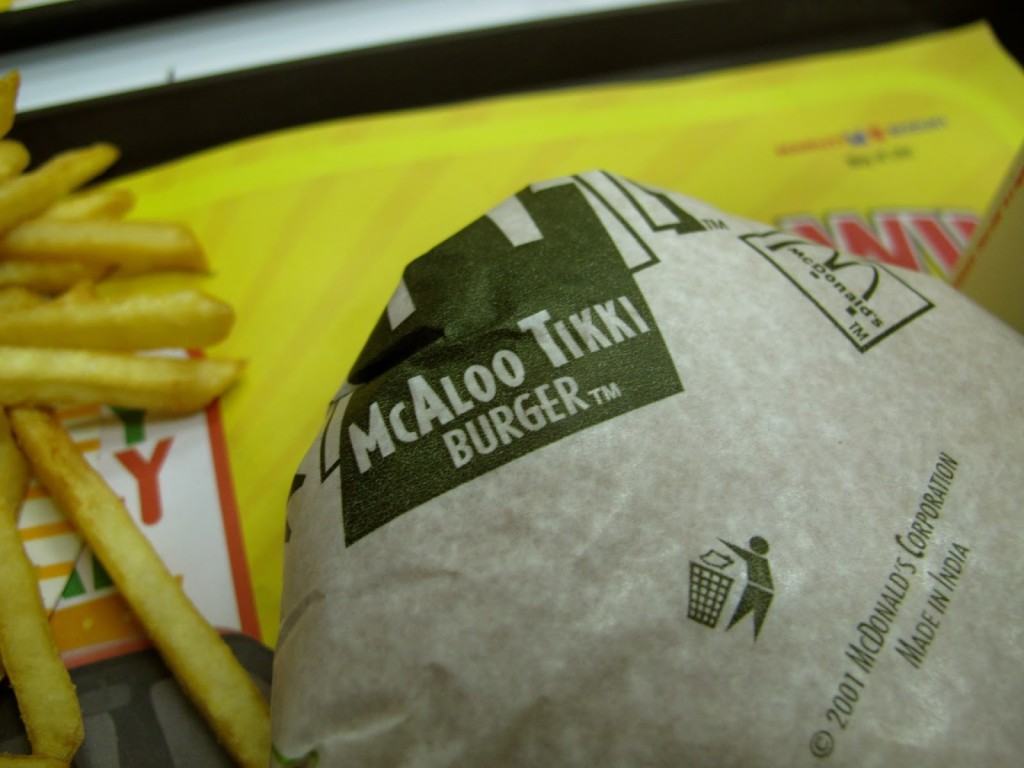 The second time I went to McDonald's in New Delhi was on my very last night in the country. I was by myself, it was late at night, and the hotel that had promised, promised that I had my reservation booked didn't, in fact, have my reservation booked. On top of this, they claimed that they didn't have my backpack that I had stored with them for a week while I went to Amritsar. When I showed them my bag tag, another story emerged. Apparently the only man who had a key to the storage room had been in a terrible accident and was now in a coma in the hospital (I am not making this story up). It was only when I threatened to tell all of this to G Adventures, the company that had introduced me to this hotel when I first flew to India, that my bag magically materialized. It was covered in so much dust and dirt you'd swear it had been buried under the hotel for two years.
Fuming, I was led to a sister hotel down the street, one that had no hot water and no internet service, though it did have a TV with lots of reruns of Castle. At that point, I was so exhausted and so overwhelmed with the entire situation that the thought of venturing outside again for food left me in a near state of panic. I needed something cheap, fast, and something that I could bring back to the hotel with me to enjoy in all my Nathan Fillion glory. You see where I'm going here. McDonald's to the rescue again.
I can think of a handful of other times I've eaten at McDonald's when I've been travelling – a few times, while very intoxicated, in Chiang Mai, and another time in France, because of McBeer, obviously. I had an ice cream sundae in Arequipa, Peru, and breakfast at the airport in Malaysia. I also allowed myself the odd Big Mac in Japan. Does this mean that I didn't eat any Thai food, or get to know Peruvian cuisine, or sample some of that famous French fare? When I lived in Japan, was I simply munching on cheeseburgers and ignoring all of the culinary delights of that country? Of course not. I don't eat at McDonald's that regularly (it's been over six months since I've visited, in any country), but sometimes it's just easy and cheap. Sometimes, you're curious to check out all the different options another country's menu might have. Sometimes, you just want it. And is that really so bad?
Some of you, right now, are thinking, "You brain-washed, meat-eating, hormone-loving, corporate-ass-kissing lemming! How dare you! You are ruining the world! You call yourself a traveller?!" Well, guess what? I often wind up at chain restaurants or stores when I travel. Of course I would prefer to support local companies, but sometimes, as seen in the examples above, it's not always an option. I do not make a habit of it by any means, but occasionally it's the most convenient choice, not to mention the restaurants are usually efficient and comfortable, with air conditioning, wi-fi, clean bathrooms, and excellent people-watching. And occasionally, as I said above, I just really crave fast food – like when, in Peru, a country known for its amazing cuisine, all Kerri and I wanted was a Subway sandwich.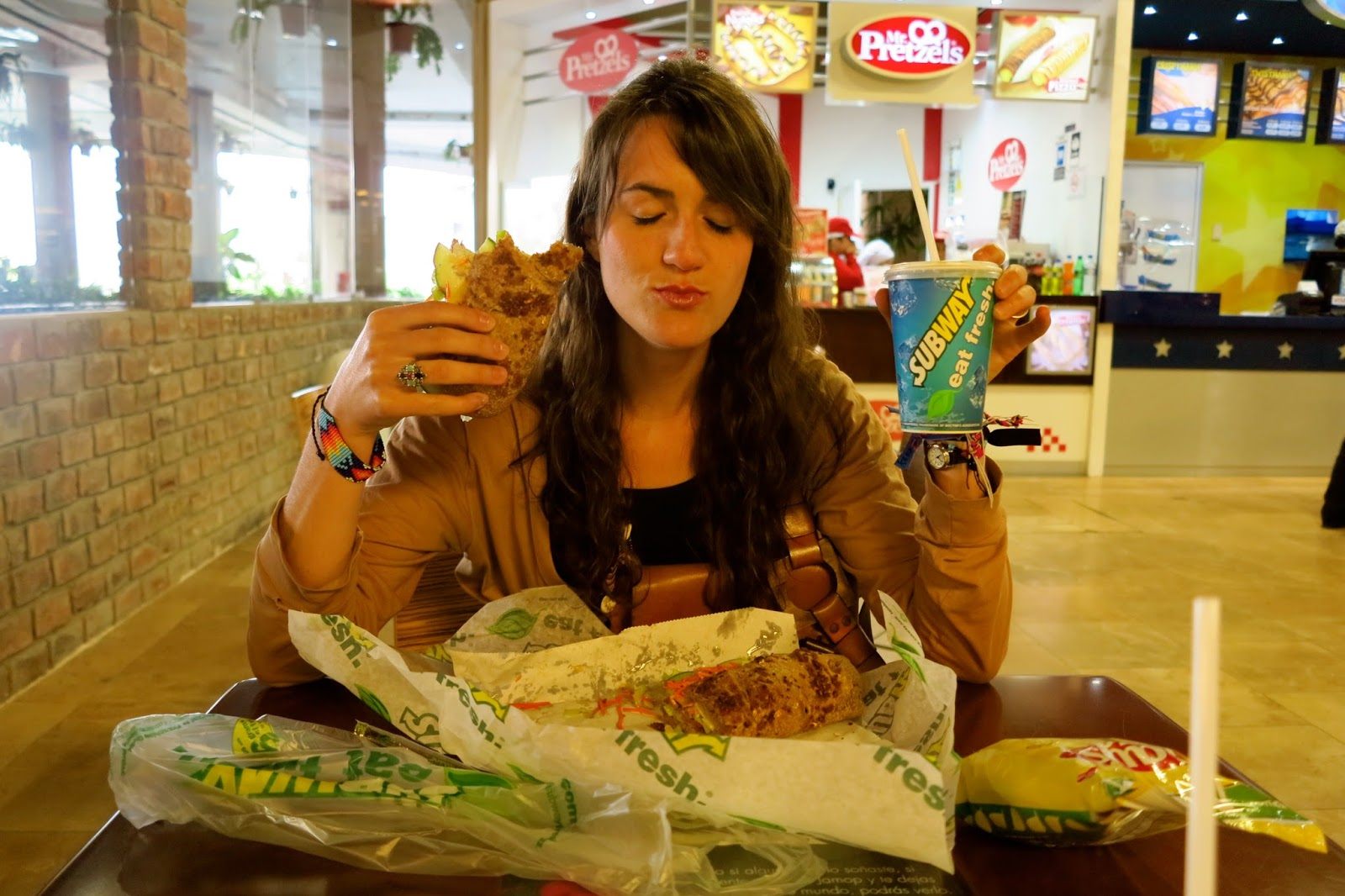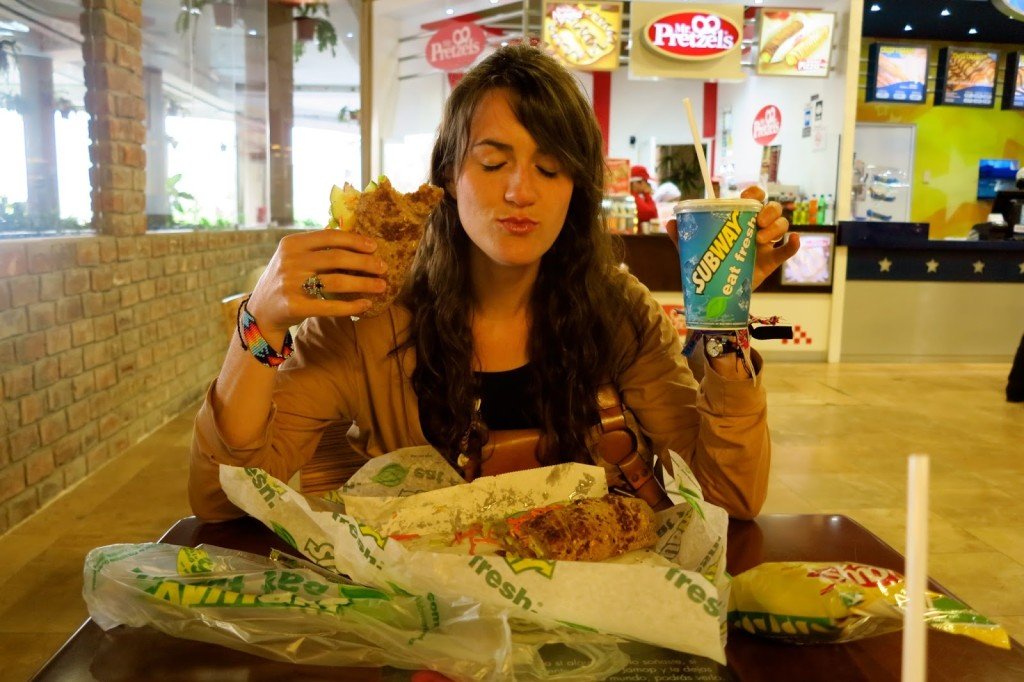 And we enjoyed it immensely. Lima, Peru
Once again I envision the angry backpackers storming my doorstep, wearing their hiking boots and waving their travel towels in protest. "But how could you?" they chant. "It's not part of the culture." And here's where I say something that may get me into trouble: it is. It is part of the culture. While we may not agree with the morals and ethics of a company, can we just expect a country to… not evolve? To not change? To not develop? To stay forever locked in our perfect image of that place, whatever it may be, one devoid of Starbucks and The Gap and KFC? As much as we may not like it, it's not fair to insist on these idealised notions of a place. Countries are forever changing, sometimes for the better, sometimes not, but as travellers, it's not really our right to impose what we think a country should or shouldn't be like, or should or shouldn't contain.
One of my favourite stories from my time living in Yaroslavl, Russia, was told by one of my volunteer supervisors. She remembered when the Iron Curtain finally fell, and slowly but surely Western companies started emerging in Russia. When the first McDonald's opened in the city, people treated it like the finest quality of American dining; she told me women wore their nicest clothes to eat there. It was a reminder that, even the everyday stuff we find common or boring, someone, somewhere, finds all of it extremely alluring and wonderfully foreign.
According to my statistics, most of my readers come from North America, the UK, and Australia. We are used to seeing the same chains over and over again. We don't necessarily want to fly to what we consider an exotic destination only to be greeted by one of these same chains (I'm looking at you, Giza. The Great Pyramids of Egypt! Oh, and if you turn around, Burger King). Yes, it sucks to try to take a beautiful photo of Paris only to have those damned golden arches ruin the view, but we live in 2013. To expect a place to forever remain the picturesque postcard we have in our minds is to trivialize a place and its people. Imagine the reverse: if a Thai person flies to New York, and sees a Thai restaurant, does she bemoan the collapse of American culture? Probably not.
To be honest, I don't care if I ever visit a McDonald's again. I don't plan on eating there anytime soon (unless desperate, or drunk, or if a McAloo Tikki is on the menu. Note: the same rules apply to my ex-boyfriend). But I can't drone on about how horrific it is that McDonald's is all over the world now – it's just the way the world is changing. I don't agree with many of the company's policies, nor do I condone that way of eating or what it is doing to our environment and health, but, if one of their restaurants opens in a new city, and people want to eat there, that is their prerogative. I don't judge people on where they want to travel, so I can't start judging people on where they want to eat.*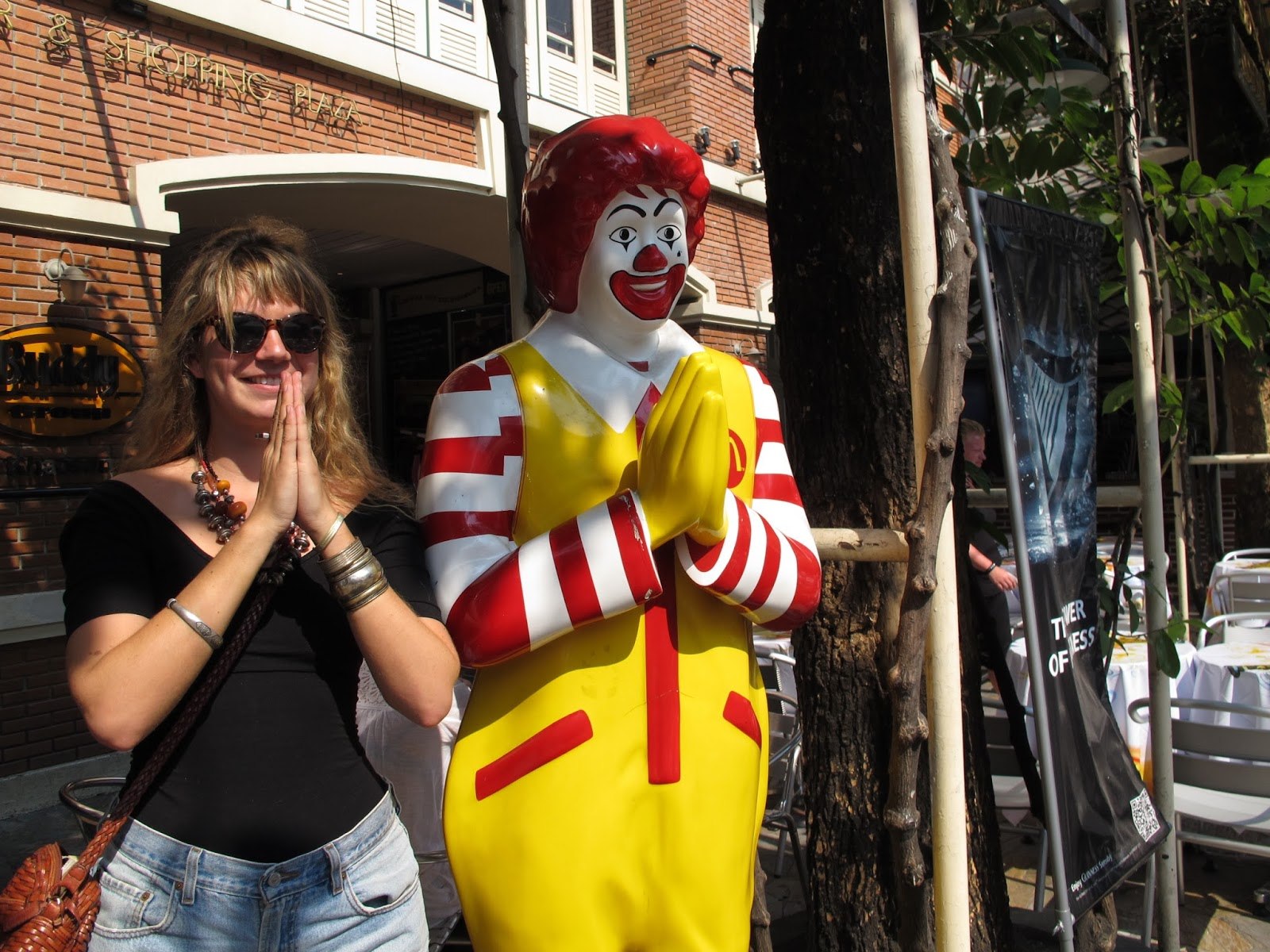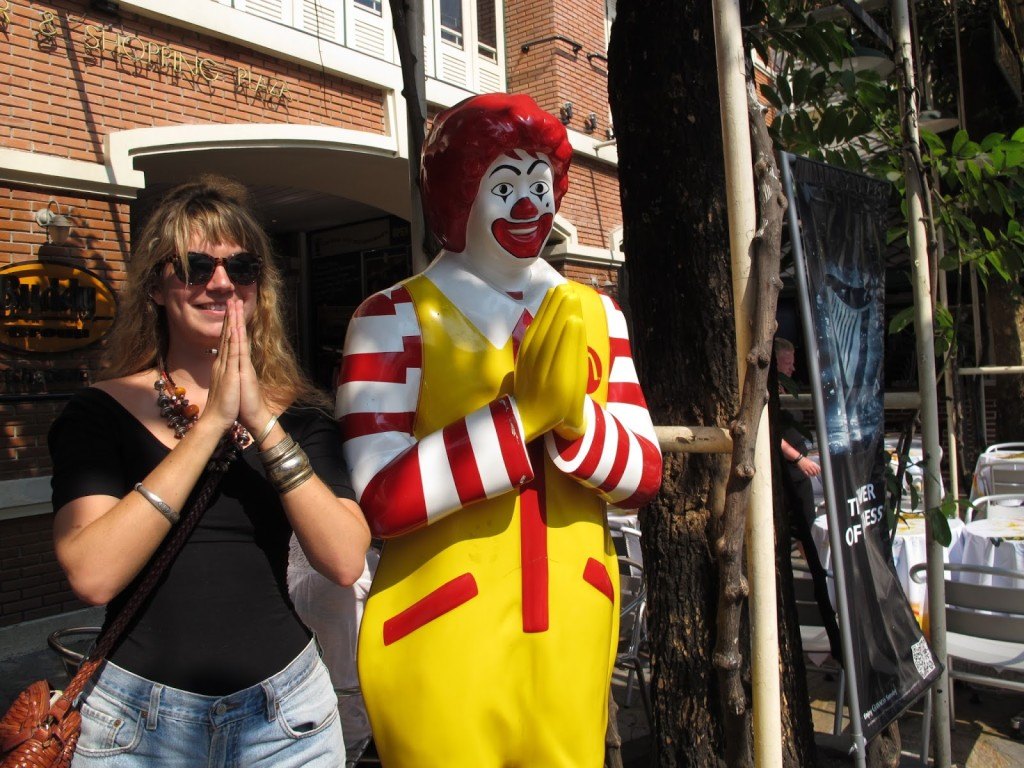 Bangkok, Thailand
And now the dreaded question: have you ever eaten at McDonald's or another fast-food restaurant in your travels? Why or why not? If not, do you judge people who do?
*OK, I guess if you flew to a new country and only ate at McDonald's, I might judge you a little bit. Just like I judge the young man I met in Thailand who had developed scurvy from only consuming noodles and beer. Seriously, dude? Limes are like 5 baht!