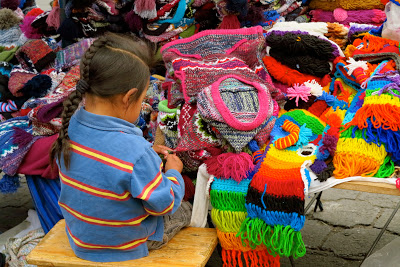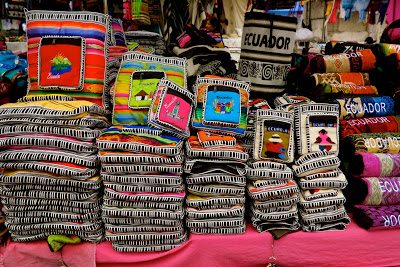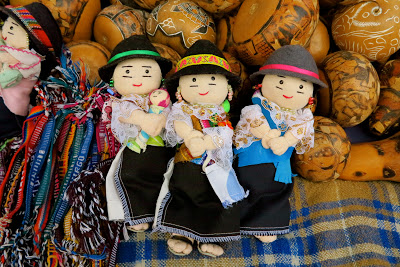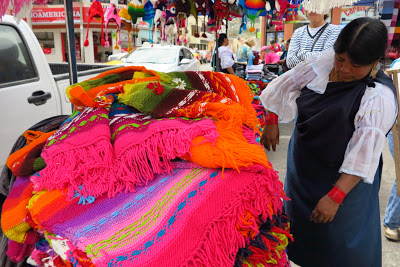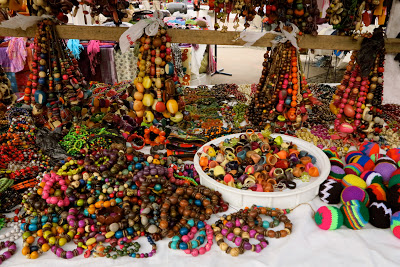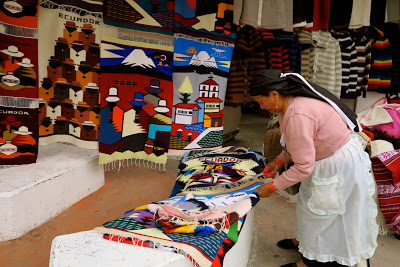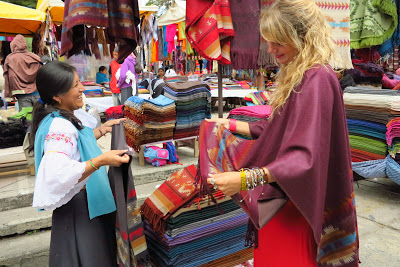 Otavalo, Ecuador
Otavalo, a city in the north of Ecuador and only a few hours from the Colombia border, is mostly famous for its huge Saturday market. When the market is in full swing, almost the entire town gets involved; on the other six days, there is still plenty to see and buy, with stalls centring in and around the Plaza de los Ponchos. In fact, I'd say that avoiding Saturdays is perhaps better, as you get a relatively peaceful market to yourself if you go on any other day of the week.
There are plenty of cheap places to stay in Otavalo (we stayed at the Hostal Rincon del Viajero, and found it very comfortable and welcoming) and a lot of restaurants specializing in both local and international cuisine. While there are other attractions nearby, including lots of lakes, mountains, and the interesting Parque Condor that I'll write about another day, the main draw is definitely the market.
Armed with many American dollars (the currency of Ecuador), we headed to the square on a Wednesday, ready to shop. We had been waiting for this market for a long time; my three months in Central America and six weeks in Colombia had left me with barely any souvenirs. We had heard that there was great shopping in Otavalo, and that it was extremely easy and reliable to send a package from Quito. Both statements were true.
We started off slowly, saying we were going to check everything out and negotiate heavily before actually purchasing anything. Two hours and one trip to the ATM later, that plan was out the window. It was simply too tempting, surrounded by beautiful colours and handicrafts, and we ended up spending our budgets very easily. For around $150, I bought three antique dolls, two pillowcases, a poncho (the one I'm wearing in the photo), a decorative mask, two purses, a backpack, a large tapestry, an alpaca scarf, an alpaca shawl, an alpaca jumper (there's a lot of great alpaca stuff), a beaded necklace, and two silver rings. Everything was made by hand. Among those things were Christmas presents for my mum, dad, sister, and brother…but let's be honest, most of it was for me. The market is a fantastic place to pick up souvenirs for yourself and for others, as it has an assortment of wares: alpaca, jewellery, artwork, tapestries, silver, instruments, spices, traditional clothing, leather, kitchenware, and so much more. As the area is especially famous for its textiles, picking out a tapestry or other item for your home is a must.
In the end, I spent more than I was used to when shopping abroad, but I felt that every penny was worth it. If you are travelling through South America on a limited budget but you still want an assortment of souvenirs and gifts, I recommend Otavalo. In my opinion, it rivals La Paz for the cheapest and best market on the continent.
Have you ever been to Otavalo? Do you buy a lot of souvenirs when you travel?