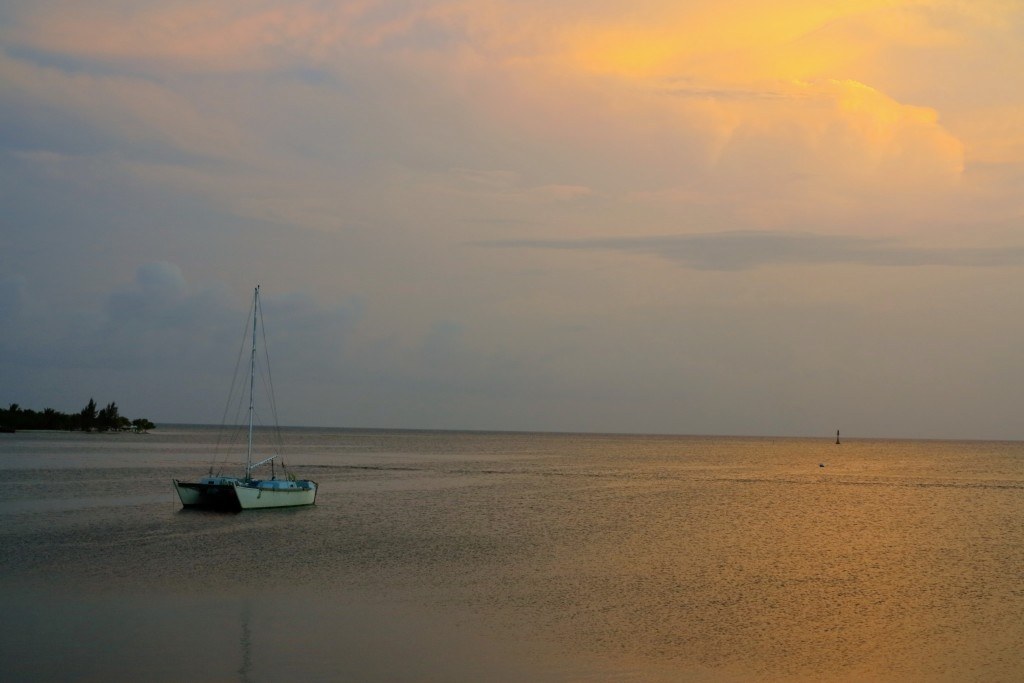 The last time I saw you, we hugged on the tube platform. I had just moved to London, and you happened to be passing through, visiting. I remember the sound of the train as it rushed past us, thinking I could say anything to you and you probably wouldn't hear me. We hugged for just a second too long, or maybe a few seconds. And then we separated, and looked at each other, both of us waiting for the other to do something, or say something.
***
We met on the backpacker trail in Central America. I was travelling on my own, but had quickly made friends with a group of people in my guesthouse. One of the guys in the group had met you at another guesthouse, and so you came along to a dinner of conch baliadas, a local meal. You were a bit taller than me, with brown hair and grey eyes. I remember noticing your laugh, the way you had the ability to make everyone feel like the funniest person in the room. You were tanned a dark brown, and the only man at the table not wearing a singlet. I liked you immediately.
"So what about you, Miss Canada?" you asked me privately, while the rest of the group chattered in the background. "What are you doing here?"
We were drinking cold Salva Vidas, the local beer in Honduras. I was running my finger up and down the can, collecting beads of condensation.
"Do you mean… in Utila? Or in life?" I smiled.
"I mean in Utila," you laughed, "but if you'd like to tell me all about your existential philosophies on life, I'm all ears. I bet you have some stories to tell." With this you raised an eyebrow, just for an instant.
I had been in Central America for two months at that point, through Belize and Guatemala. I was in Honduras to scuba dive, and I had already finished twelve of my fourteen fun dives for the week. The last two dives were the next day, and then I'd leave the day after that for León, in Nicaragua. My schedule was fairly airtight, as I was meeting Kerri, my best friend, in Granada in exactly a week. I didn't have any wiggle room.
"Well, I came here to dive, but Honduras is just a small part of the whole trip. I'll be in Central and South America for about nine months in total. You?"
"Ah, I'm jealous," you leaned back in your chair. "I wish I still had that much time on the road. I'm just finishing up – I spent a year in South America, and am now making my way up to Mexico. My buddy has a dive shop there and I already signed on to work as an instructor for six months. I'm just here to check out Utila's dive scene."
I laughed, slapping you on the arm. "What are you talking about, jealous of me? I'm jealous of you! That's always been my dream, to work in a dive shop."
We had done a lot of the same things, you and I, and had a lot of the same dreams. When I was a little girl, wanderlust felt like my dangerous secret. As I got out into the world, I realised how many other people had been afflicted by it, and how it was not only expected, but assumed. There were certain people I met whose wanderlust synced with mine, though; they, too, wanted to travel the Silk Road, had fallen in love with the chaos of India, and had always imagined opening a little dive shop on a beach one day. You were one of these people.
We talked all night. You told me of your plans to buy a camper van whenever you made it back to your native Australia, how you wanted to take it round the country.
"Can I come?" I asked you, emboldened by the mere thought of adventure. You looked right at me, put your beer down on the table.
"Yes, you can," you answered, your eyes like big wet stones, shining in the night. And it might have been the beer, or maybe it was that Honduras heat, but I believed you. You walked back with the group to our guesthouse, but then left to go to your own.
"See you later," you said to me, raising that eyebrow again.
The next day you joined me for two dives. We met at the dive shop around 6:30 a.m. and had our gear together and on the boat by 7. With four other divers, the boat bounced over waves until we reached our dive spot, and we suited up. Diving in Utila had already been incredible, with clear Caribbean water and great schools of colourful fish, and I knew that the two dives would be much like the others: beautiful. Still, with you in the water with me, I felt an extra rush of excitement. I felt nervous, too. We flipped backward off the boat into the ocean side by side, the warm water enveloping us whole.
Underneath the sea everything feels muted, calmer. I focused on the sound of my own breaths, the steady inhale and exhale. We followed the dive leader along a reef wall, all of us stopping when there was something particularly fantastic to observe. I liked being in the water with you, I liked turning around and seeing you there, giving me the OK sign. OK, I'd motion back. OK. Before we got back on the boat you blew bubble rings for me, and I'd chase them, swimming through them. You kept making me laugh, my mask filling up with water.
We returned to Utila by mid-day, tired and happy. It was so hot that the salt from the ocean had caked on to our skin in sheaths of white, and on the boat you leaned over and licked my shoulder.
"Tastes pretty good," you joked.
We met up for dinner that night, but this time, it was just the two of us. It was my last night on the island. You took me to a little bar someone had recommended, a local hang-out, and we ordered sloppy burgers and Barena beer on tap.
"Will your wife have another drink?" the server asked you, after we'd both finished our pints.
"Yes, she will, thank you," and you looked at me and grinned.
I'm no stranger to travel romances. I had one major one in Europe when I was twenty-two; another travel fling had turned into a full-blown relationship that lasted for a year at twenty-five. I ended up travelling with a man I met in Southeast Asia through Cambodia, Malaysia, and Indonesia before breaking up in North America. And even in Central America, only a month before meeting you, I had developed feelings for someone in Antigua, though neither of us acted on it. That one had left me cold – it had been complicated, and we hadn't exchanged contact information before we left. These aren't counting the minor flings, the times I kissed someone just because – because I wanted to know what it was like to kiss a foreign man on foreign land. It's simple to fall for someone when you travel. Thrown together in strange situations, unbridled and uninhibited, perhaps we're much more open to connecting with someone. We're not necessarily thinking of the tomorrow. We're just thinking of the now. Under the glow of a unfamiliar sky, getting caught up is easy.
You walked me back to my guesthouse. It was quiet, with nobody sitting on the wooden dock that jutted out to the ocean. The milky moon cast a streak across the dark, still water.
"What do you say?" you asked me. "Should we take a dip?"
We stripped to our underwear and jumped in. You swam around me, sometimes going underwater only to pop up right in front of me, laughing.
"I wish you were staying," you told me as you tread water, your eyes searching mine. I wanted to kiss your neck, taste the ocean on you, taste what our future might hold.
"Me too," I answered, before diving down into the ocean's depths, escaping. We never even touched. I think we both knew it would only make it that much harder to say goodbye.
***
A year and a half later you messaged me on Facebook. "I'm going to be in London," you wrote. "Do you want to hang out?"
My heart was pumping hard and fast when I met you at the tube station. You looked pretty much the same, only without as much of the tan. After Mexico you had travelled through Europe for a bit, and you were on your way home to Australia.
"Hey!" We hugged, and you took some of my hair in your hand. "You look different." You had only seen my hair wild and curly, styled by the ocean and the sun. Here in London I had straightened it. "You look good, though. It's really good to see you."
We spent the day together. Despite the fact that you once lived in London for a year and I had just moved here, we both felt like tourists, wide-eyed and animated. We both talked too much, our stories running into each other's. We walked along the South Bank, stopping for ice cream. We continued on to St. Paul's and then, just for the hell of it, walked to Trafalgar Square, and then to Piccadilly Circus, where we bought a bottle of red wine and drank it under the light of the huge screens until the late hours of the night.
"I'm going back to Australia in three days," you told me, and I didn't say anything. What could I say?
We hugged goodbye on the train platform, lingering just too long. And I should have said it then, when the train rushed in and our words would have been swallowed and it wouldn't have mattered anyway. I should have told you that I wished we weren't just ships passing in the night. That as much as I'm glad travelling brought us together, I'm sad that it took us apart, too. And that once in a while, this world of ours is far too big.
You went back to Australia. While I studied in London, you really did drive that camper van around the country. I saw on Facebook that you have a girlfriend now, a pretty girl you've travelled with to Borneo and Sri Lanka. You look happy in your photos, those grey eyes crinkling with every smile.
But sometimes I'll think back to when we floated in the ocean under a sweep of stars, and remember when we wished the night was never-ending.
Please note: some of the details in this story have been changed to protect the identity of this person.
Click here for all other instalments of The Last Time I Saw You.