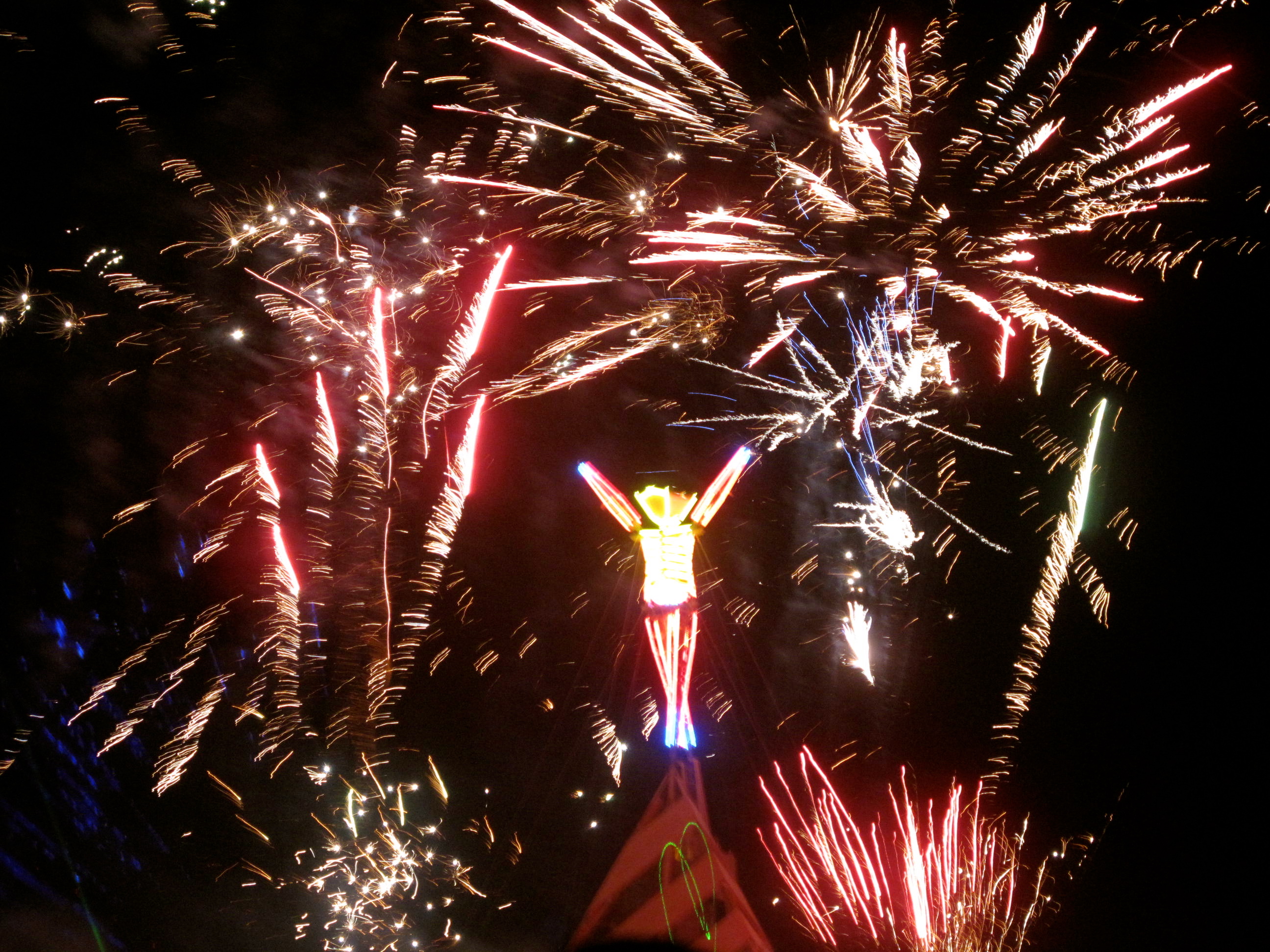 Right now, thousands of people are making their way to Black Rock Desert, Nevada, USA. What brings them there? The infamous festival called Burning Man, an annual event defined by community, art, self-reliance, and radical inclusion. "Anyone can be a part of Burning Man." This was written as part of the event's 10 principles. "We welcome and respect the stranger." This year, 68,000 people will attend the week-long event.
I went to Burning Man in 2011, and stayed the full eight days. I camped in the desert under the big clear sky, my days spent riding the playa on my bicycle, making friends, cooking grilled cheese sandwiches, my nights a hazy blur of stilt-walkers, fire-breathers, mutant cars shaped like scorpions and jellyfish. I wore outfits I threw together from a garbage bag of costumes in the trunk of the car; I wore saris and glitter, fake fur and angel wings, tutus and sometimes nothing at all. When I reached the gates on that very first day, a girl wearing pink fishnets made me roll around in the playa, coating my hair in the greyish dust. "Welcome home," she told me, and hugged me. I was instantly in love with this alternate universe, this utopian dream of creativity and art and acceptance.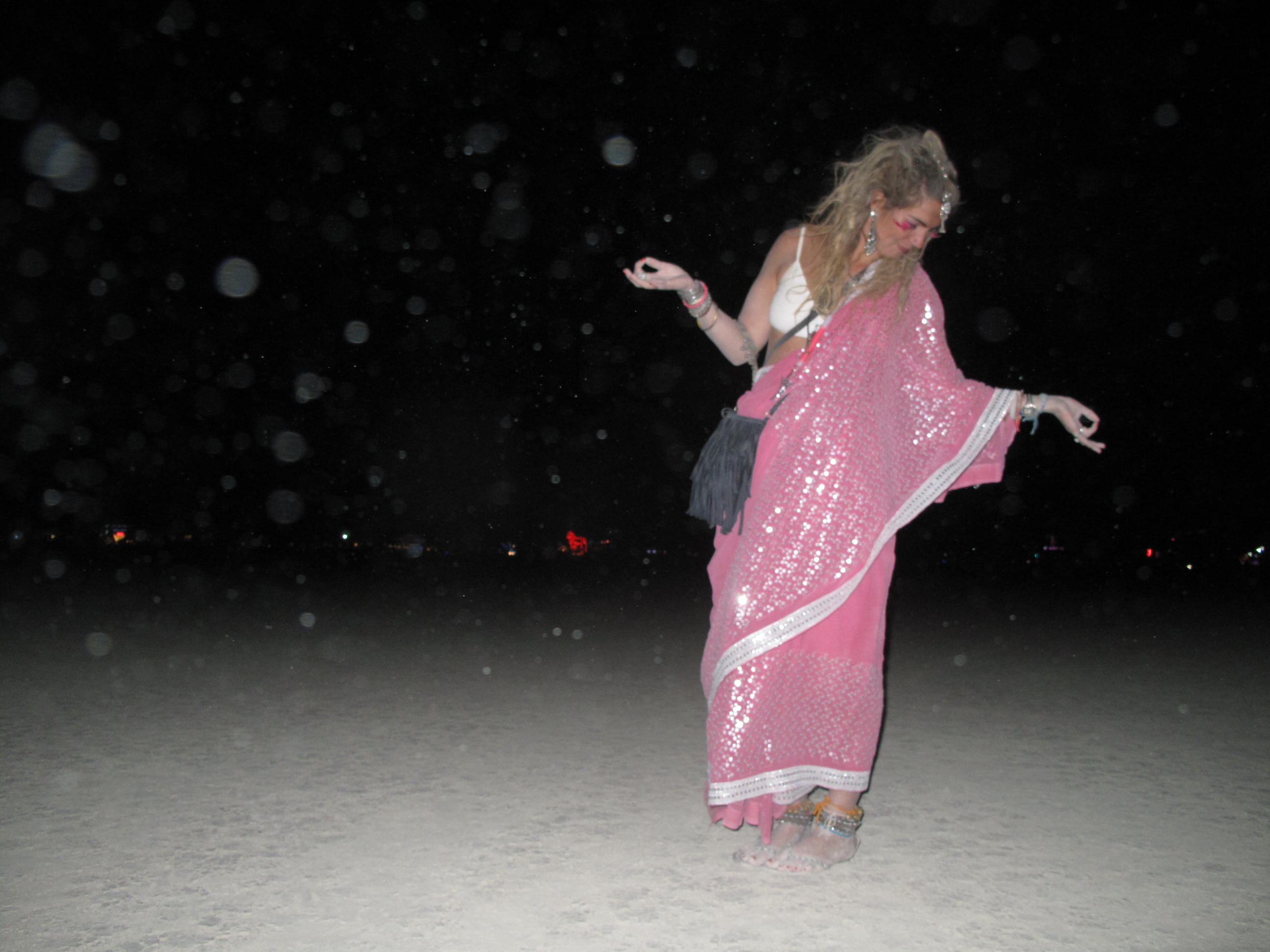 I was fresh off of a huge adventure around Asia that began with two years living in Japan and ended with eight months backpacking through Thailand, India, Australia, and beyond. I was still high off of the lifestyle, the sense that people from all over the world could come together as one over nothing but a few beers and a mutual curiosity of the unknown. I hadn't felt disapproval or exclusivity in years; such is life on the road, when we are all starry-eyed and green, open to making new friends every day. I read the principles of Burning Man and I liked them, I agreed with them.
Yet when I reached our camp, it was very clear that I was the stranger. It was very clear that I didn't belong. I arrived on the arm of a man who had been my travel partner and romantic partner for four months, someone I had spent continuous weeks getting to know as we made our way through Cambodia, Malaysia, and Indonesia. We had fallen for each other when our backyard was the Pacific Ocean, when our playground was filled with motorbikes and rice paddies. We hadn't yet learned how to be with each other outside of that bubble.
The bubble burst right there on the playa, suddenly surrounded by his friends, his native countrymen, his exgirlfriend. It was doomed from the start for me, the outsider, the unwanted. Everything was different, from the way he looked at me to the way he said my name. Early on in the week, in the sacred temple, I wrote him a message on the wall, a message about our future. "Travel the world with me," I scribbled in black marker. We sat and listened to the bells and the prayers, but he said nothing. I watched as he changed, watched as, in that city of love and light, he grew distant and dark.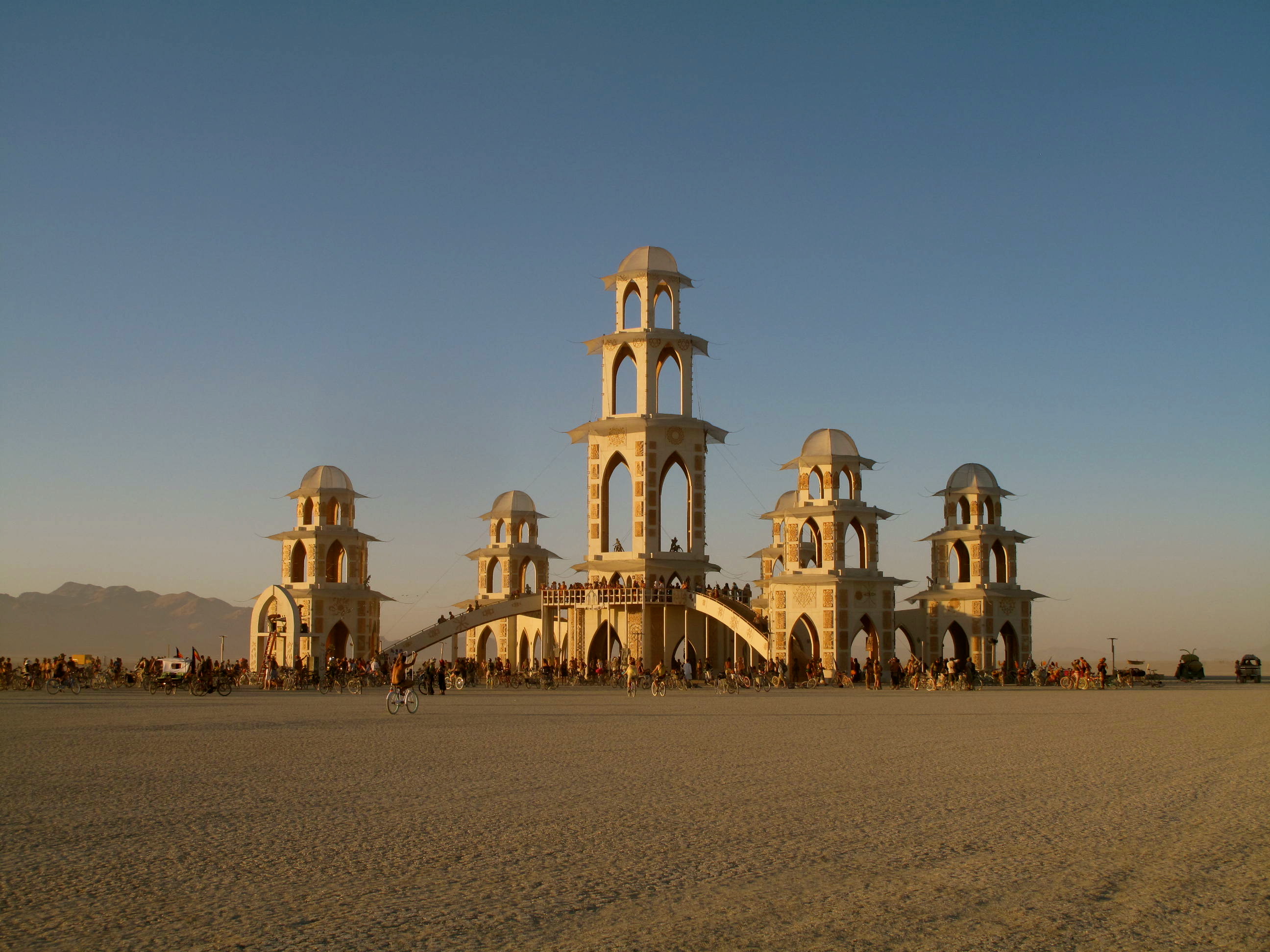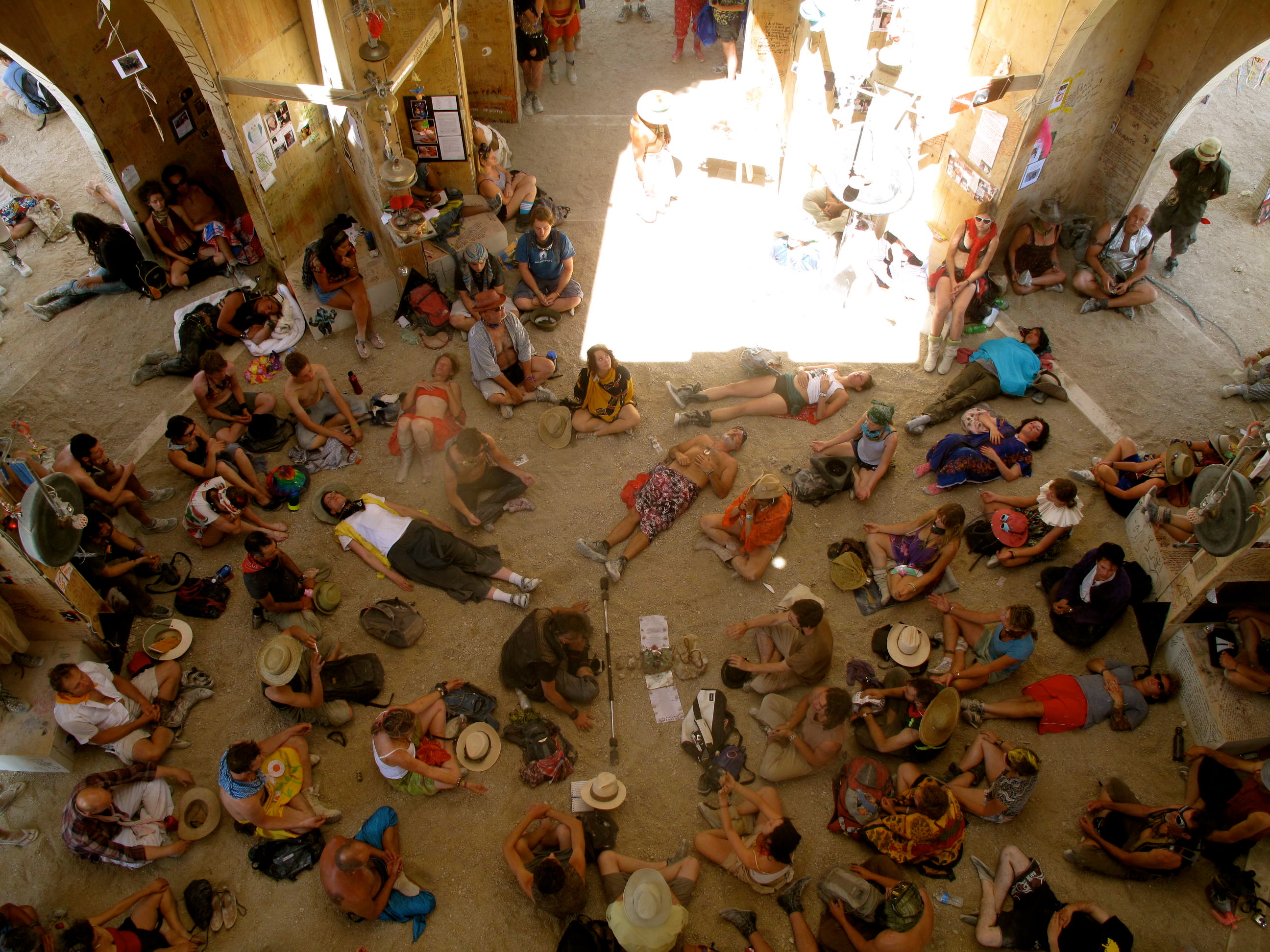 Nobody was ever outright mean to me; in fact, many of the people in our camp were incredibly kind and welcoming, despite me being some new girl suddenly thrown in the mix. There was hushed gossip and the occasional passive-aggressive remark, but I never expected to be invited with the other girls as they ran off together, giggling and holding hands on their way to the Port-A-Pottys. I completely and wholeheartedly understood why I was not always included, and I did not, and do not, begrudge anyone for it. Sometimes, even in a society that celebrates community and acceptance, there is someone that doesn't quite fit in, and that's natural.
During the week I spent a lot of time away from the group, either with my boyfriend or on my own. In those times I met dozens of other Burners, people who opened up their arms and took me in, who fed me and laughed with me and told me bizarre stories as we shared whiskey out of a canteen. I slept in a bouncy castle and danced around fires, hitching a ride back to my side of the playa on a double-decker bus covered in pink fur. They were happy times, times I felt that I was on another planet, a planet where moon beams and playa dust gave sense to the night.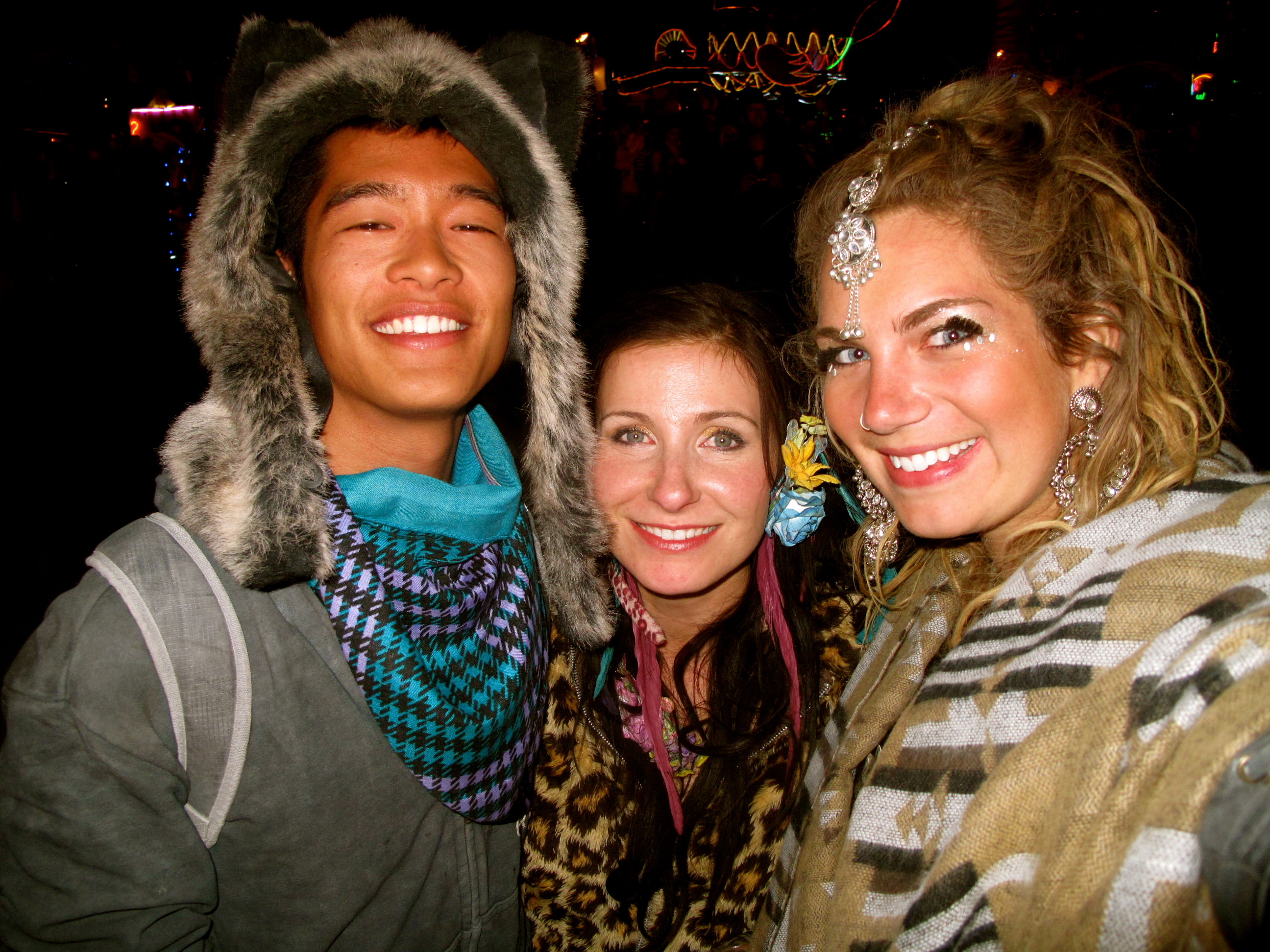 On the last evening, only my boyfriend and I remained of our group. We watched solemnly as the temple was lit on fire and burned to the ground, a tradition and a salute to those no longer with us. The heat, though the fire burned hundreds of metres away, was unbearable, and I had to cover my face. I watched through my fingers as the temple crumpled and collapsed; with it, messages to my loved ones, and that message to my boyfriend. I cried then, not only for my family and friends, but because it was all over. Our adventure had come to an end, our future no more than ashes blowing across the desert. He wanted the life inside our little camp; I, the life outside of it. He wanted the familiar, I wanted the foreign.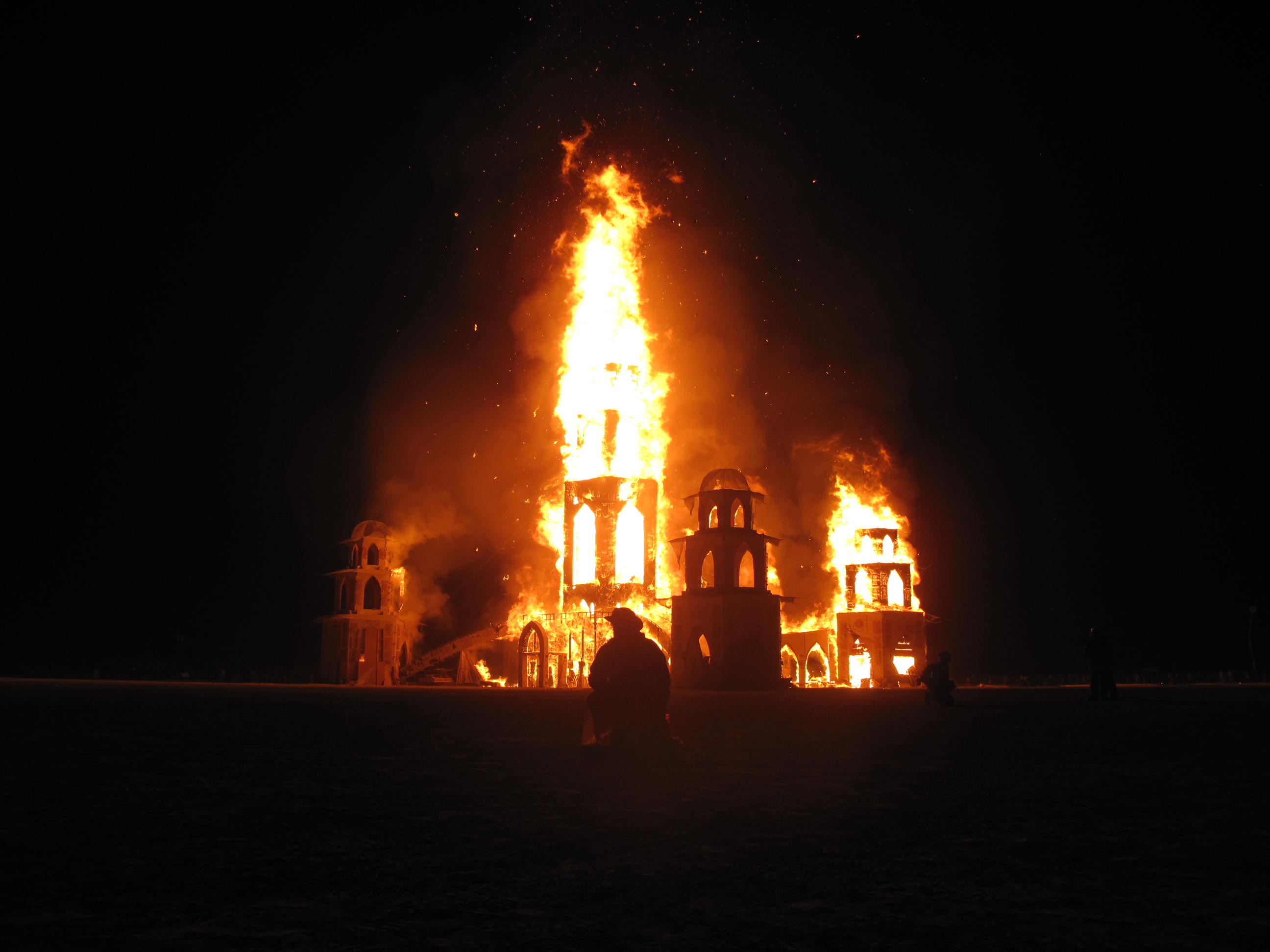 We left Black Rock City the next morning, and even after three showers I was still dusty, my feet cracked, my skin stained with body paint and glitter. I spent the next two months in a car with him, wondering if it would ever go back to how it was when we drank rum with Malaysian pilots and flew kites with Indonesian kids. Some days I hoped it would, but most days I hoped it wouldn't. By the time our road trip was over and I was back in Canada, the inevitable happened, and we went separate ways. I continued to travel; he stayed home. All was how it was supposed to be, and again, I do not begrudge him for any of it. It was what the temple foretold, and I had known it back then on the playa. But just because my time at Burning Man wasn't the week I had wanted it to be, it doesn't mean that it wasn't magical, that it wasn't eye-opening and inspiring and, above all else, that it wasn't fun.
"You've been to Burning Man?" Someone asked me at a party last night. "What was it like?" I responded instinctually with that same answer, the one I give whenever anyone asks me about nearly anything I've ever done, because how can I sum up working in Japan or travelling around South America or simply living a good and fulfilling life in only a few words?
"It was amazing." And, in a moment of pure honesty: "I can't wait to go back."