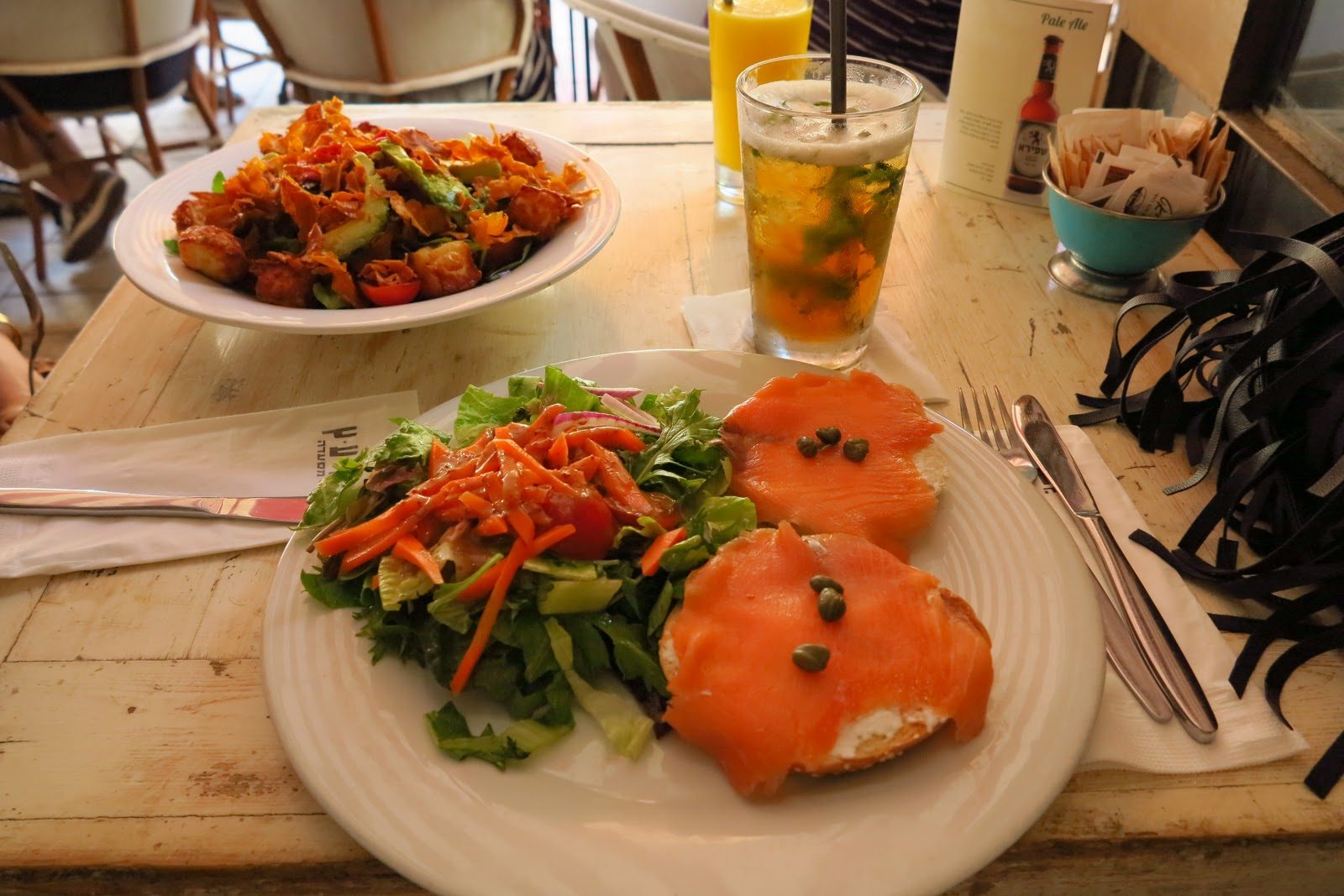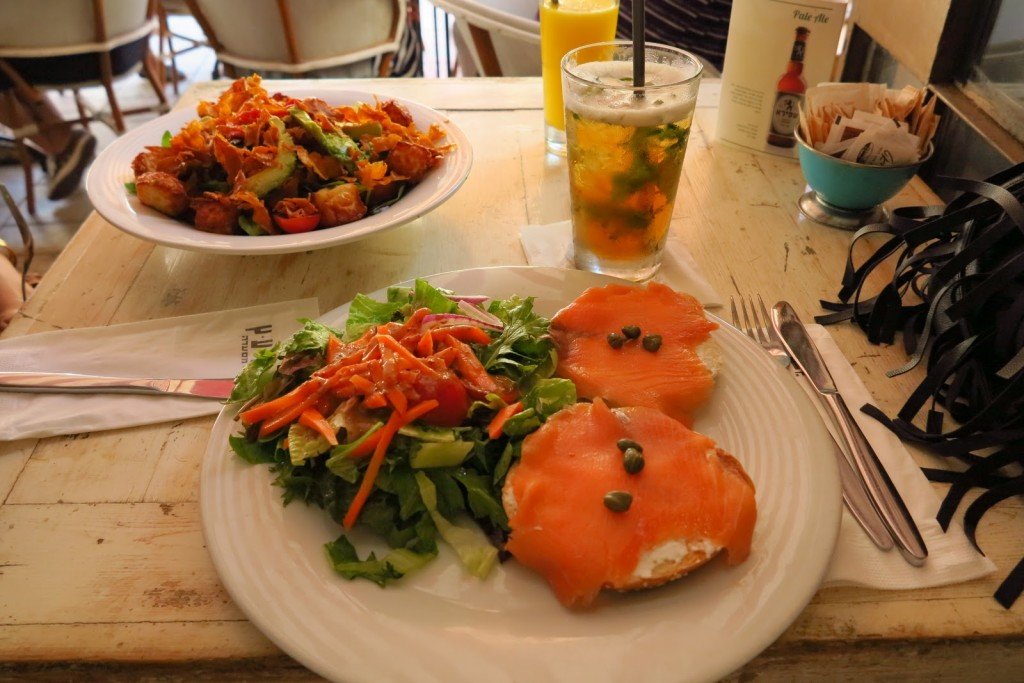 I wasn't lying when I said that all I did in Israel was eat and drink. The food there was phenomenal – full of flavour and consistently delicious. One of the things I loved the most about the food was the sharing aspect, as well as the multiple little plates of hummus or labanah or olives; I'd much prefer to eat that way, sampling many dishes, as opposed to having one large dish to myself. Here, then are some of the best restaurants I visited while in Tel Aviv.
Sus Etz: This place, found right on Shenkin Street (famous for shopping and people-watching), was always buzzing. I had the salmon and cream cheese bagel accompanied by fresh mint tea (as seen in the photo above) on my very first day in Israel, and the meal didn't disappoint. My sister's fried haloumi salad was also very tasty.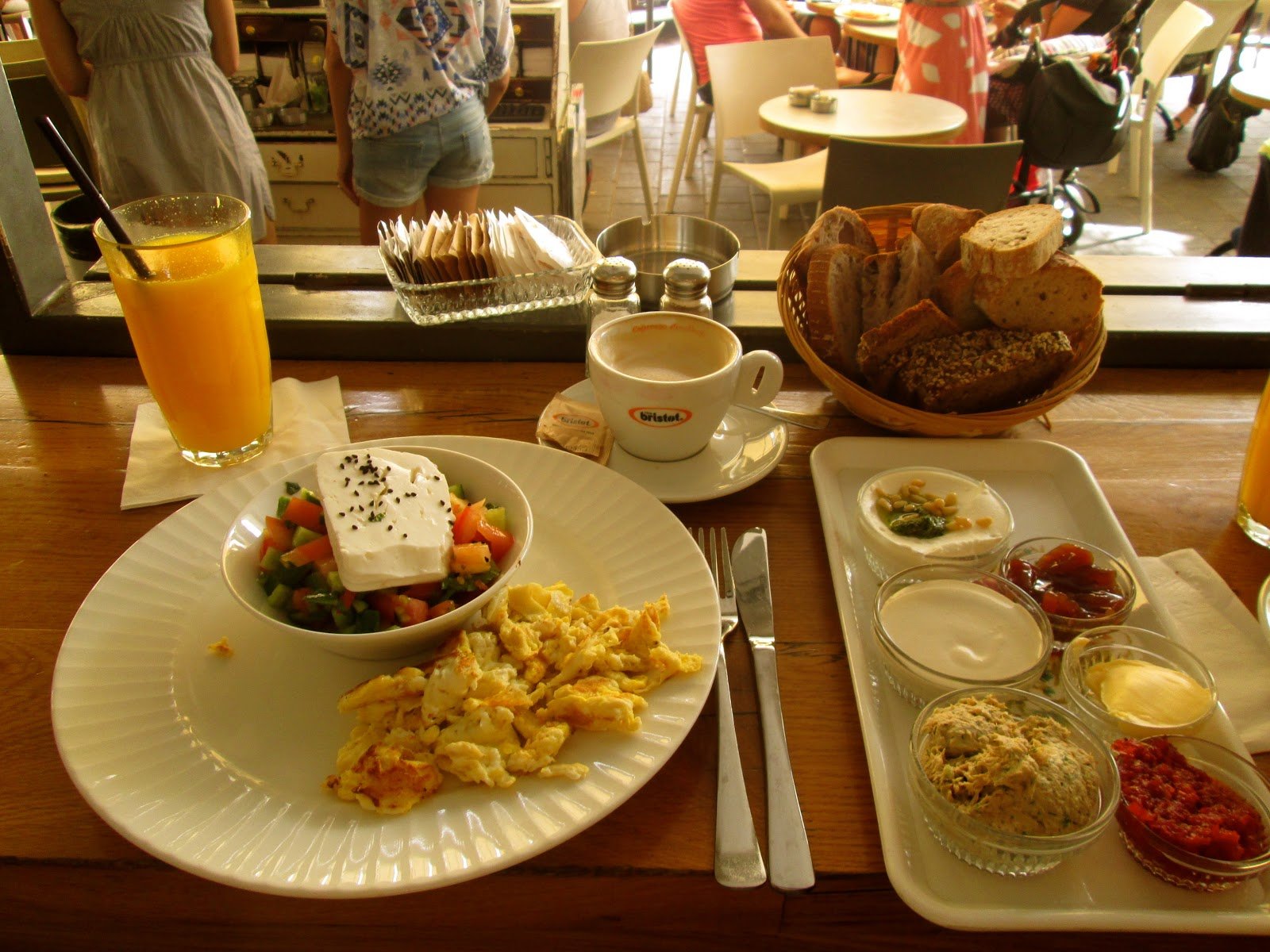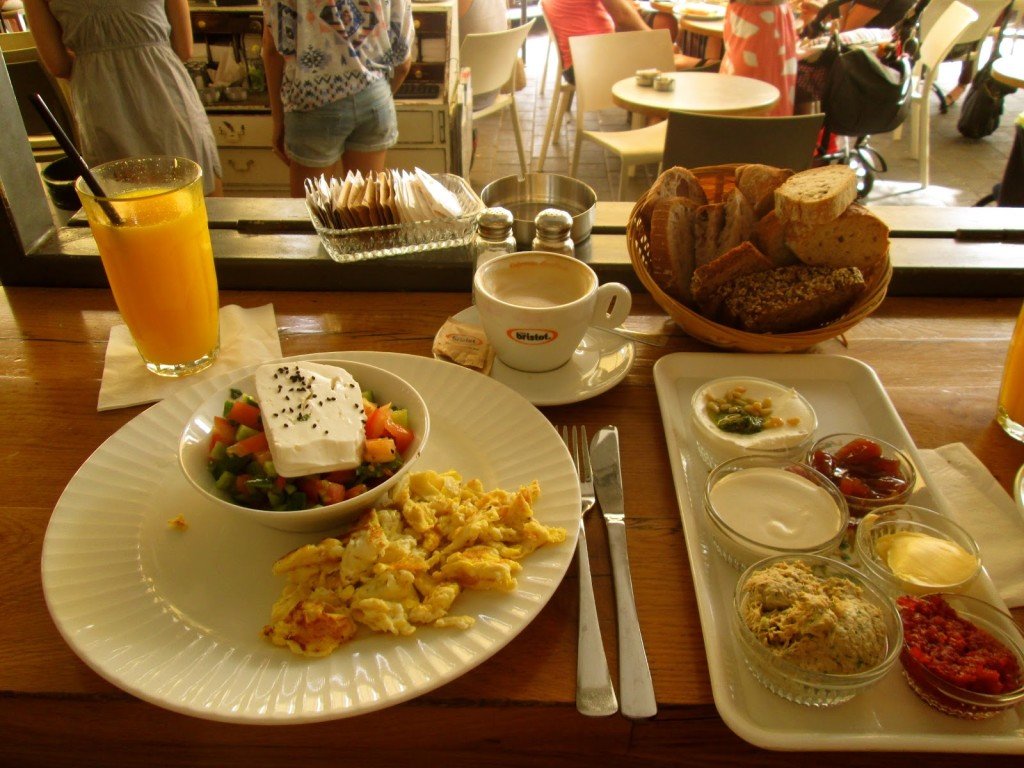 Cafe Tachtit: Honestly, my perfect breakfast. This place, located on Lincoln Street, is a nice cafe for good coffee or a meal. The full Israeli breakfast, however, was exactly what I was looking for: eggs, tomato and cucumber salad with cheese, fresh bread, labanah (my favourite food discovery of Israel), sun-dried tomato paste, tzatziki, tuna, and a cappuccino and fresh-squeezed orange juice. Amazing.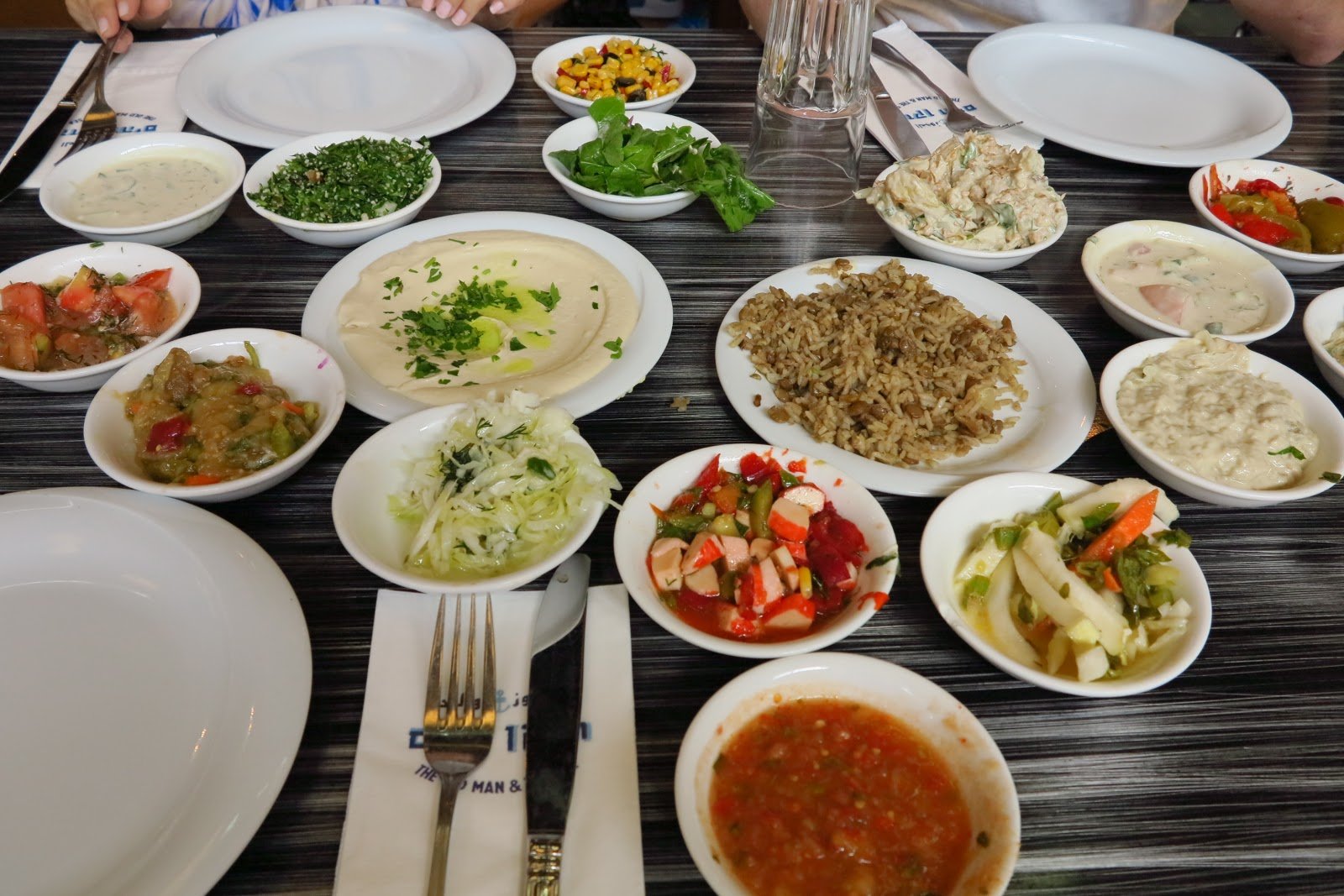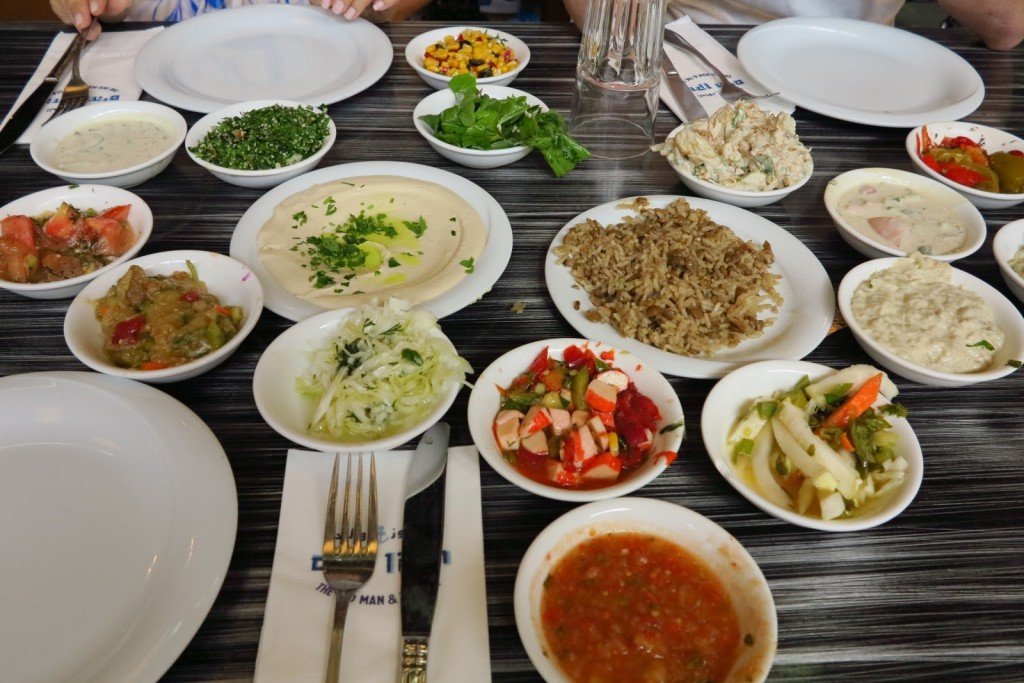 The Old Man and The Sea: This place is somewhat of an institution in the Arab quarter of Yafo. Immediately upon sitting down we were given a variety of salads and dips to dive into, and whenever you finished a dish it was immediately replaced. The chicken and fish were also worth the visit, but seeing all of the servers in action (at the end of the meal they are magically able to stack every single dish and cup so that they only need to make one trip to clean the table, I was mesmerized) is also a fun part of the experience.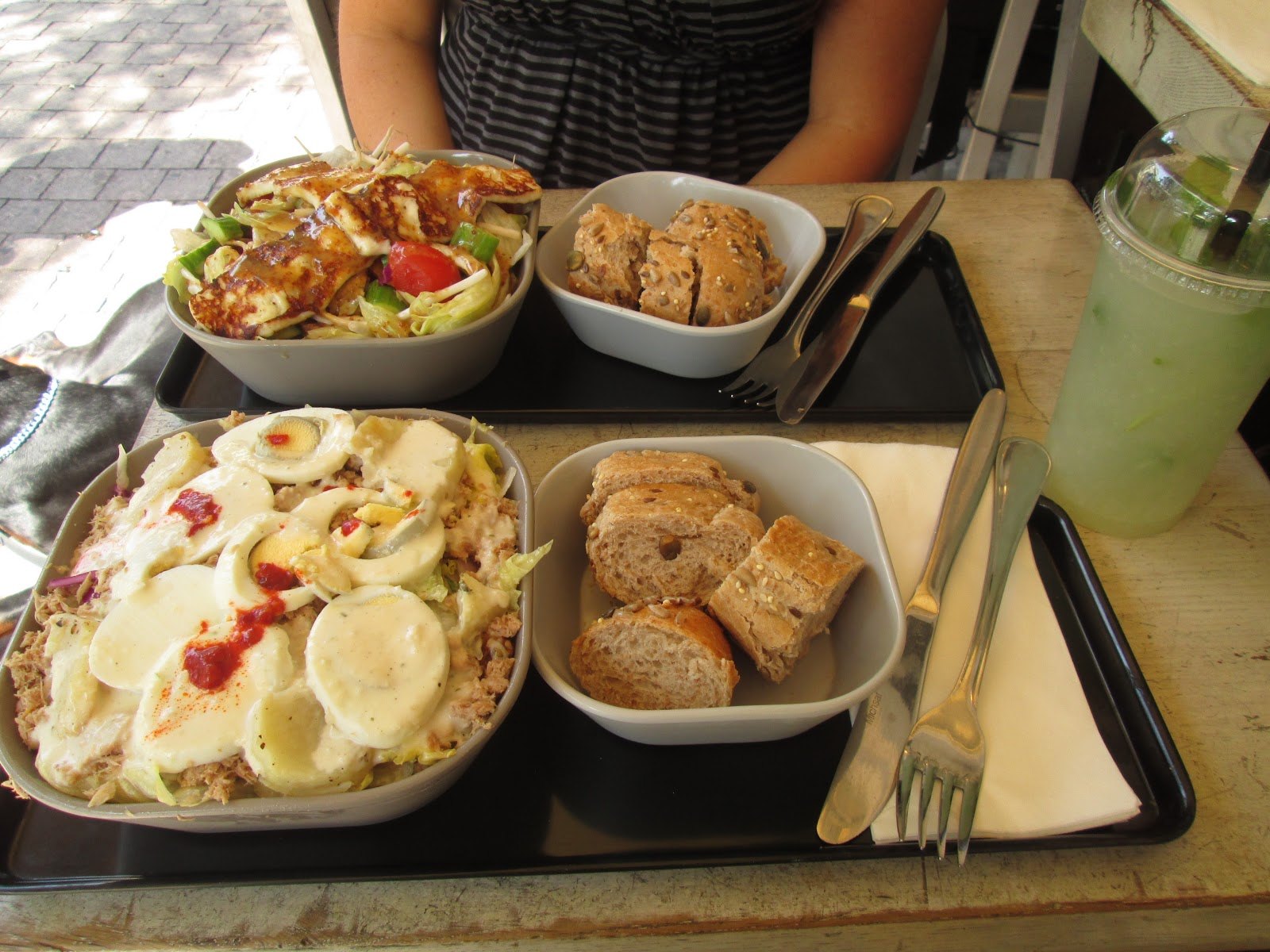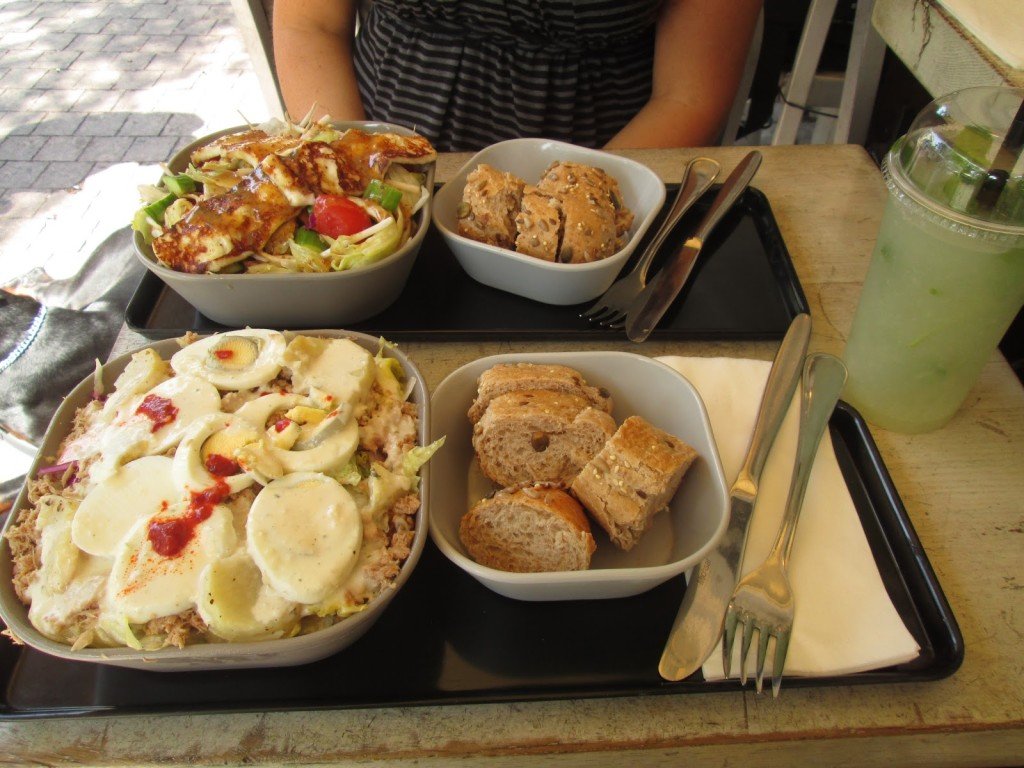 The Kiosk: I actually don't know what the name of this place is, we just called it the kiosk (as it really is just that). Located on the corner of Rothschild and Balfour, it served some great salads and iced coffees. There are tons of kiosks like it around the city, mostly serving quick meals or fresh fruit juices. They're a fun place to hang out and people-watch, and the dishes are all pretty cheap.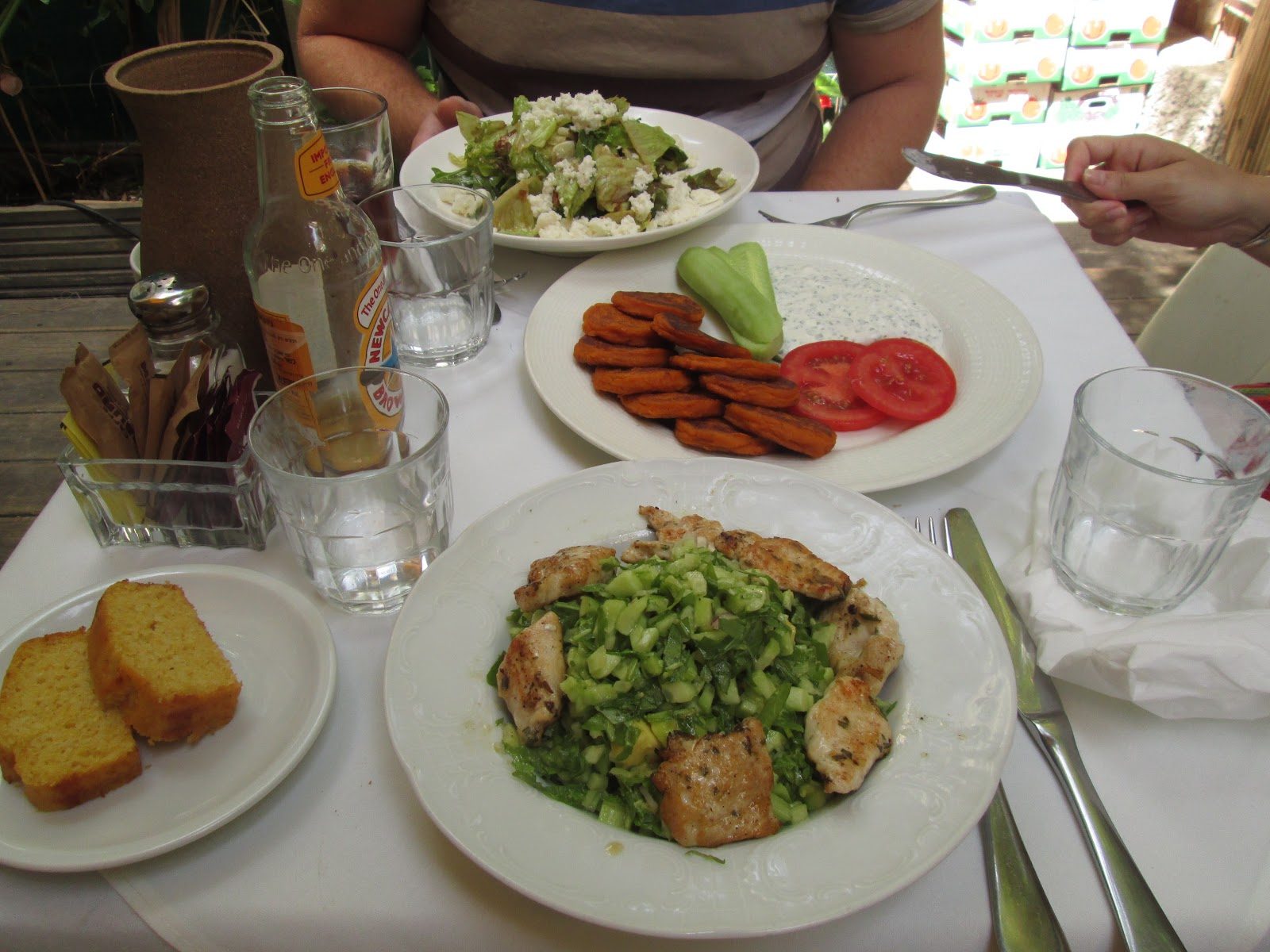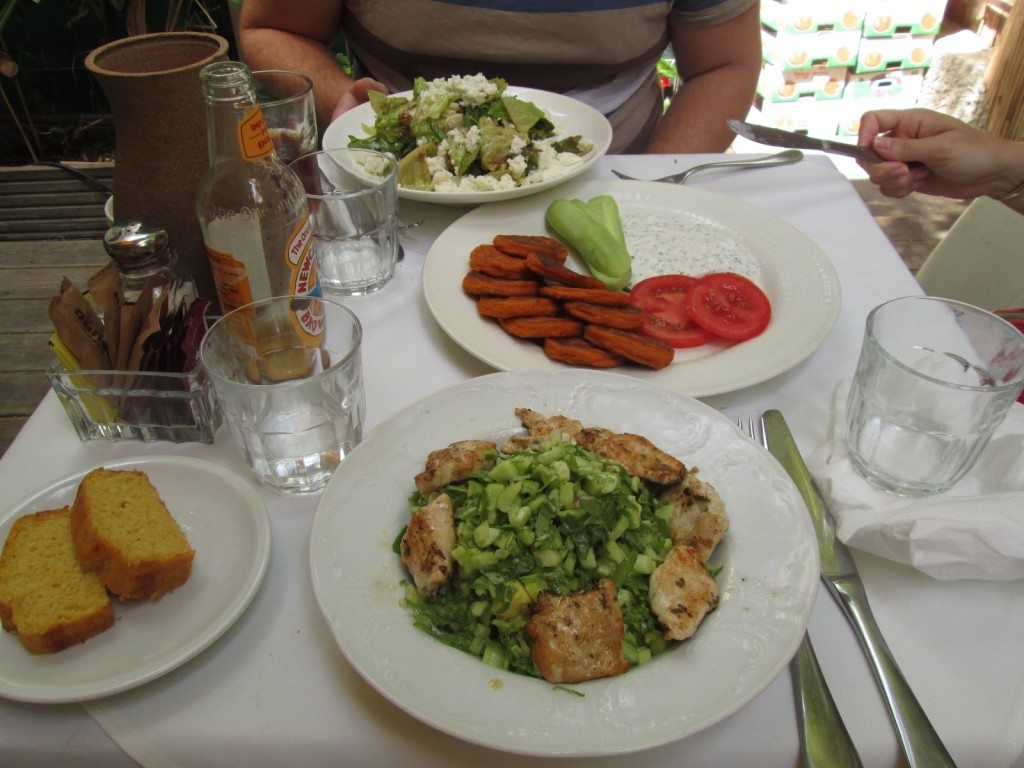 Orna and Ella: Also on Shenkin, this restaurant was packed when we visited on a Friday morning. The salads are really good, but the yam pancakes with sour cream were addictive. Apparently they also serve a wonderful Israeli breakfast, but we were too late to try it… go early!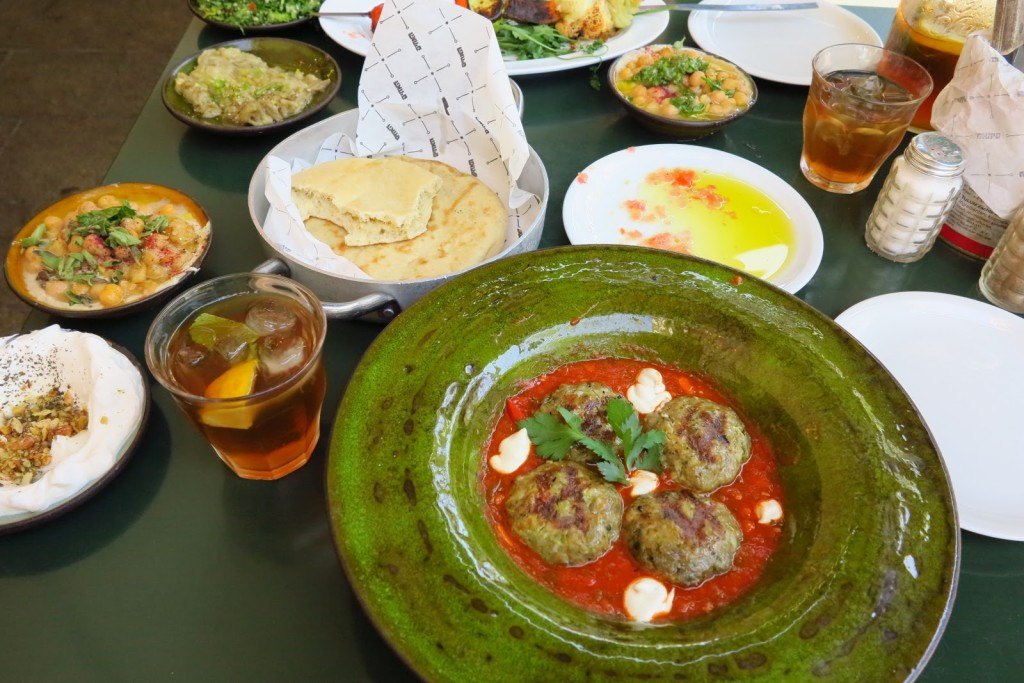 Misadat Achim: Found on Ibn Givrol, I visited this place for a quick lunch. Known for its skewers, I actually went for the fish cakes in a spicy tomato sauce, which were delicious (I'm running out of synonyms for delicious, I know). They also had amazing dips and pita as starters, as well as a pitcher of iced tea for that hot spring/summer day.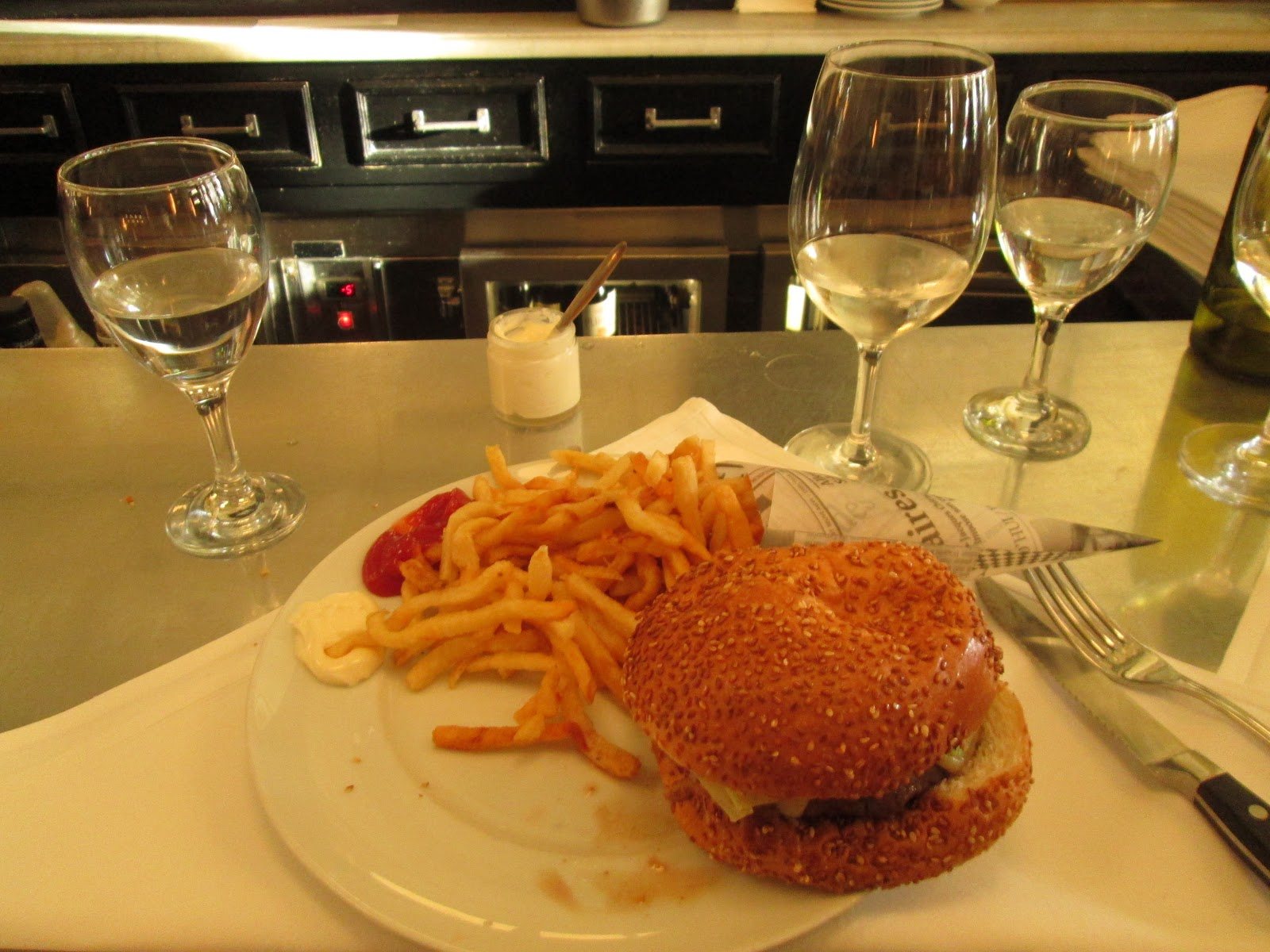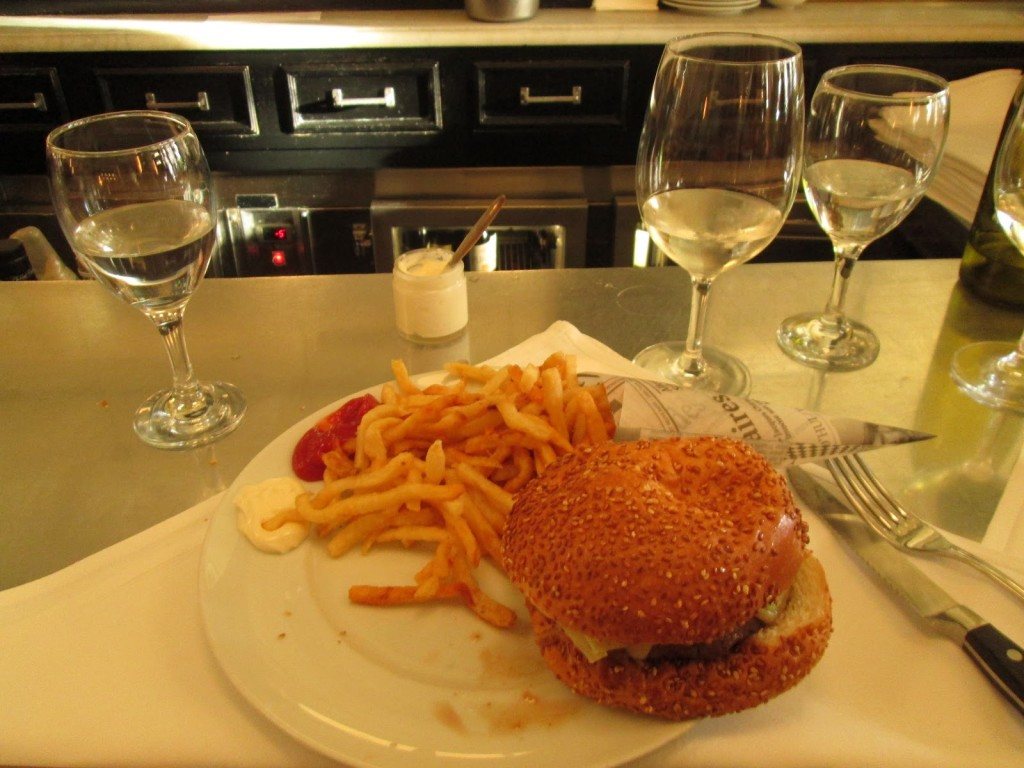 Brasserie: Found on Ibn Gabirol, we headed over to this extremely popular place for one of their famous burgers. It was so packed we could only get a place at the bar, but no matter –  we had spent the afternoon drinking at Malki Bar, across the square, and were famished. While it wasn't the best burger I've ever had in my life, it certainly hit the spot! The atmosphere was wonderful, too, or perhaps that was just because I was drunk at 4pm.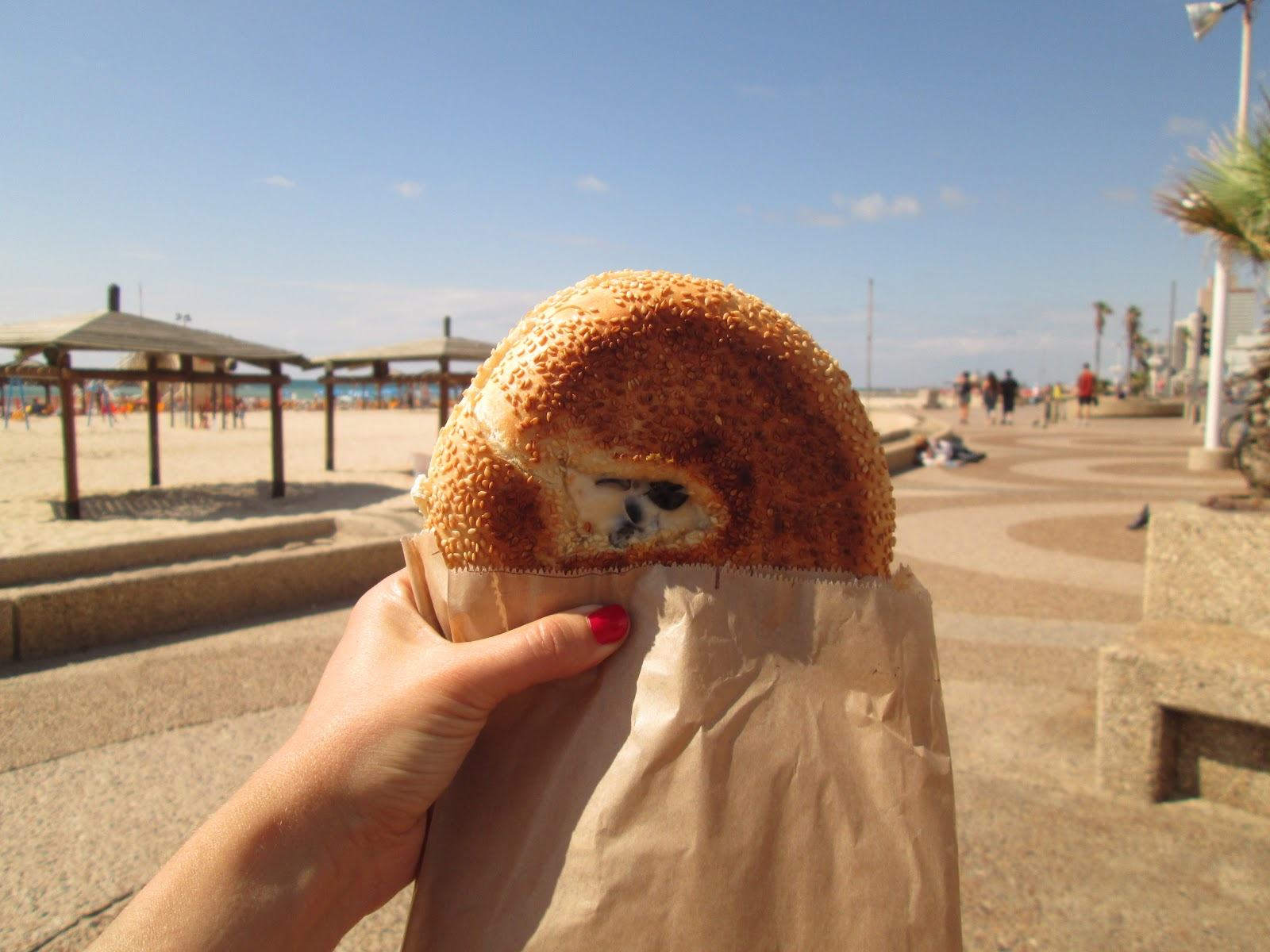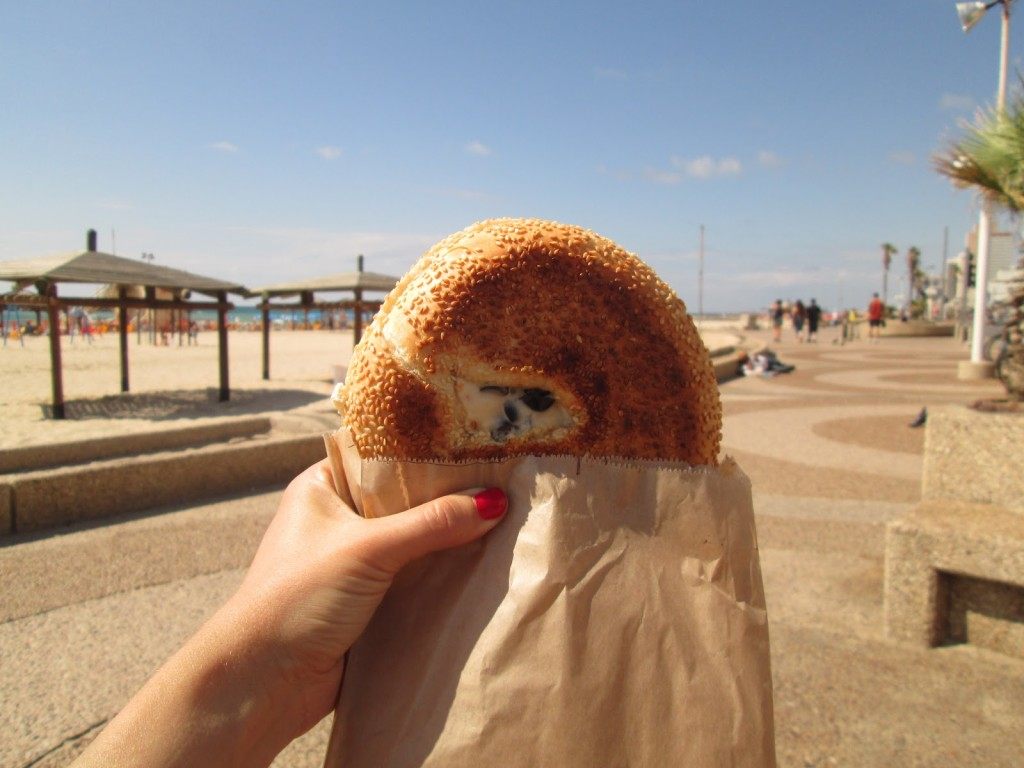 The Beach: Somewhere in between suntanning, swimming in the Mediterranean, and playing matkot, you might get a little bit hungry. Instead of sitting at one of the ridiculously expensive cafes on the beach, head to a sandwich/bagel/toast stand back on the main street. You can choose a ton of toppings and have the bagel toasted for about $6. It's filling, tasty, and infinitely cheaper than any meal you'll find if you want to sit in one of the chairs on the sand.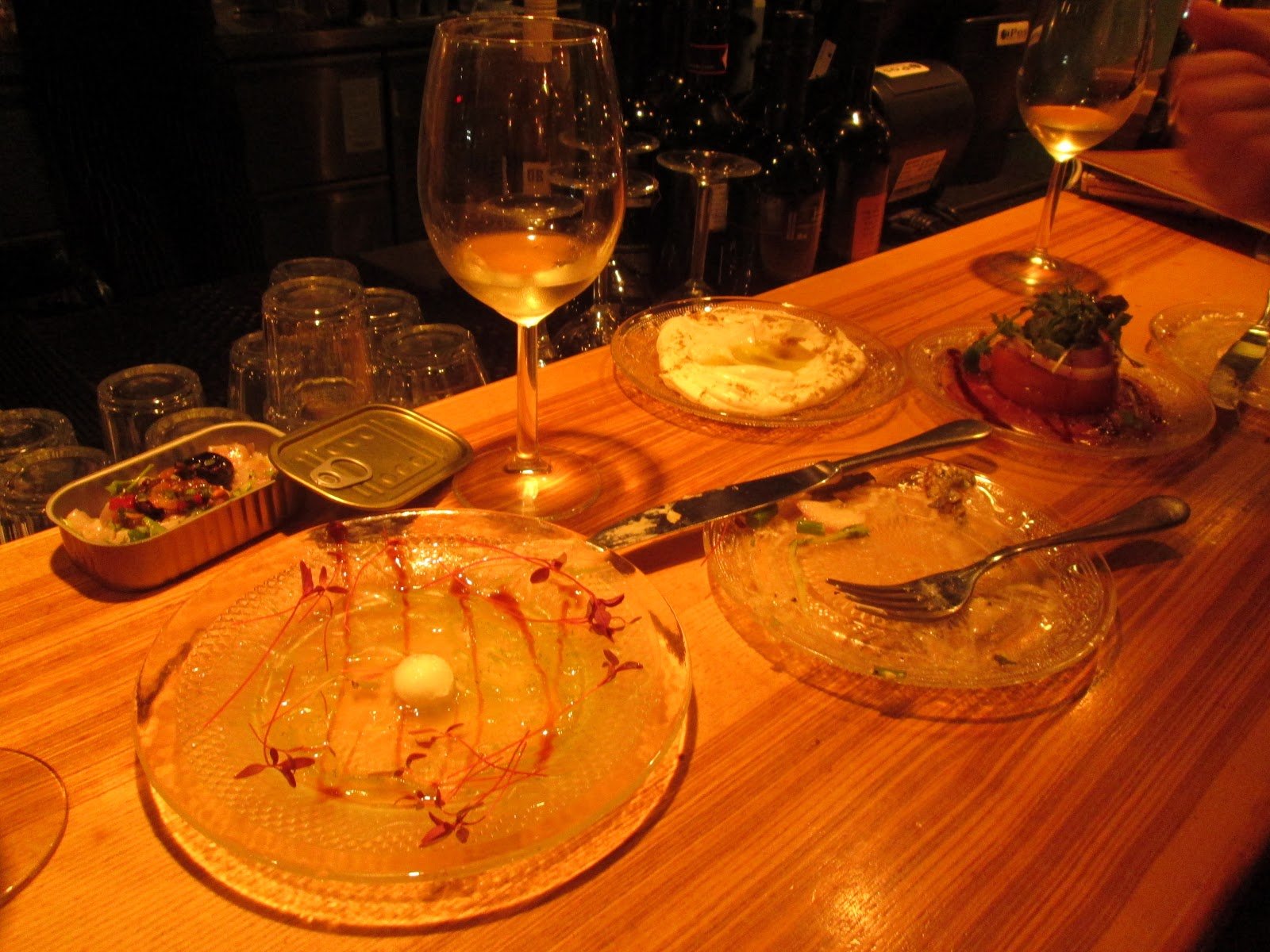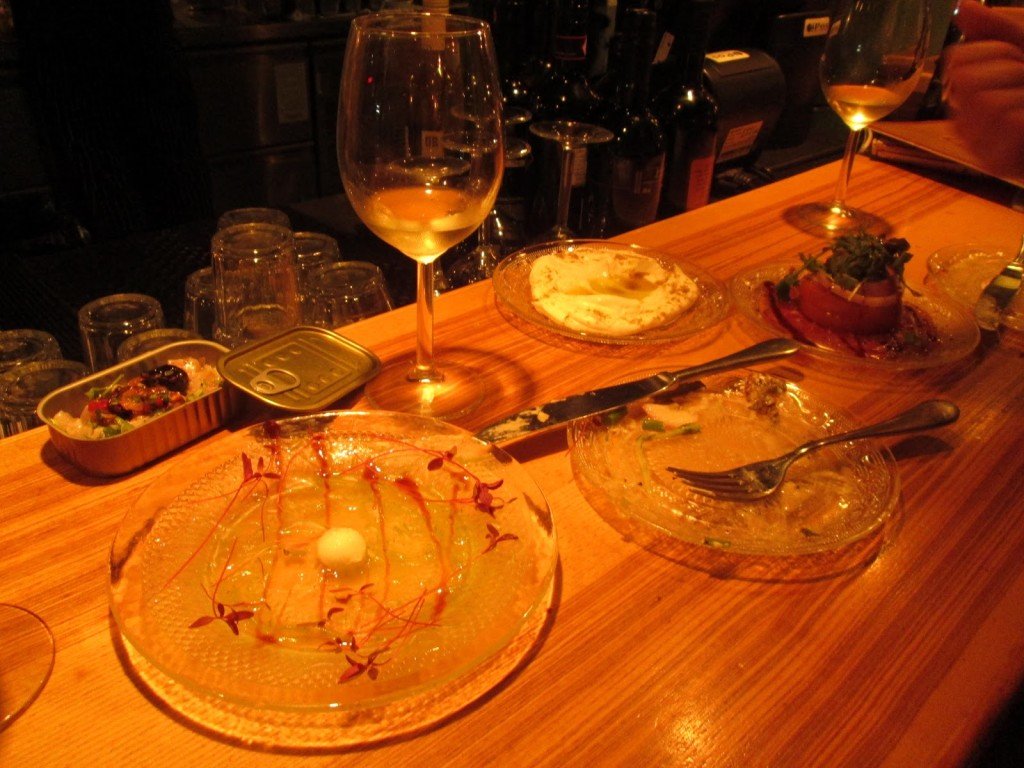 Laila Mourad: This tapas bar, found on Herzel, makes its way onto this list for atmosphere and service more than anything else. The tapas were tasty – the roasted artichoke, ceviche, and labanah all stand out in my mind – but I mostly enjoyed the liveliness and friendliness of the staff. We were given shot after shot of arak, and stumbled out of there happy and full.
Tapas Achad Haam: While the tapas at Laila Mourad were very good, the tapas at Ahad Haam, found on Ahad Haam (go figure), were stellar. I ate so much that I felt sick, but I just couldn't stop. The restaurant was jam-packed with people laughing, eating, and drinking through the night, and the servers were all in on the fun (even doing a few tequila shots with us). We ate tuna tartar and crispy shrimp, seafood paella and steak, and about a dozen other dishes that have all blurred into one delicious memory. It was all to die for, as were the margaritas we washed it all down with. While it's expensive, it is worth it for the amazing atmosphere and mouthwatering food.
Cafe Noir: Also located on Ahad Haam, we had an excellent dinner here one night. We started with the beef carpaccio and roasted aubergine, and then I had the grilled chicken with olives and tomatoes. Again, we were totally stuffed, but the food and, once again, the service, were impeccable. While you might want to go to Tapas Achad Haam to party, go to Cafe Noir for a romantic night out.
Nanuchka: Found on Lilenblum Street, this place is apparently great for Eastern European food. Although we only went for a drink, I could tell that the restaurant/bar was a really fun one, packed full of people. It's one of my sister's favourite bars in the city, and definitely worth a visit if you fancy a late night meal or after-dinner drink.
Malki: As mentioned before, Malki is a cute little bar that also serves up some great snacks. Their orange mojitos are truly works of art.
Shesek: I would be remiss if I didn't mention this bar, even though it doesn't serve food. Also found on Lilenblum street, I ended up visiting four times (this may or may not have to do with the fact that my sister's boyfriend's brother owns this bar). It is the kind of place that's right up my alley – great service, lots of places to sit, good music, and a fun and raucous crowd that keeps the bar open well into the wee hours. Definitely check this place out when you're on a night on the town.
Have you ever been to Tel Aviv? Which restaurants can you recommend?