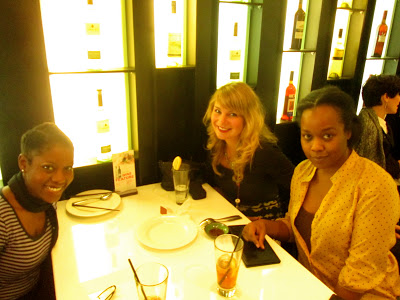 With Other Travel Bloggers in Toronto (last year)
As many people involved in the travel blogging world may know, TBEX North America is kicking off this week in Toronto. Standing for Travel Blog Exchange, TBEX is, according to their website, "the largest gathering of travel bloggers, writers, and new media content creators". There will be some incredible speakers this weekend, as well as over 1000 attendees. This year, I was fortunate enough to be in the right place at the right time: I was heading to Toronto anyway, and I'd always wanted to attend a travel blogging/writing conference. I may as well attend the biggest, right?
But here's where I have to be completely honest: I've done absolutely nothing in preparation for the conference. Perhaps this is unwise, but I a) don't really know what I'm supposed to do anyway and b) don't want to prepare a media kit or press package or whatever else I've read about online. Why? Because I'm not primarily going to TBEX to talk to companies. I'm going to TBEX to talk to you.
I've had a bit of inner turmoil over the past couple of years with regards to advertising and sponsored trips. I get a few emails a day inviting me to collaborate with companies, to post advertisements, or asking to write a sponsored article on this blog. And, with all due respect to the people who email, it just isn't my thing. I didn't create this blog to make money. I didn't create this blog to get free trips. I didn't create this blog for any reason other than I simply wanted a place to write about my travels and post some of the photos I take. It's become a major part of my life, yes, and in the nearly 600 entries I've written and in the thousands of photos I've posted, I've found what I want to do with my life (or at least what I want to do
for the next two years
).
In the future (and the future may very well be this weekend at the conference), if I encounter a company or an individual that I'd really love to work with, I may decide to change how I've done things in the past. So far, though, the way I travel is much like the way I manage this blog: I jump all over the place, I do what I want, and I do it (almost exclusively) by myself. I've long maintained that if absolutely nobody read this blog, I would still write it exactly the same way I do now, advice articles and all. I like writing. I like taking photos. It boggles my mind that other people enjoy reading what I write and looking at the photos I've taken, but it is such an amazing bonus that I've had the chance to interact with so many cool people because of this website (including the lovely Oneika from
Oneika the Traveller
and Kisha from Chronicled, in the photo above). Whether we've met in person or simply connected online, it's been so wonderful to have expanded my social network and had such an outpouring of support from all over the world.
So that goes back to why I'm attending TBEX this weekend, starting with a few activities on Friday (and Talk and Rock Toronto by MatadorU on Wednesday, if anyone else is going). I'm going because I want to make friends and chat with like-minded individuals about our favourite thing: travelling. It will be a great opportunity to meet other travel bloggers and to glean some writing tips from professionals. While I do have business cards, I don't have a plan of attack or a pitch to present. I do, however, have a very open mind. So if you see me this weekend, please say hello. And if your pitch includes sharing a pint and swapping travel tales at one of the nighttime events, well then, that's a pitch I definitely won't turn down.
What about you? Are you going to TBEX? Why or why not?