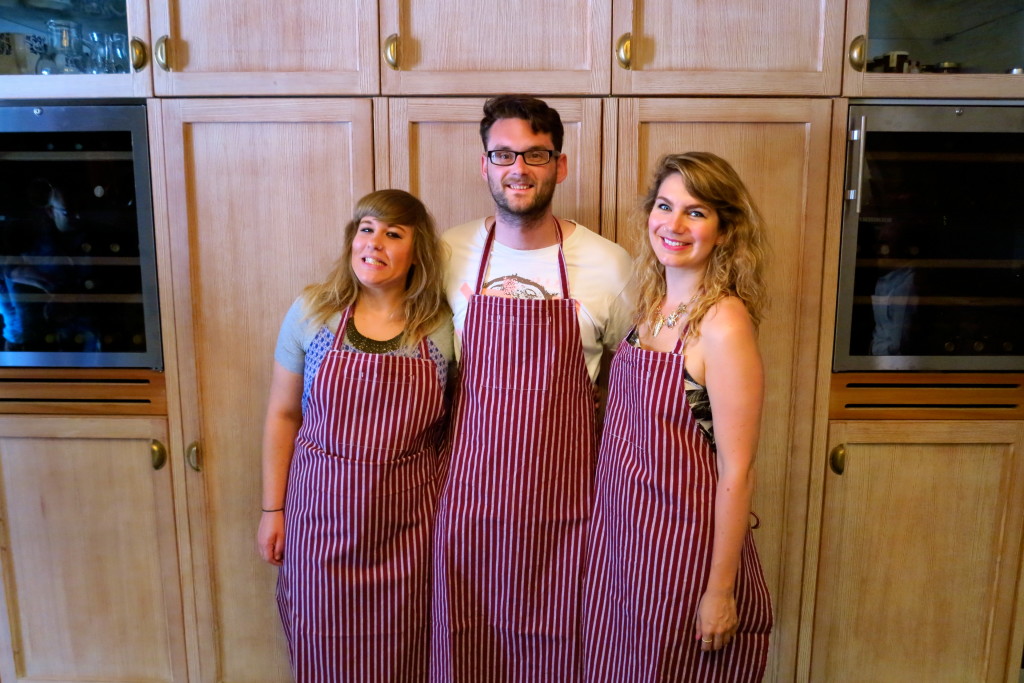 With Beverley and Neil before our cooking lesson
I am an okay cook. Not the best, but not the worst either. I've always felt that I could become pretty good – the meals I know how to make have been perfected and I can easily follow a recipe – but as I live alone and travel a lot, I often resort back to the same, easy meals when I'm cooking at home.
When I was in Basilicata in early June, I had the opportunity to visit Palazzo Margherita in Bernalda. There is no way to describe this hotel other than to say it is absolutely exquisite. Owned by Francis Ford Coppola, it feels much more like a beautiful Italian home than a hotel, which is because it is exactly that; the Coppola family stays there when they are in Italy, and Sofia was married there recently.
The kitchen, then, is exactly what you would imagine of such a gorgeous estate: large and welcoming, with lots of fresh ingredients. I was a bit nervous knowing that I would learn how to make pasta here – did I really deserve to be in this kitchen, run by some of the best chefs in the country?
It turns out, making Italian pasta from scratch is much easier than I thought it would be, at least this recipe. I swear to you that you can do it. I mean, if I can, you can. I don't have exact measurements of anything, but it all seemed very instinctive.
You will need:
-boiling water
-Italian flour (specifically semola di grano duro, which is a durum wheat flour)
-olive oil (the best quality you can find, this always makes a difference)
-fresh tomatoes
-fresh basil
-cheese (ricotta is fine)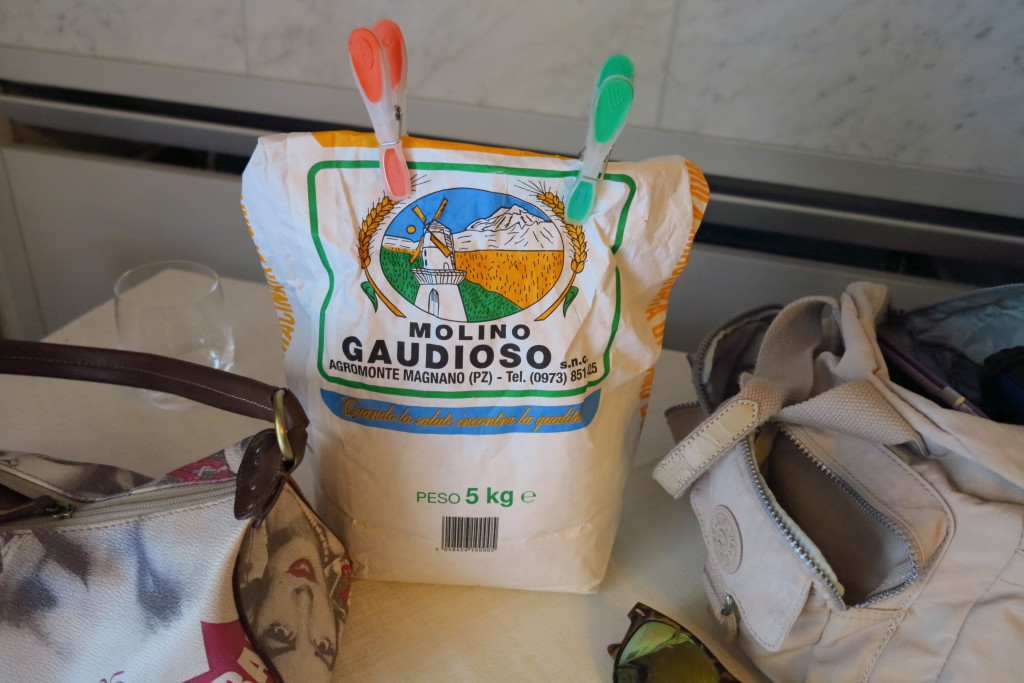 The durum wheat flour we used
1. Start by placing your flour (a half kilo or one pound should be sufficient for a lot of pasta) in a mound on a floured board. Make a well in the middle and slowly start to pour in your boiling water (do not use cold water). With a spatula, start to draw in the flour and mix in the water, adding more water as you need. Add water until the texture is springy but not sticky. Knead it until it is smooth.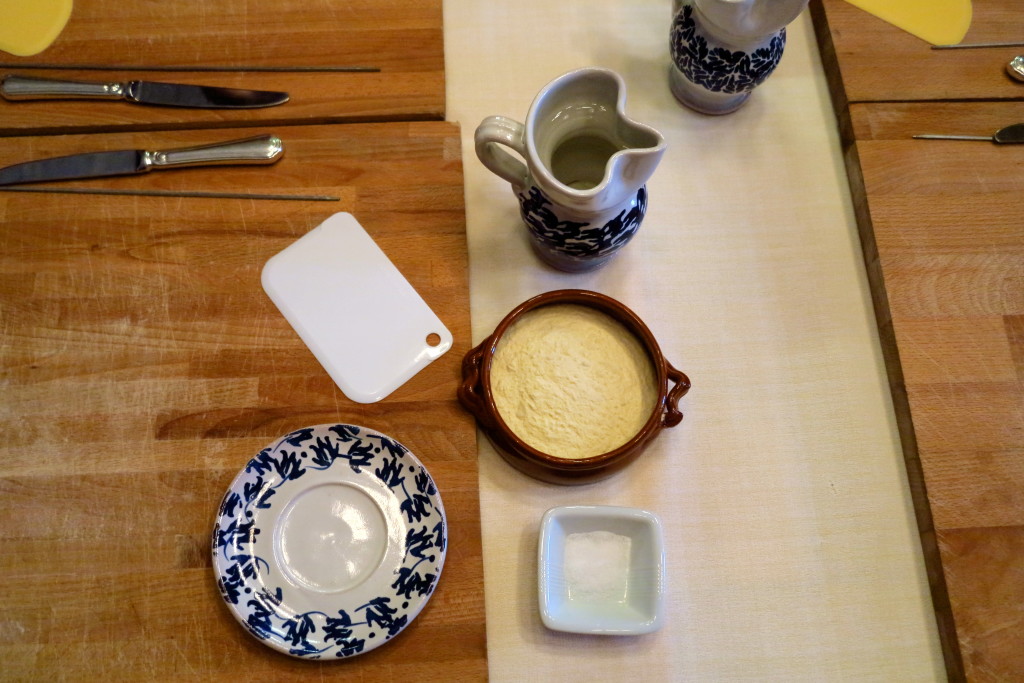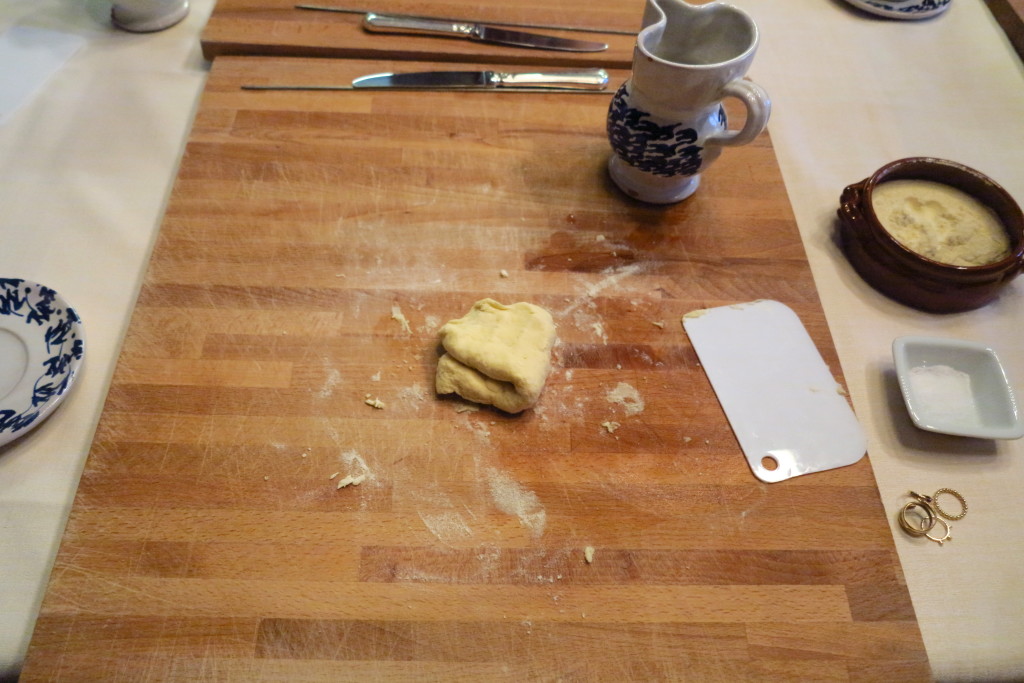 2. Now break off chunks and roll them into tubes about the diameter of a finger. You can make them as long as you like but 30cm/one foot is more than enough. When all of your dough is rolled in this way, cut them into 3cm/one inch pieces.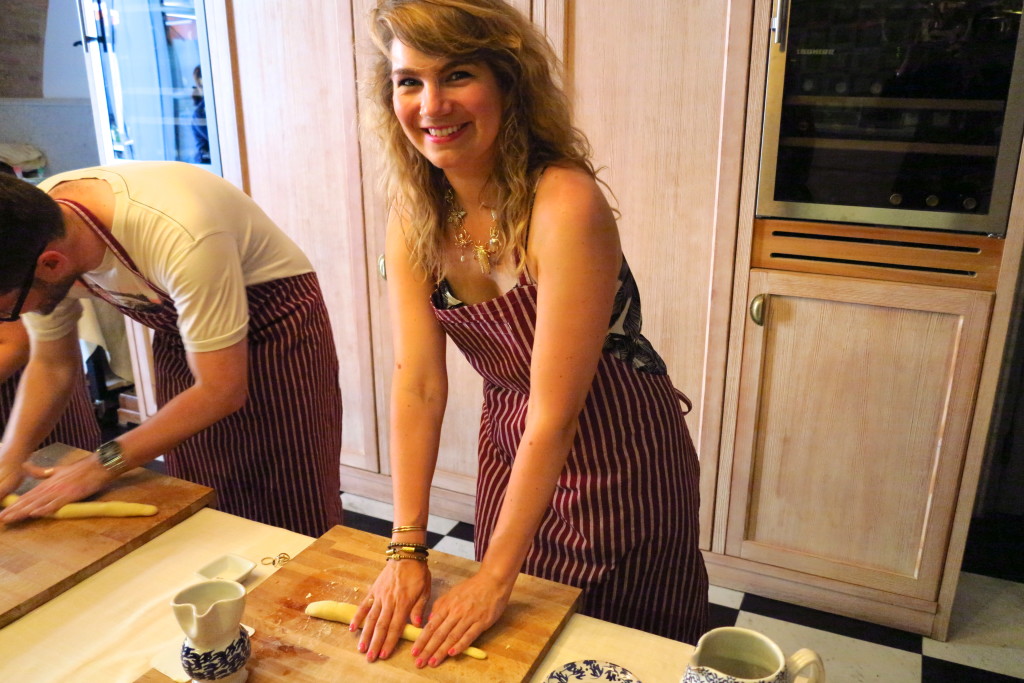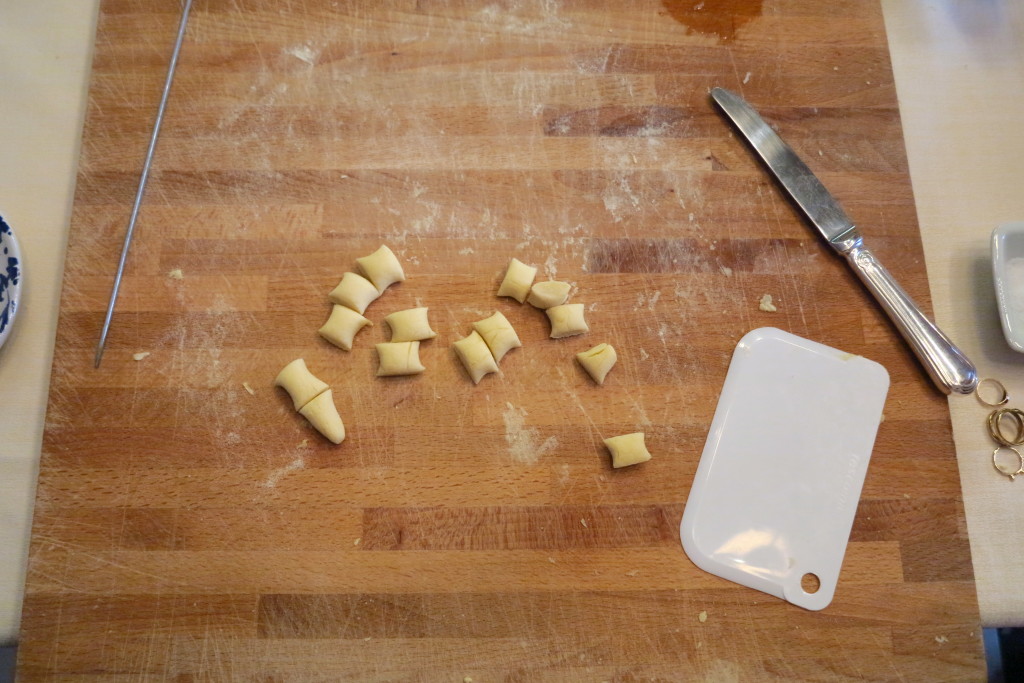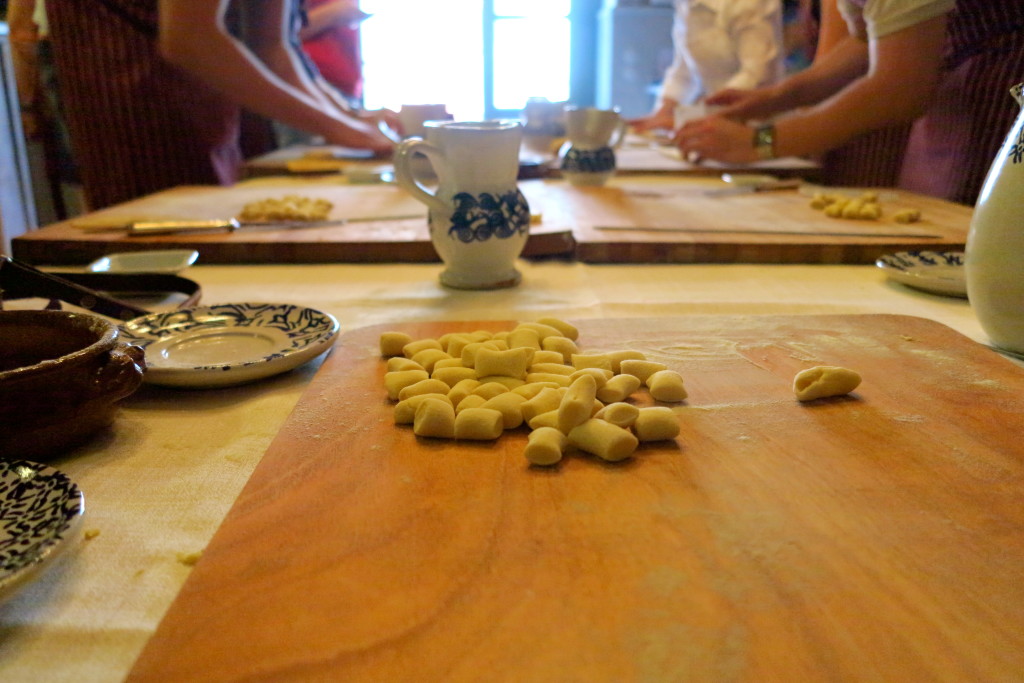 3. Next, and this is the fun part, take two fingers (your index and middle fingers) and push down on each piece, rolling your fingers toward you. This is difficult to explain, but take a look at what Neil is doing here: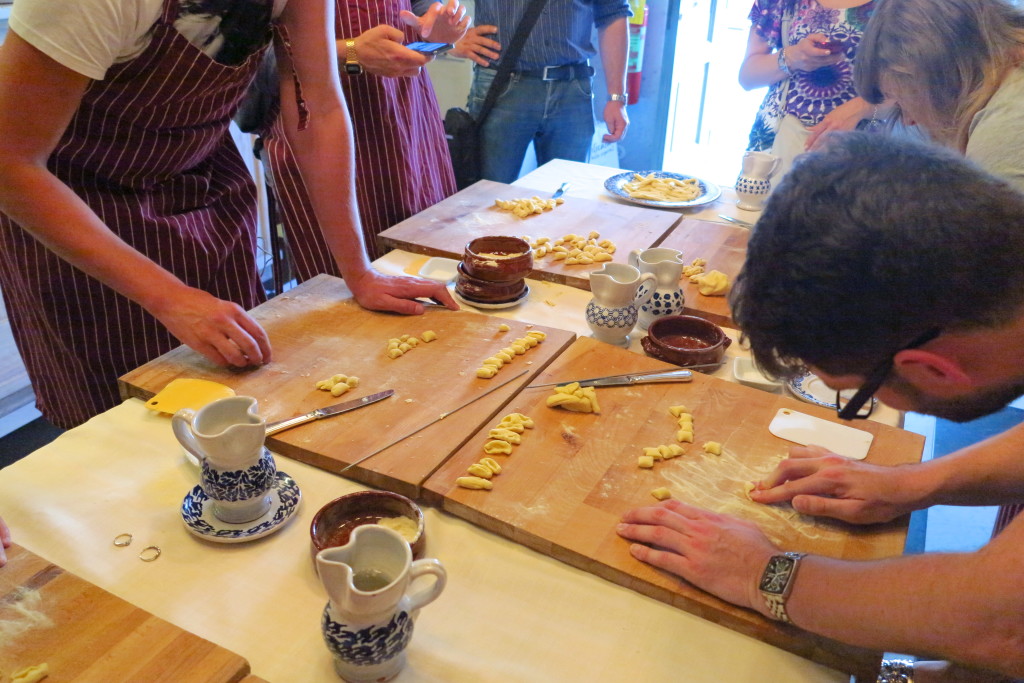 And in the end, you should end up with pieces that look like this: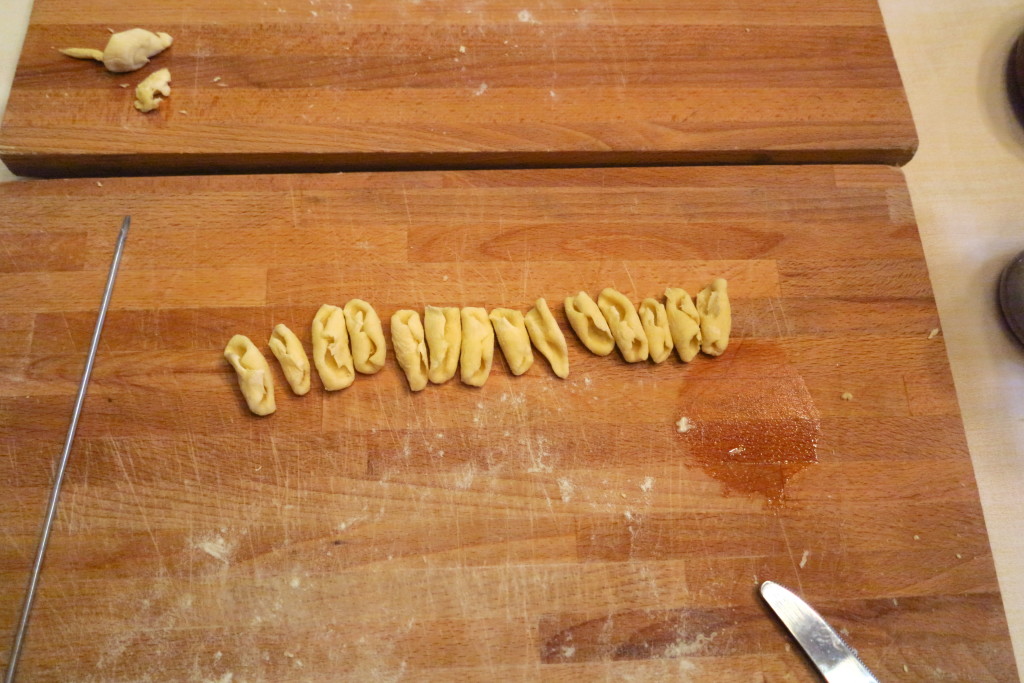 We learned a few other techniques for different pasta shapes, but this is the easiest (and the most fun).
4. Now that you have your pasta made, drop it into a pot of boiling salted water. While that is boiling, heat up your olive oil in a big pan. Use lots of it, there is no other sauce for this pasta!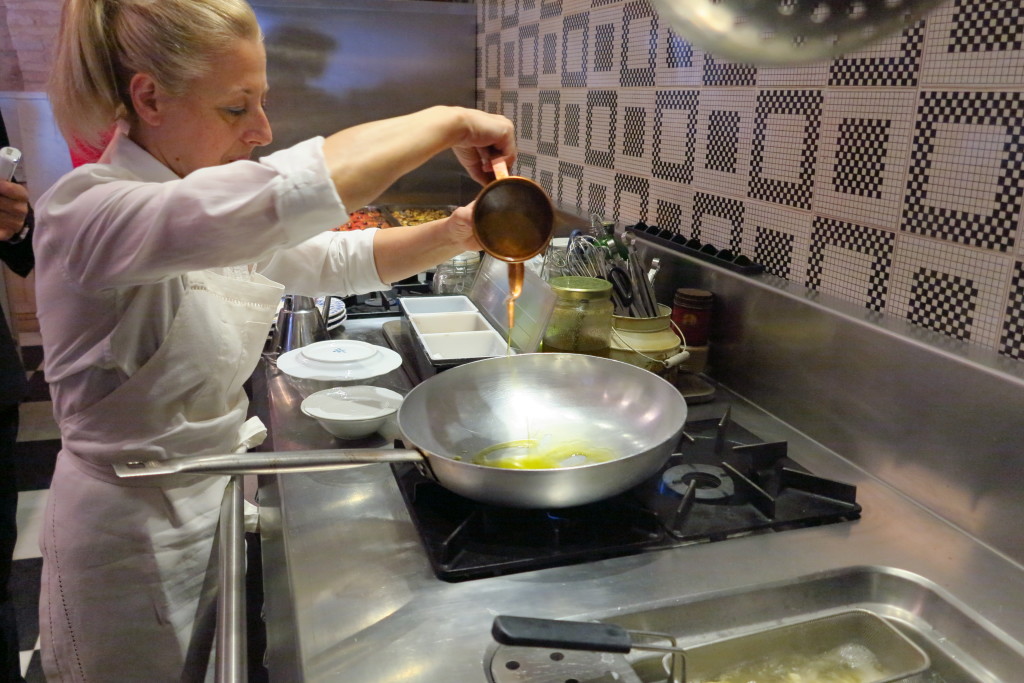 5. When the oil has been heated, add your fresh, diced tomatoes. Stir those for a bit, then add ripped pieces of basil as well.
6. When your pasta is finished cooking (this is to taste, but it shouldn't take long for al dente), strain it and add it to the pan as well. Mix it in with the oil, tomatoes, and basil.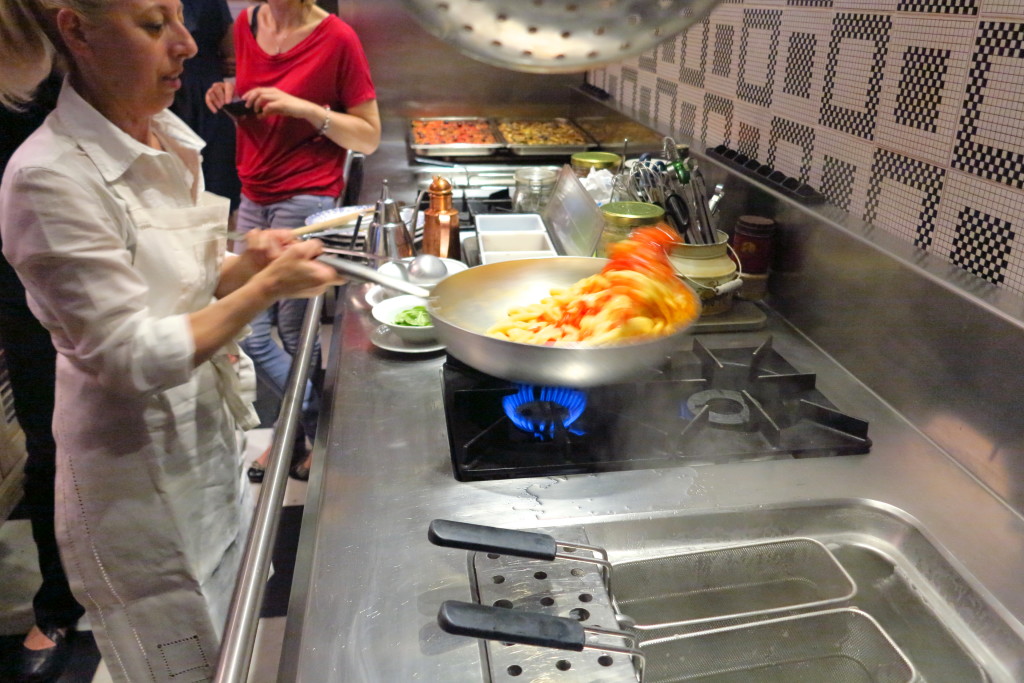 Skill level required: medium to expert
7. Now add your grated cheese, give it a quick stir, and you're ready to serve it!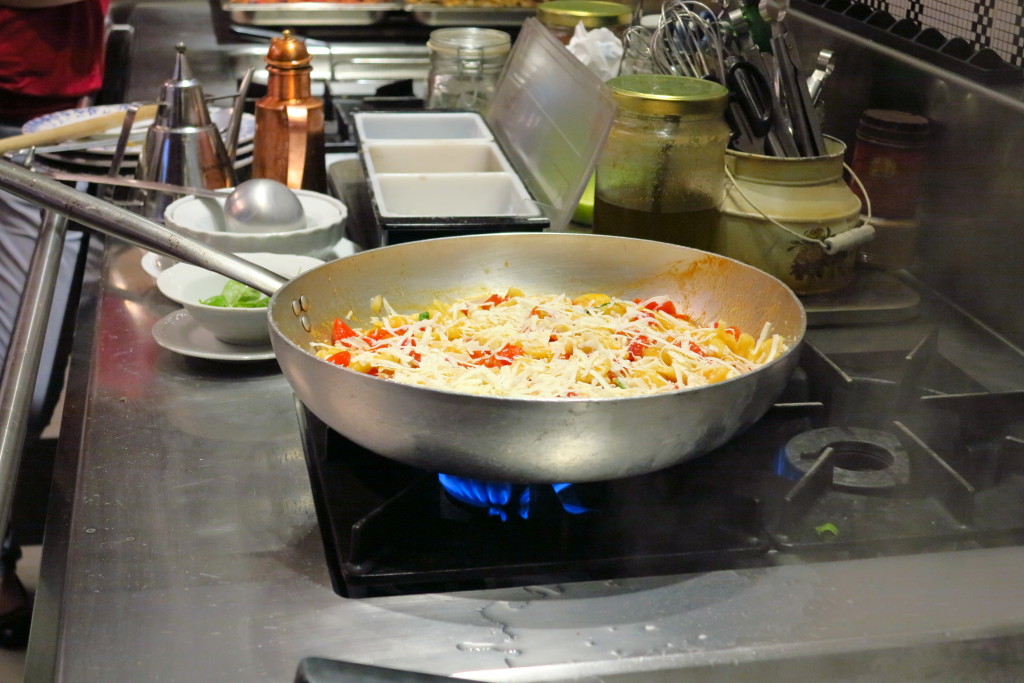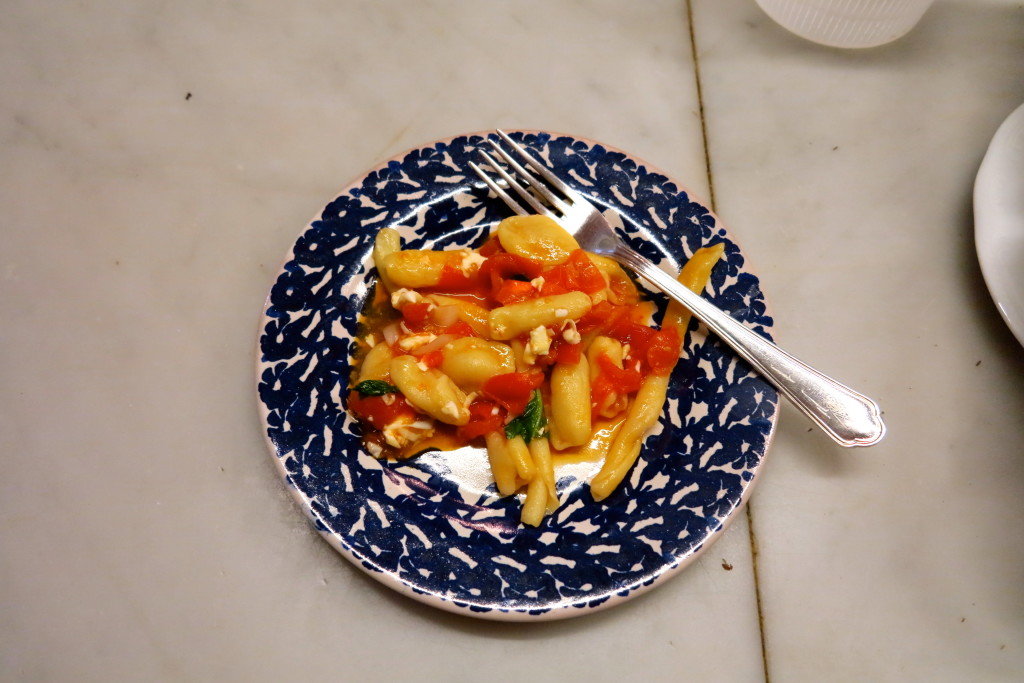 The key with this dish is to use the freshest and best ingredients you can find. It was really simple, but really delicious. I honestly didn't think making Italian pasta from scratch could be this easy.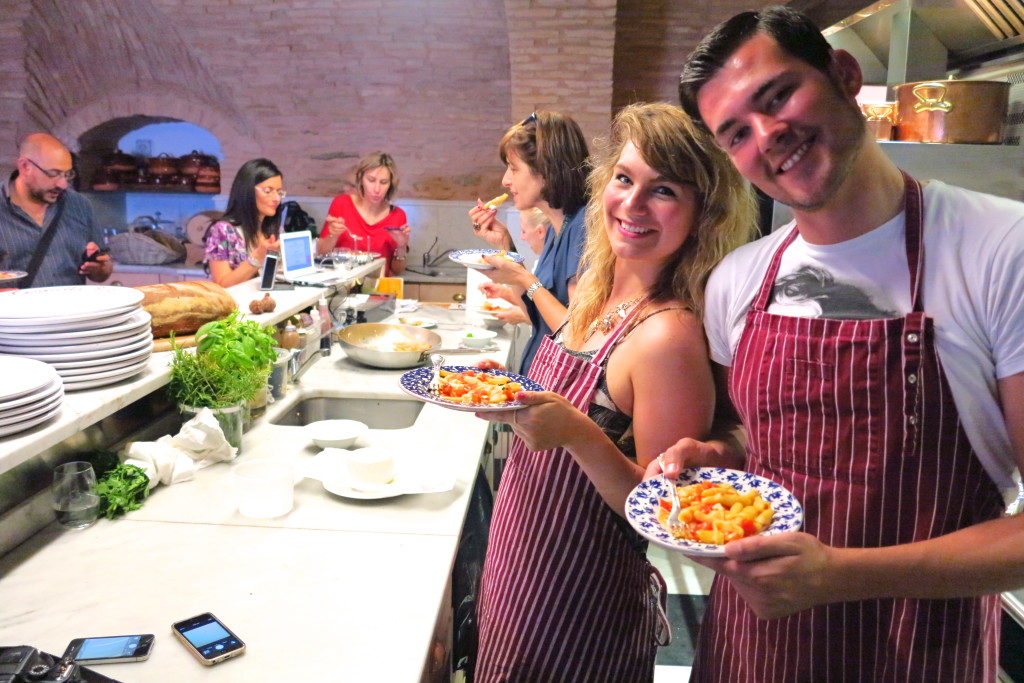 With my fellow cook, Ed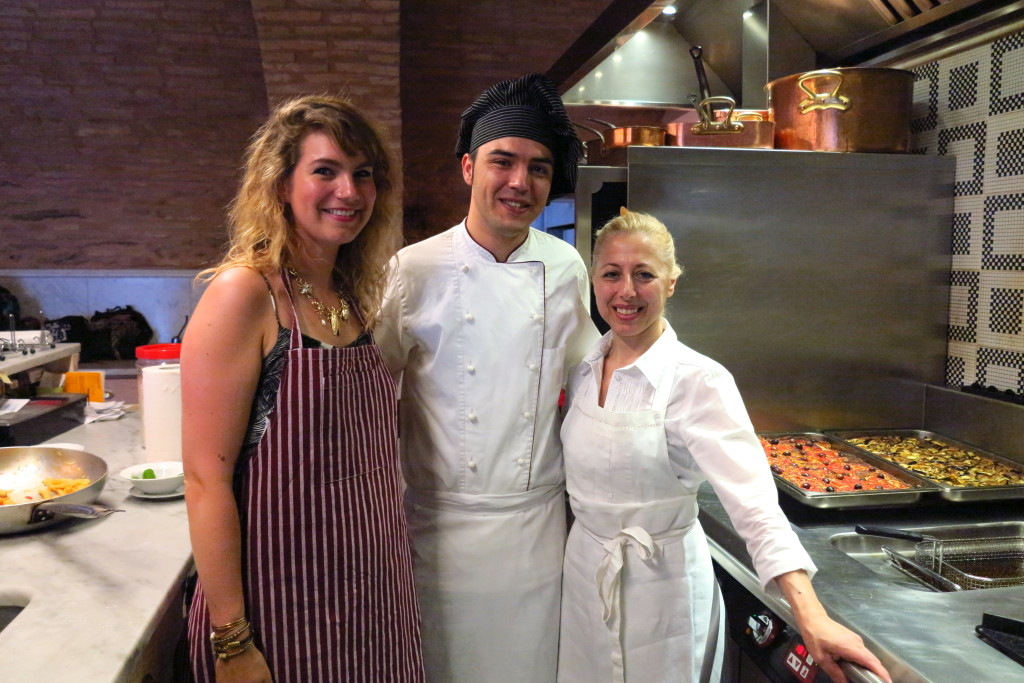 Alternatively, you can just have enough money to own a beautiful kitchen and have incredibly attractive chefs prepare your food for you
After a quick snack of the pasta we had made ourselves, we were taken outside for lunch, where we sat under the vines and had one of the best meals I've had in ages. No, we did not help with the preparation of this food, sadly (actually, I'm sure it was a very good thing that we didn't attempt to help).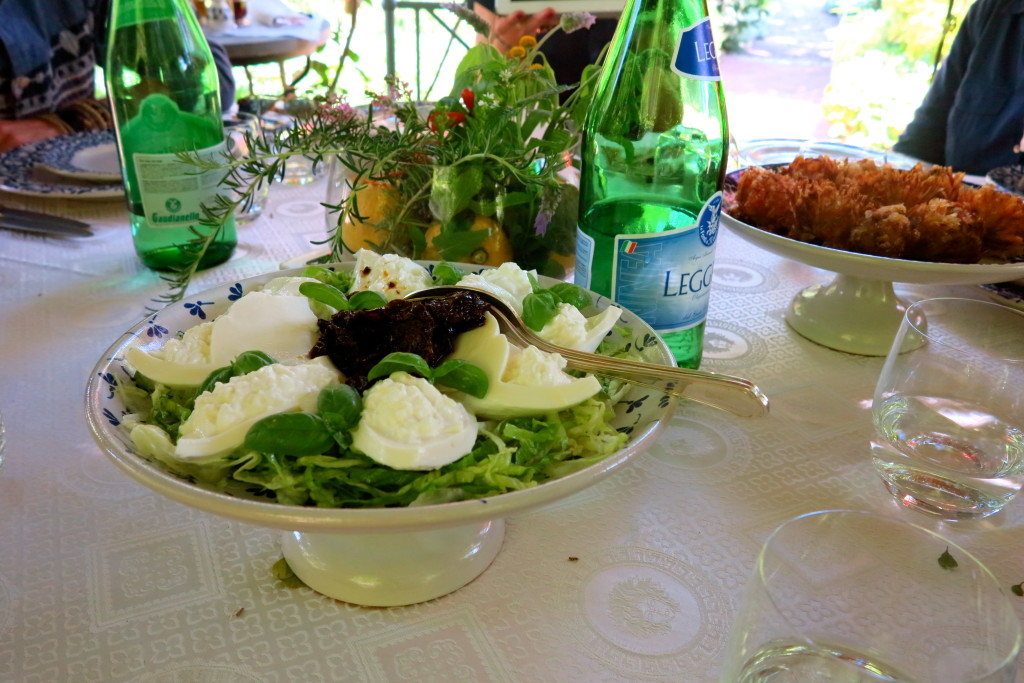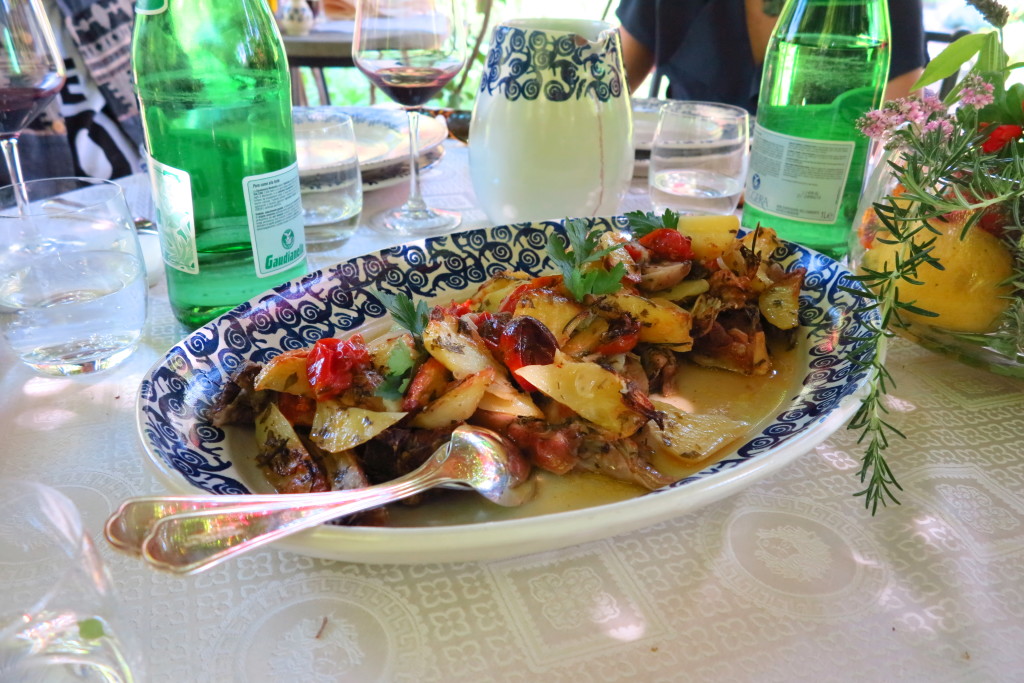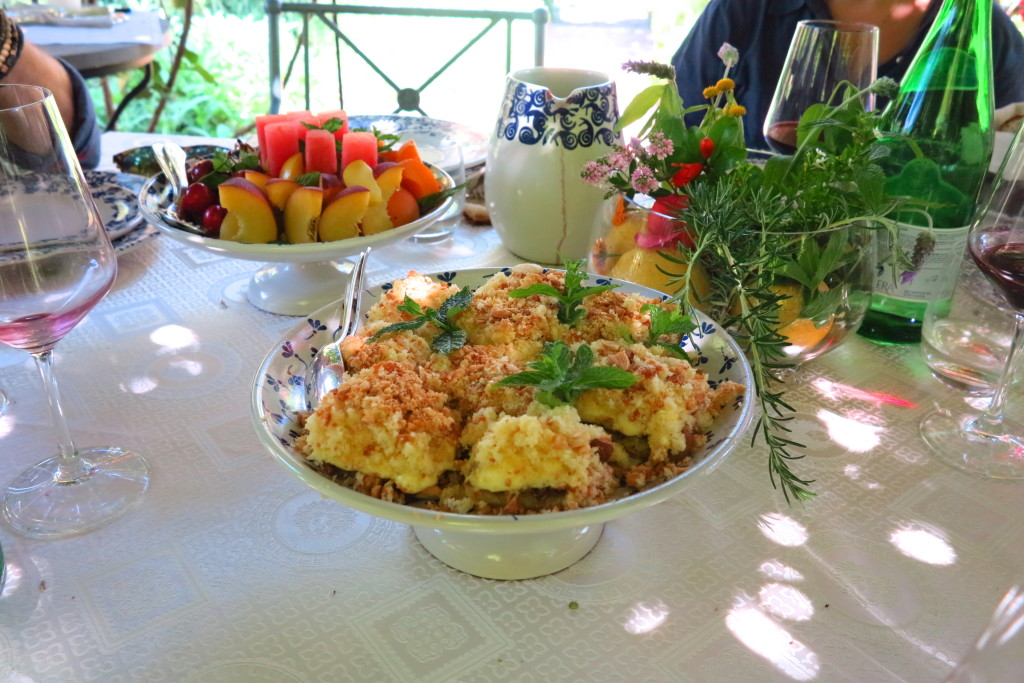 Followed by the perfect espresso in their café, which you can visit no matter if you are a guest of the palazzo or not.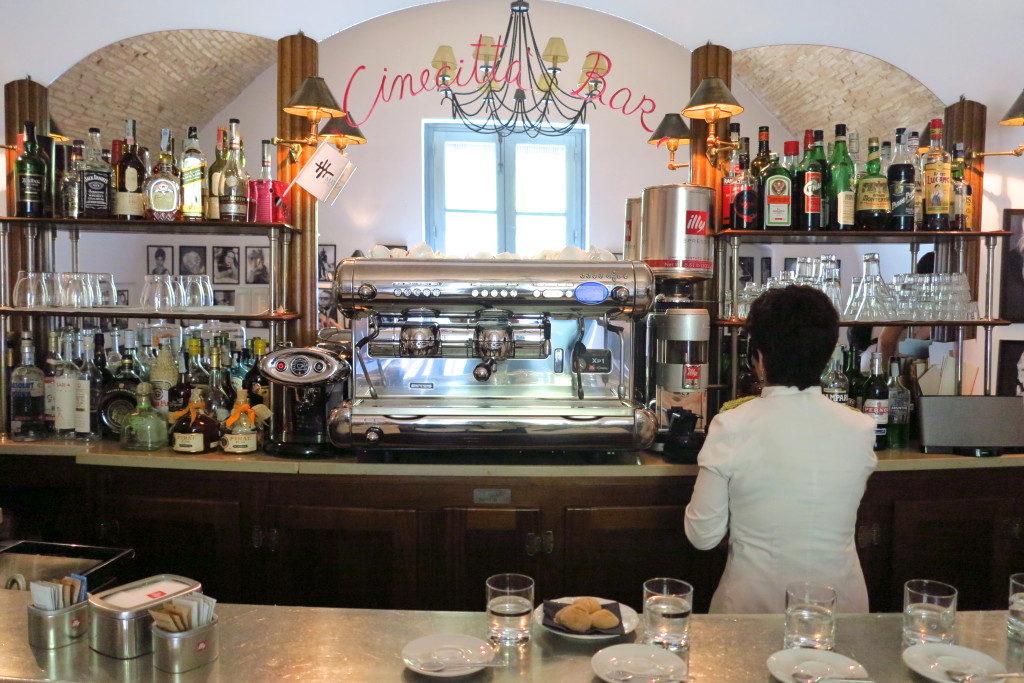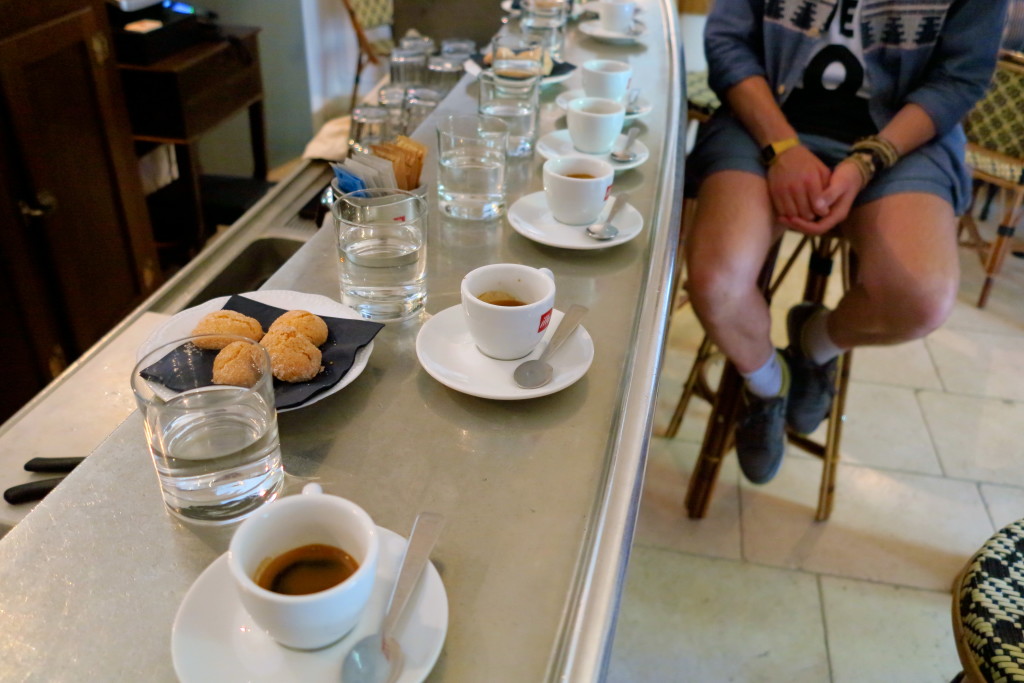 Many thanks to Palazzo Margherita for hosting us, and to Discover Basilicata for inviting me to Italy. I am already plotting my return to Basilicata, it was just that amazing!
Have you ever made pasta from scratch? Do you think you could handle this recipe?