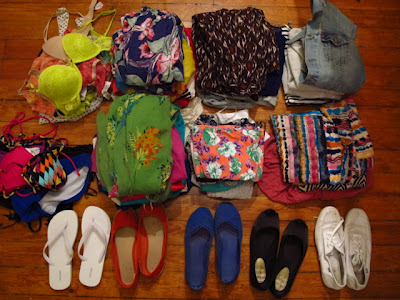 Hi, my name is Brenna, and I'm an over-packer.
I leave for Central and South America in 17 hours. Almost everything in my house is tucked away in boxes and stored in the basement, my cameras, kindle, and laptop are all charging, and my backpack is packed. While I'm not done (are we ever done?), I feel good.
So what am I taking? I don't think that I am the best example of what to bring on long trips, as I am a notorious over-packer and I don't really own any basic clothing (case in point, I don't own jeans). There are plenty of other sites that tell you how to pack really lightly, but that's not me. Here, then, is what I'm bringing.
Clothing:
-3 pairs of pants, all weird and clown-like but comfortable and colourful
-1 pair of cut-offs
-2 long skirts
-1 denim jacket
-2 long-sleeved t-shirts
-1 thin cardigan
-1 sheer blouse
-5 t-shirts/tank tops
-2 purses (not pictured)
-2 belts
-1 nightgown
-3 bras
-3 pairs of socks
-12 pairs of underwear
-3 bathing suits
-5 pairs of shoes (including flip flops and Keds)
-*cough* 10 dresses *cough*
Yes, you read that correctly – I am taking 10 dresses. They are short and long, colourful and patterned, cotton and otherwise, but I love them all and I'm so excited to wear them. When I think of Central America, I think of beautiful, bright dresses, so that's what I'll be wearing. And before you think I'm utterly insane, here's what all of that looks like when it is rolled and put into my mesh organizing bags, with a pair of shoes for scale.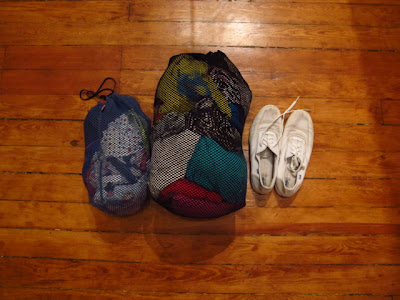 As everyone who has carried a backpack knows, however, it's not the clothes that really weigh you down. It's the stuff.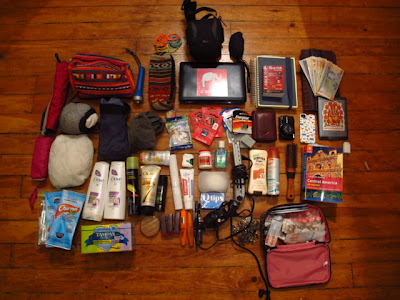 Stuff:
-an Asus Eee netbook and charger
-a Canon Powershot G1X with charger and case
-a Superheadz Harinezumi camera
-a kindle and charger
-an iPhone and charger
-a Fujifim point-and-shoot and charger
-extra camera batteries and memory cards
-an external hard drive
-a dry bag
-an alarm clock
-ear plugs
-a travel umbrella
-a travel towel
-a rain jacket
-a silk sleeping sack
-a hair straightener (damn you, bangs)
-Central America and South America guidebooks
-a Spanish dictionary
-a plain notebook
-pens
-a travel case with all my important documents
-a wallet with all my cash and cards
-a money belt
-a bag with all my jewellery
-a blow-up pillow
-a flashlight
-a chain and lock for my bag
Toiletries:
-shampoo and conditioner
-soap
-face wash
-razors
-deodorant
-condoms
-moisturizer
-sunscreen
-bug spray
-hand sanitizer
-wet wipes
-dry shampoo
-toothbrush
-toothpaste
-hairbrush
-tampons*
-a whole lot of medicine (bandages, stomach and pain medicine, water purification tablets, malaria pills)
-makeup (bronzer, regular and waterproof mascara, eyeliner, powder, lipstick, glitter, and bindis)
After packing all of those things up (mostly into separated bags for easy organization), my final bags look like this: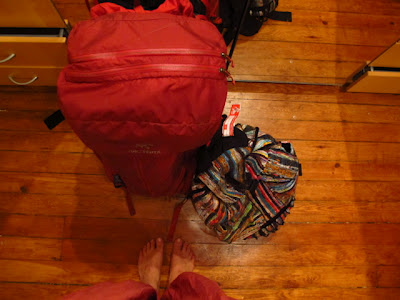 My large bag weighs 13kg and my carry-on weighs 5kg. I'm pretty happy with this! I clearly didn't learn very much, as
I packed pretty much the same thing last year
 when I went to Southeast Asia… and I ended up ditching a lot of that along the way or sending it home. As I'm going to be living in the same place (Antigua, Guatemala) for the first two months, however, I think it's acceptable to have a lot of of fun clothes and full-sized toiletries.
What do you think? Did I miss anything…or should I not be taking any of it?
*I've gotten a few emails about the Diva Cup or something similar; while I agree that it would be absolutely amazing for travelling, I bought it and…it didn't work for me. I haven't given up completely, but at this point it was far too uncomfortable for me to consider taking it on this journey.