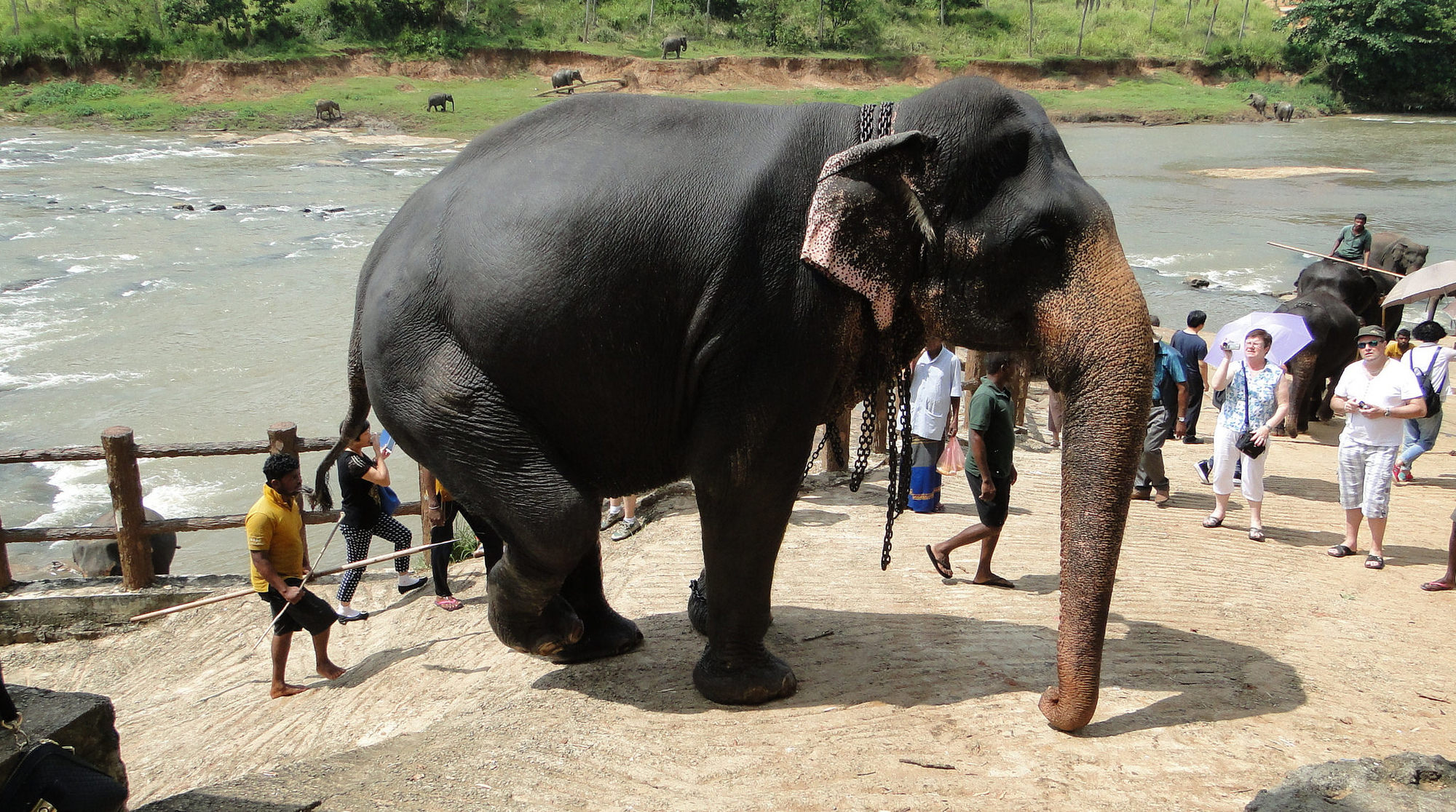 Photo by Ankur P via CC BY 2.0 License
The first time I heard about Pinnawala Elephant Orphanage, located a couple of hours outside of Sri Lanka's largest city, Colombo, was when I was in Sri Lanka in 2009. As somebody who loves elephants, I asked around whether or not I should go visit. I mean, you hear the words "elephant orphanage" and it seems like it should be legitimate, right?
I never did make it to Pinnawala Elephant Orphanage, so everything I'm about to say here is compiled from research I've done online. But as Sri Lanka grows as a tourist destination, and as the "insta-famous" photo of a river full of elephants bathing continues to get thousands of likes per account, should you go to Pinnawala Elephant Orphanage?
After reading dozens of reviews and articles about the subject, in a word: NO.
What really piqued my attention was that a huge Instagram account had featured the photo. In it, there are people looking out at the aforementioned riverbed full of elephants. Since then, I have seen multiple people replicating that photo, with many large accounts reposting it. It's guaranteed to get a ton of likes, which is why all of the comments below the photos seem to say, "I'm so jealous, I need to go here!" or "OMG, this is the best picture!"
I'm going to say here and now that I'm not going to call anyone out individually, because I never want to assume that somebody knew the real and, quite frankly, shady circumstances at Pinnawala Elephant Orphanage, visited anyway, and then posted the photo on Instagram because it would get tons of likes. I mean, nobody would do that… right?! Surely the "do it for the 'gram" mentality doesn't apply when you're talking about the welfare of animals…?!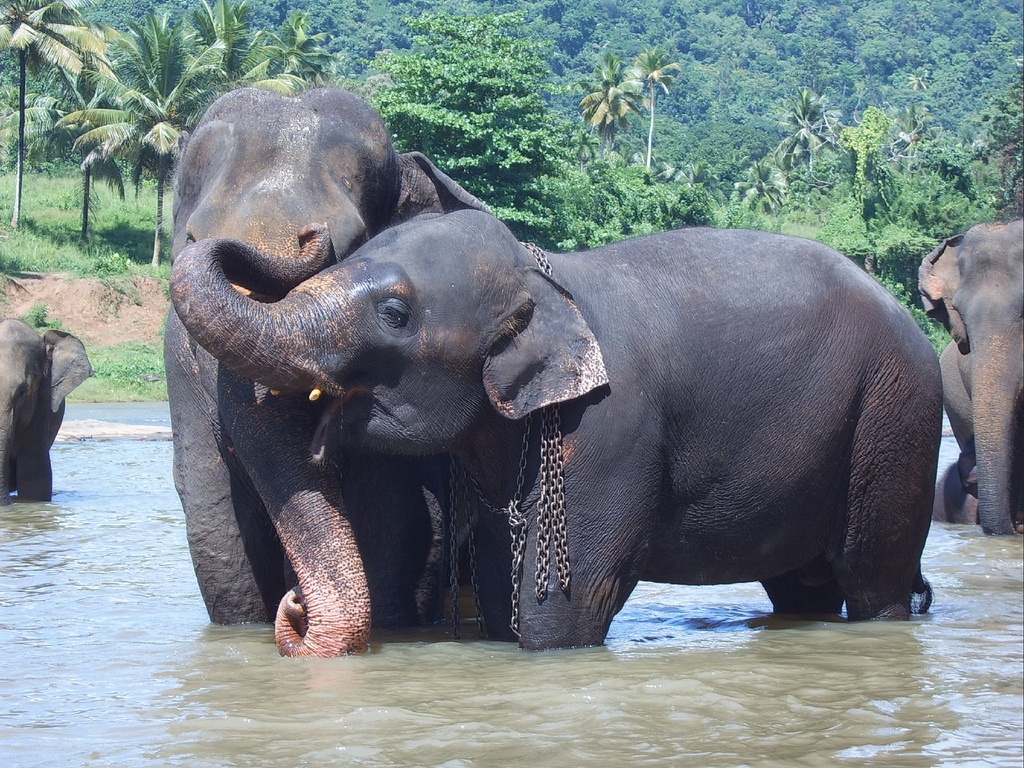 Photo by Petr Kosina via CC BY-NC 2.0 License
A quick look at the reviews on Tripadvisor about Pinnawala Elephant Orphanage tells a muddled story. Some reviews say that visiting is a heartwarming experience, the best of the trip to Sri Lanka, and that watching the elephants bathe is an unmissable highlight. Others – a LOT of others – claim that the experience is distressing, that the animals are chained, poked with bullhooks or elephant goads, and forced to pose for tourist photos. The red flag for me is that, of 2,214 star ratings, 883 of them are rated average or below, with 308 rating it terrible. I mean, a dozen or so below average reviews is one thing, but almost a thousand of them?
The comments that go along with those reviews don't paint a very good picture, either.
"We visited Pinnawala Elephant Orphanage as part of a tour. We first witnessed them being paraded to the river for bathing. They obviously had no choice in this, two of the group were left chained throughout and seemed to show signs of distress, swaying his head from side to side. The others seemed ok but many had chains on."
"Those poor elephants! I hated this so much! Coming from South Africa and seeing elephants in the wild, this was shocking! Not only were a lot of the elephants chained up and looking miserable, the handlers also often poked the elephants with their hooked sticks and they shouted at them! My heart was so sore during this visit. The bathing was a little better but still some of the bigger elephants were chained up. It was awful, from start to finish. I couldn't wait to leave."
And this one, a review from only four days ago:
"The title of 'orphanage' makes the place sound like abandoned elephants are looked after. Quite the opposite. The more I think about our visit here the more uncomfortable I am about it. We expected elephants to be freely walking around the big plain that is located here but every single elephant was chained to the ground in a hut when we went (with a few others dotted around the grounds for tourists to look at also on very short chains attached to the floor). They all had very little space to manoeuvre or access to get to water in the blistering heat. Mahouts were asking for money to pose next to the elephants and we even saw them kicking the elephant to try and get into the right position for a photo. There is so much open space for them to be walking around I cannot understand why the chaining to the floor is necessary.
Please go and see elephants in the national parks and do not contribute to this unless they somehow dramatically change the welfare of these animals."
I actually asked a few Instagrammers about their experiences after they posted photos from Pinnawala Elephant Orphanage. Only one answered me. At first, she seemed happy to answer my questions and interact politely. When I asked her if elephants were chained up, and I said that I would be uncomfortable visiting, she said this: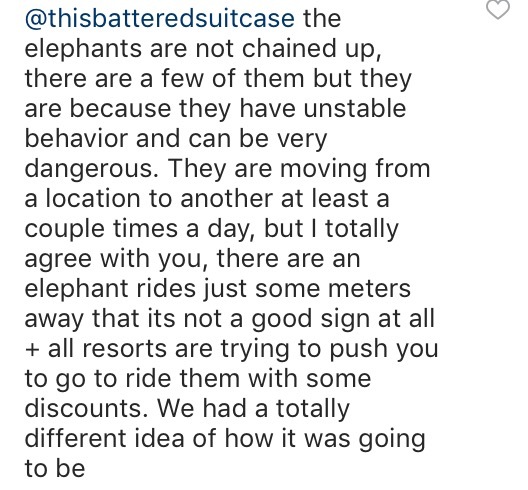 She admitted that some of the elephants were chained up, and that elephant rides were promoted. Shortly afterwards she deleted all of her comments as well as all of my comments. Every other Instagrammer that posted the same shot did the same: deleted my comments, refused to answer my direct messages, or blocked me. I was simply asking questions about their experience in order to have every possible angle for this article, but nobody wanted to talk.
Again, I don't want to accuse any one individual, because I have no idea what they know about animal welfare; it's only quite recently that a lot of truths about animal attractions like Seaworld and elephant rides have been uncovered and blown open online. I admit that, years ago, I rode an elephant on holiday. It is one of my biggest travel regrets – it was part of a three-day tour that had simply said we'd be "interacting" with elephants – and I feel sick when I think about how ignorant I was. I mean, I even have a photo of an elephant with its face painted in my blog's banner, a photo I took at a parade in India in 2011 (and a banner that's nearly as old as well), and trust me, I wouldn't put that photo there today, because I don't know how that elephant was treated (my redesign is coming soon).
That's why I don't want to blame anyone here; I've made tons of mistakes, too. This blog post is simply meant to bring to light this particular issue, so that you can be well informed if you're thinking about going to Pinnawala Elephant Orphanage. I certainly wish that I had read more blog posts about these subjects all those years ago, so that I could have been better educated on animal tourism.
I have indeed seen a lot of positive reviews of Pinnawala Elephant Orphanage as well (all on Tripadvisor, written by tourists). Apparently some of the larger bulls are chained up to protect people and to keep them under control. This seems fishy to me, though, because there are plenty of other ways to rehabilitate animals that DO NOT include chains, bullhooks, or bars. It also doesn't make sense to use chains if these animals are going to be released back into the wild, which is apparently what Pinnawala Elephant Orphanage does. In many reviews online, the "orphanage" is actually likened more to a zoo, where animals are kept in captivity. Not only that, other reviews claim that it seems to be more of a tourist trap than anything, with handlers asking for money so that you can get closer to the elephants.
You can read more about what Born Free, an organisation that supports the wellbeing of animals, said about Pinnawala Elephant Orphanage. They also produced this video:
As they wrote about the video:
In order to illustrate… concerns the Born Free Sri Lanka team has made a short video using footage and photos taken at [Pinnawala]. These show that even the rules set out by the facility itself – such as keepers not taking tips from tourists – are not reliably enforced. It also highlights issues such as elephants posing for photo opportunities under duress, and mothers with infants being surrounded and touched by visitors. These scenes fuel concerns that practices at this so-called orphanage, where more than 40 elephants have been born in the last 10 years, none of which have been returned to the wild – favour the convenience of the tourists and staff over that of the animals they are supposed to be caring for.
Here is another video from Pinnawala Elephant Orphanage, taken only a few months ago. You can see the elephant – that is chained at the leg – swaying back and forth repeatedly. It is clearly in distress (and, just to warn you, watching this is very upsetting):
And another:
And I know that people are told that this is done for people's safety – that these are powerful bulls in mating season – but I'm not sure why they would have to be around people in the first place if this was truly an orphanage dedicated to the wellbeing of animals. I mean, why not keep these particular animals in a different part of the centre, then, away from tourists? As I mentioned above, any "rehabilitation" that includes chains and bullhooks does not seem very ethical to me. The bloggers Salt in Our Hair recently went to Pinnawala Elephant Orphanage themselves and reported back; they left after seeing elephants prodded with sticks and chained into that oh-so-picturesque river.
And OF COURSE animals that have been orphaned, have disabilities, have had violent pasts, or are sick should be taken care of and looked after. It's just that after doing this research and watching these videos, I'm not sure that Pinnawala Elephant Orphanage is 100% committed to that, or if some of what they are doing is exploiting the situation for monetary gain. No matter what, the animals should be top priority. The blog Monkeys and Mountains echoes this statement, and I highly recommend reading her piece as well. It's also important to note that there are so many other places in Sri Lanka to see elephants, and to see them in the wild: Kaudulla National Park, Udawalawe National Park, Yala National Park, and so on.
As I've said above, I do not want to blame anyone for going or wanting to go to Pinnawala Elephant Orphanage. I simply believe in being fully informed before making any such decisions. After doing this research, I have decided that I would personally never support or visit Pinnawala Elephant Orphanage if it continues to promote these unethical practices of chains, bullhooks, elephant rides, and forcing elephants to pose in photos. No amount of Instagram likes could convince me otherwise. I'm fully aware that there are some of you who will want to defend Pinnawala Elephant Orphanage, but this is a personal blog, full of my subjective opinions, and I personally cannot support a place where animals are chained up, regardless of the circumstances.
And remember when I asked around in Colombo about Pinnawala Elephant Orphanage? I was told repeatedly by local Sri Lankans that no, I should not go. If that doesn't raise red flags for you, I don't know what will.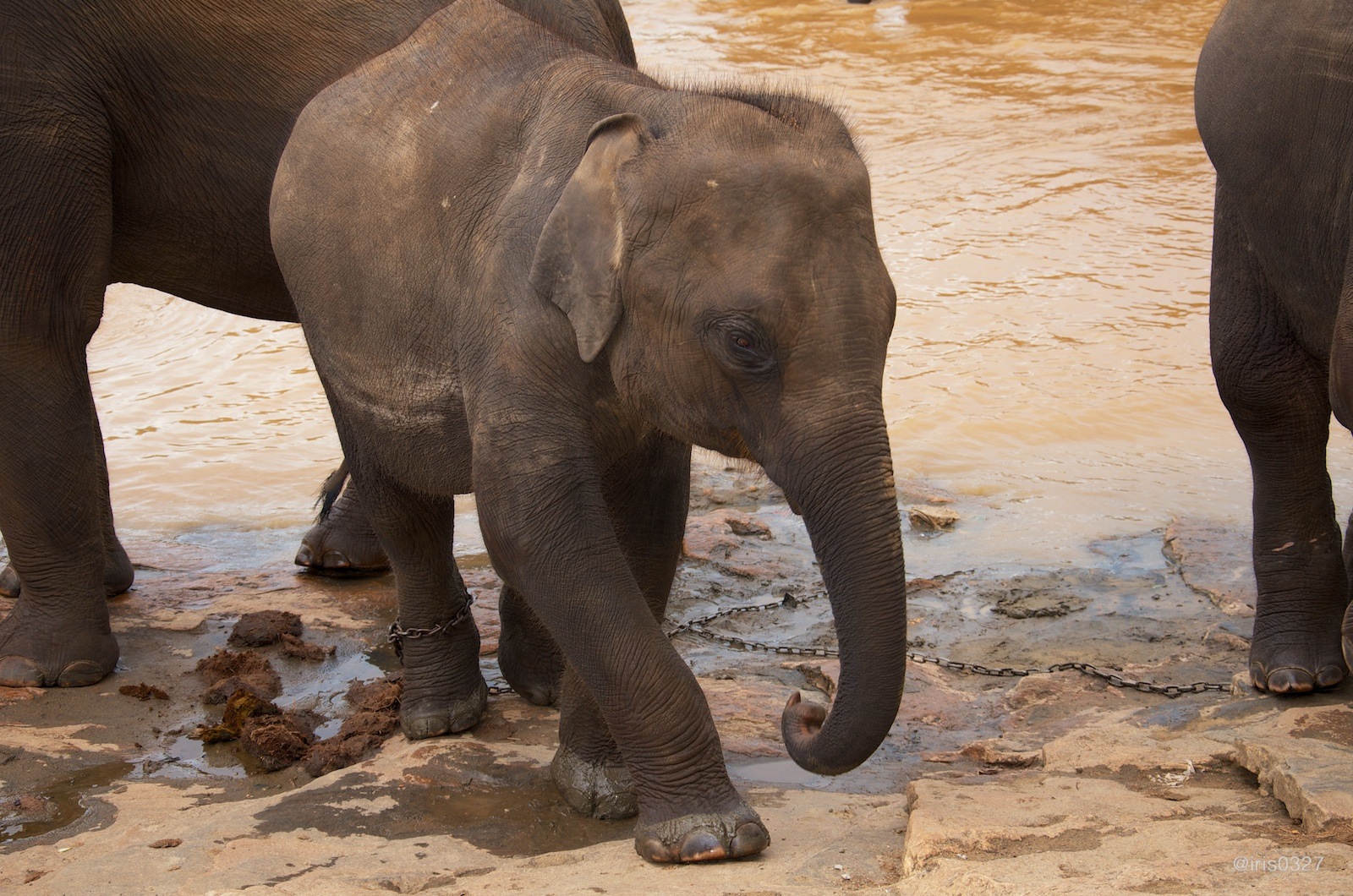 Photo by Iris Liu via CC BY-NC-ND 2.0 License
Really want to help out with elephants and interact with them in an ethical way? Check out Elephant Nature Park in Chiang Mai, Thailand, or donate to the David Sheldrick Wildlife Trust in Nairobi, Kenya. 
What are your thoughts on Pinnawala Elephant Orphanage?