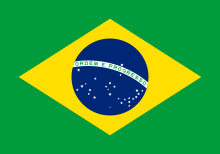 Heading to Brazil?
(Please note: this post was written in November 2012. I am constantly updating and editing it as I hear of changes or new information – if you go through the process and something has changed from this information, please let me know in the comments or via email! Many thanks. -Brenna)
I am currently in Puerto Iguazu, Argentina, gateway to the magnificent Iguazu Falls. I will spend the day exploring the Argentinian side tomorrow, and then I'm off to Foz do Iguacu in the evening, on the Brazilian side.
One thing almost stopped me, though – I don't have a Brazilian visa. Correction: I didn't have a Brazilian visa, not until a few hours ago.
No, I was never going to be one of those who risk going across illegally – I never gamble when it comes to international borders, as I don't want to jeopardise any future travels. Besides, I'm flying out of Rio to Toronto in a few weeks, so the gig would have been up once I got to the airport. I could have been in serious trouble.
Much easier than trying to fool an entire country's government, then, is to simply get a visa. While it's easy enough in your own country – if you have the time and the exact dates of your holiday, that is – it is so ridiculously easy here in Iguazu that I felt the need to write a post about it, as I found very little online about the topic other than a few slightly outdated threads online.
Citizens of Australia, Canada, Japan, Mexico, USA, and "other countries" need a pre-approved visa in order to visit Brazil (check online to see if your country needs one – many of my European friends are just fine). If you know that you will be travelling for a while through South America, and will at some point end up in Brazil, my advice is to get the visa in Iguazu. It will save the time and hassle in your home country, and, depending on the day of your arrival, takes as little as two hours. Since this is a very common backpacker route (Buenos Aires to Rosario to Iguazu, for example), it seems logical to get the visa here. It is very, very easy to get a Brazilian visa in Iguazu.
You will need a few documents in order to obtain your Brazilian visa, which I have listed and then explained:
1. A passport that is valid for no less than 6 months, obviously.
2. A Brazilian visa application form, which can be filled out at https://scedv.serpro.gov.br.
Fill this out somewhere where you can print it, as you'll need to bring the confirmation form to the consulate. The form asks for very basic information, including your passport details, address, address of your employer (I just put my last employer), and address of your contact in Brazil (I put a hostel in Foz do Iguacu, but I hadn't even booked it yet. They didn't ask for a confirmation). The form takes less than 10 minutes to fill out if you have all the information handy.
3. One passport photo, but it seemed as though the size didn't really matter – my  photo was too big but the man just cut it to fit and glued it on the form for me. It needs to be just like any other standard passport photo: light background, front viewing, nothing obscuring the face, no glare from glasses, etc. I always carry a few of these in my bag, so I had one already (I'm not sure if there is a place to get them in Iguazu itself, so I recommend either having one from home or getting one done in Buenos Aires or Rosario beforehand).
4. Proof of means of support during your stay in Brazil, which could be a recent bank or credit card statement. I just brought in a printed copy of my online bank statement as of yesterday (and yes, it's looking grim, but apparently it's enough to get me through a few weeks in Brazil).
5. A return ticket, or proof of onward travel. I brought in a copy of my e-ticket showing my flights from Rio to Toronto.
6. Payment of consular fees. I couldn't find ANY information about how much Canadians pay online, so here is the list of fees they had posted at the consulate: Australia AR$175, Canada AR$325, Japan AR$125, Mexico AR$150, Nigeria AR$325, USA AR$800, "other countries" AR$100. You must have exact change, and it is payable in cash only (Argentinian pesos or Brazilian reals). The rough exchange rate at the moment is about AR$5 to USD$1, so Canadians pay about 65USD and Americans pay about 160USD. It's pricey, but, at least for Canadians, I didn't pay any other visa fees throughout all of Central and South America. Edit: A reader just informed me that as of now, November 2013, the prices have gone up. The new price list is: Australia AR$238, Canada AR$442, Japan AR$170, Mexico AR$ ?, Nigeria AR$442, USA AR$1088, Other AR$136.
To get to the consulate when exiting the bus terminal, cross the street and turn left. The office is about half a block down, and the man I dealt with there was SO friendly and helpful, and spoke a bit of English. The office is open from 8am to 2pm. Edit: a reader just informed me that passports are only accepted until 12pm, even though the office is open until 2pm. Edit again: a reader just informed me that she needed to hand in her passport before 10am, so best to get there as early as possible. Edit AGAIN: Just get there really early, guys. 
The only way to get a visa in one day, as I did today, is to drop off your documents on a Friday. As they are closed over the weekend, they are nice enough to return your passport within a few hours on Fridays, instead of the usual 24 hour return. I decided to hang out by the pool and just relax today, but I could have easily dropped off my passport as I did at 9:30am, picked it up at 11:30am, explored the falls all afternoon and taken the bus into Brazil tonight. If, for example, you arrive on a Tuesday, you won't be able to pick up your passport until Wednesday mid-day. I was given a 90-day, multiple-entry visa, even though I didn't specify what I wanted.
I cannot stress enough how easy and painless this was. I was quite worried about it before I arrived – images of the office closed permanently or being denied a visa danced in my head – but, to all my fellow travellers thinking of doing the same thing: tranquilo. It's a piece of dulce de leche cake.
See you in Brazil!