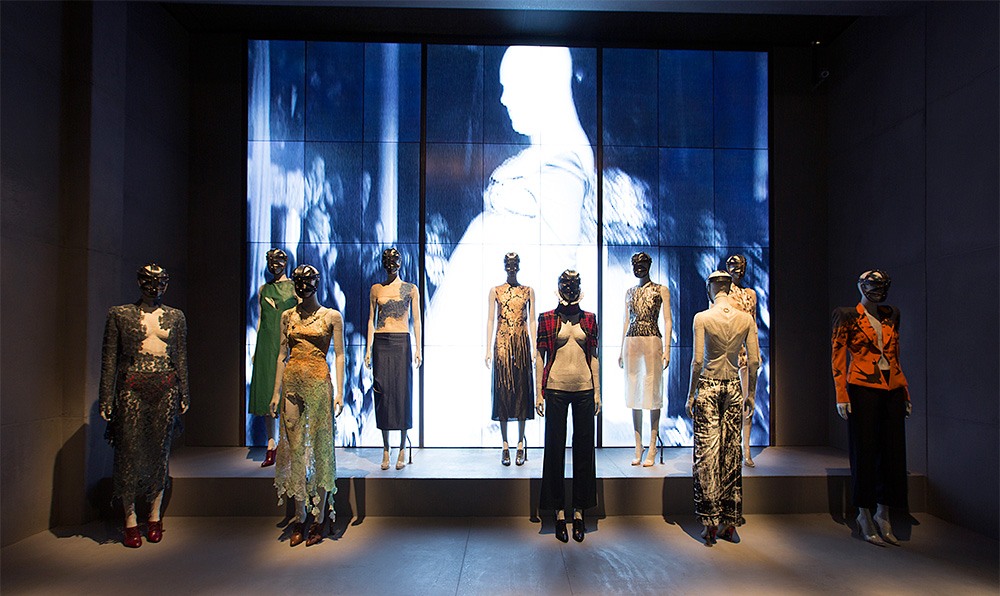 Photo from the V&A Savage Beauty website
Last weekend, in the wee hours of Sunday morning, I put on one last swipe of lipstick, grabbed my purse, and locked the door behind me. It was just before 3am, and the streets around my flat in East London were fairly empty, save the lights from passing traffic. A group of people speaking French, their night winding down, walked down the sidewalk laughing and talking. I got to the bus stop and stood next to a man smoking a cigarette and looking at his phone, only the two of us in this still night air. The bus pulled up a few minutes later, and I got on board, taking a seat at the back.
I was on my way to the Victoria and Albert Museum, one of my favourites in the city. I have been many times in the past, and my most memorable visit had been in 2013 to see the David Bowie exhibit. It was strange, taking the bus to the museum at such an ungodly hour of the night. Nearly everyone else on the bus seemed like they were going home, their journey ending. Mine was just beginning, on my way to see Savage Beauty, the showcase of Alexander McQueen's work.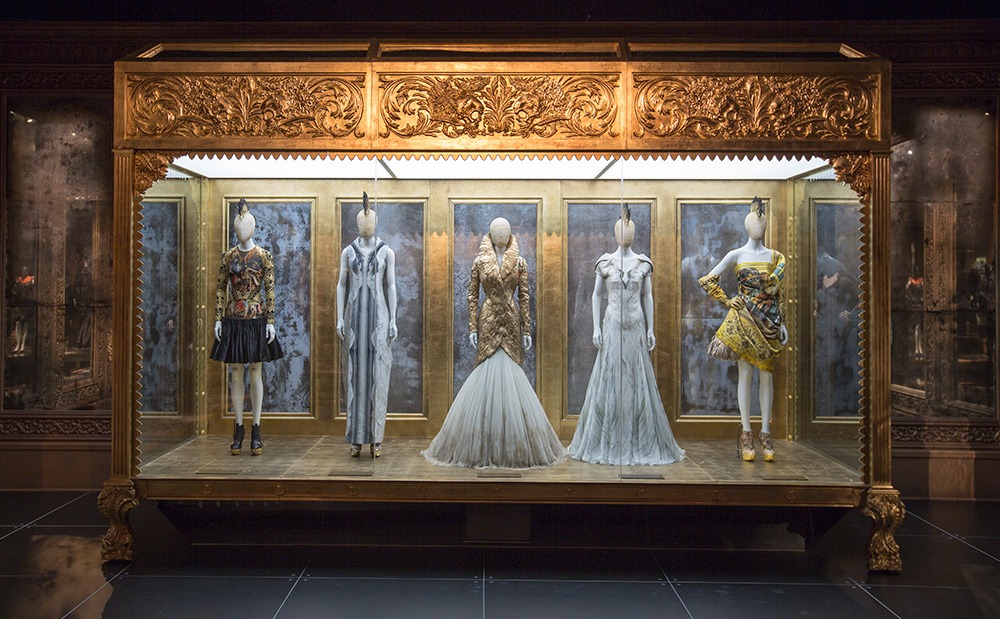 Photo from the V&A Savage Beauty website
McQueen was one of the world's leading fashion designers. Born in 1969 in London, he quickly became one of fashion's rising stars; he was one of the youngest people ever to be awarded British Designer of the Year. His work is known as being bold and fearless, and sometimes controversial. He loved to empower women, famously stating, "I want people to be afraid of the women I dress." He also believed in the fun and creativity in fashion, saying, "There are no rules. It's all about the individual and personal style, wearing high-end, low-end, classic labels, and up-and-coming designers all together." He took his own life in 2010, leaving behind an incredible catalogue of work. He is still regarded as one of the best designers to have ever lived, and is missed in the fashion world and beyond.
I don't remember when I first saw some of McQueen's designs, but I have been aware of his work for at least a decade and a half. While I love fashion, I have never been able to afford designer clothing or accessories. I could probably save for something special – a classic piece that would never go out of style, for example – but I've always preferred to save my money for travelling instead. Savage Beauty intrigued me, though. I have always loved the playfulness and the intricacy of McQueen's designs, and I like to think that I can appreciate (or at least attempt to appreciate) all forms of art, including fashion. One problem: the exhibit was sold out before I had a chance to buy tickets. The exhibit was much heralded in London, talked about and tweeted about and raved about. When it had shown at the Met in New York in 2011, it quickly became one of the museum's most-visited exhibits ever. It appeared that it was on the way to the same fame in London.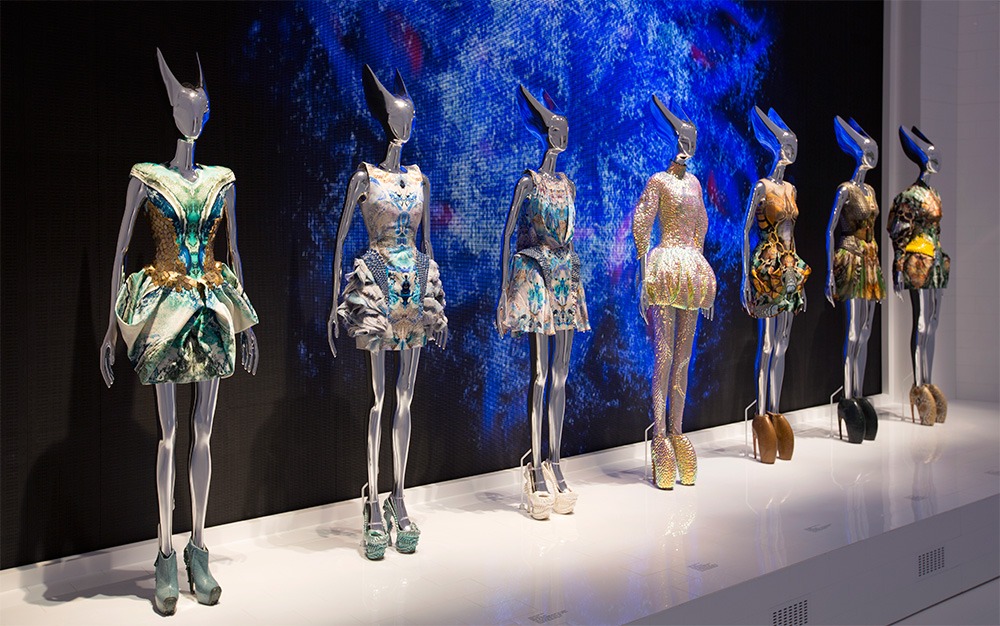 Photo from the V&A Savage Beauty website
Then, two weeks ago, I saw an article on Time Out London saying that the V&A would be opening for twenty-four hours over the weekend, so that those who missed out on tickets might have a chance to catch the exhibit after all. I clicked on the link and looked at the times. There was only one slot left: Sunday morning at 3:30am. Without thinking about it, or even waiting to find a friend to go with me, I purchased a ticket.
On Saturday night I went into my local and had a pint. I had been out all day with friends, and they suggested that I at least attempt a bit of sleep before going. I decided not to sleep at all.
"There's no way you're going to go," the bartender said, laughing as I told him my grand plan of staying up all night and busing to the museum.
"I'm going," I laughed back. I didn't want to miss this.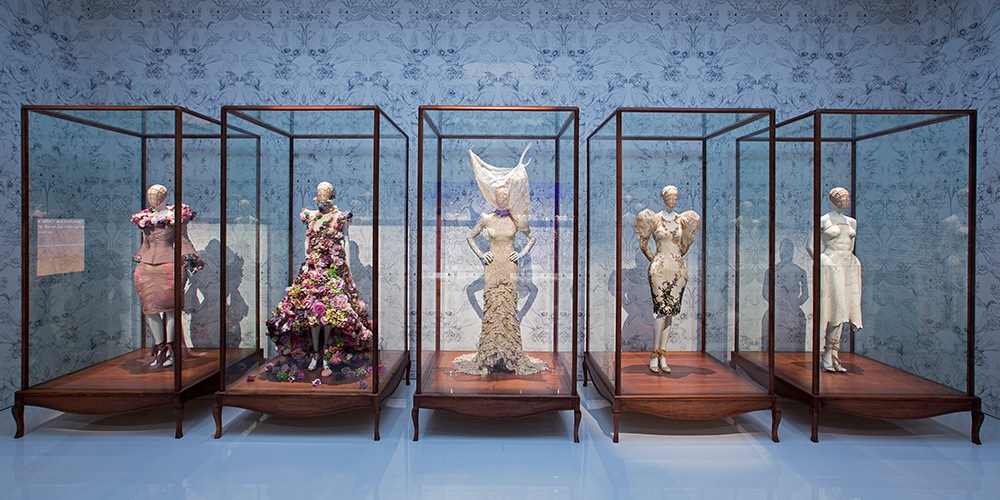 Photo from the V&A Savage Beauty website
I arrived in Trafalgar Square around 2:30 on a bus that had snaked its way through London, past the bright lights of Liverpool Street and the calm of St. Paul's. The Strand had been empty except for a few people who had just left a pub, still standing and talking outside as the pub's blinds were drawn. I had to take two buses to get to the V&A; it's on the other side of London for me, west to my east. I waited for the second bus to arrive, catching glimpses of Nelson's Column in between the slew of double-decker buses that lined the roundabout just in front of the square. There was a traffic jam, and the buses were barely moving. I could see impatient drivers drumming their fingers on the steering wheel, once in a while honking in empty protest. At the bus stop with me two American girls with matching heels and long blonde hair chattered away about their evening, and another two girls, Spanish or Italian, drunkenly ate convenience store sandwiches, their eyes slowly closing and opening. A cute guy in navy trousers was reading Paulo Coelho, and when he looked up at me I smiled, then looked down. I watched as a man in a suit took the hand of his girlfriend, both of them beautiful and in love. And so we waited, and waited, each of us in our own worlds.
By 3am I had grown impatient. The honks were getting louder now, cars and buses backed up all around the square. A man had set up a karaoke machine outside of the Sainsbury's, and a group of men sang "I Did It My Way" into the microphone, loud and off key. I knew that if I stayed waiting for the bus I would probably miss my scheduled time for the exhibit, so I ran to the other side of Trafalgar Square, manoeuvring through the immobile vehicles. Down a side street I saw a black cab with its light on, and waved it down.
"Hi," I said to the driver as I got in. "Can you take me to the V&A?"
"The V&A?" he responded. "As in the Victoria and Albert Museum?"
"Yes please," I said, sitting back in the seat and doing up my seatbelt. We rode in silence past Buckingham Palace and Green Park, both shadowed and empty. I had only ever seen these places swarming with tourists, and it was strange to see them so quiet.
"So do you live in the museum or something? Like Ben Stiller?" He laughed at his own joke, and I laughed with him.
"I wish. I'm going to see an exhibit, actually. The one on the fashion designer, Alexander McQueen?"
"Oh, right, I think I heard about that," he answered back, and we made idle chitchat until he pulled up to the museum. He asked if I thought it would be worth it. I answered that I hoped it would.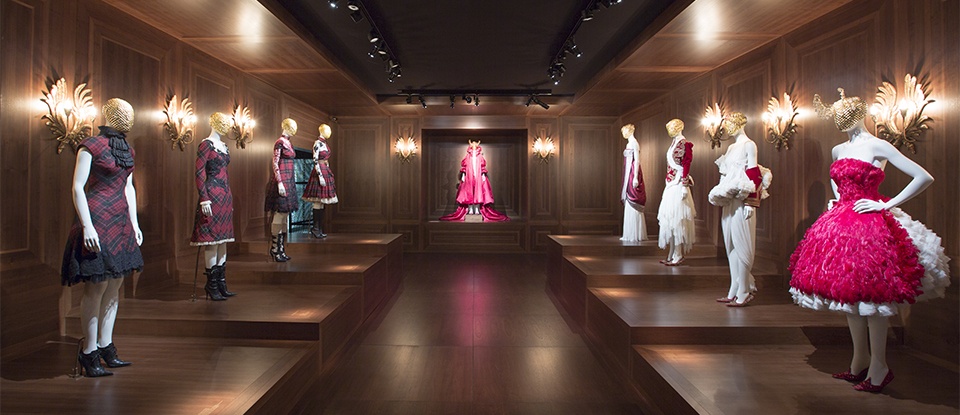 Photo from the V&A Savage Beauty website
I entered the museum through the side doors, where tall men in long black coats checked my ticket. Walking through the near-empty space felt like a dream, my heels clicking on the marble floors, echoing off of the centuries-old sculptures. It seemed that the few of us there were in a hushed state, desperate not to spoil the magic of this extraordinary experience.
I approached the exhibit and showed my ticket to a staff member, who crossed my name off of a list.
"This way," he opened the door for me, and I was transported into McQueen's world.
And I only wish that I had seen this months ago, so that I could have written this months ago, and so that I could have recommended that everyone go, because the exhibit was just that stunning, just that beautiful and thought-provoking and haunting. In every room, different McQueen collections were shown, and his gorgeous creations – many which pushed the envelope when they were released, and continue to push the envelope to this day – were given full and ample display, often only a smattering of pieces per room. While there were quite a few people in attendance, it never felt crowded, and there were times when I had an entire space to myself. Each room was lit dramatically and accompanied by appropriate music; once or twice I felt almost teary, overcome with just how exquisite the pieces were, each a creation of art.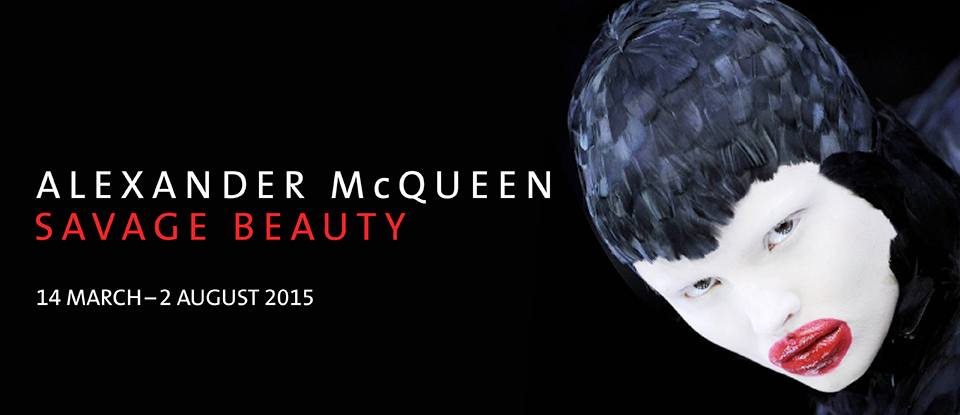 My favourite room was the biggest room, named the Cabinet of Curiosities, with shelves that reached up into the lofts of the museum. Each shelf was divided into boxes, and in each box a different piece was shown, a hat or a dress or a shoe or a TV with footage of McQueen's legendary runway shows. I sat for the longest time in that room, surrounded by all of that beauty. It took my breath away.
I left the museum an hour and a half after I got there, the darkness of the night sky turning into pale dawn, the city of London tinged in pink. I took the bus back to the east, to my home, and as I looked out the window everything looked that much shinier, that much more beautiful, all of it washed in the soft glow of a new day.
For more about the exhibit, and about Alexander McQueen's designs, click here. There is also an interactive webpage of his creations here, and make sure to check out the V&A's main page about the exhibition for a lot more information, videos, and photos. All photos in this blog post were from the V&A's website.