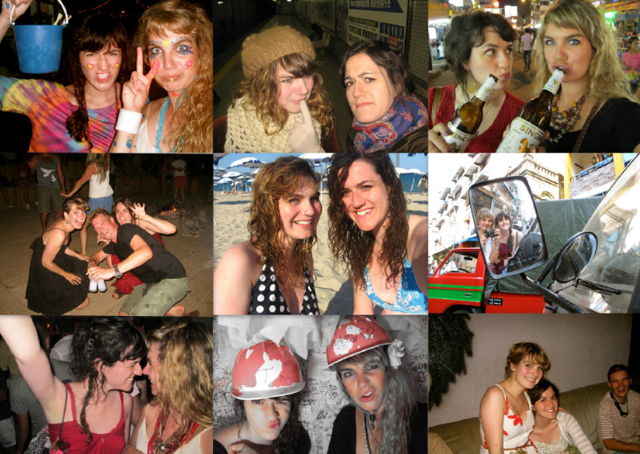 Clockwise from top left: Full Moon Parties on Koh Phangan – Getting Lost in Japan – Beers in Bangkok – Mirrored Images in Myanmar – The Third Wheel in Romania – Protective Headgear in South Korea – Dancing the Night Away on Koh Tao – Making Friends by the Mediterranean in Turkey – Sunny Days by the Black Sea of Bulgaria (middle)
A letter from Kerrilyn, with whom I have laughed with in Canada, Romania, Bulgaria, Turkey, Japan, South Korea, Thailand, and Myanmar. We are planning to travel for five months together through Central and South America later on this year, and plan to one day open up a guesthouse on a little beach somewhere. She's my best friend.
Hello Miss Brennalyn –
Let's just acknowledge that I'm writing to you while both of us are in Canada. The last time we were both in Toronto together was just before you were moving to Japan (in 2008). We were in your mum's apartment overlooking the skyline and treetops, wondering what our new Asian lives would bring us. If only we could have shown ourselves the visits in Osaka – the overeating of cabbage, the shopping in Amemura, the okonomiyaki, the Asahi, the friendship that we nurture and grow with every new adventure.
Could we have told ourselves that we would visit Burma together? That we would make friends, if only for a few hours, with locals so warm and kind they dress up their daughter in gold makeup and a wig? That we would dance the night away to "
Barbara Streisand
" on the beach in southern Thailand for two nights straight? That we would both make such a consistent effort to keep in contact, despite our distance? That Brennalyn would travel solo all over Asia and India for eight months and send a box of memories to Kerrilyn? That Kerrilyn wears the yak wool scarf from Nepal as she writes? Could we have told ourselves any of these things?
What's in store for us?
Where are our lives going to take us?
Will our dreams of typewriters and hostels and cups of coffee and land on an unknown beach somewhere pan out? I have no doubt.
Love,
Kerrilyn