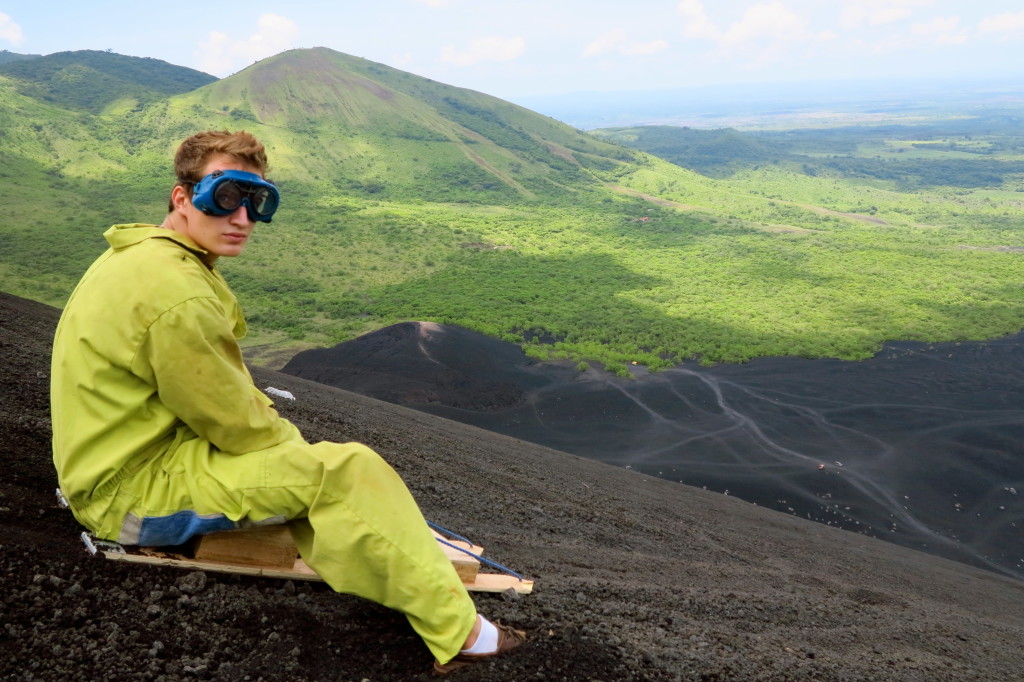 "You just have to bring a need for speed," the man behind the desk told us.
"Really?" I asked, slightly cynical.
"Okay, okay," he relented. "Bring some sunscreen, good walking shoes, your camera, and a rain jacket."
We paid the man our $30, picked up our free t-shirt, and told him we'd see him the next morning at 8am.
***
I was in León, the second largest city in Nicaragua (after Managua, the capital). I had already had a few days here, in this city on the west coast; I had travelled all the way from the east coast of Honduras, passing through some of the most dangerous cities in Central America. After spending a night in Tegucigalpa, the city with the world's highest murder rate, León felt like a wonderfully quiet and peaceful place. I loved its colourful colonial buildings, its ornate churches, its easily navigable streets.
I was travelling with an Australian woman I'd met in Utila, Honduras, and we stayed together in a gorgeous guesthouse with a pool. After a day trip to Las Peñitas, we decided to try the very popular volcano boarding we kept hearing about from other backpackers.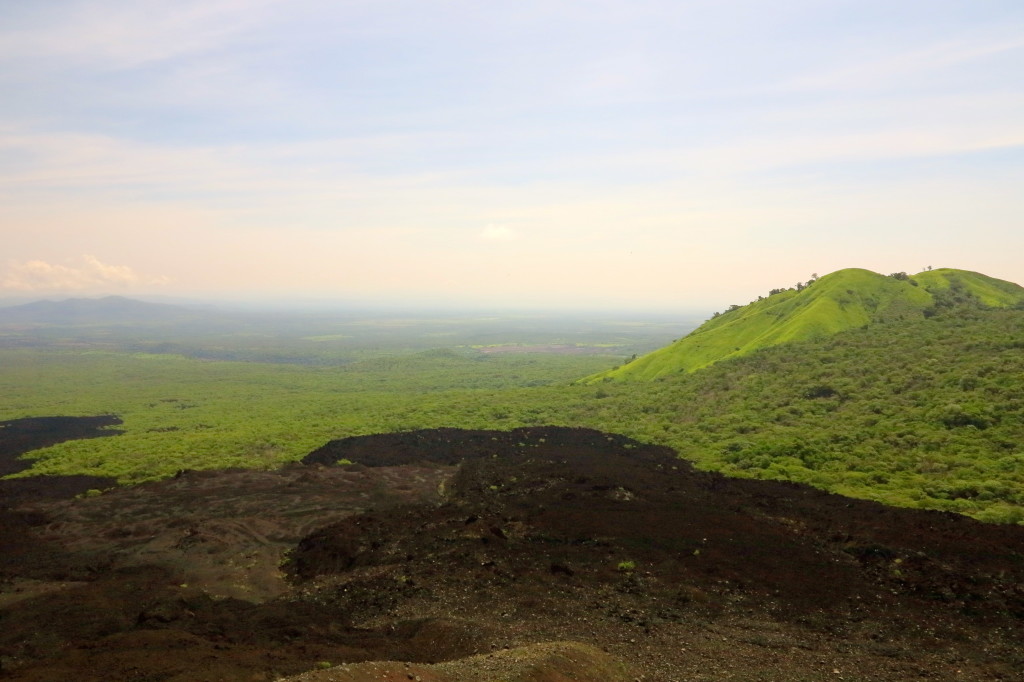 View from Cerro Negro
Central America is full of volcanoes; Cerro Negro, not far from León, is its youngest, and one of Nicaragua's most active. A few years ago, someone got the wild idea to start boarding down it. Much like a Canadian toboggan, pieces of wood are equipped with handles and metal on the bottom to make them slide faster. Speeds have been recorded up to almost 100 kilometres per hour.
As a Canadian, people often scoff when I tell them I don't ski or snowboard. But toboggan? I grew up tobogganing. Doing so down a volcano didn't scare me at all.
I really had no desire to go with the popular tour run by Bigfoot hostel; they regularly had packs of 20 or more backpackers, and I didn't like their hostel party vibe. We enquired with our little guesthouse and they arranged some local Nicaraguan guys to pick us up the next morning.
At 9am, two guys on motorbikes pulled up.
"Um, where's the equipment?" Chelley, the Australian I was travelling with, asked. We were quickly told not to worry, it was stored at one of the guys' father's house along the way to the volcano.
"Um, where are our helmets??" I then asked. Again, we were told not to worry; only drivers had to wear helmets in León, but they were going to pick up helmets for us in a few minutes, at a place just down the road.
Reluctant, we got on the backs of the motorbikes, and sped off into the streets.
Five minutes passed, and we still hadn't stopped anywhere. I didn't like sitting on the back of this strange man's motorbike, helmet-less. I nudged him and told him to stop. The other guy pulled over, too.
"I don't feel comfortable riding without a helmet," I told them in broken Spanish. They rolled their eyes; it was commonplace for people to ride without one in Central America. Although I did so a lot in past, at some point I vowed to myself that I would never again take a risk with my life that was so stupid, a risk that might lead to a very preventable death. The men finally admitted that there were no helmets for us, but that they would drive slowly.
Fearing that this was only the beginning when it came to lacklustre safety standards, Chelley and I decided to quit while we were ahead. We made our way back to the guesthouse, slightly defeated. As fate would have it, however, we passed by an open door, and I glanced in. A sign for "Quetzaltrekkers" hung above the desk, and I saw a wall full of t-shirts bearing the same name. We stepped in.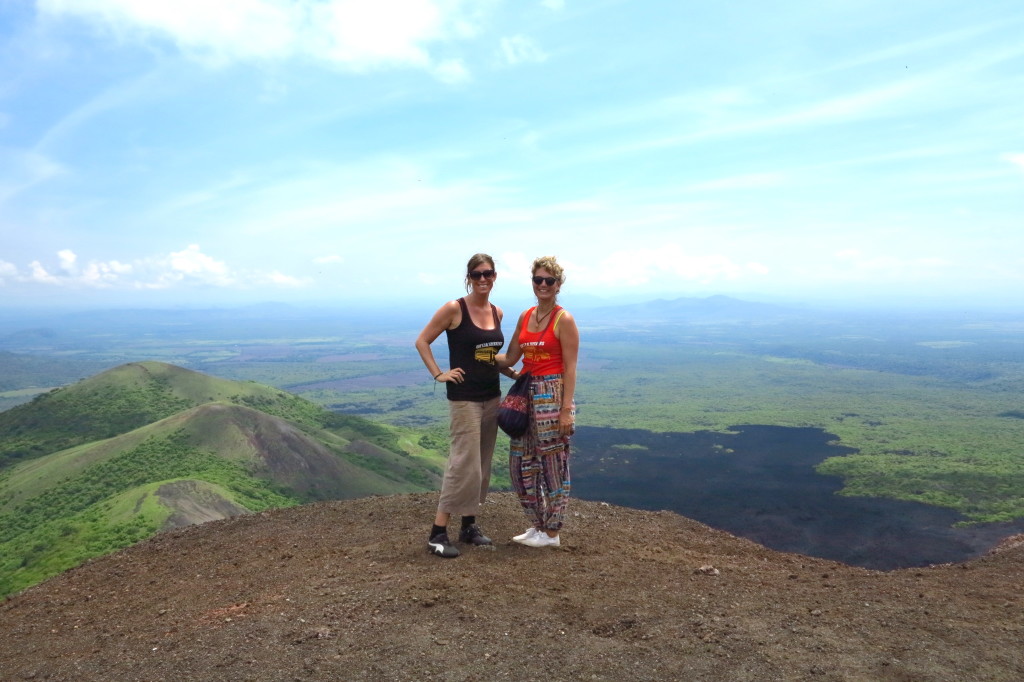 Chelley and I on Cerro Negro
This is where we met the Quetzaltrekkers team, a mix of expats and locals who run a variety of hikes and treks around Nicaragua. Some, like the volcano boarding tour, last only a day; others last for longer. Instantly, however, I was intrigued by their background and their promise.
Quetzaltrekkers was founded in 1995 in Guatemala, and is run solely by volunteers. On top of that, all profits go to helping local charities that work with disadvantaged youth, working to get kids off the streets, get them housed, and get them educated. They are completely non-profit. They opened their doors in León in 2004, and work with the local charity Asociación Las Tías, which was started by merchant women to help kids and teenagers with drug addictions. Their idea is simple: raise money from tourists and give it all back to the community. It's a win-win situation, and I couldn't wait to be a part of it. We signed up immediately.
The next morning, we met our small group at the office. After some introductions, we climbed into the back of an old truck, and were soon riding down bumpy roads, past green farmland. The wind whipped our hair around, but we shouted out our stories of Central America.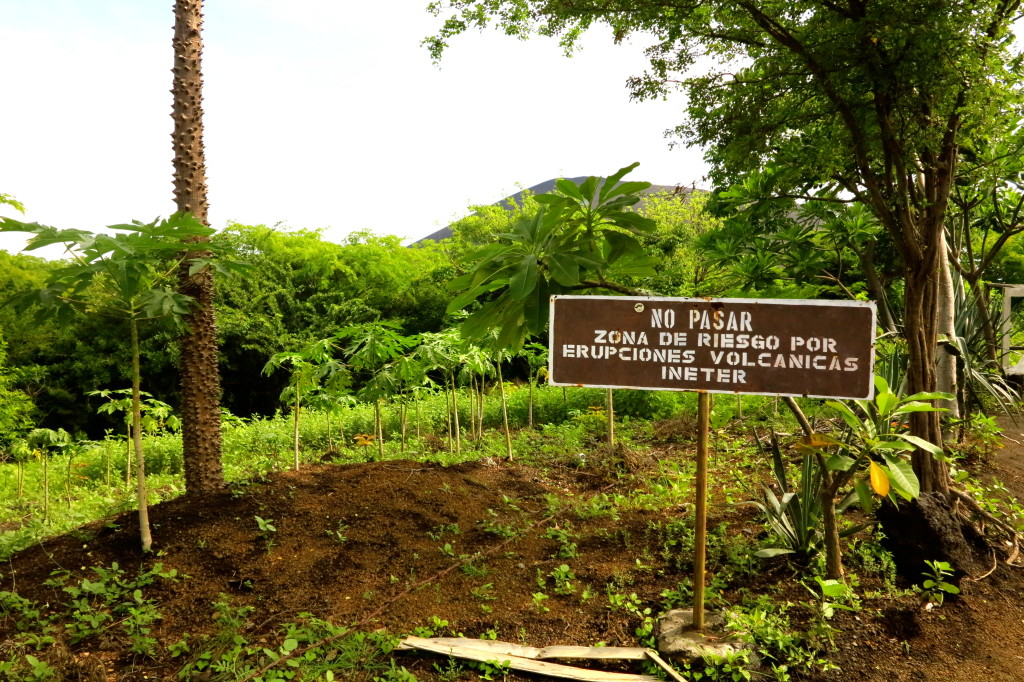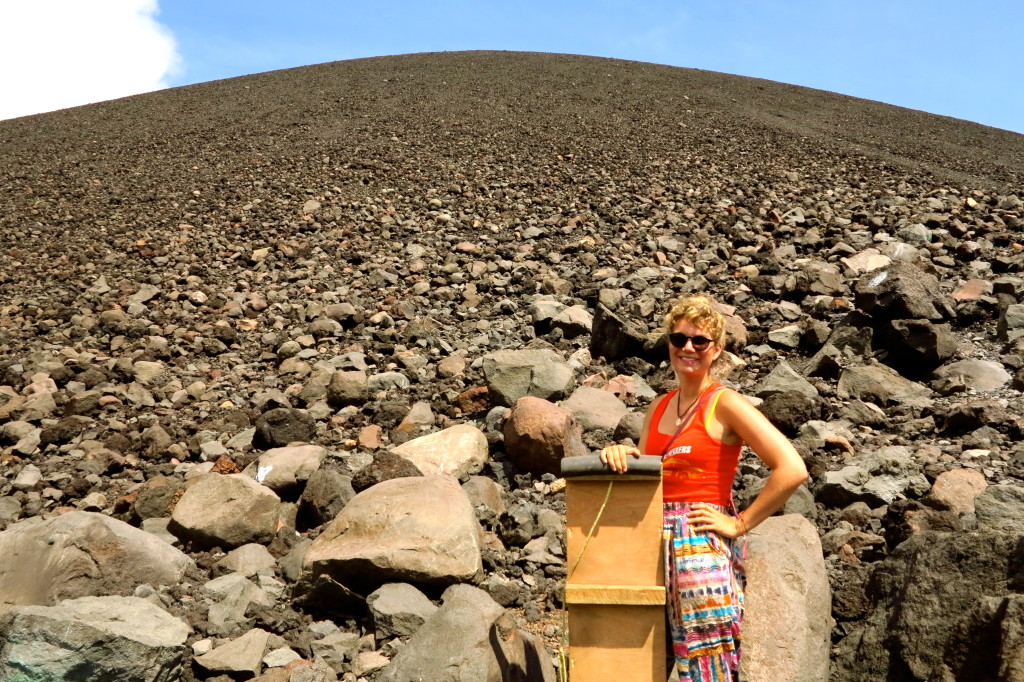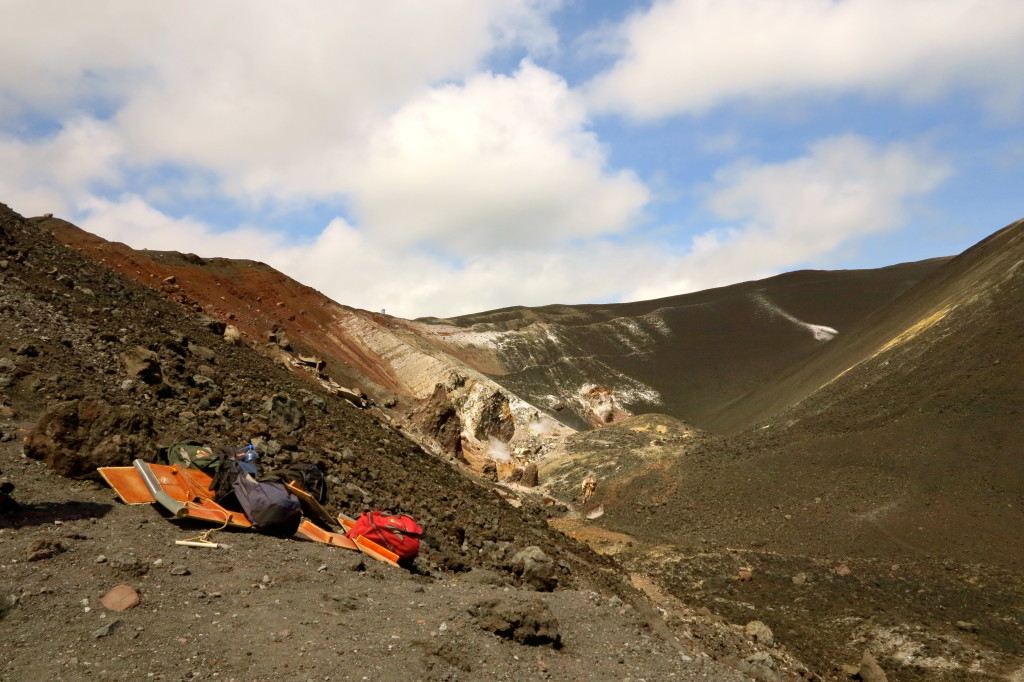 When we reached Cerro Negro, we were each given a small pack to carry, as well as our board. Inside the pack was our jumpsuit, goggles, gloves, and water, and later we could put our cameras inside as we boarded. The hike would last over an hour as we walked up the black volcano, rocks jutting this way and that, once in a while a strong smell of sulphur hitting us. Our guide told us the history of the volcano and the Maribios range around it, pointing out the Pacific Ocean not too far in the distance. While the hike was made difficult by the awkwardness of the board, it was manageable, and the views were stunning.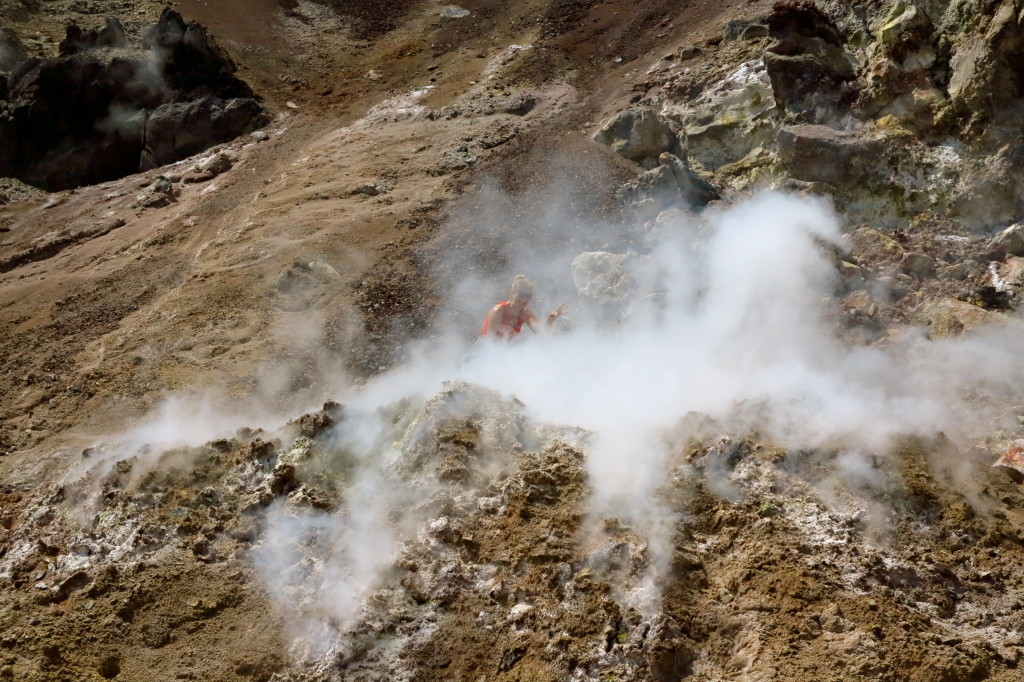 "Oh hey, go pose in that giant sulphur cloud! It will make a great photo!" (cue nearly dying of coughing and watering eyes)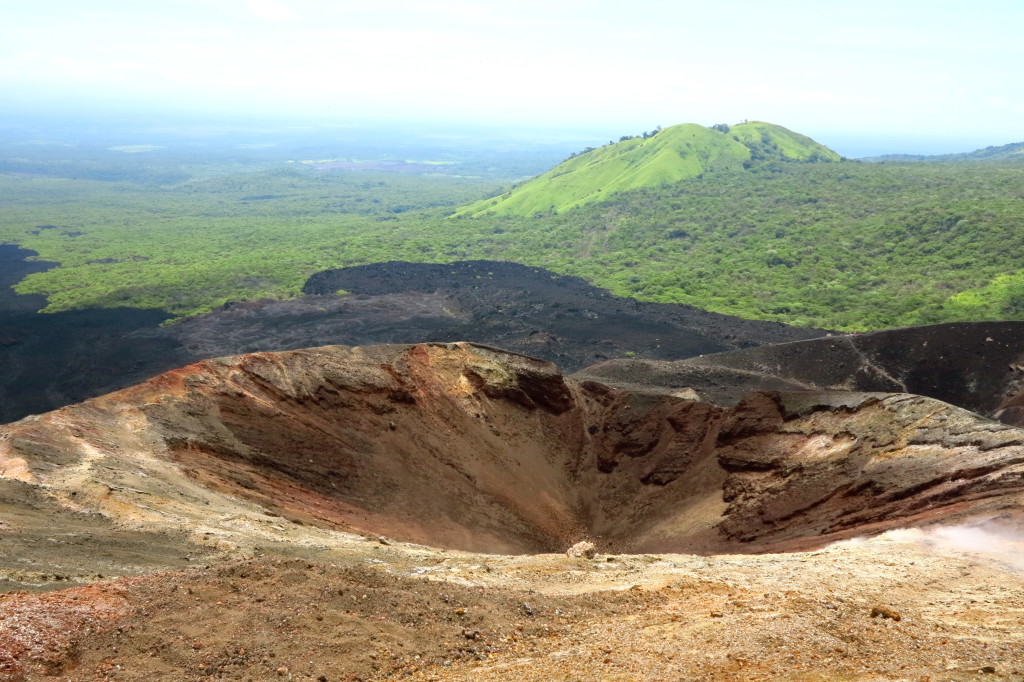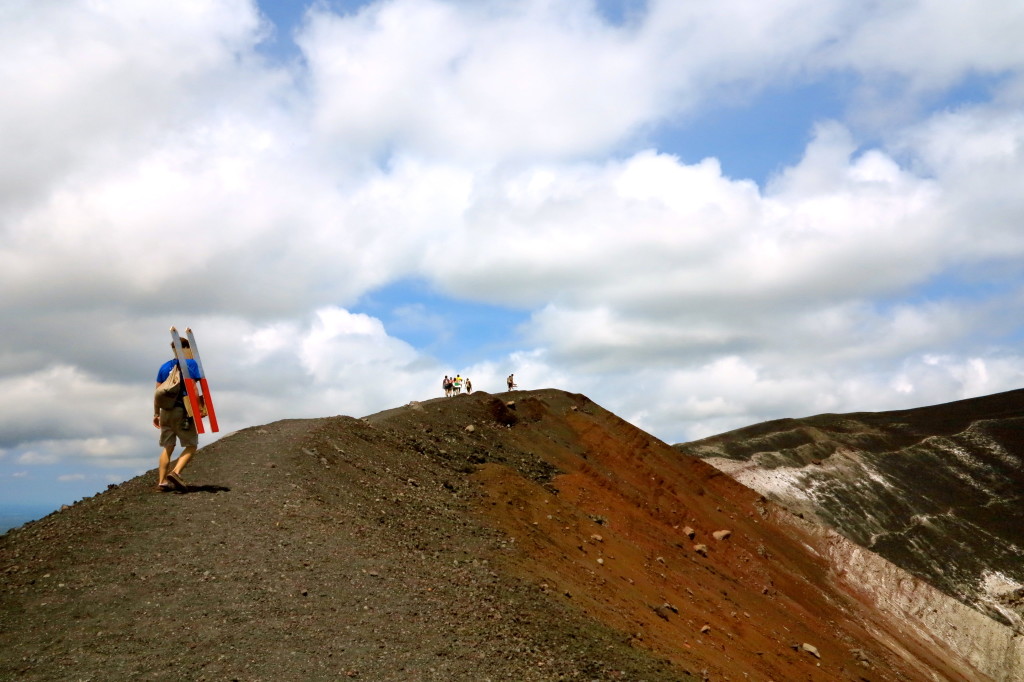 We walked along the ridge of a crater, finally reaching our end goal: a 45 degree slope of black volcanic rock, fine enough to slide down. We all geared up, pulling on our obnoxiously bright jumpsuits. Suddenly, clinging to the side of the volcano, tobogganing down it seemed like a very dumb idea. There was no turning back now, though.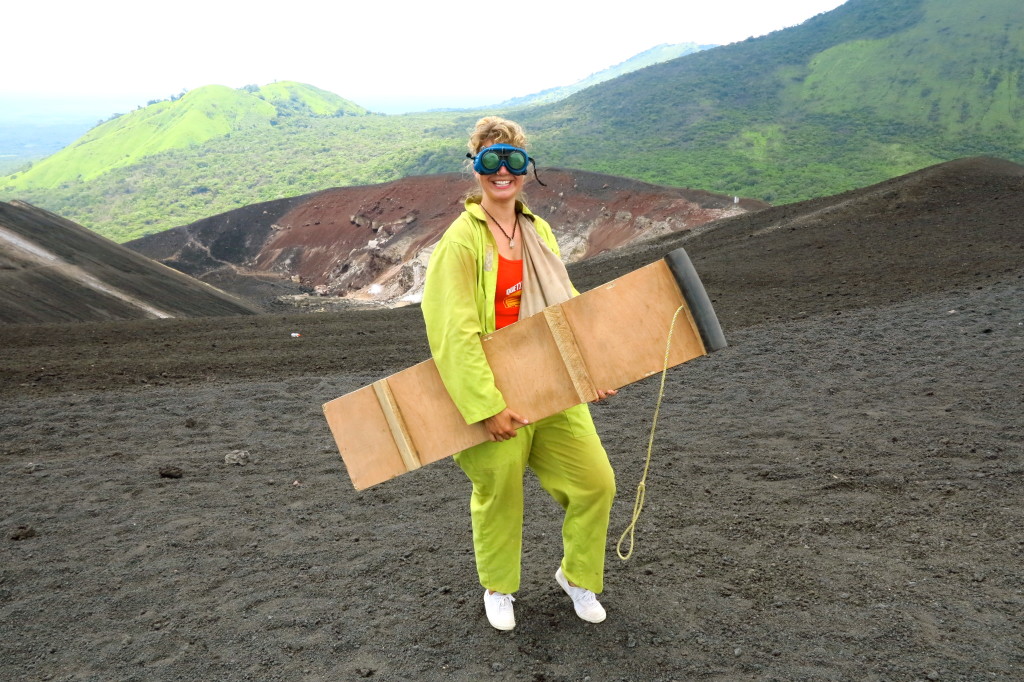 I swear this look will be all the rage one day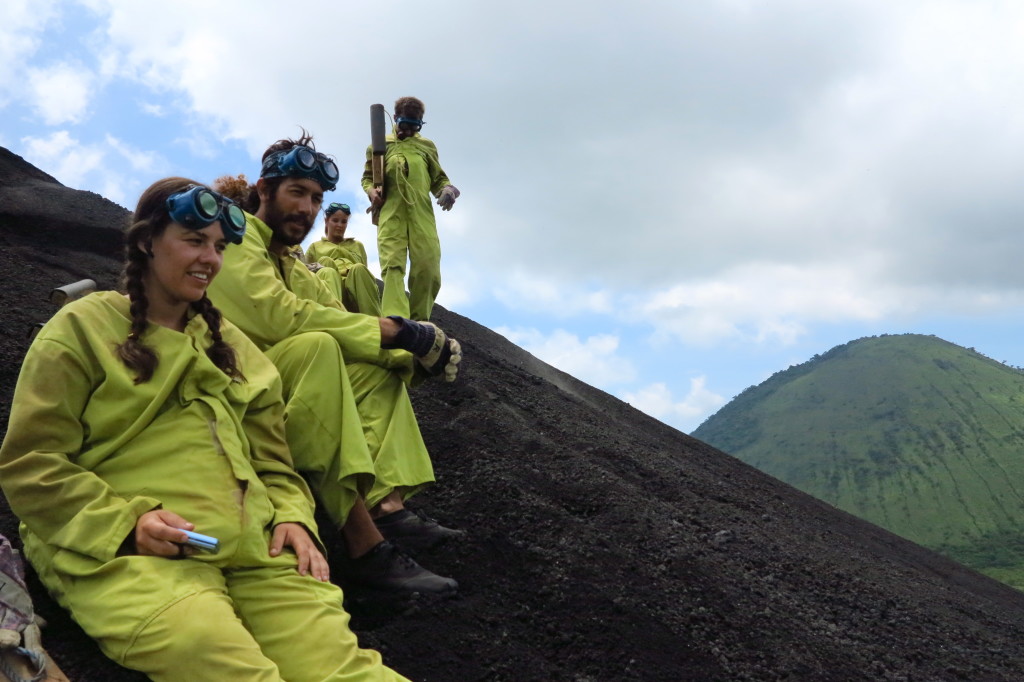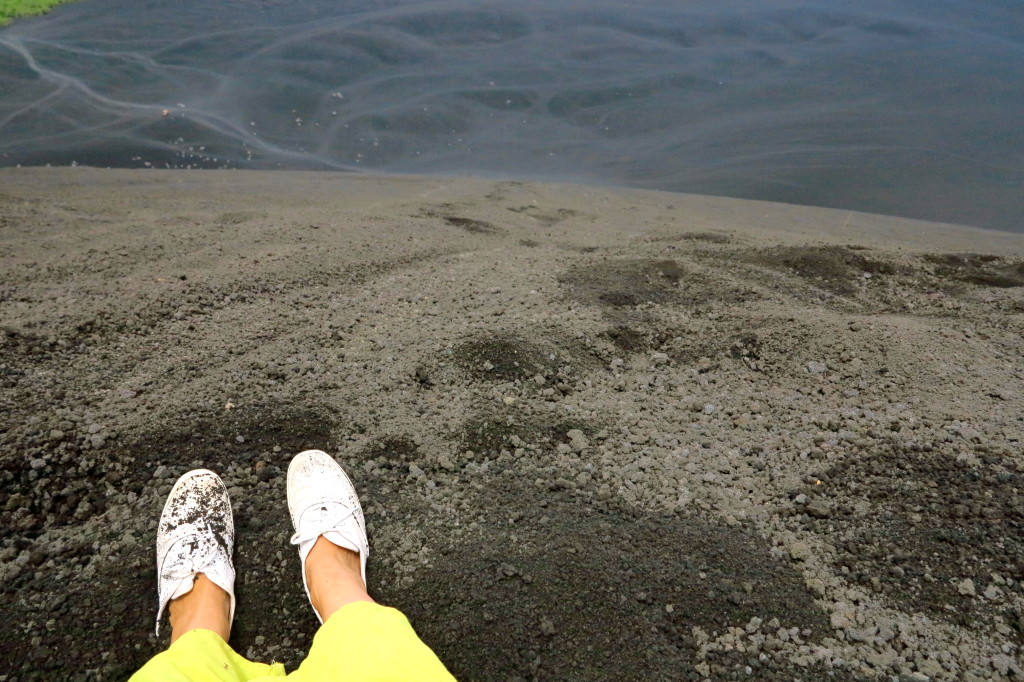 One by one we slid down, leaning back in our sleds to be as streamlined as possible. I swallowed my fears and pushed off. It really was like tobogganing, and I found myself whooping and laughing as I raced down the volcano. Despite a small tumble (which didn't hurt at all, thanks to the fine texture of the volcano's surface and to the jumpsuit), I arrived at the bottom full of adrenaline. I didn't even come close to 100 kilometres per hour, but it was exhilarating.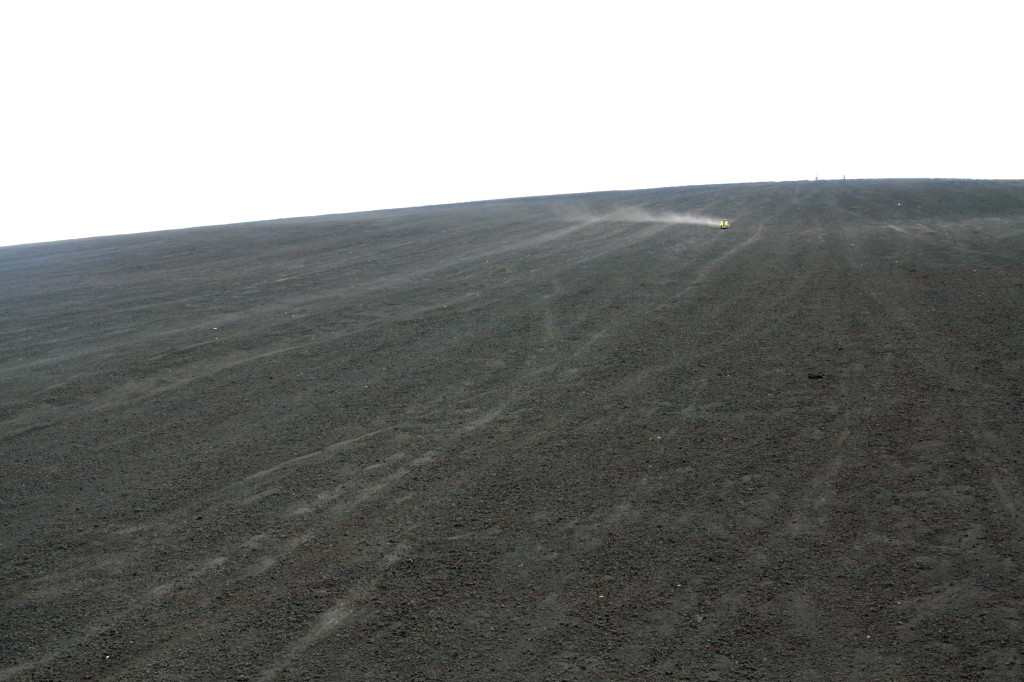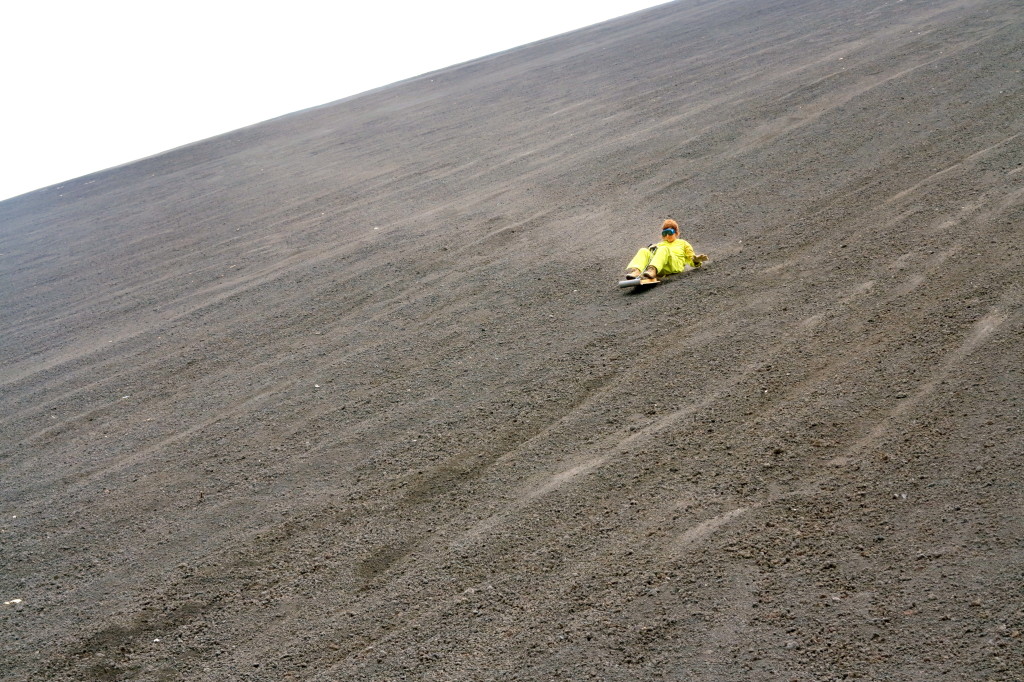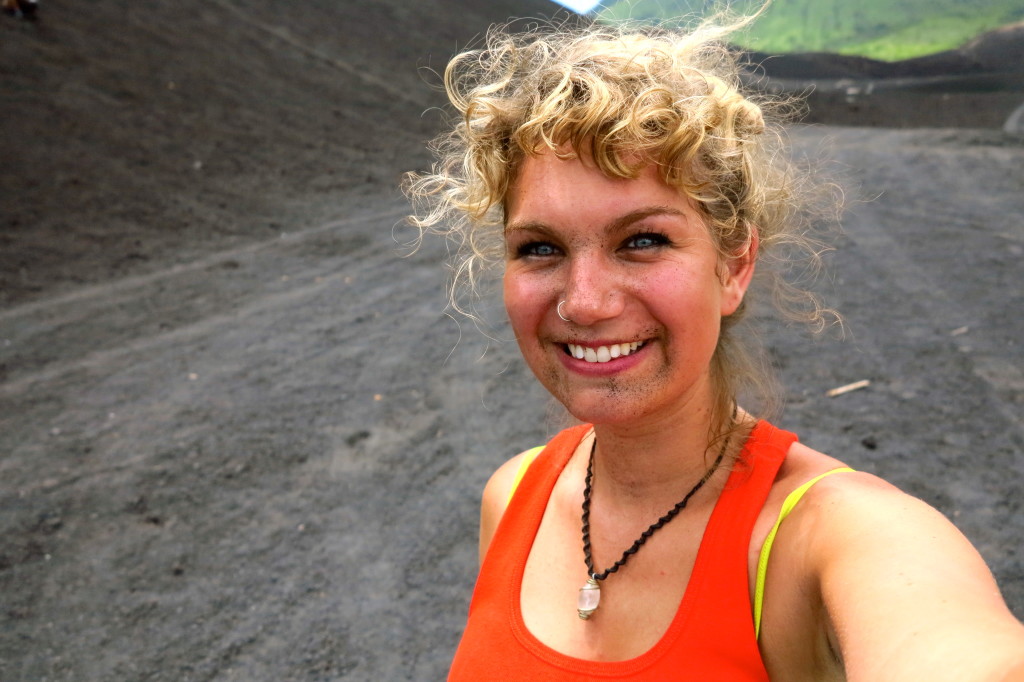 Can you believe it boys? I'm single (she says, picking volcanic ash from her teeth)
We were given the option of hiking the volcano again for round two; Chelley and I decided to take the other option, that is, lay in hammocks, look at iguanas, and eat cookies. While I would have loved to try my hand at volcano boarding again, the hour-long hike to get there deterred me (for those who haven't figured it out from my blog yet, I am supremely lazy when it comes to anything involving the word "hike"). We rounded out the afternoon with vegetarian burritos and more great conversation.
All told, it was a terrific day. I made a few friends, got to see a side of Nicaragua I didn't know existed, and earned the right to say I boarded down a volcano. If you are ever in León, or are looking for a fun activity to try in Central America, I definitely recommend volcano boarding with Quetzaltrekkers. Not only do you get an exciting day out of it, you give back to the community. And really, how can travelling get any better than that?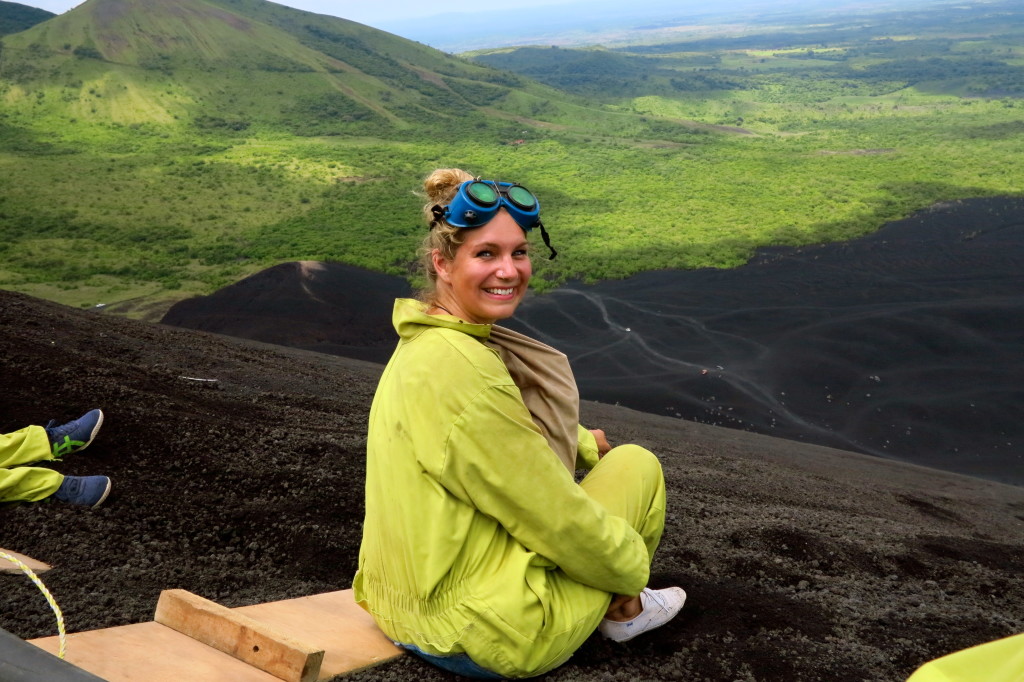 Would you be interested in volcano boarding? 
As always, if anything is ever compensated I will disclose that information. I paid for this experience out of my own pocket, and was happy to donate to such an awesome organisation.