Please note: my time on the Amalfi Coast in Italy was part of a paid campaign with Club Adventures, but all opinions are my own. For more information about my time on the tour, click here, and to see exactly which tour I took with Club Adventures, click here! (All links on this page, as always, open in a new window so you can return to them after reading this post)
If you know me and you know this blog, you know that I don't write articles like this very often. "Things to do" lists are not in my usual repertoire on my personal blog. But once in a while, a place comes along that is so amazing, so instantly special to me, that I can't wait to share it.
Most recently, that place was the town of Amalfi, Italy.
Before I get into things to do in Amalfi, I will admit two things, neither of which I'm very proud of. The first is that I didn't even know that there was a town of Amalfi until a few months before visiting. I knew of the Amalfi Coast, of course, but I didn't realize there was a town called Amalfi, too.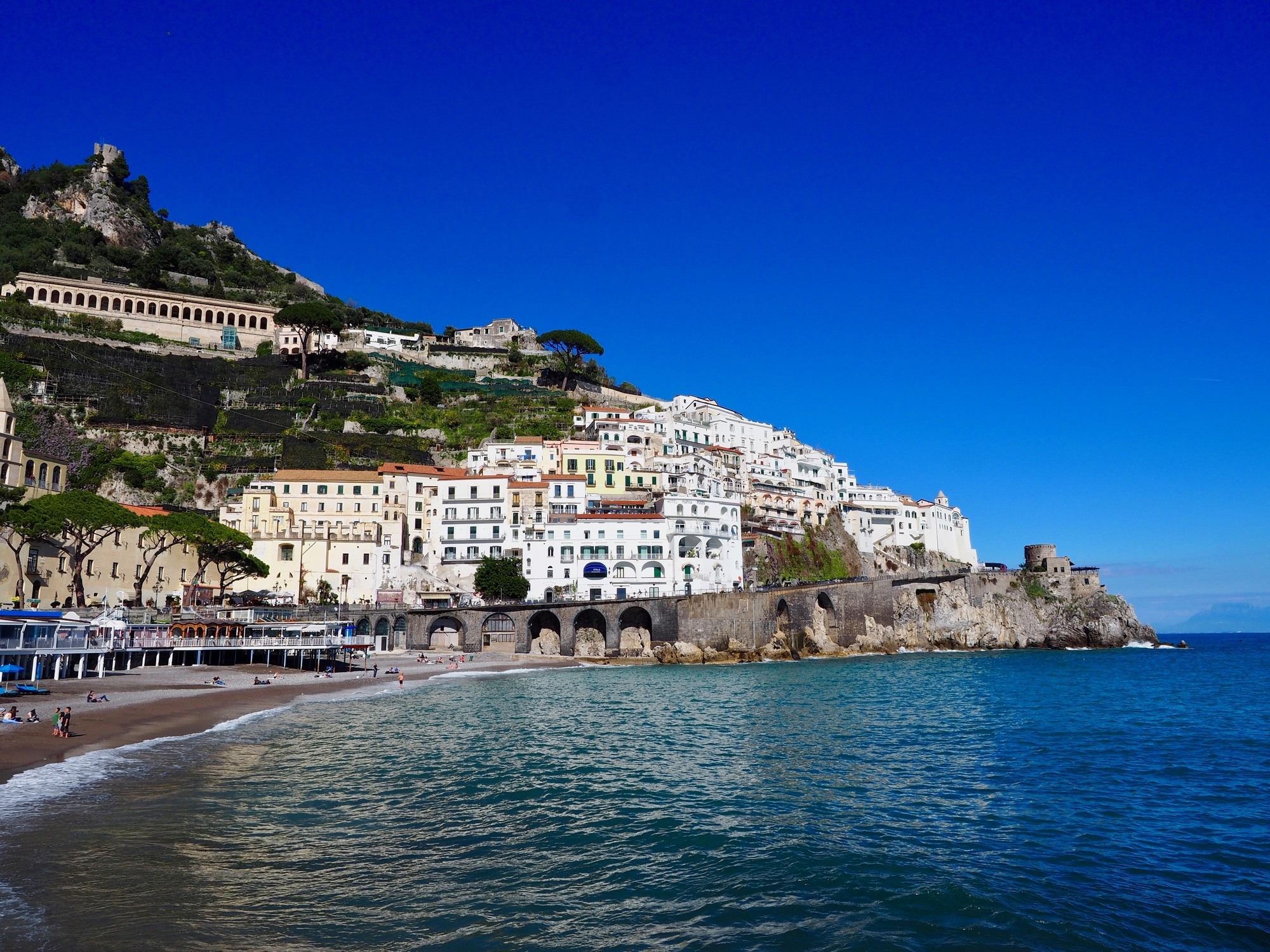 The second is that, when I read my tour's itinerary, I was a little bit disappointed we weren't staying in Positano for our time on the Amalfi Coast. Positano is the town that arguably gets featured the most when it comes to coverage of the Amalfi Coast; I had long seen photos of its colourful houses branching up from a gorgeous beach.
By the end of my stay in Amalfi, however, I could definitively say this: I am SO glad we stayed in Amalfi and not Positano. And for a town I didn't even know existed a few months ago, it has now become one of my very favourite places in Italy.
As I've now been to Italy 14 times, I figured it was about time to start sharing some of what I've learned from those visits here on the blog. While I was in Amalfi on a tour, the beauty of the Club Adventures tour I was part of was that we had tons of free time to explore on our own if we wanted. I was in Amalfi for three nights, but you could easily extend that to a full week if you wanted to.
So without further ado, here are the best things to do in the town of Amalfi, Italy.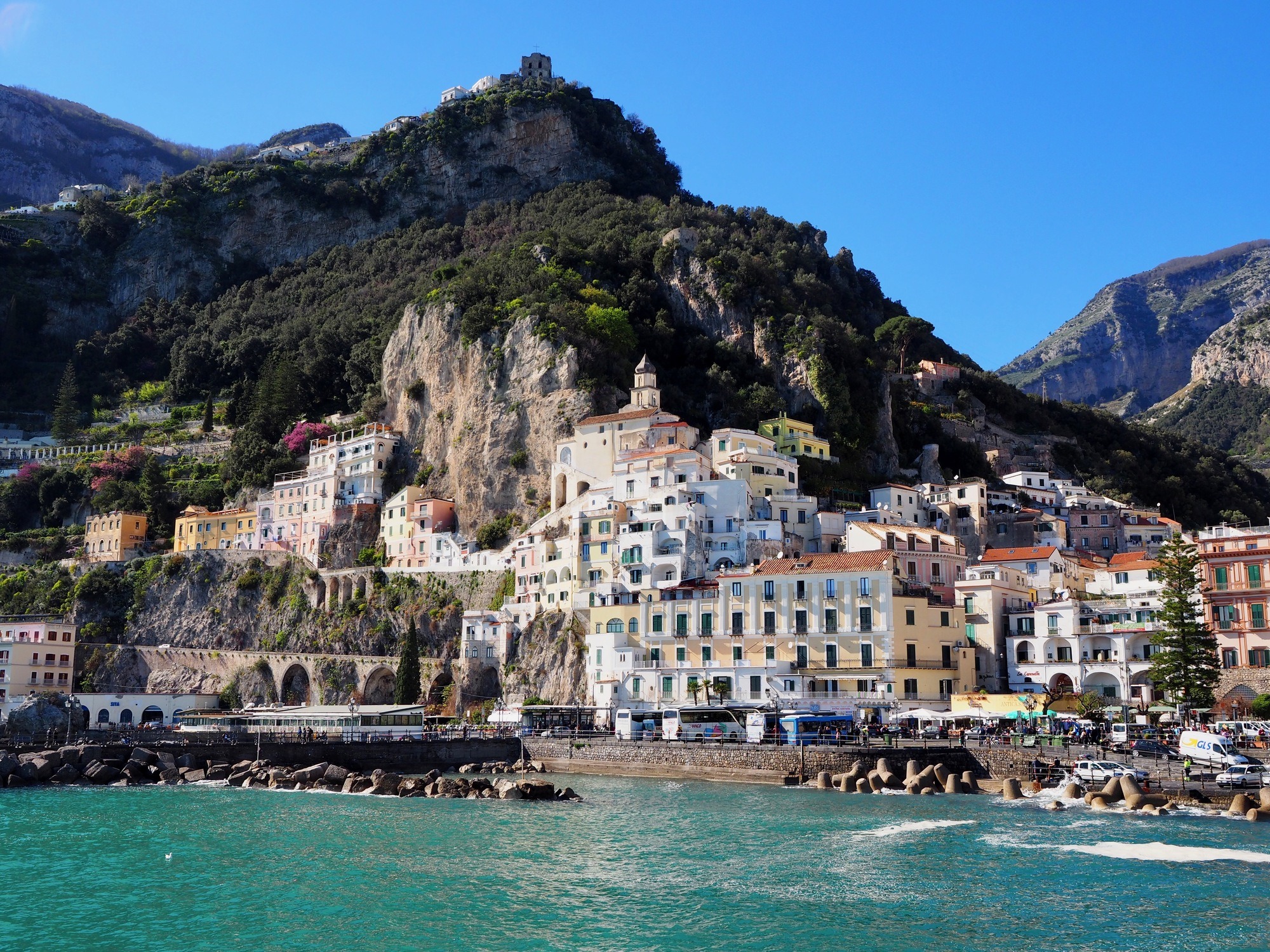 Things to Do in the Town of Amalfi, Italy
1. Relax on the beach
There is nothing, and I mean nothing, like a summer's day on the beach in Italy. Thankfully, the Amalfi Coast has plenty of beautiful beaches to choose from, and that includes Amalfi's beach. With stunning views of the town behind you, the blue waters of the Gulf of Salerno are the perfect way to cool off on a hot Italian day. Even if you're visiting in low or shoulder season and don't feel like going for a swim, the beach is still a sight to behold.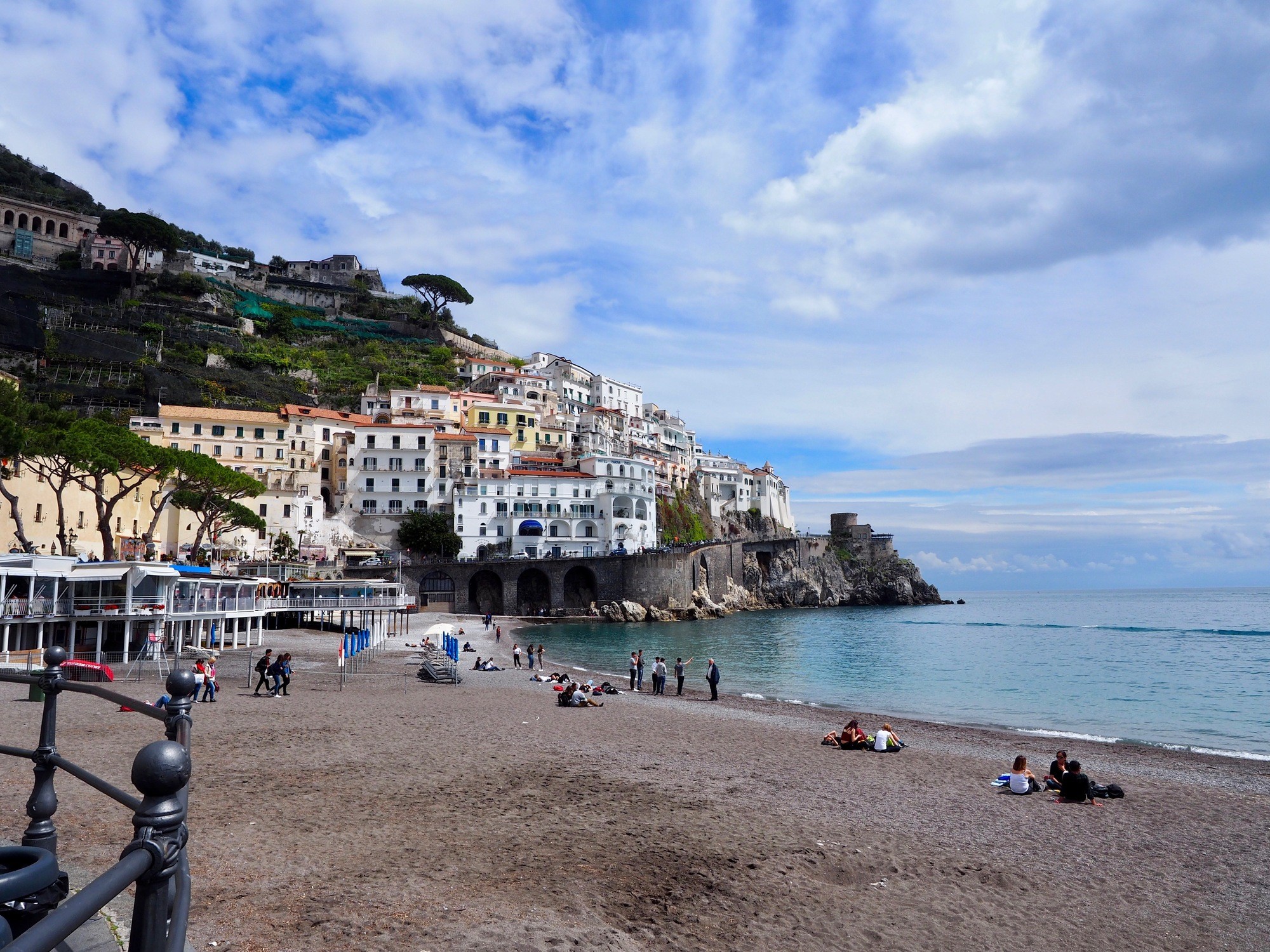 2. Take to the water
While ferrying is the easiest way to get around the Amalfi Coast (more on that in a minute), there are also the options of taking a boat tour and/or a kayak tour from Amalfi. The Amalfi Coast is so gorgeous that you'll want to see it from every angle; from land, yes, but there's nothing like seeing it in all its glory from the sea.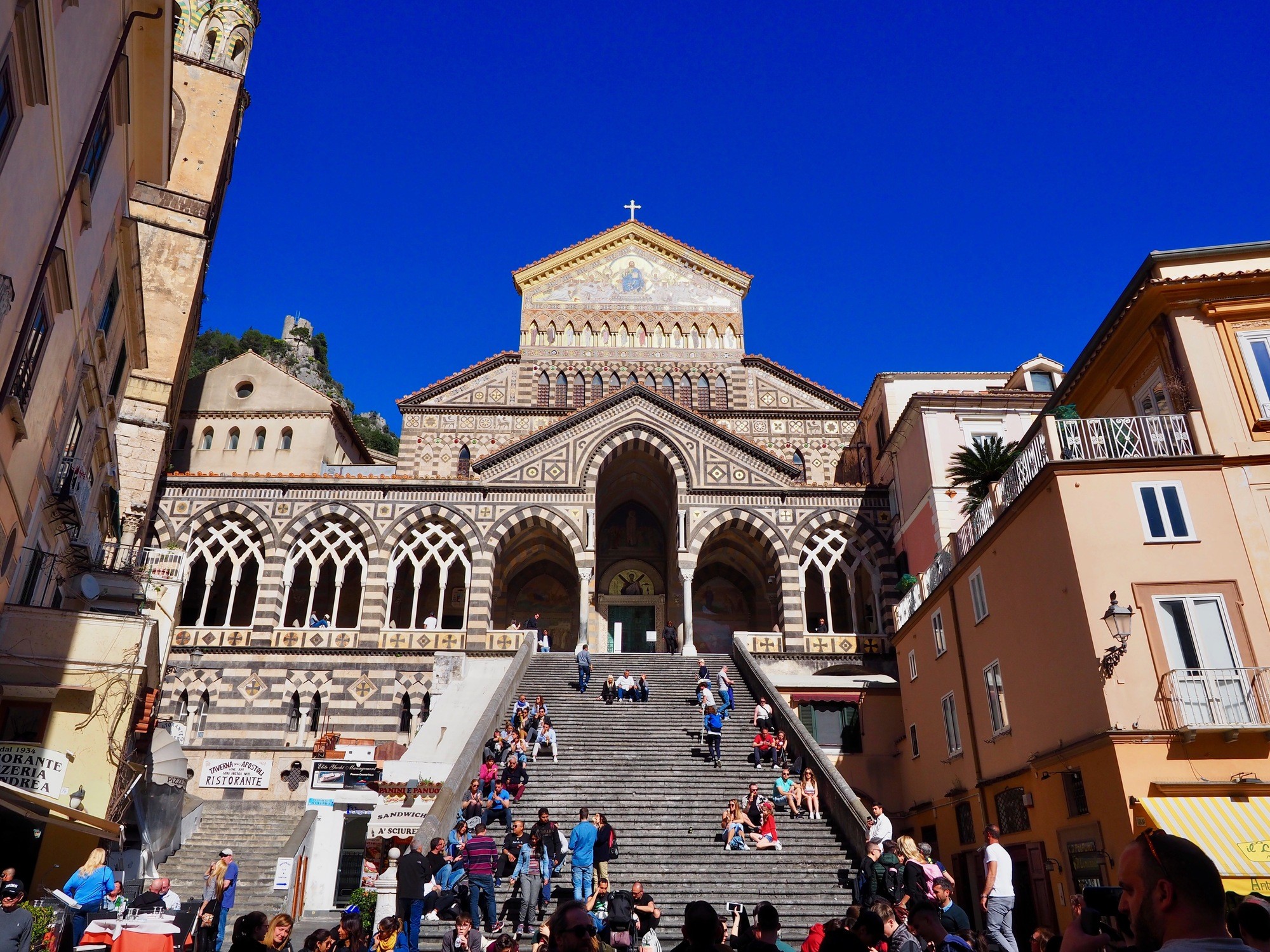 3. Visit the Amalfi Cathedral
Trust me… you can't miss this cathedral. Smack dab in the middle of the town, you might see its stairs before you notice anything else, and its bell tower is sure to inspire a photo or two (or, if you're like me, 326 photos). While it has been added to and renovated many times, the cathedral's roots stretch all the way back to the 9th century. It's only three euros to enter, and included in that fee is access to the crypts below as well as the lovely Cloister of Paradise, an Arabic-style courtyard filled with palms and other greenery.
4. Shop on Ruga Nova Mercatorum
Amalfi's main street, Ruga Nova Mercatorum, is impossible to miss. Leading up from the water and past the cathedral, this bustling street is filled with dozens of souvenir shops, restaurants, and cafés. While it won't take you long to walk its main tourist drag, I was able to find quite a few little shops with gifts to take home.
5. Book a wine tour
If you think I got into travel writing so that I could sample alcohol around the world and get paid for it… you're right. Thankfully, the Amalfi Coast has an abundance of delicious wines and liquors to taste. I personally got to do a wine tasting at Tenuta San Francesco winery, which is about a half hour drive from Amalfi in Tramonti and absolutely worth the voyage.
6. Hike the Path of the Gods
The Path of the Gods, or Sentiero degli Dei, doesn't pass through the town of Amalfi. However, as it was one of the best things I did on the Amalfi Coast, I had to include it in the list; it's also a great time to point out that the town of Amalfi is an amazing base for exploring the rest of the coast.
From the town of Amalfi, you can take the bus to Bomerano (make sure to get to the bus early, as it fills up quickly). From here, you walk/hike approximately two to three hours to Nocelle, where you can either continue walking or take the bus to Positano. The hike itself is fairly easy, although there are some steep bits; you definitely want to be wearing proper hiking shoes or running shoes (I wore my gym shoes). I want to dedicate an entire blog post to this route – it really is that unbelievably beautiful – but I highly recommend the hike for the best views of the Amalfi Coast.
7. Take the ferry to Positano
As I mentioned at the start of this post, I thought I'd be disappointed that I wasn't spending three nights in Positano. Every time I had researched the Amalfi Coast, the image of Positano and its gorgeous beach popped up. It was all over Instagram. I stupidly believed I needed to stay in Positano to have the full Amalfi Coast experience.
Well.
As you can tell by this post, I was wrong. I personally much preferred the town of Amalfi over Positano – at least to stay in – as I felt that Positano was quite busy and touristy. That's the cycle of travel destinations, of course… a place becomes popular on social media, so then even more people visit, meaning even more people post about it on social media… and so on.
That being said, Positano is DEFINITELY worth visiting for a day. Whether you first spot the town from the road above or from the water, it makes for an unbelievable view. My recommendation is to take the ferry from Amalfi to Positano (7 euros one way) so that you get to take in the views from the water, or to incorporate an afternoon in Positano with a hike of the Path of the Gods (see above) and then take the ferry back to Amalfi.
In terms of what to do in Positano, it really does include more of la dolce vita… relax on the beach, eat some delicious seafood, drink a lemon spritz or two, and splurge at a few shops. Just don't forget to post about it on Instagram, of course. Hah.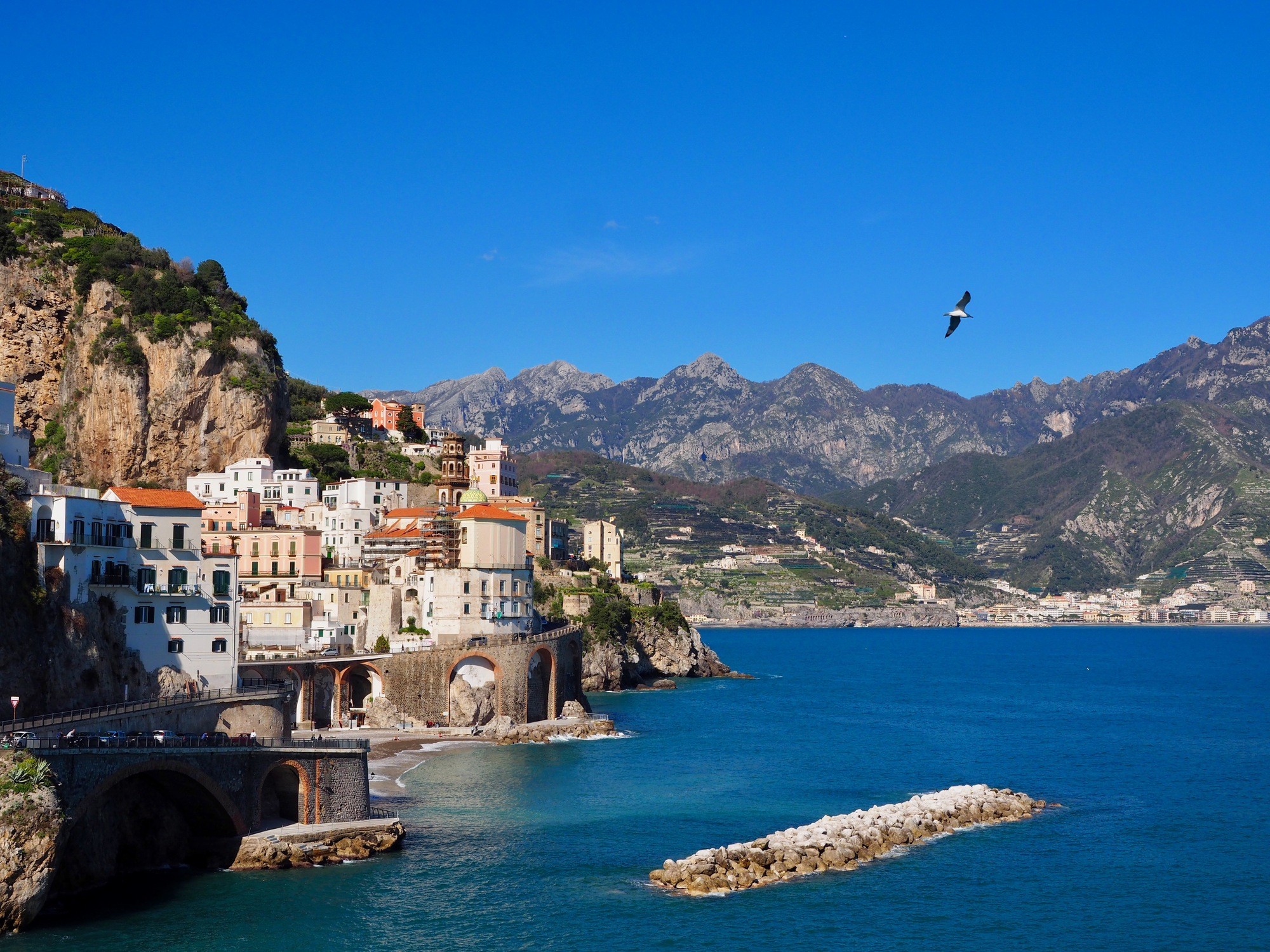 8. Take the bus to Ravello
This is something that I didn't have time to do while I was in Amalfi, but I so wish that I had done. I've heard the views from Ravello are absolutely incredible, and that it's a lovely little town to boot. I'll have to return to Amalfi so that I can add my recommendations here!
9. Walk the Path of the Lemons
Another thing I absolutely would do on my next visit to Amalfi would be the Path of the Lemons, which connects the town of Maiori to nearby Minori (or vice versa). After taking the bus to Maiori, this path is the perfect way to spend a morning, and apparently affords stunning views to the sea. You'll also get your fill of all the lemon trees you can possibly imagine.
Something that may affect which route you take: if you start in Maiori, you'll spend most of your time climbing down stairs to Minori. If you start in Minori, well… be prepared to climb for those views!
10. Try a lemon spritz
For all the times I've been to Italy, I had no idea that lemon spritzes existed. As I'm a huge fan of the Aperol spritz, I would almost always just order that as my aperitivo drink of choice. It makes sense, though, seeing as limoncello is so popular on the Amalfi Coast, that there would be more than one way to drink it (limoncello is usually served chilled after dinner as a digestivo).
A lemon spritz is essentially Prosecco and limoncello served over ice, and it is absolutely delicious. And while I am all for being active on holidays, and trying to see as much of a place as I can, there's something about spending a few hours sitting in a little square, enjoying a good drink, and just letting the world go by. I can highly recommend doing that in Amalfi; the main square overlooks the Amalfi Cathedral, and while the lemon spritzes are expensive (approximately 10 euros), you get a fantastic view and a chance to soak up all of that dolce vita.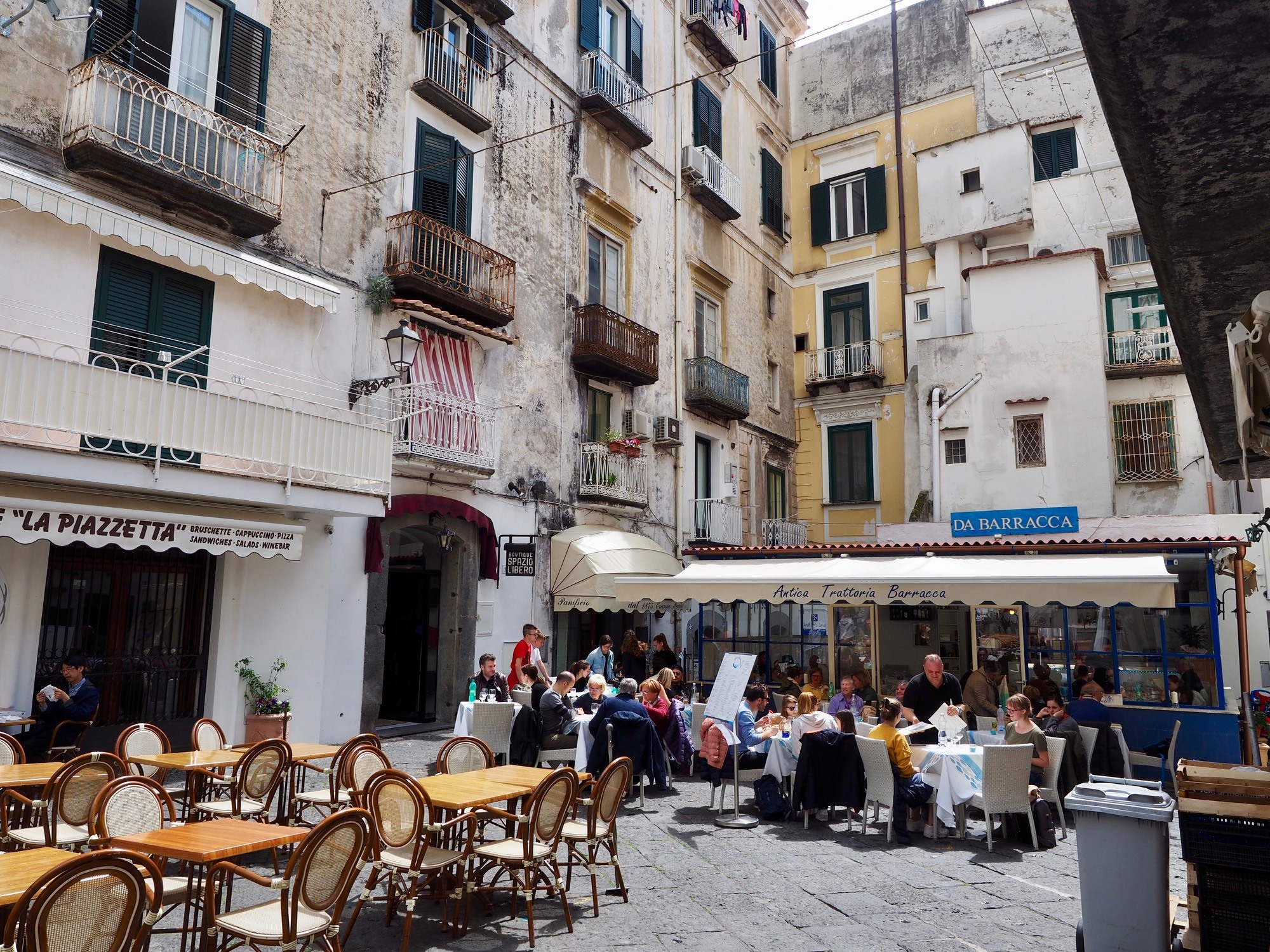 11. Eat
Um, yeah, you best believe you're going to have some of the best meals of your life while in Italy. I may be biased – Italian food is my very favourite cuisine – but I had some incredible meals in Amalfi. As you're beside the sea, expect lots of fresh seafood, but there are also many Italian staples on the menus.
My favourite restaurant was La taverna di Masaniello, where I was able to try freshly made pasta, but there are tons of amazing restaurants in Amalfi. Just make sure to end the night with a lemon gelato!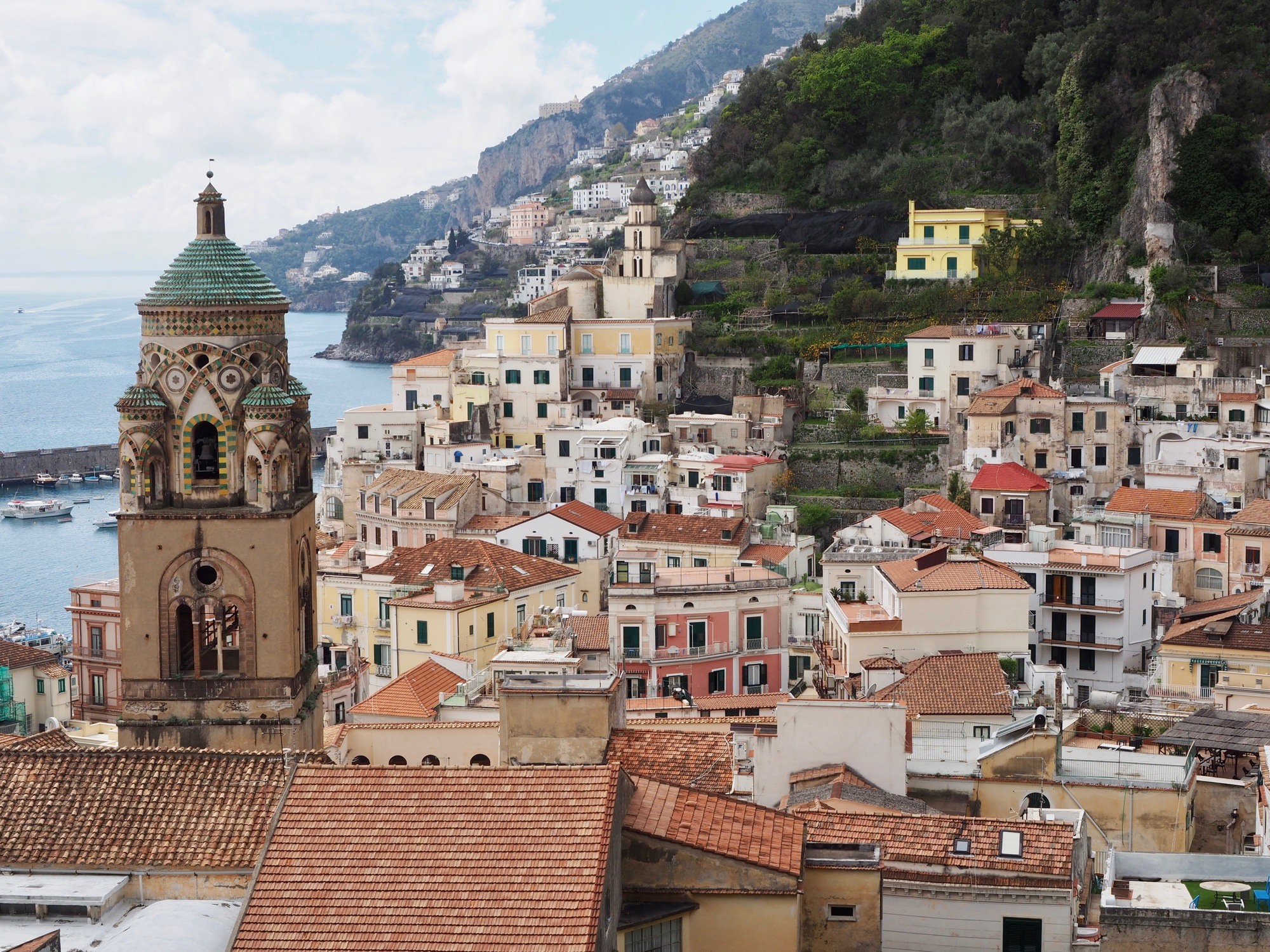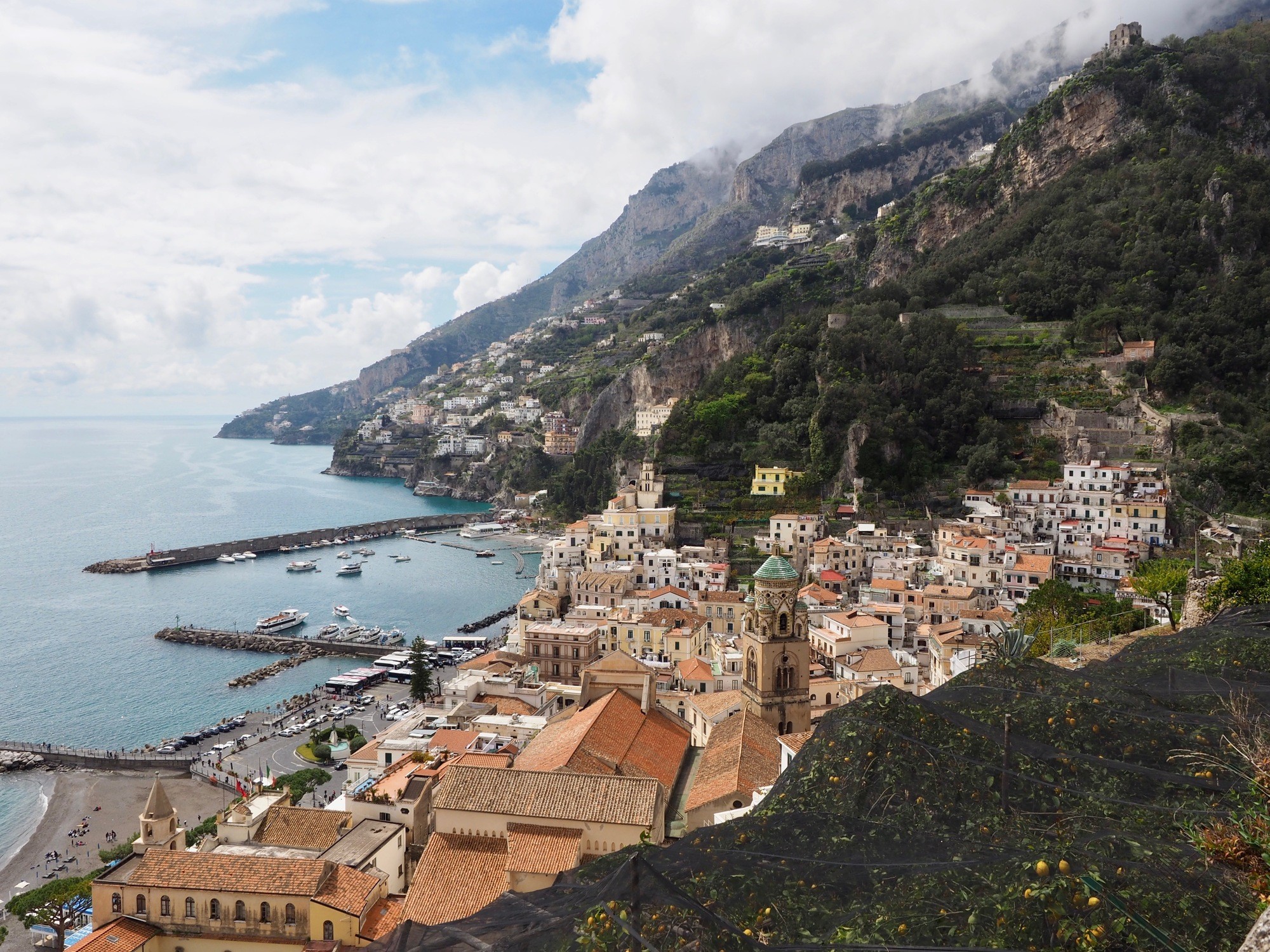 12. Enjoy the view over Amalfi
While Positano may get a lot of love on Instagram, I personally believed the very best view on the Amalfi Coast is looking down over Amalfi. 10-15 minutes of stairs (or a public elevator, if you're so inclined) takes you up to the Amalfi Cemetery. From there, you have the town of Amalfi to yourself: the colourful houses and cathedrals, the glistening sea, the smatterings of lemon trees. If you happen to be there at noon on a Sunday, you'll experience the magic of all of the church bells ringing around the town at once.
Either way, I can promise you: this view will make you fall in love with the town of Amalfi. And if you're anything like me, you'll begin planning your next visit back immediately.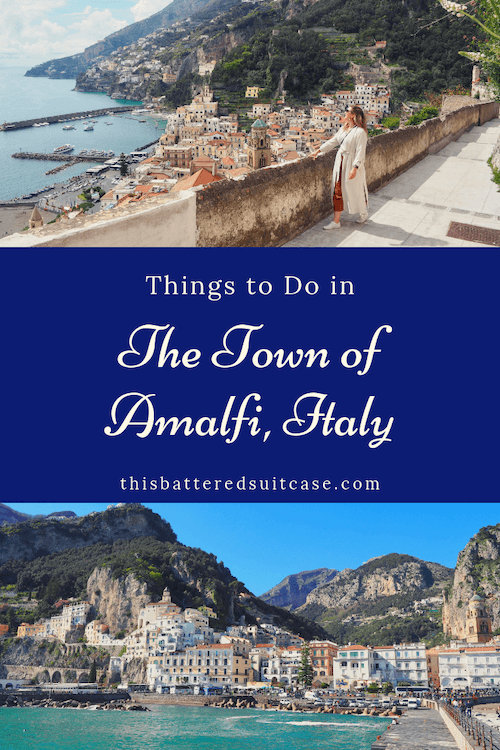 Have you been to Amalfi? What would you add to the list?
Once again, thank you to Club Adventures for this magnificent tour of the Amalfi Coast!