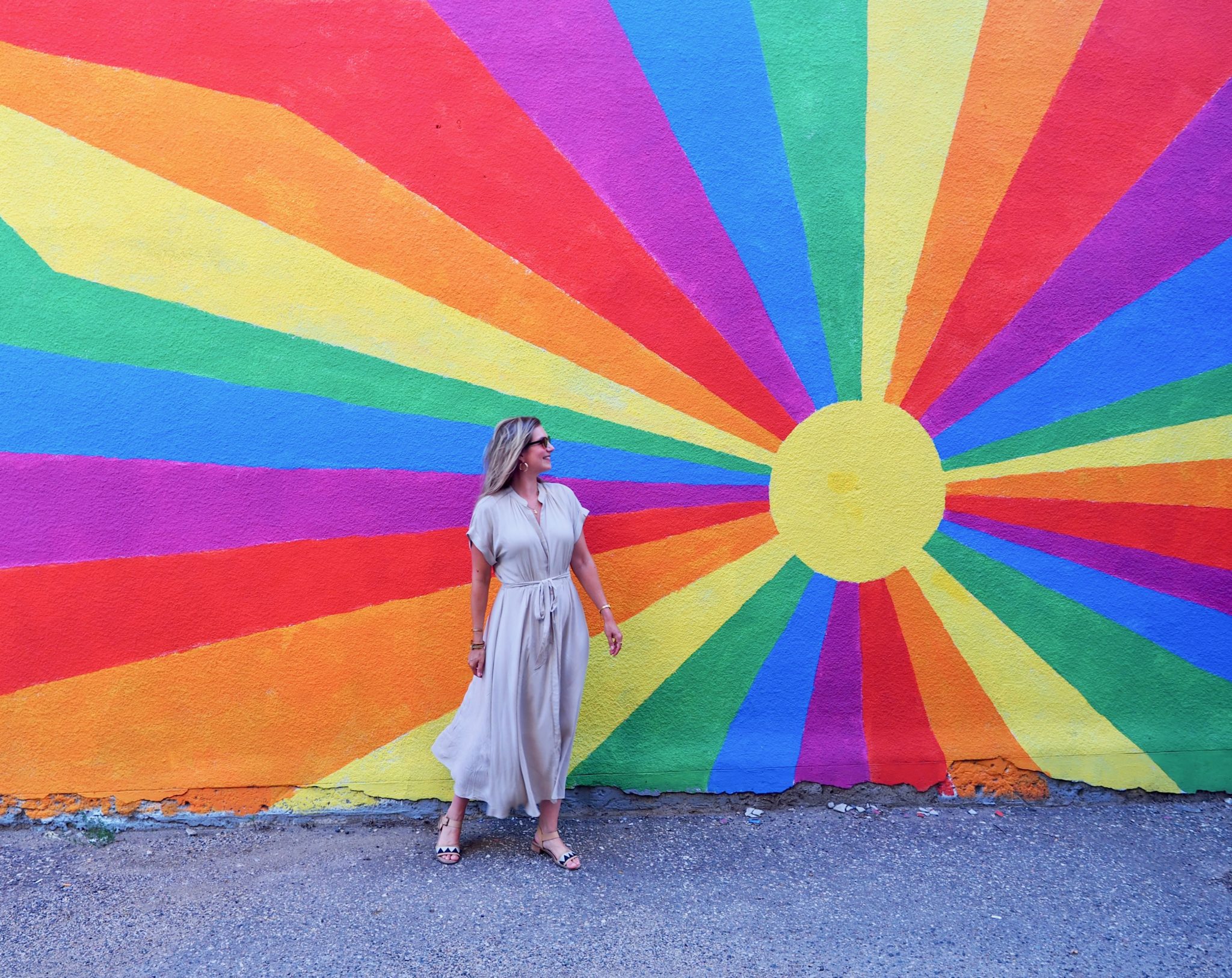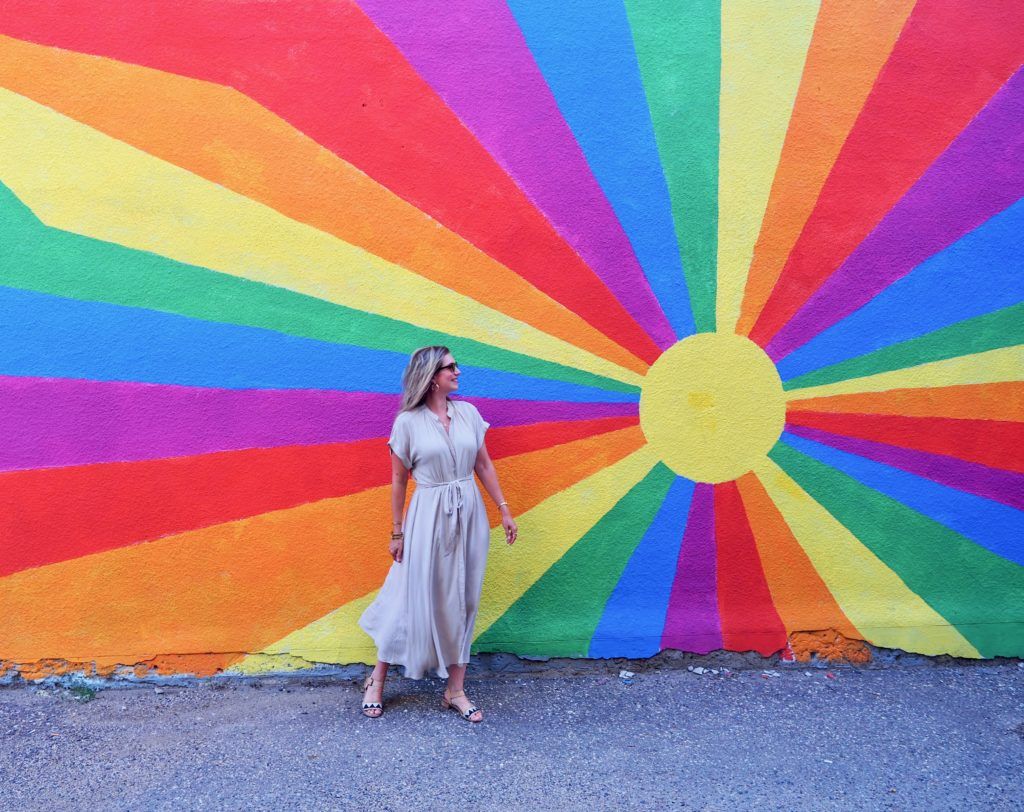 Even without the chaos of 2020, this year was always going to be about sticking close to home for me. After five weeks in Europe last year, I realized those kinds of trips no longer really appealed; with my home, my dog, my family, and my friends all in Winnipeg, Canada, I knew I wanted to focus more on shorter, more local trips.
Not only that, I was starting to feel as though I had severely neglected my own home province for far too long. I left Manitoba at 18 and, despite travelling to over 100 countries, I had never really explored the prairie province where I grew up.
I decided 2020 was it. 2020 was finally the year when I would see all that Manitoba has to offer, see just how much there is to do in my own backyard. I wanted to explore as much as I could – for reference, Manitoba is roughly the size of France, and approximately twice the size of Italy – and support as many local businesses and establishments as possible.
Little could I have imagined that 2020 would be the year that all of us would be looking inward, be looking to travel locally. And little could I have imagined just how quickly and how deeply I'd fall in love with this beautiful province I now happily call home.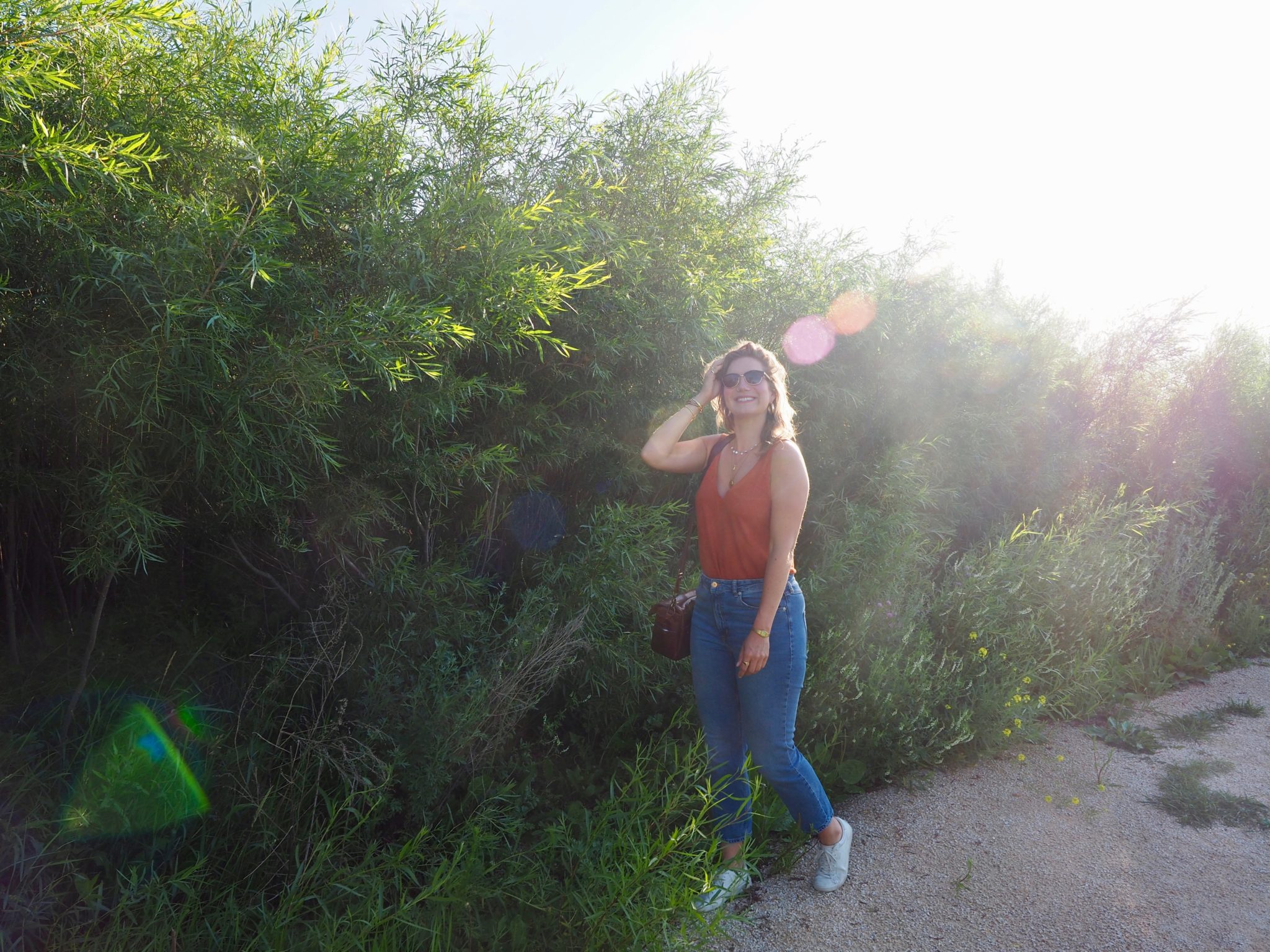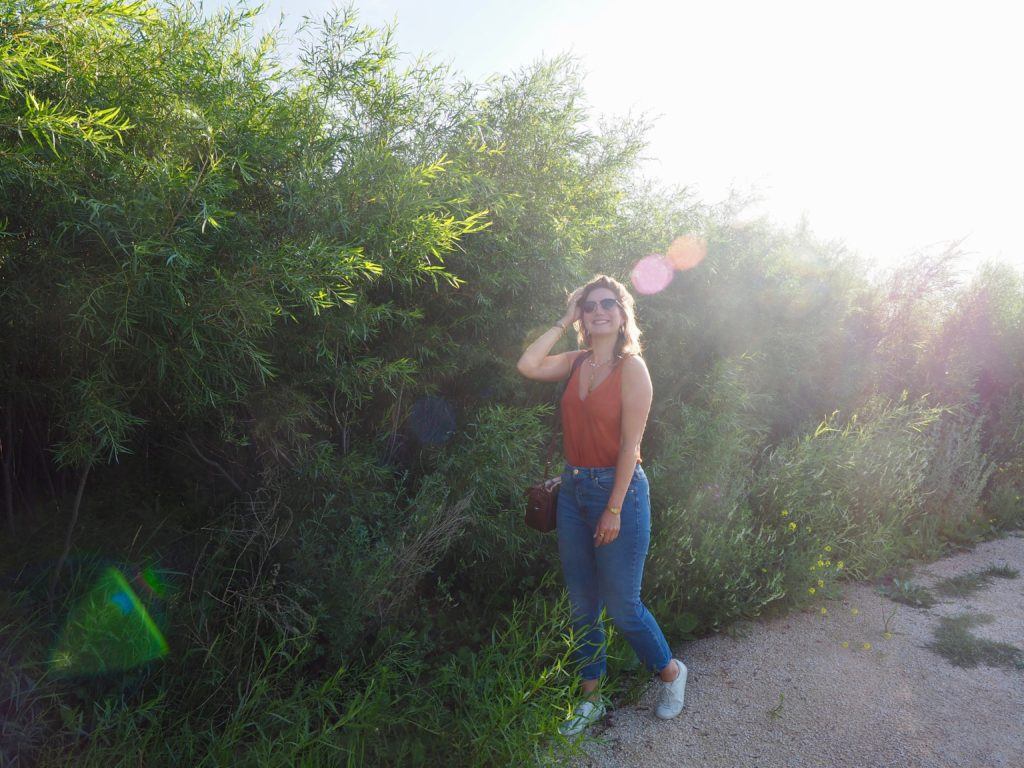 Despite a few day trips for beaches, hikes, and provincial parks, my first real Manitoba holiday this year was a trip to Brandon. Manitoba's second largest city, Brandon is found approximately 200 kilometres west of Winnipeg, about a two hour drive. My anticipation grew as my boyfriend and I approached Brandon; surrounded by canola fields and endless blue skies, I was so excited to see what Brandon had to offer.
And after spending three days exploring Brandon, here's what I found. Without further ado, here are the best things to do in Brandon, Manitoba.
I would like to acknowledge and honour that Brandon is located on Treaty 2, the traditional shared land of Cree, Oji-Cree, Dakota, Anishinaabe, and Dene peoples, as well as the homeland of the Métis Nation.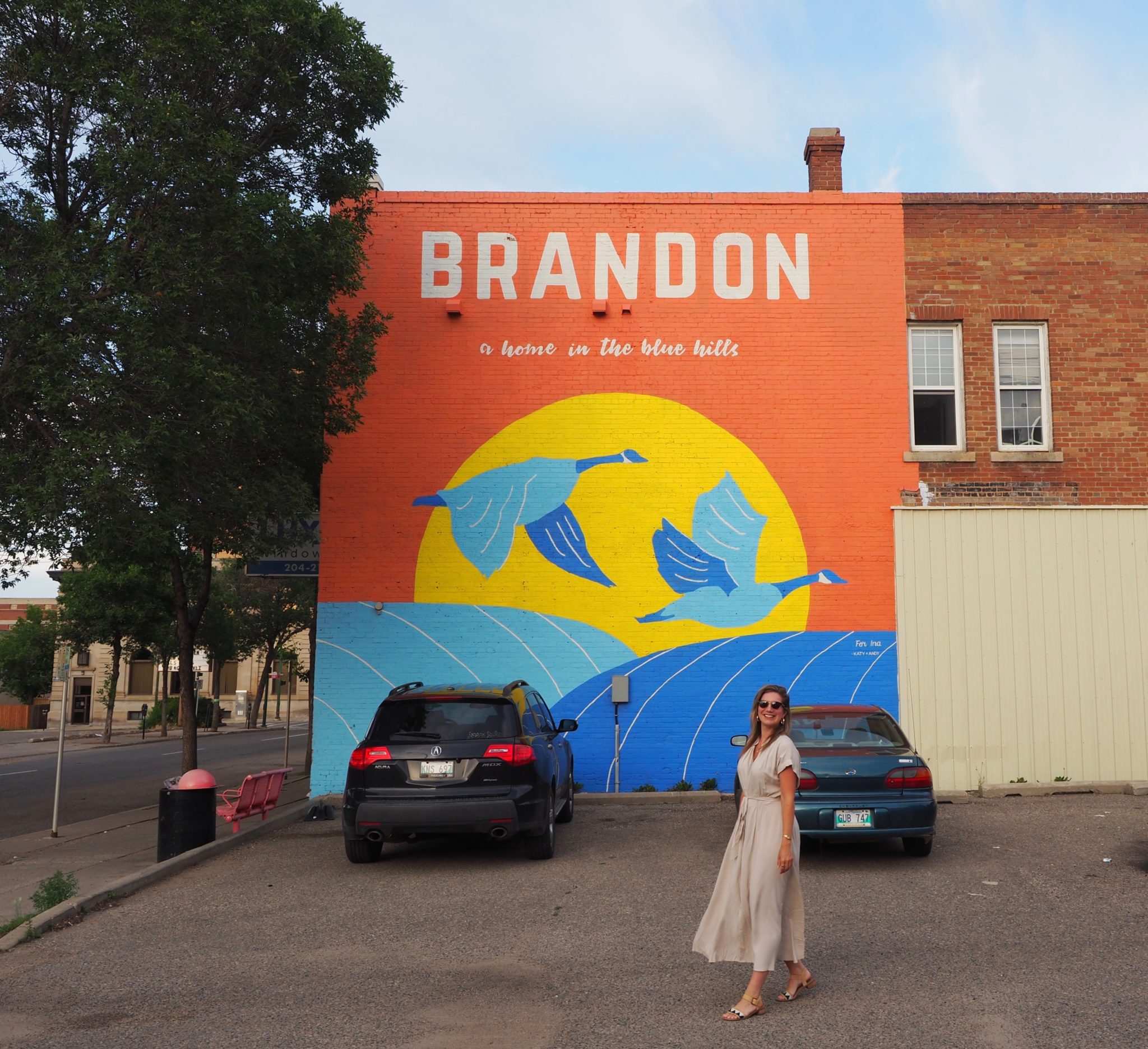 Discover the local culinary scene
I was most excited for the range of restaurants the prairie city offered, even before arriving in Brandon. Even with three days of meals, there were places I didn't get the chance to try. My recommendations?
Please note: opening days and times vary at the moment due to COVID, so always call ahead to make sure the establishment is indeed open. I showed up at a few restaurants that Google said were open online but were closed when we showed up at the door. Every restaurant I visited had very strict social distancing rules in place and very high standards of safety and cleanliness.
Where to eat in Brandon: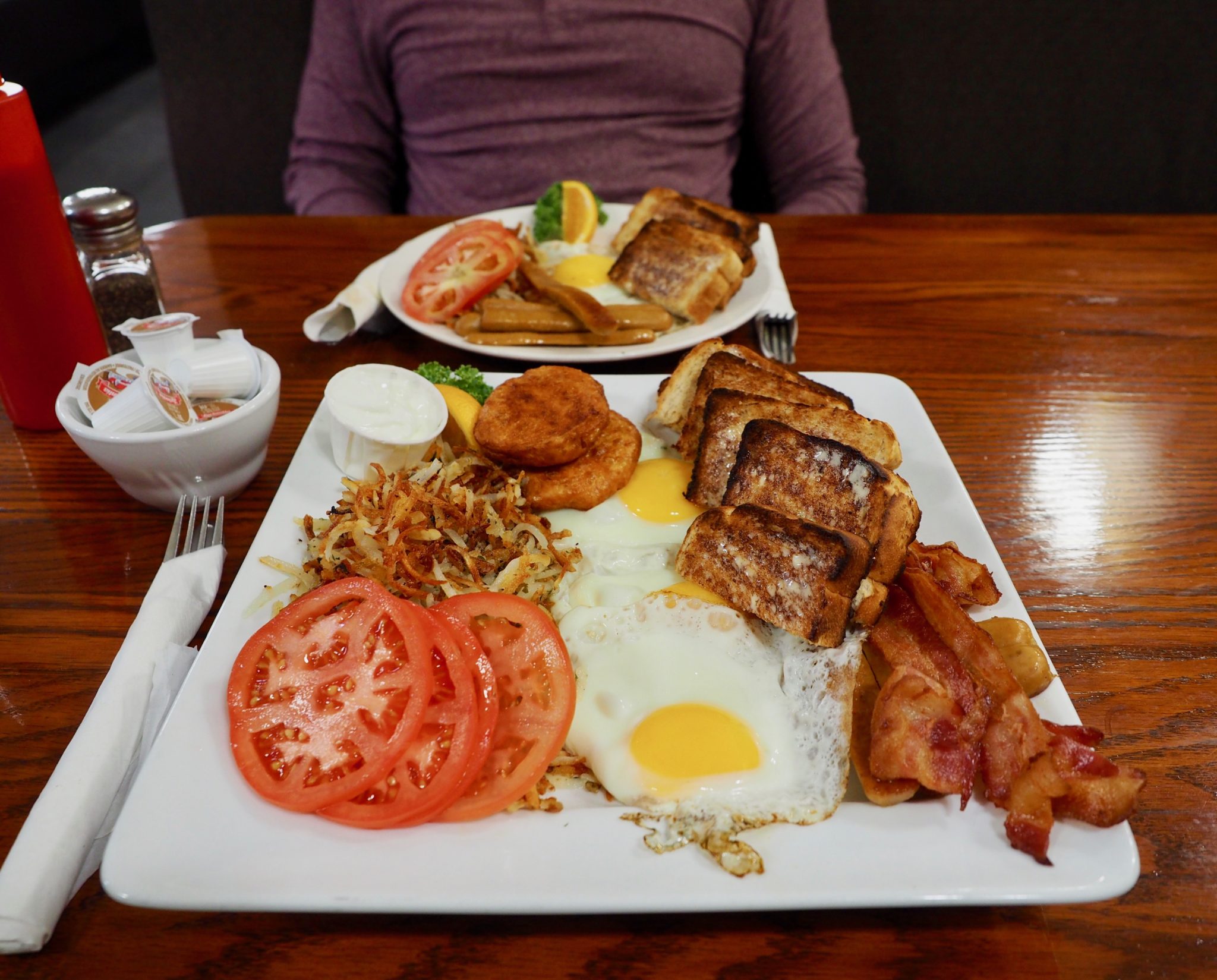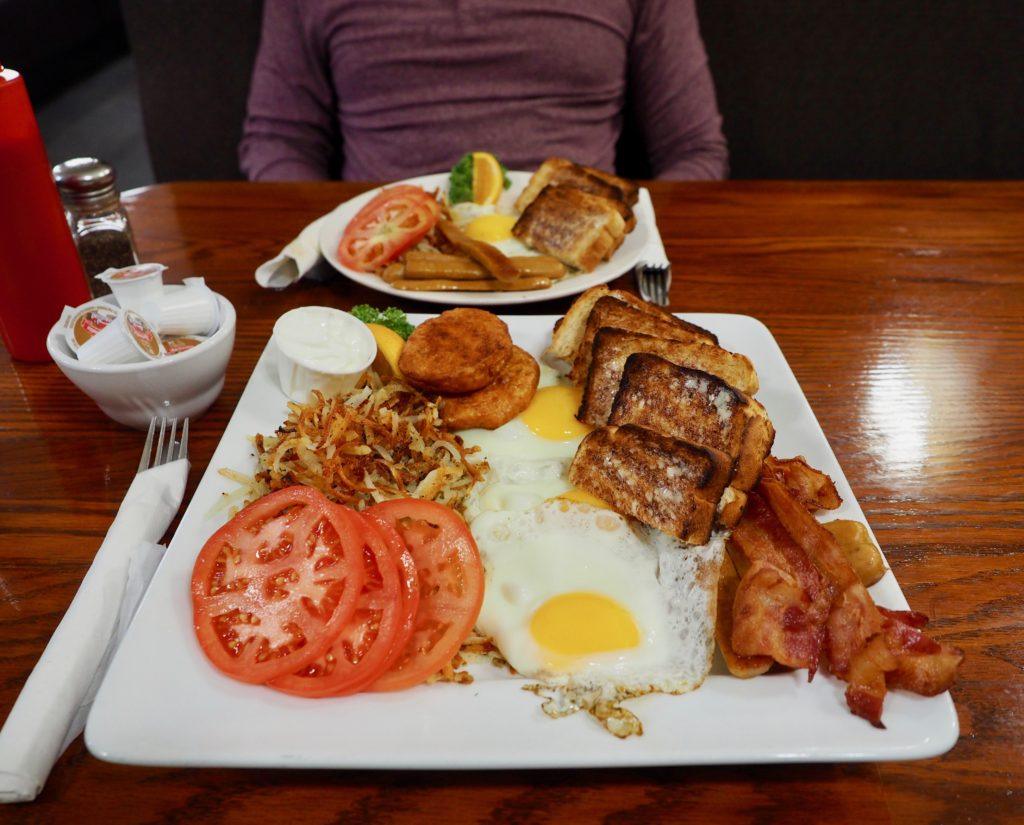 The best breakfast in Brandon is said to be at Komfort Kitchen (835 Princess Avenue). I went for the "Hunger Platter" which was, well, sure to quell your hunger. Their cinnamon buns are also divine.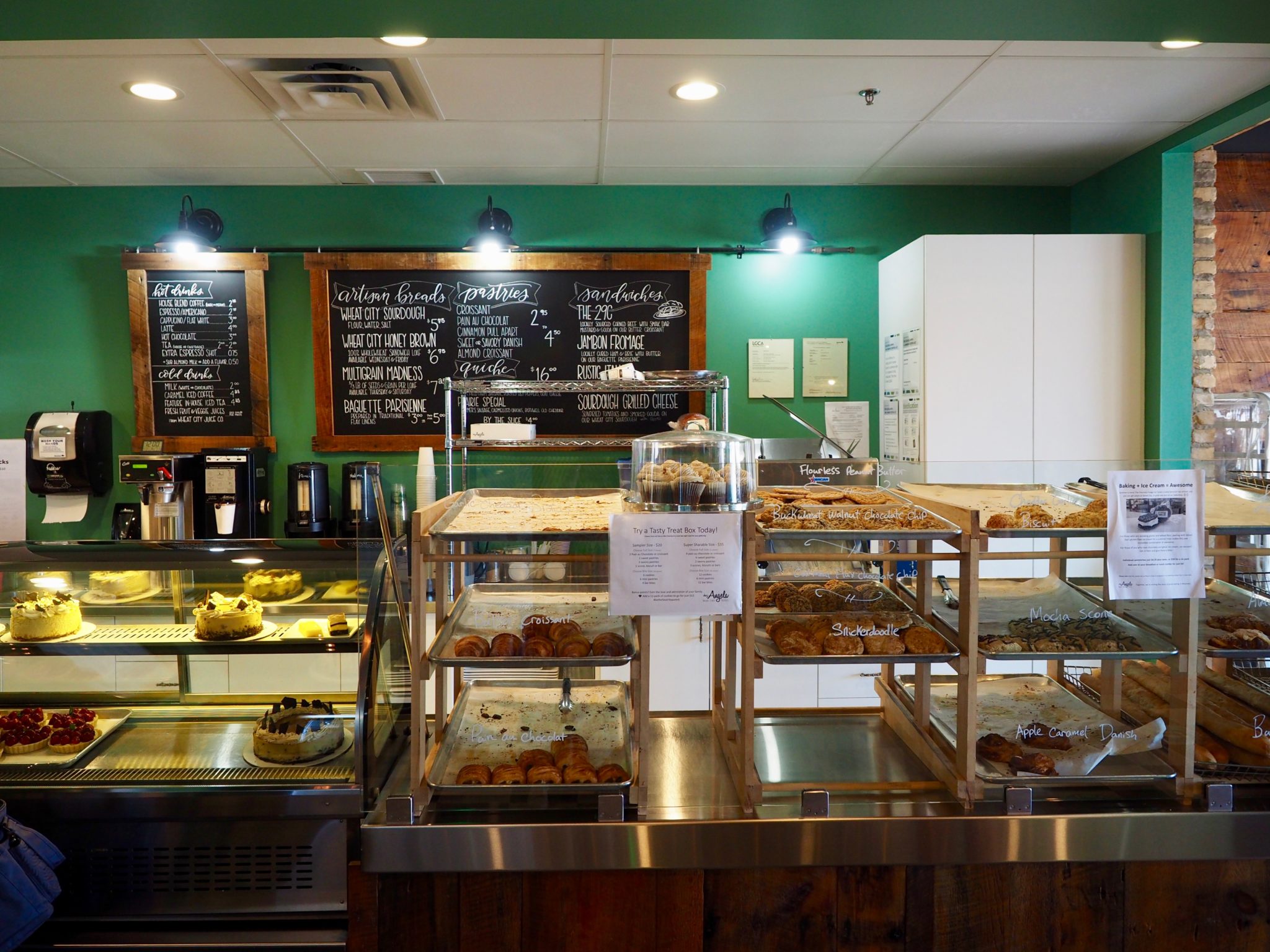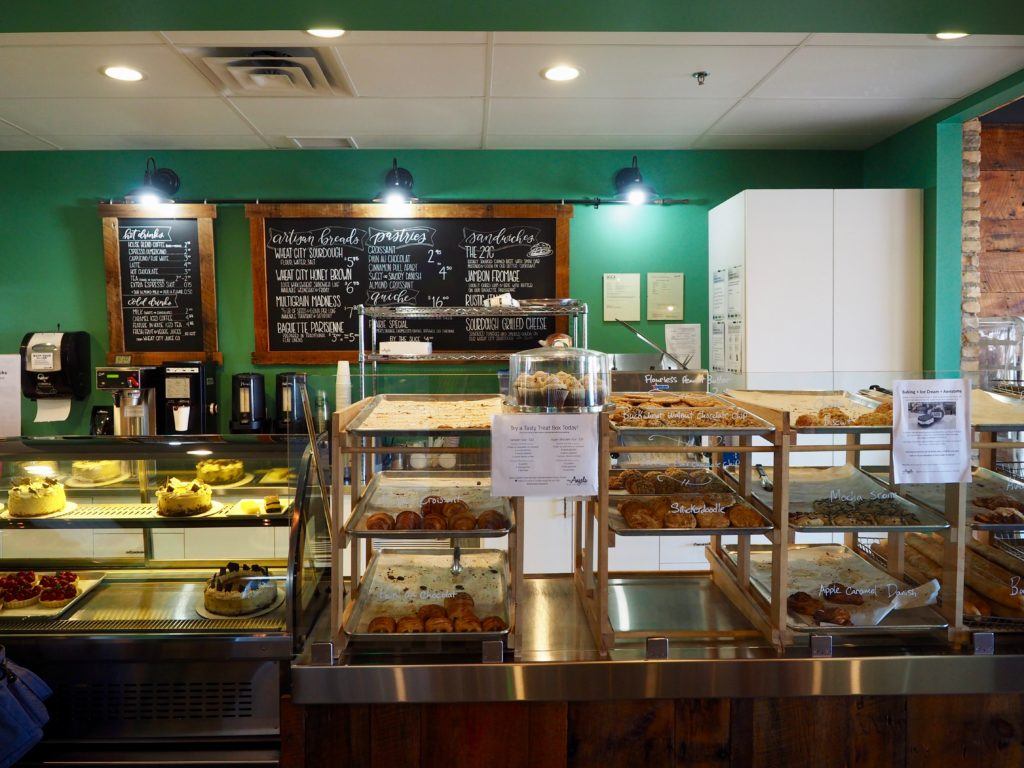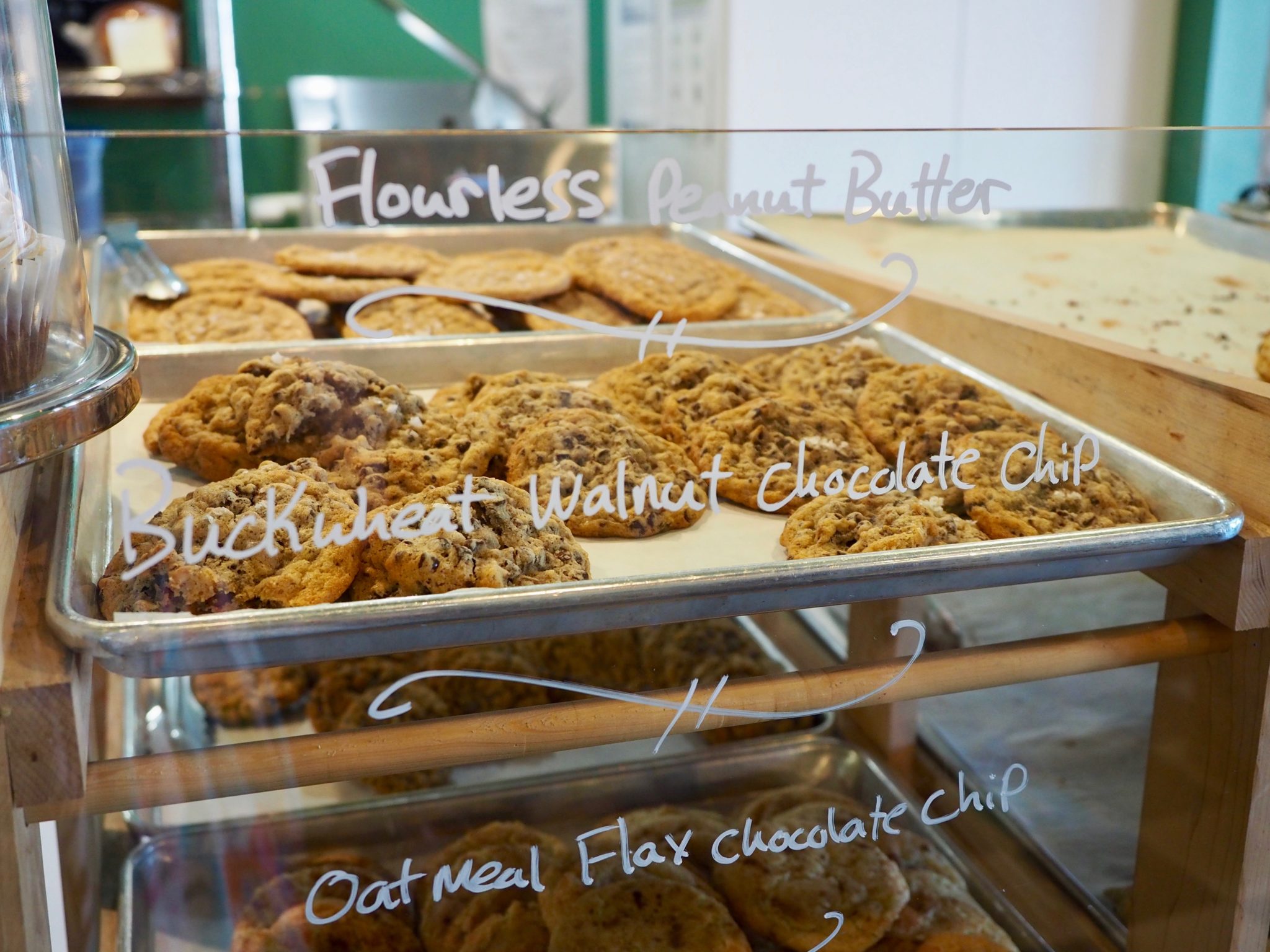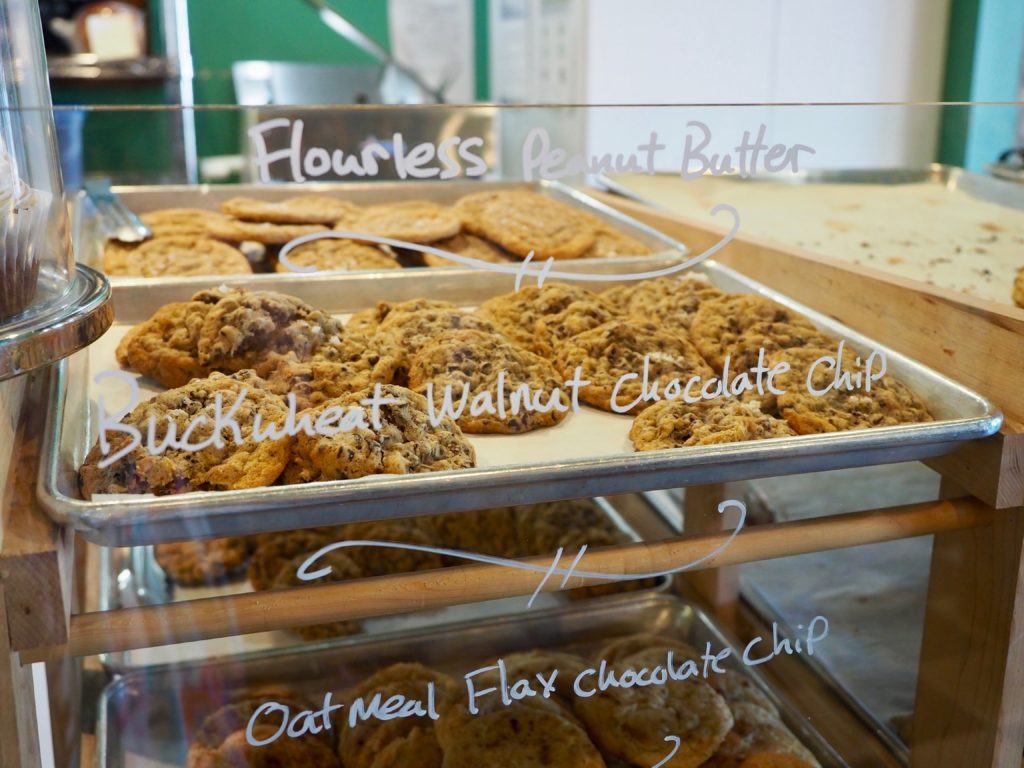 At the time of writing, Chez Angela Bakery and Café (29C 10th Street) doesn't have indoor dining options, but you're still able to purchase breakfast sandwiches, bread, and baked goods. I brought home some ciabatta, sourdough, and cookies (none of which lasted long). I loved the homegrown, friendly vibe of the bakery.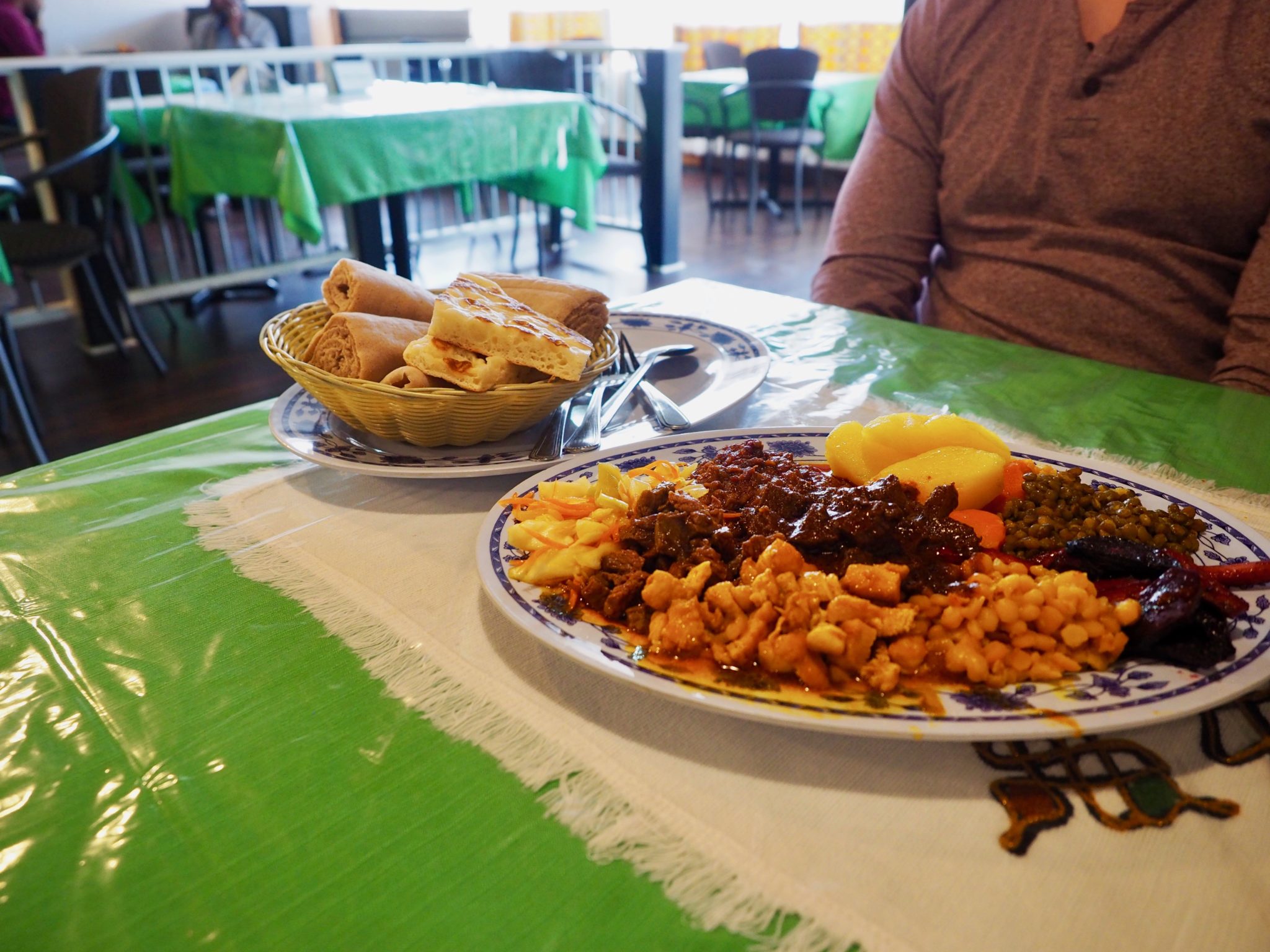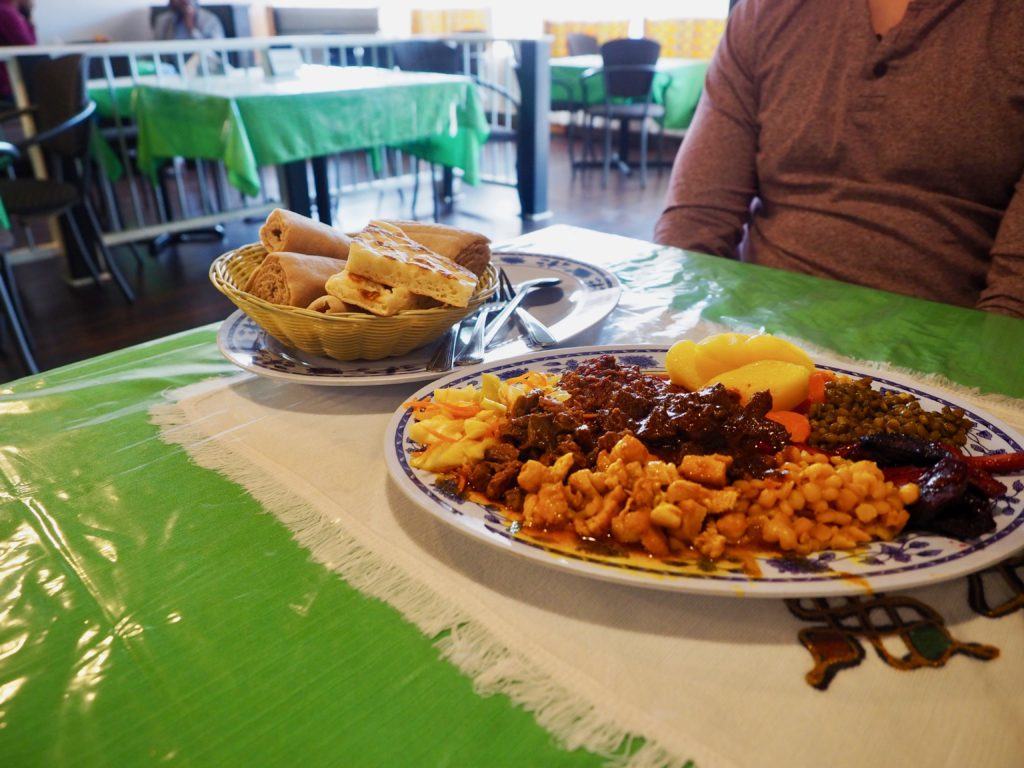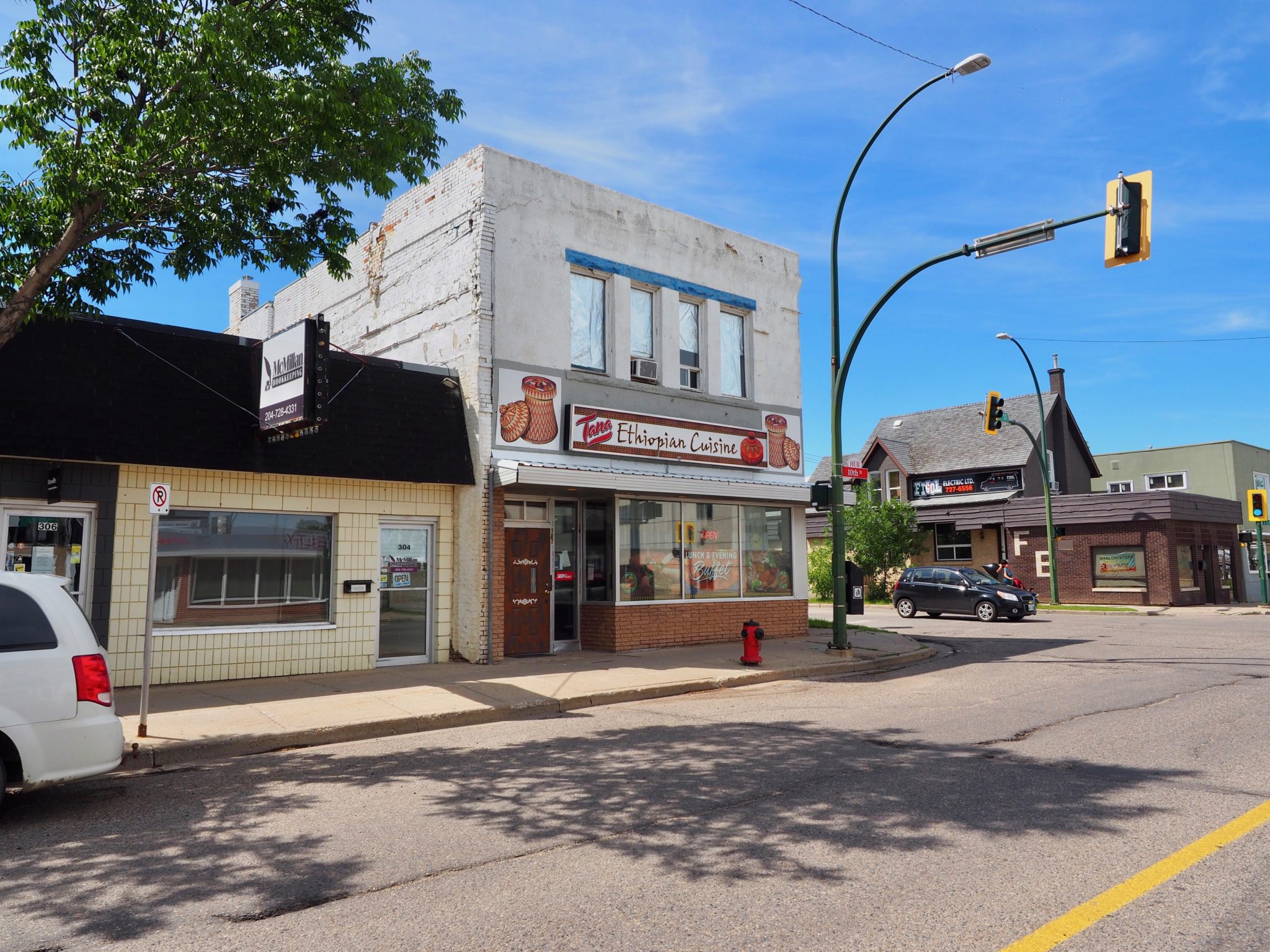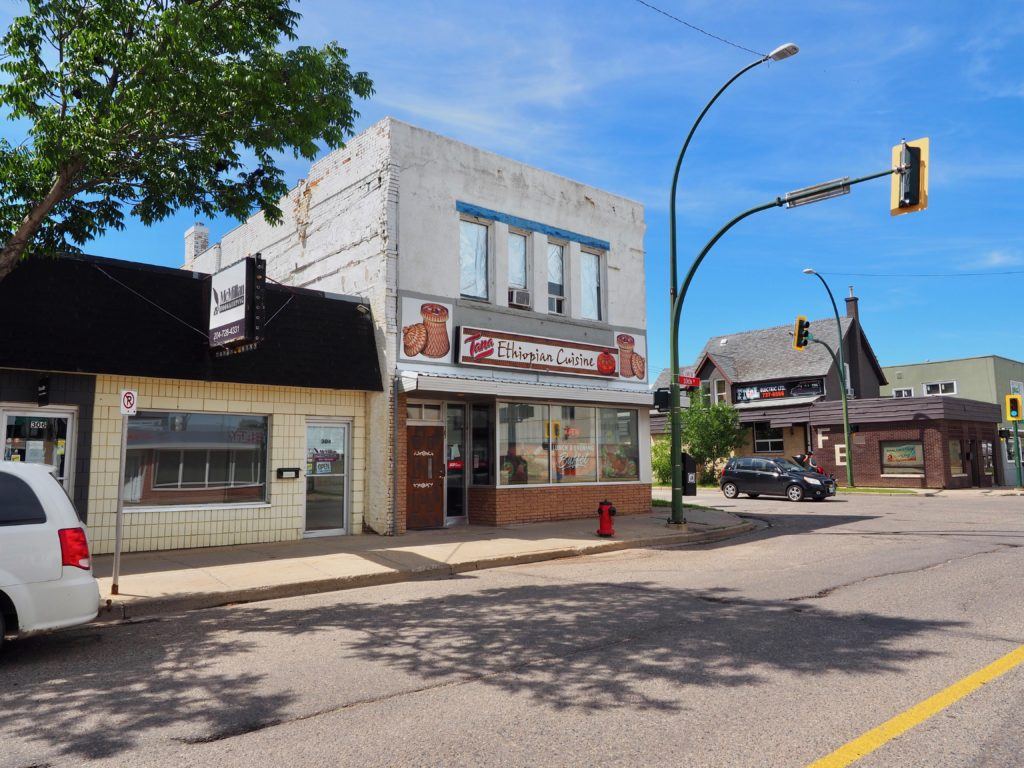 For lunch, head to Tana Ethiopian Cuisine (302 10th Street). You can get a massive plate for under $20 (my boyfriend and I shared, and it was enough for the two of us). One of my favourite ways to eat is to have a variety of dishes to sample on one plate, and we were given plenty of injera to eat it all with. Extremely flavourful, I would definitely return to Tana.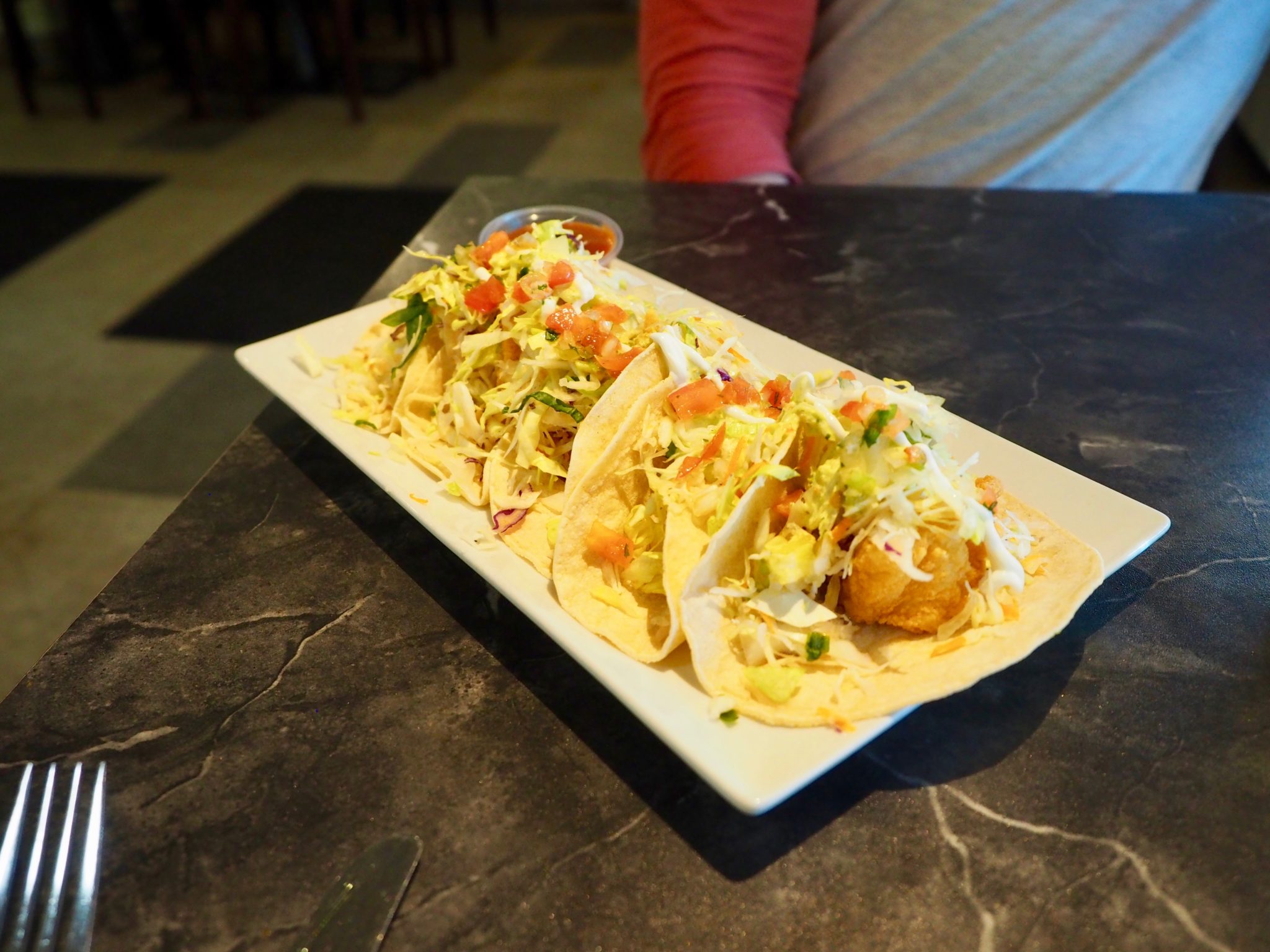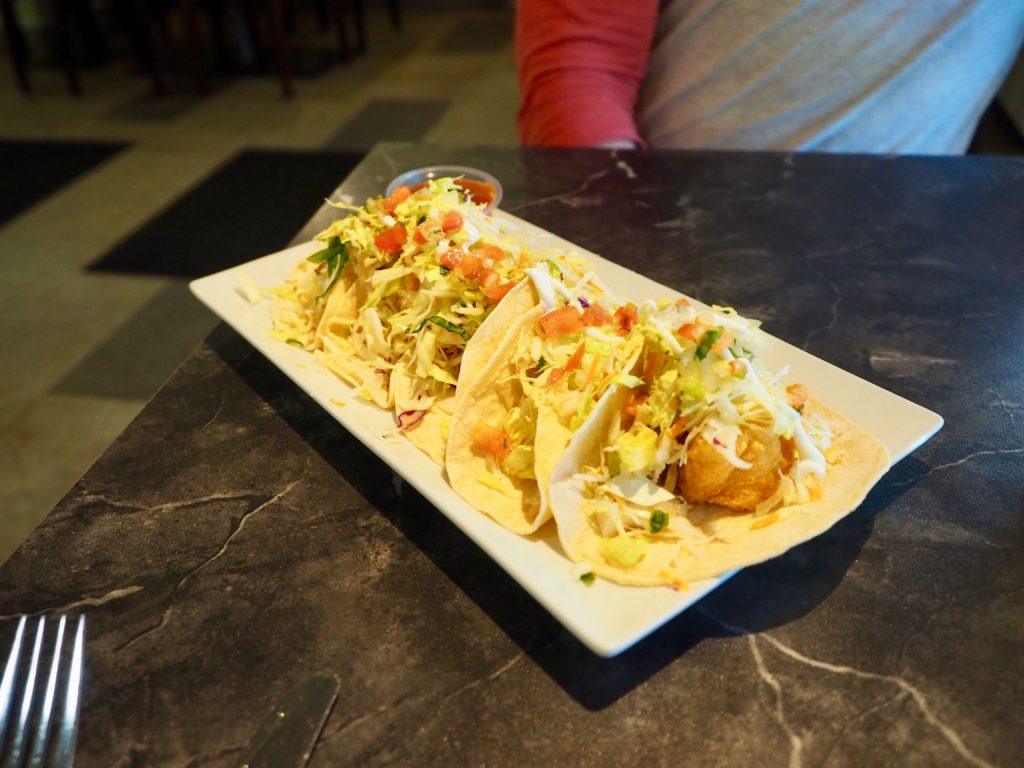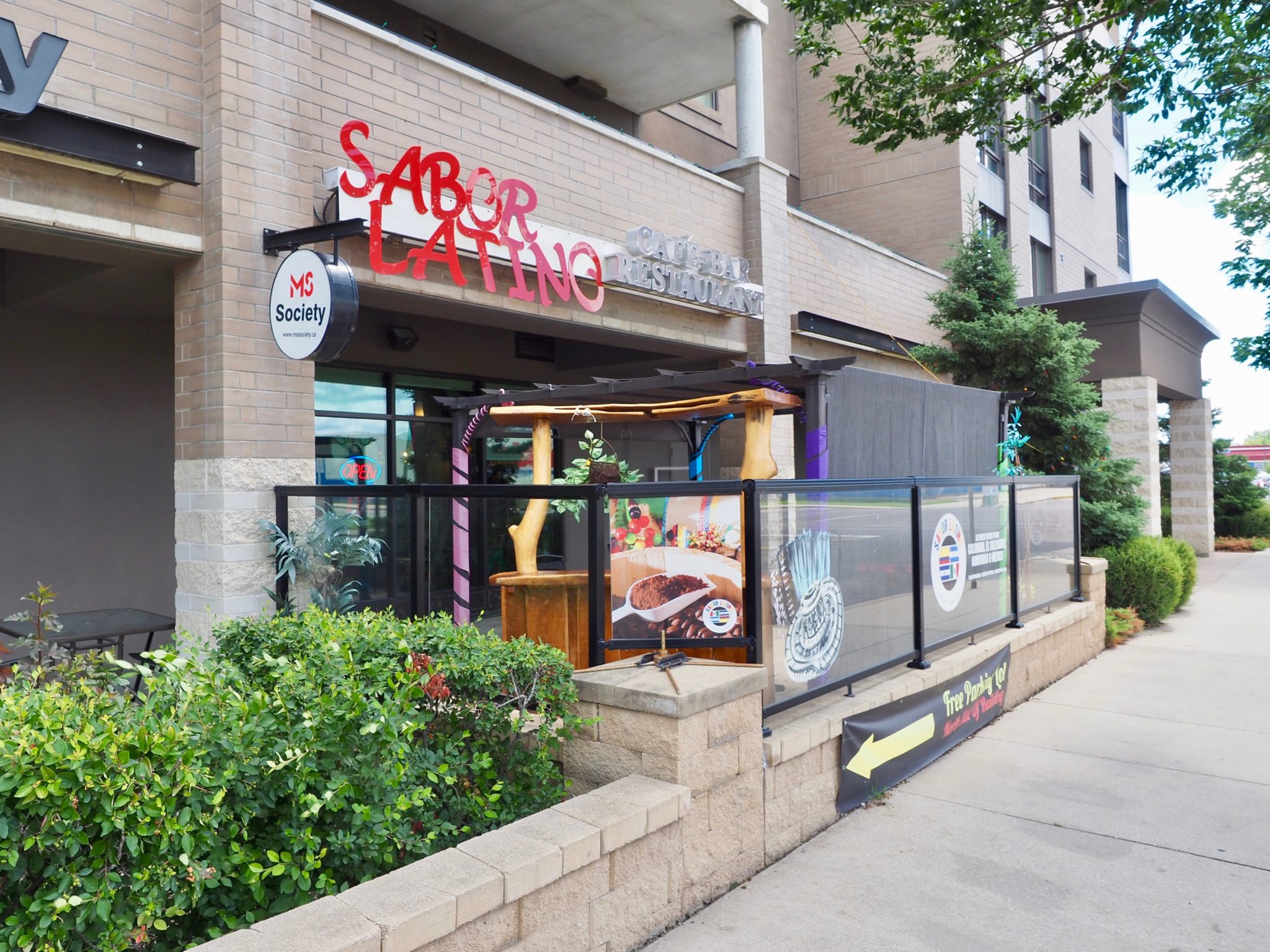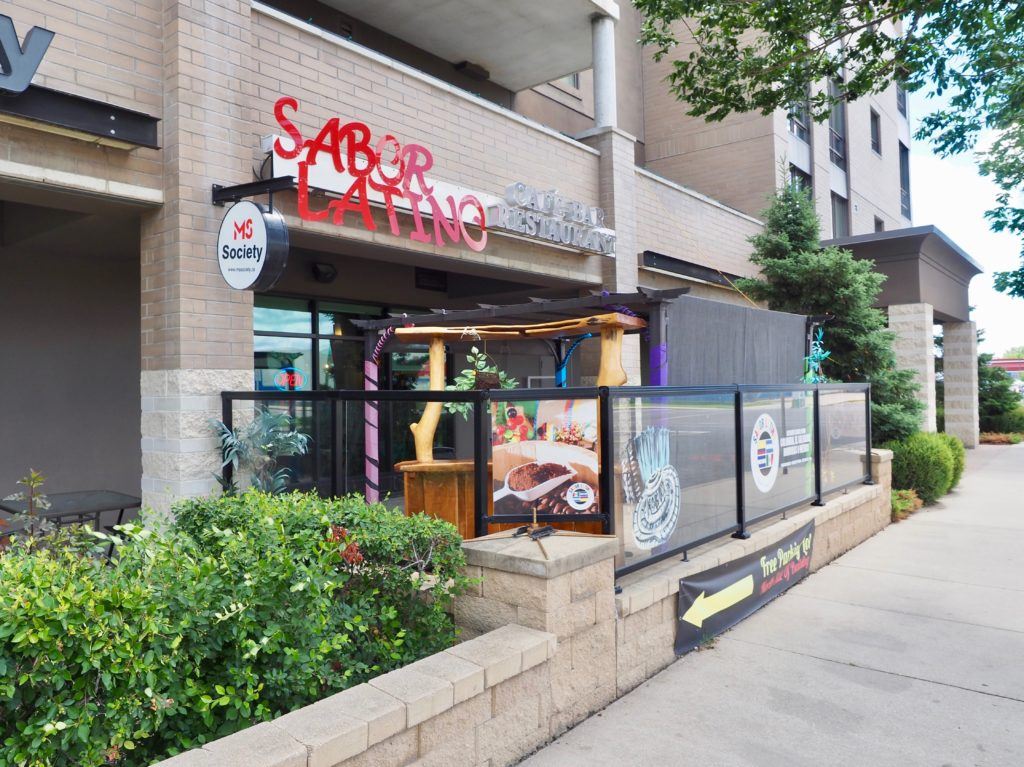 Another lunch or dinner option is Sabor Latino (457 9th Street #6A). Serving traditional Central American and Spanish cuisine, the tortilla soup was some of the best I've ever had, and the margarita was to die for. I also tried the fish tacos and bean and cheese pupusas, both of which were fantastic.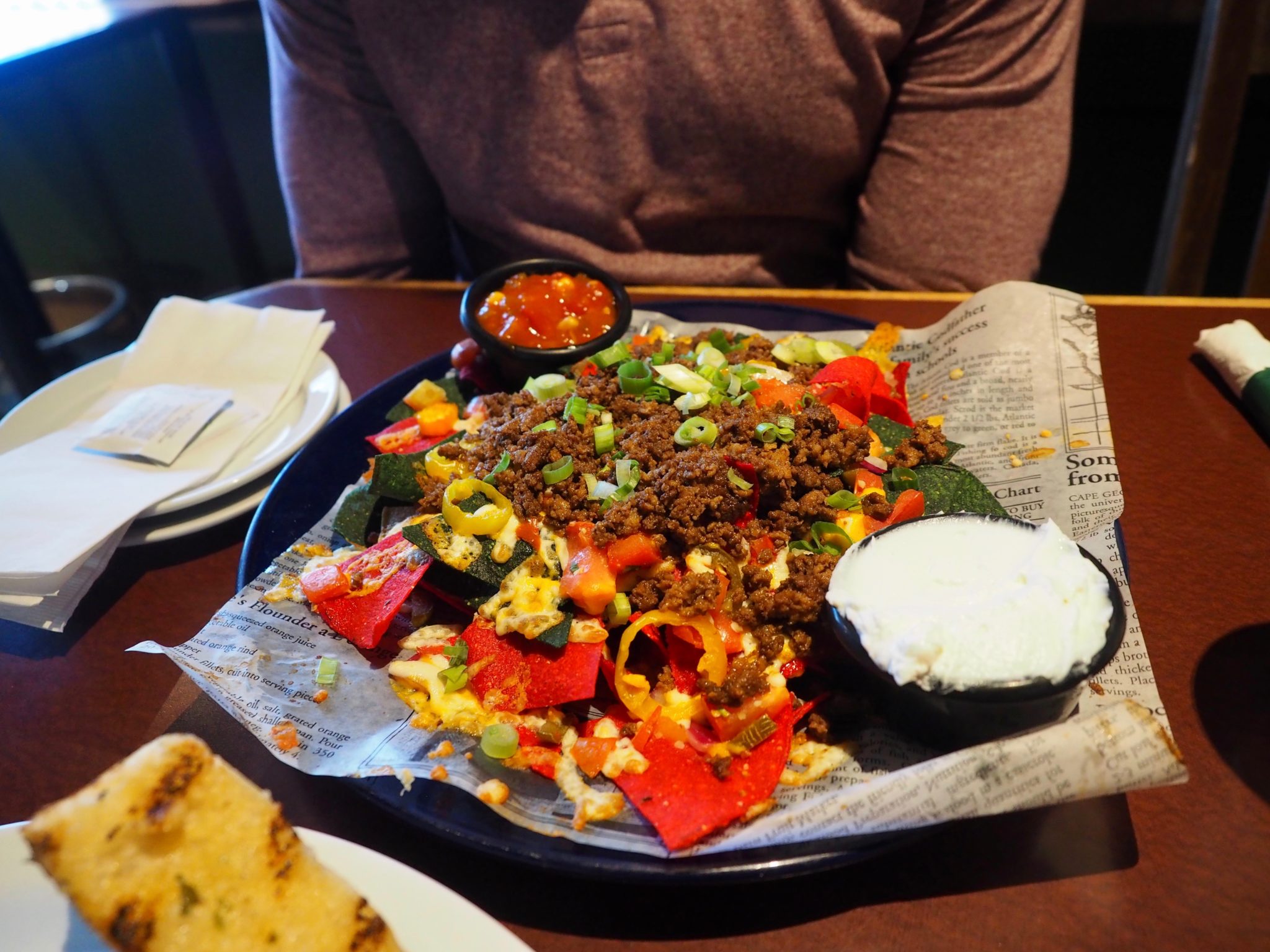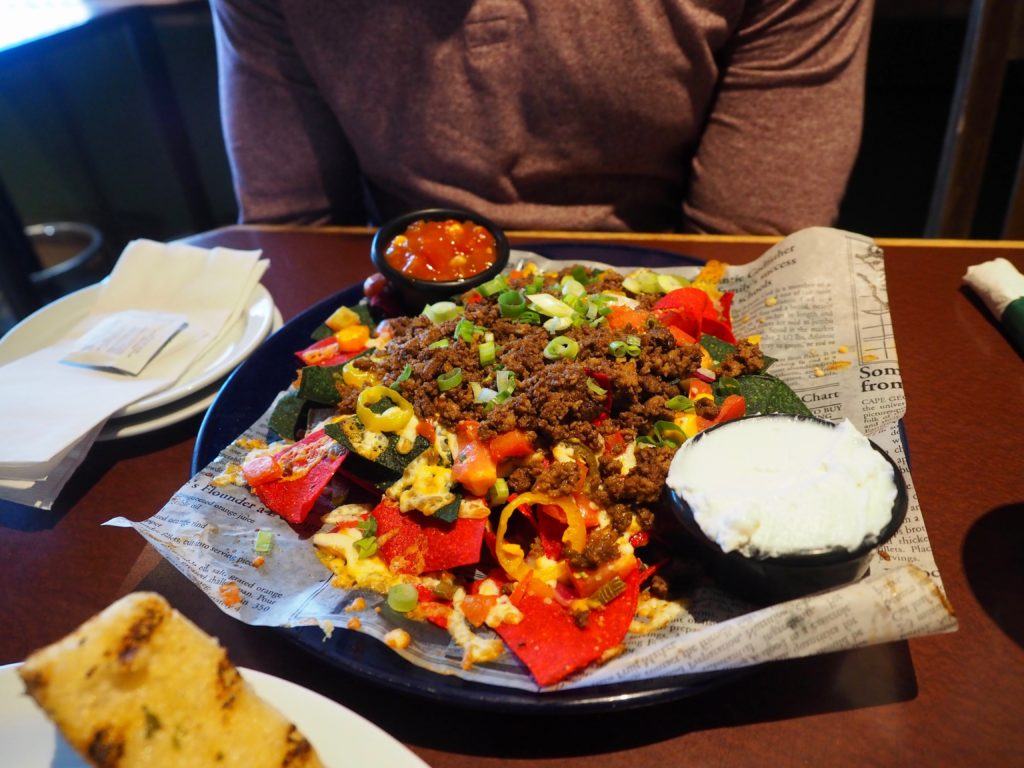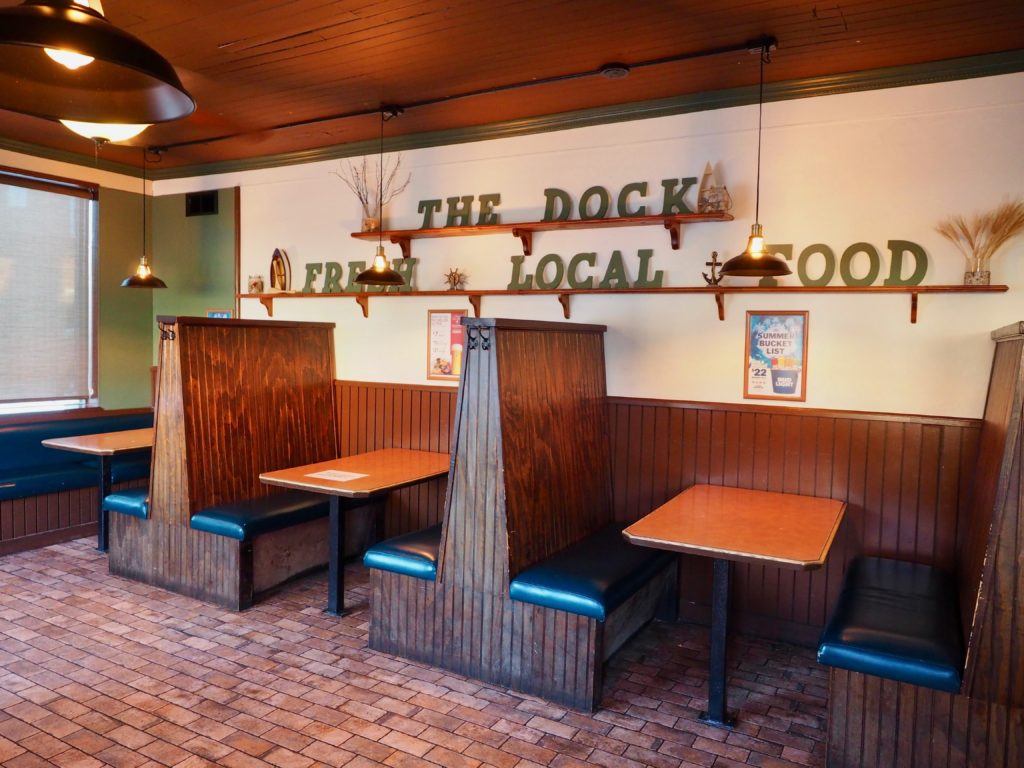 For dinner or evening snacks, head to The Dock on Princess (133 Princess Avenue). With a large restaurant and patio, they have great beers on tap and focus on using local Manitoba ingredients in their food. Their nachos and mac 'n' cheese were killer.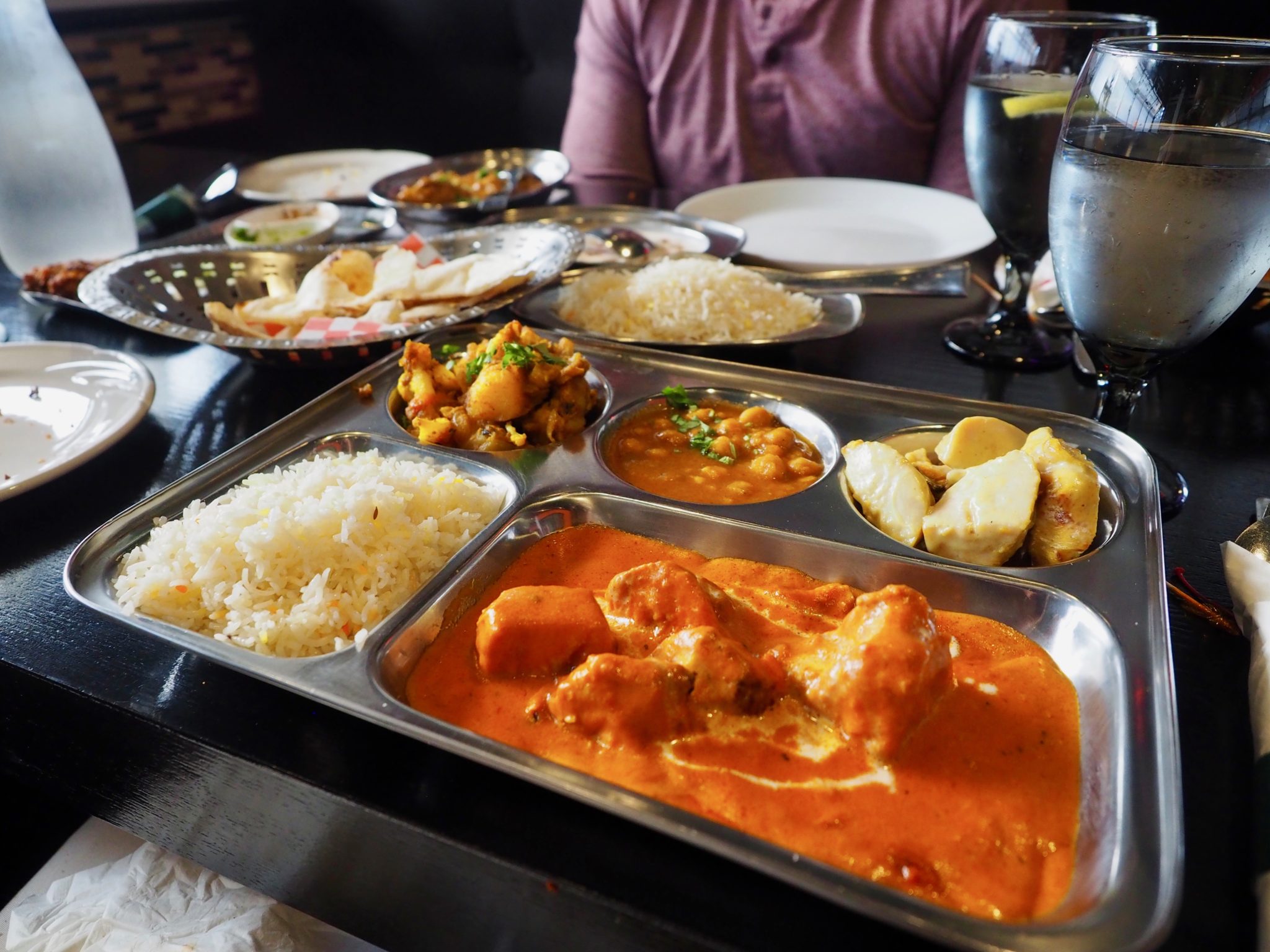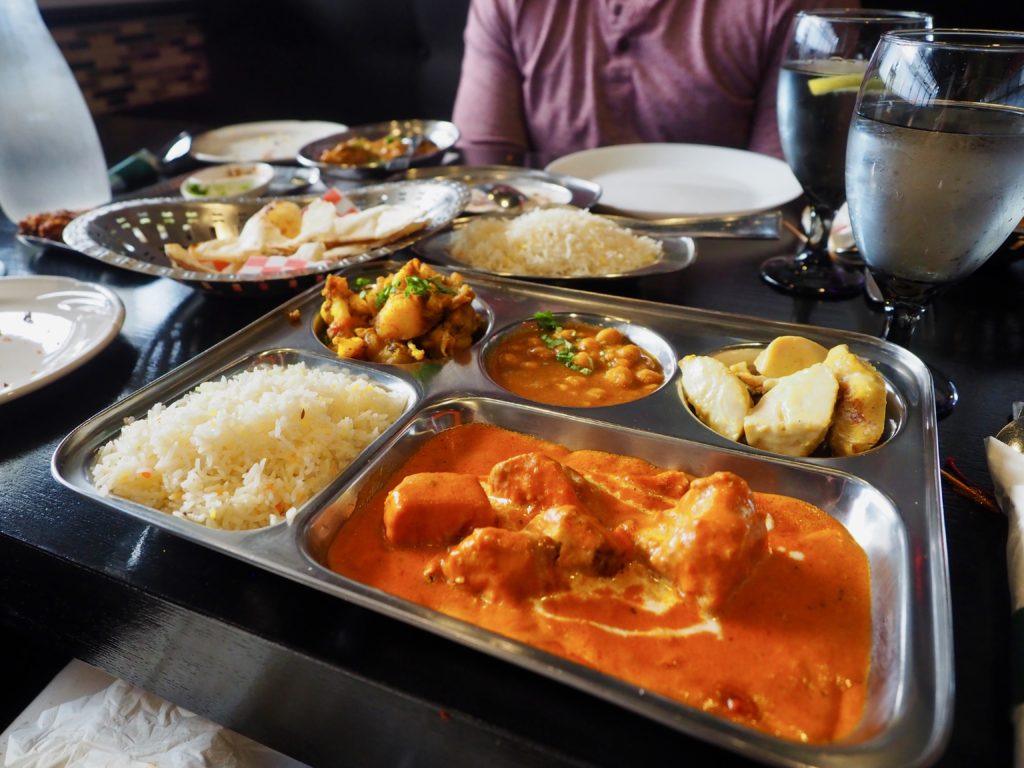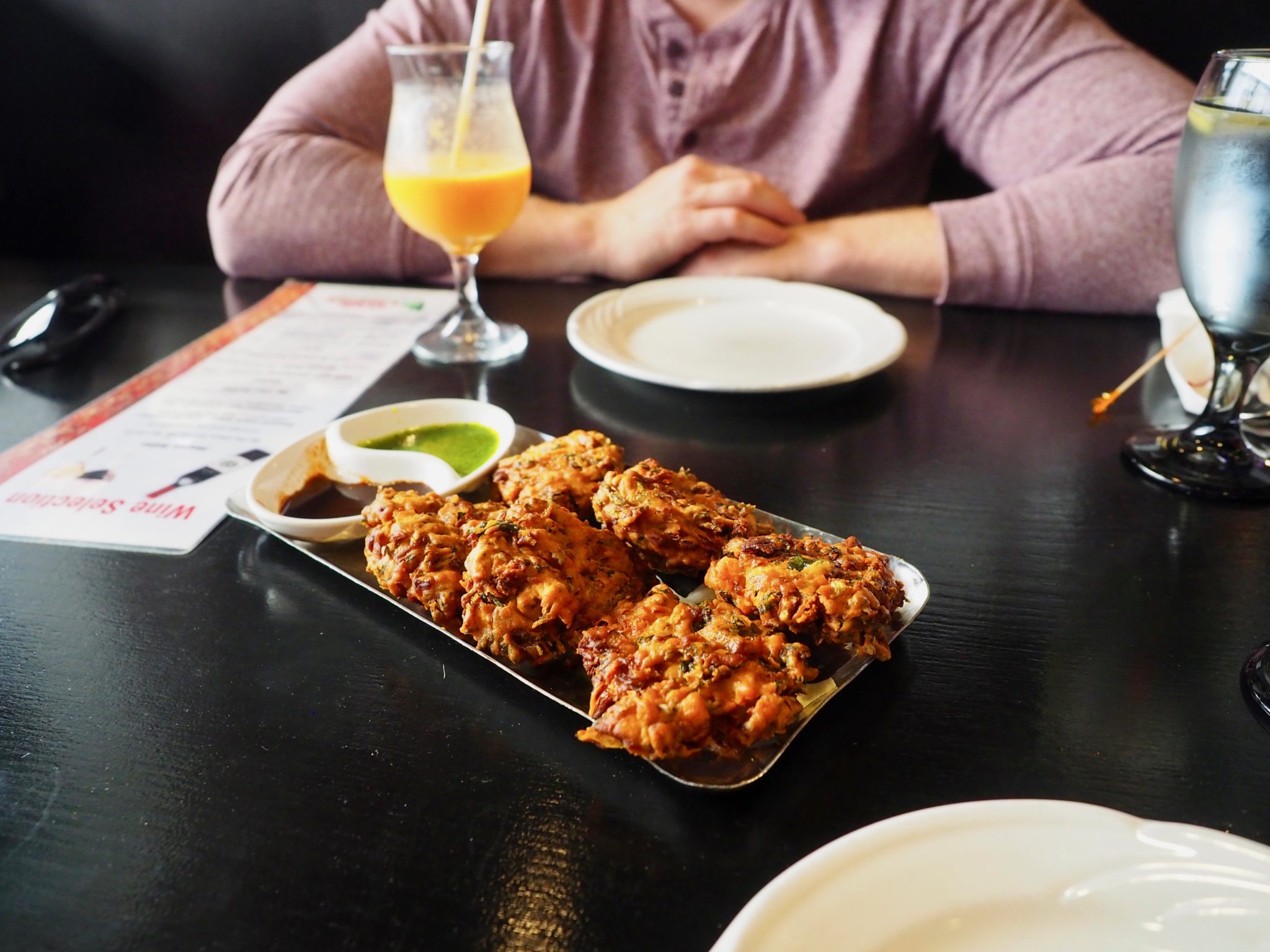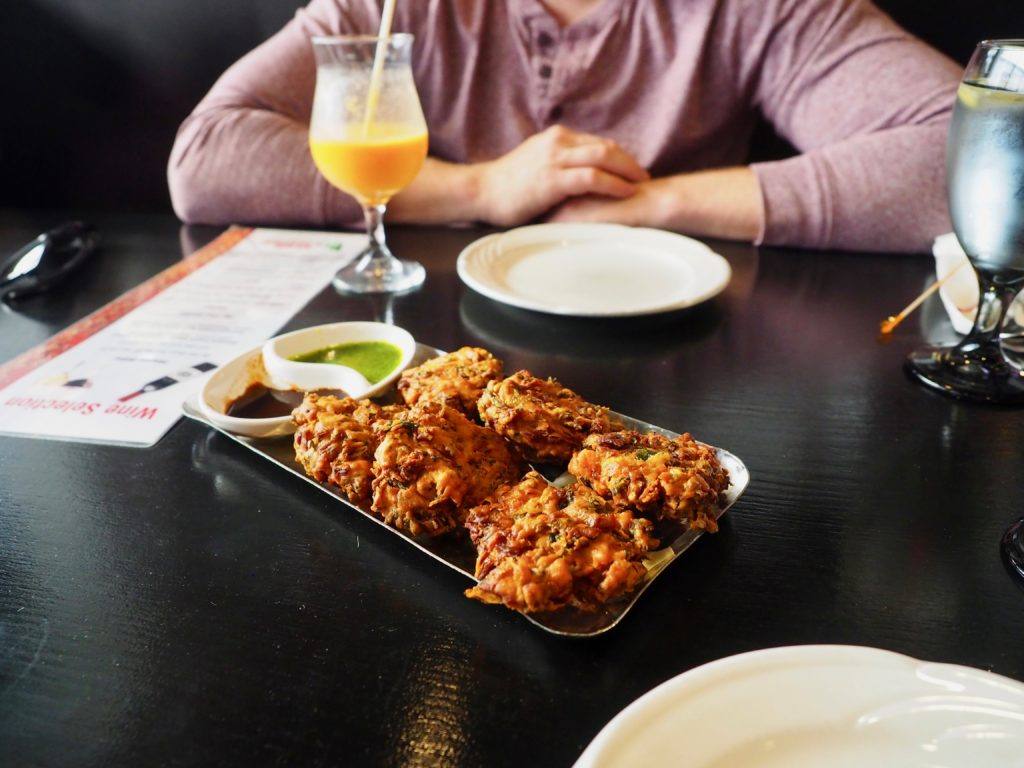 Without a doubt, my favourite place to eat in Brandon was Chilli Chutney (555 34th Street). Honestly, this was the best Indian food I've had in Manitoba, and possibly outside of India. Their pakora tasted EXACTLY like the pakora I used to obsess over in New Delhi, and the assortment of chicken curries was so delicious I'd seriously drive all the way back to Brandon to try it again. Definitely eat here if you're in Brandon.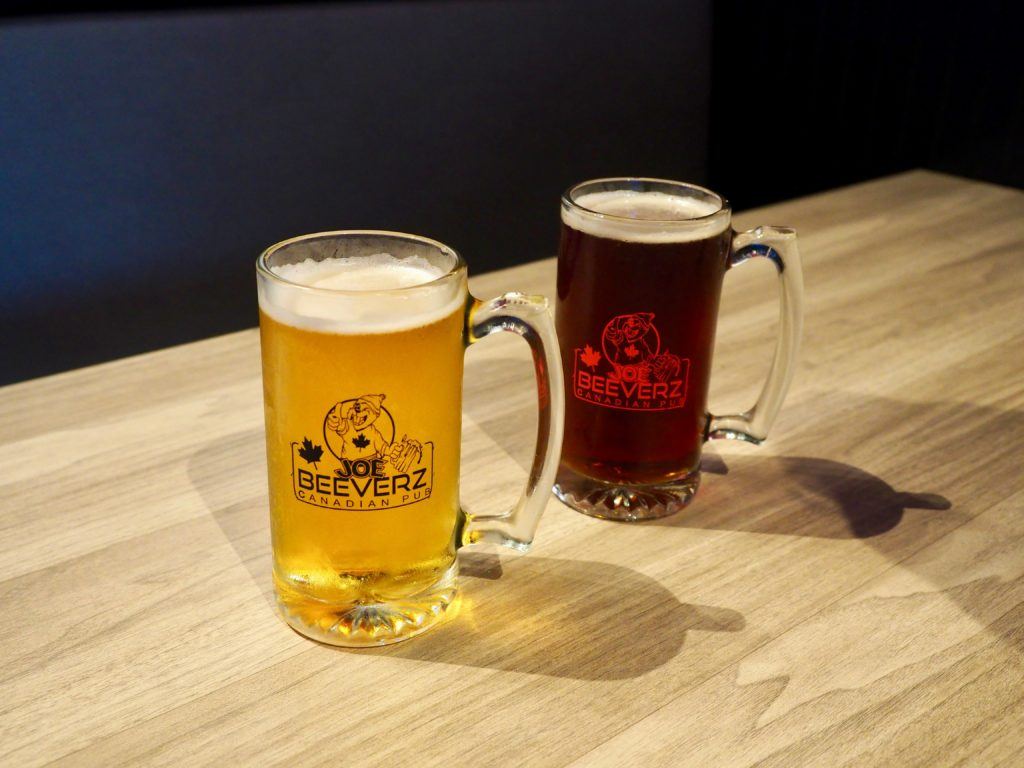 For the best list of poutine choices I've ever seen, plus giant mugs of Canadian beer, head to Joe Beeverz (1300 18th Street). While it's a sports bar, even non-sports enthusiasts will love the laidback vibe and relaxed atmosphere. We tried the Christmas poutine, which consisted of gravy poured over turkey, stuffing, and cranberry sauce on top of the regular cheese curds and fries… and yes, it was amazing.
The Dock on Princess and Joe Beeverz would be my top recommendations for drinks in the evening, although you also have chain establishments like Browns Socialhouse (1260 18th Street UNIT B), The Keg Steakhouse & Bar (1836 Brandon Avenue), and Montana's (823 18th Street N #E). There are also the local Guinness Tavern (43 Rosser Ave) and Tavern United (1125 18th Street N).
Finally, Jon would like me to point out that he does indeed own more than one shirt. Hah.
Take a walking tour of Brandon's murals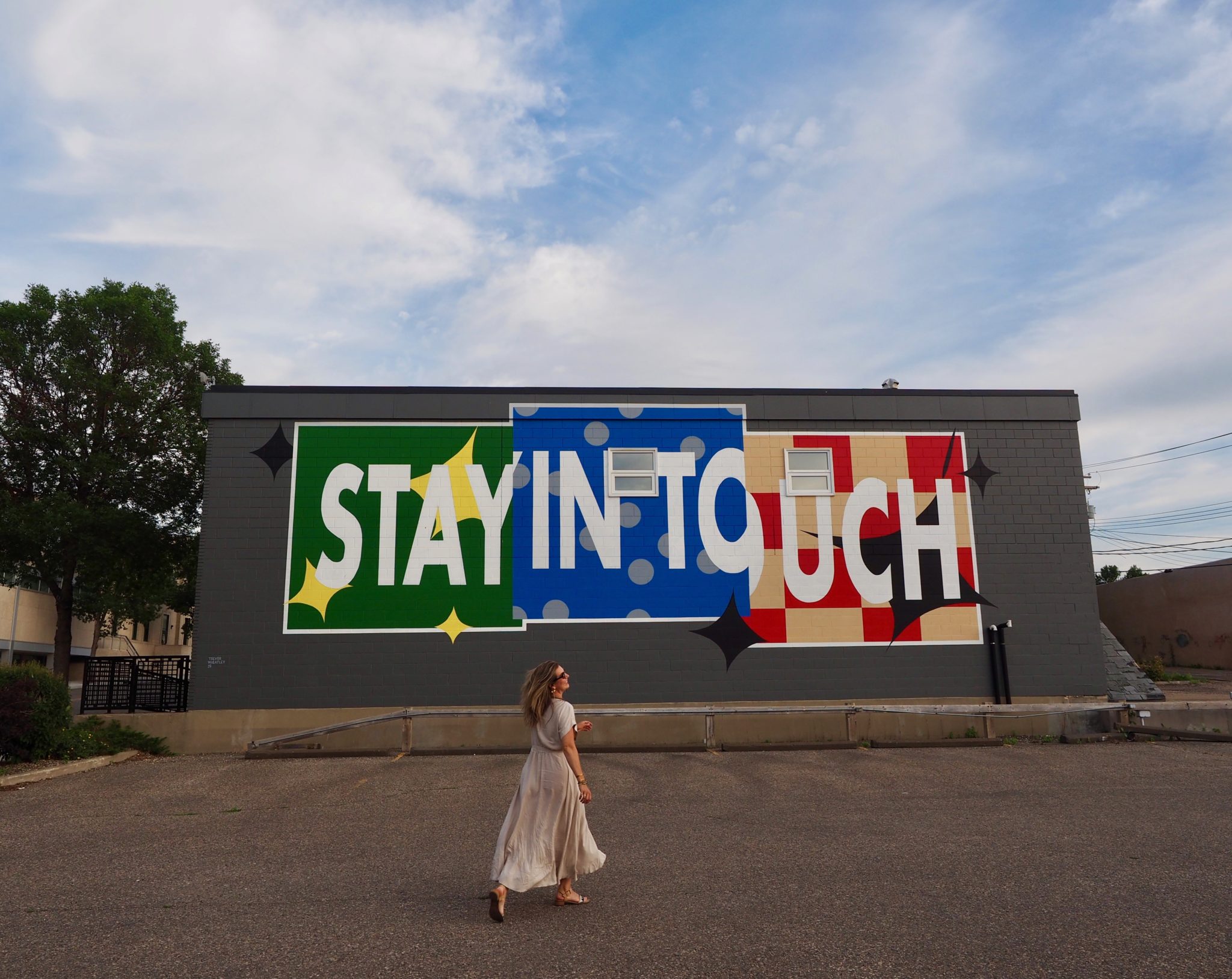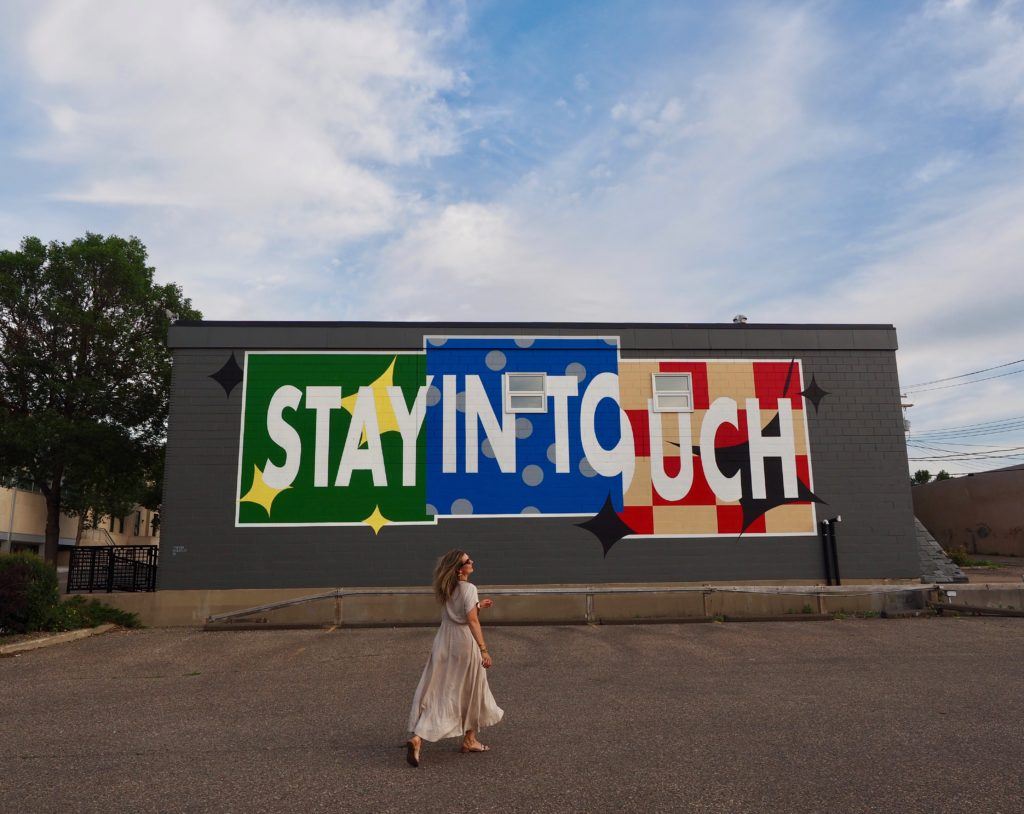 One of Brandon's recent additions is the collection of murals downtown. Each painted by a different artist, there are currently nine to discover. I recommend a walking tour to find them all, as it's a great way to see the downtown area. It's also so much fun when you turn a corner and see a new mural. You can find a good interactive map here; that website also tells you a little bit about each mural and the artist responsible for it.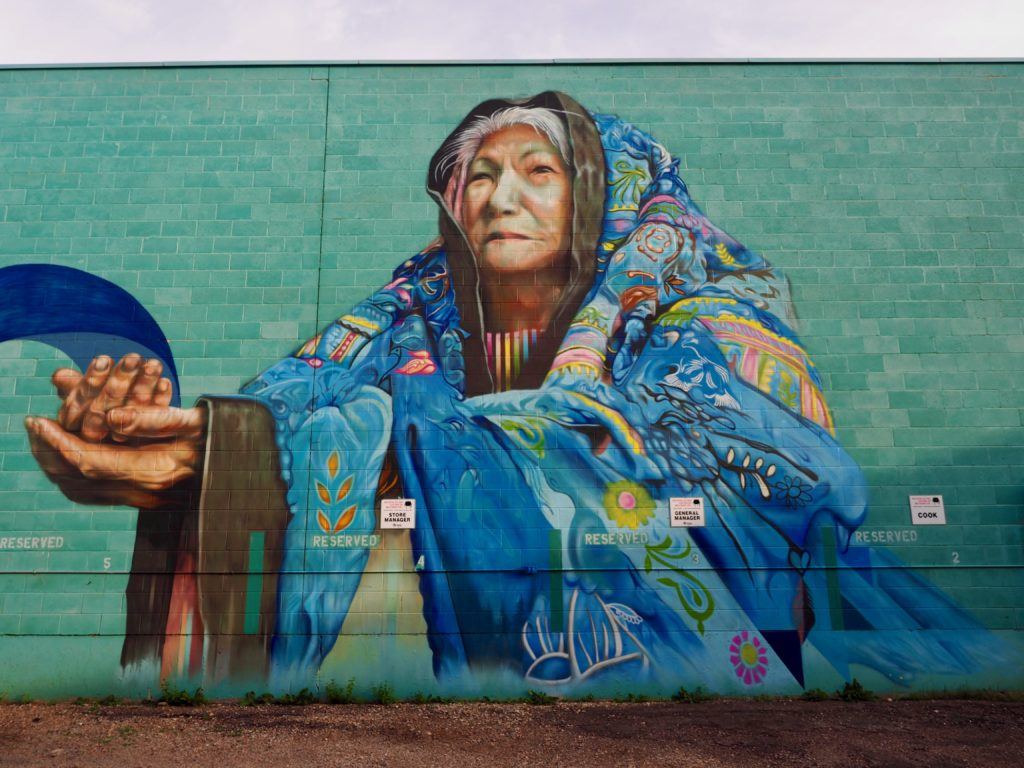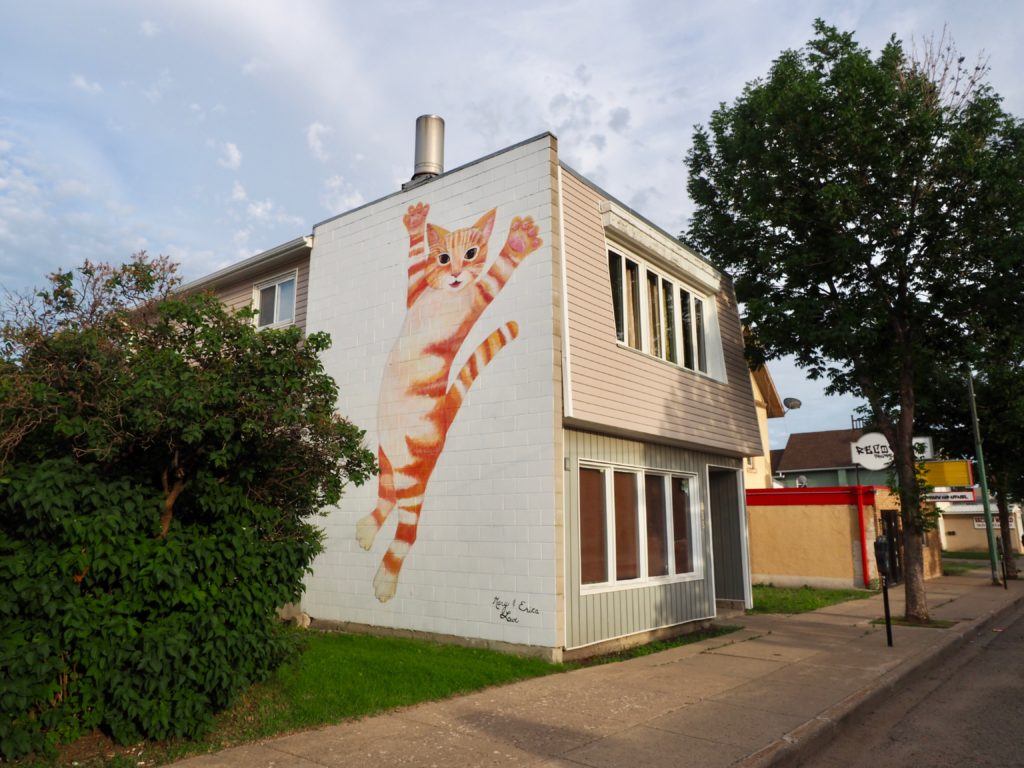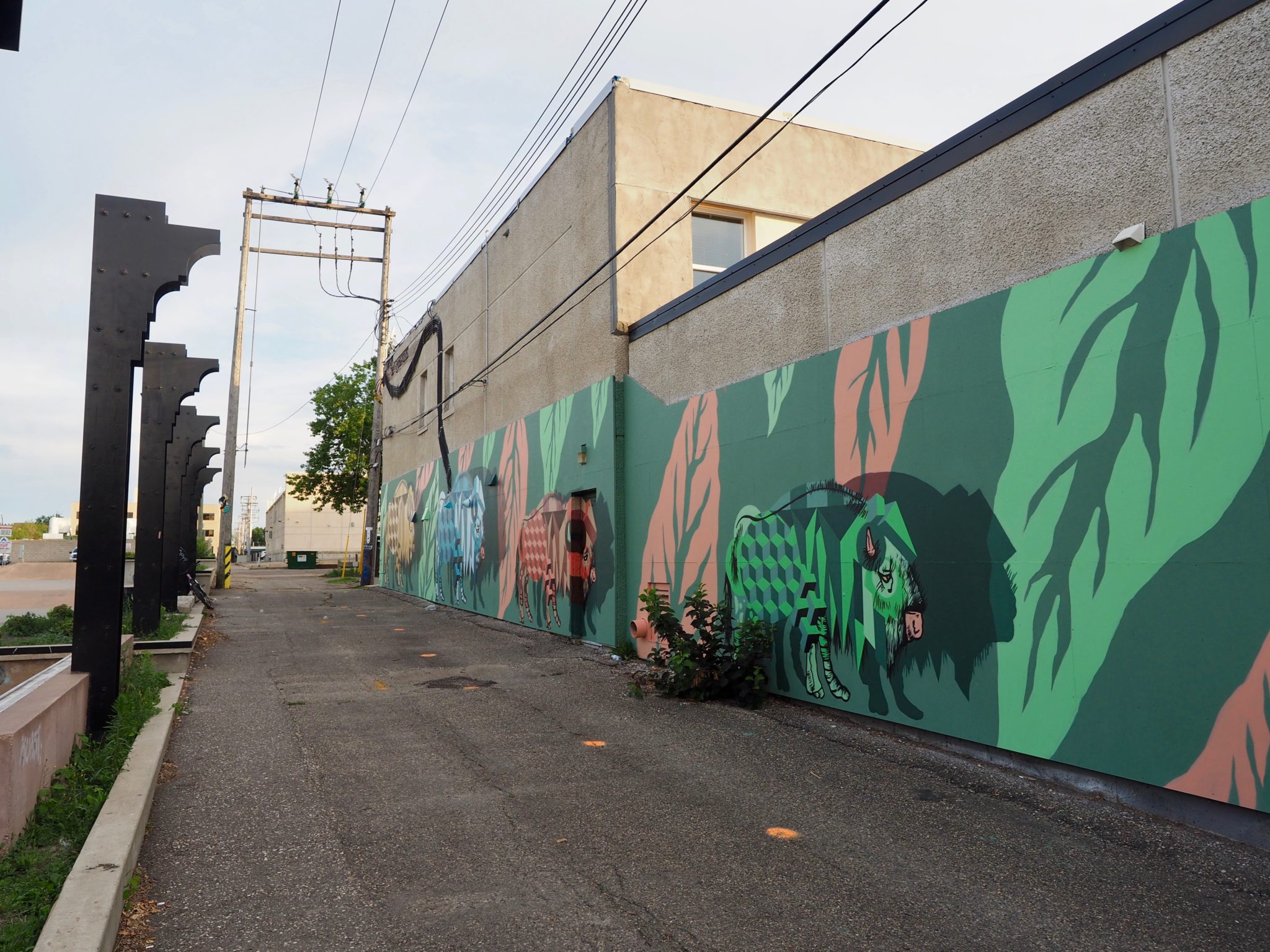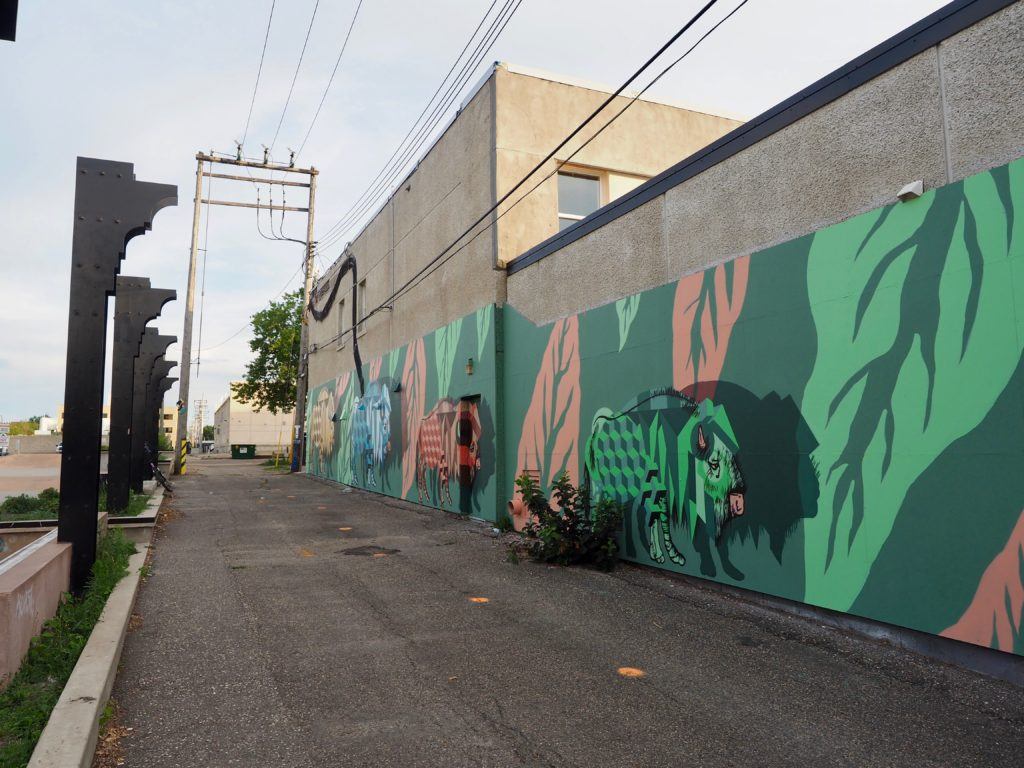 Learn about Brandon's connection to WWII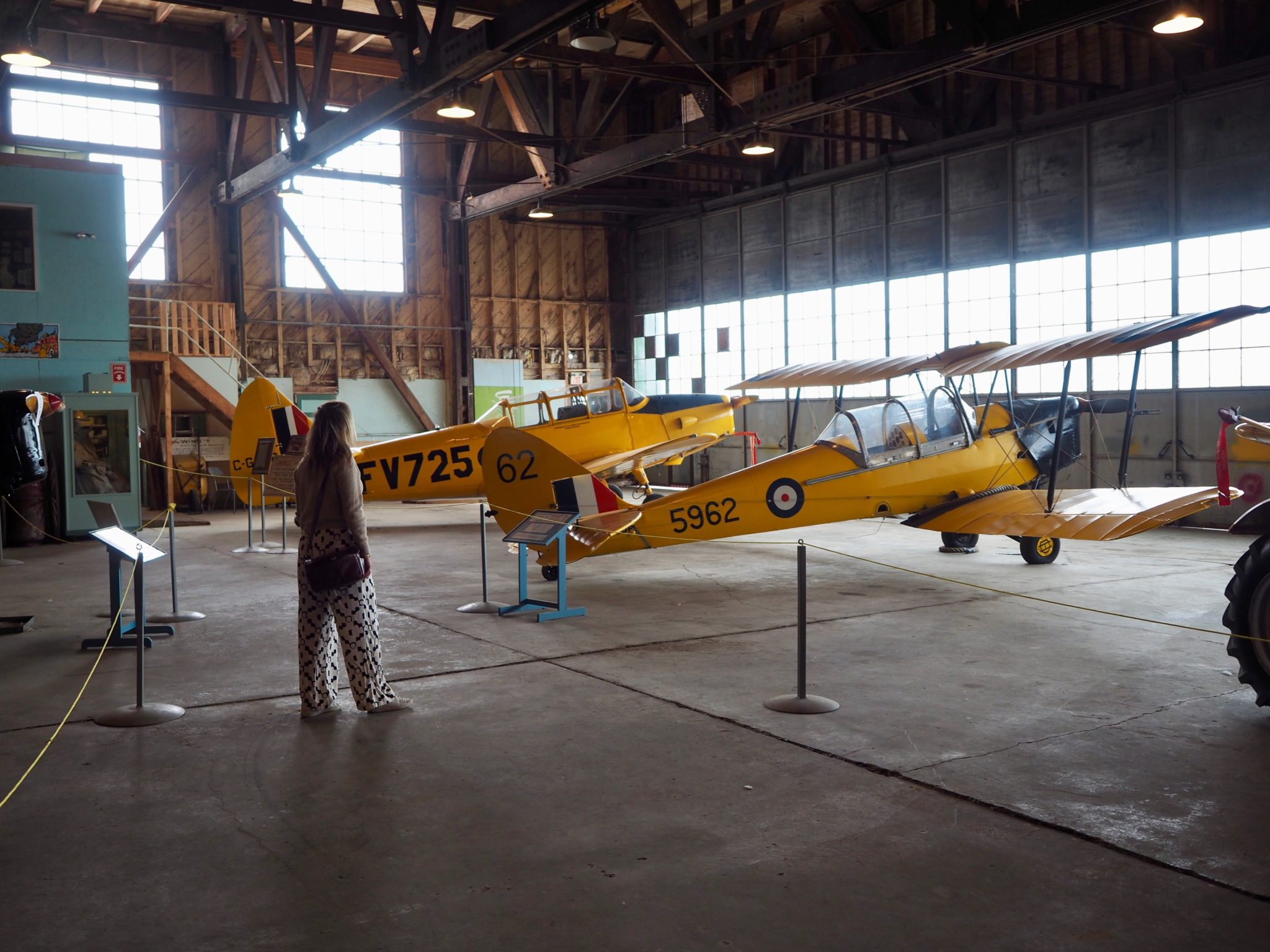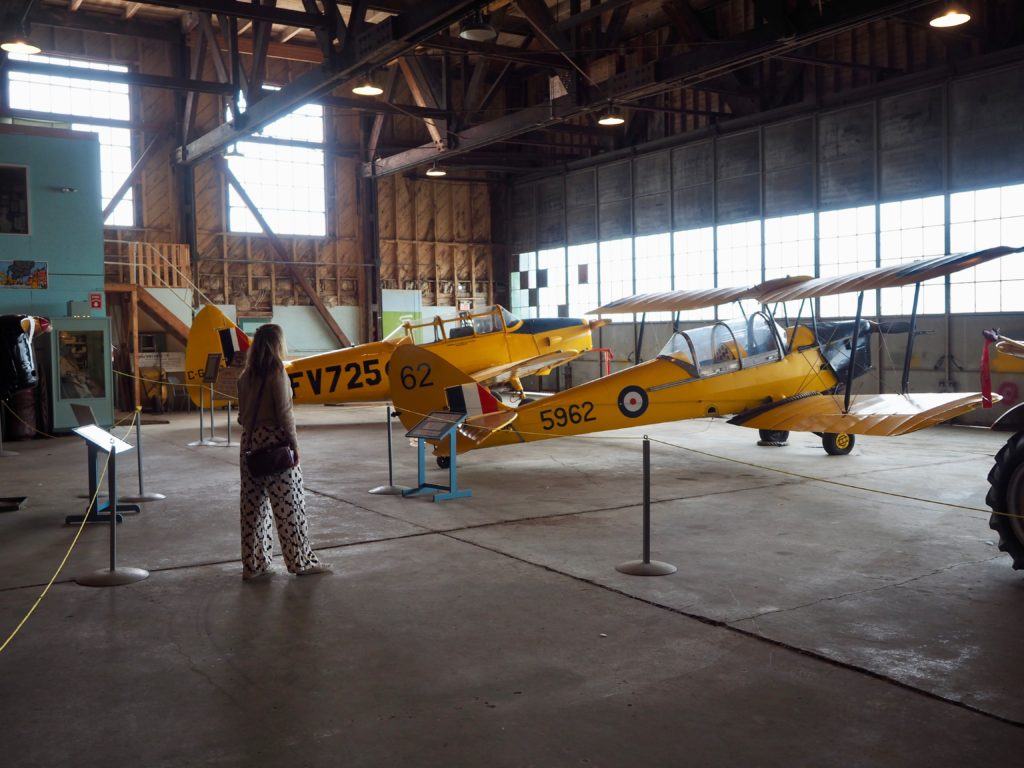 One of the best things to do in Brandon and an excellent way to spend a few hours of your time there is to head to the Commonwealth Air Training Plan Museum (located at the Brandon Airport). During World War II, thousands of people trained across Canada to join the Air Force. This museum is dedicated to those who fought in the air, many of whom died overseas. Packed with history, you can get up close to the planes, vehicles, and artifacts that were used at the time.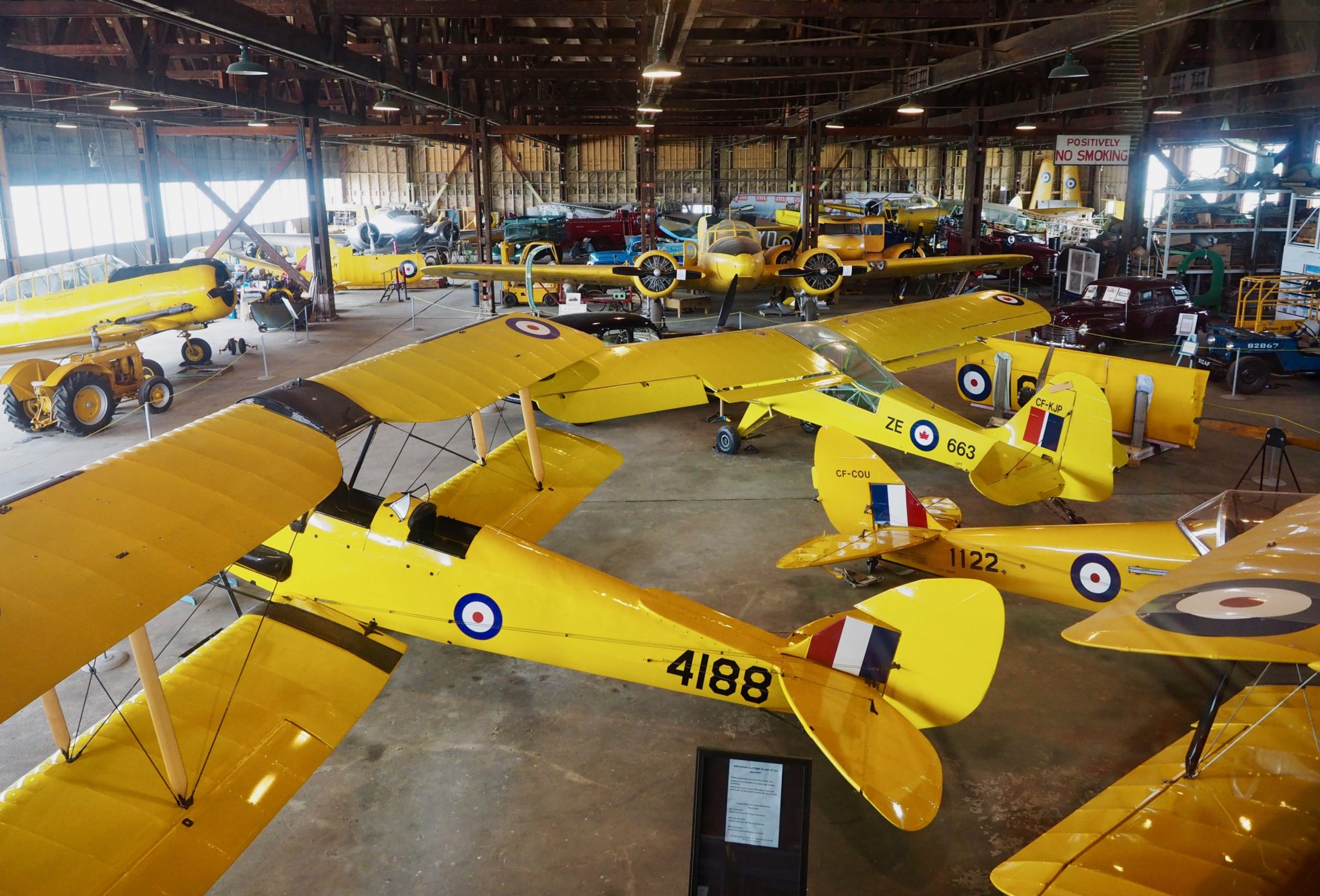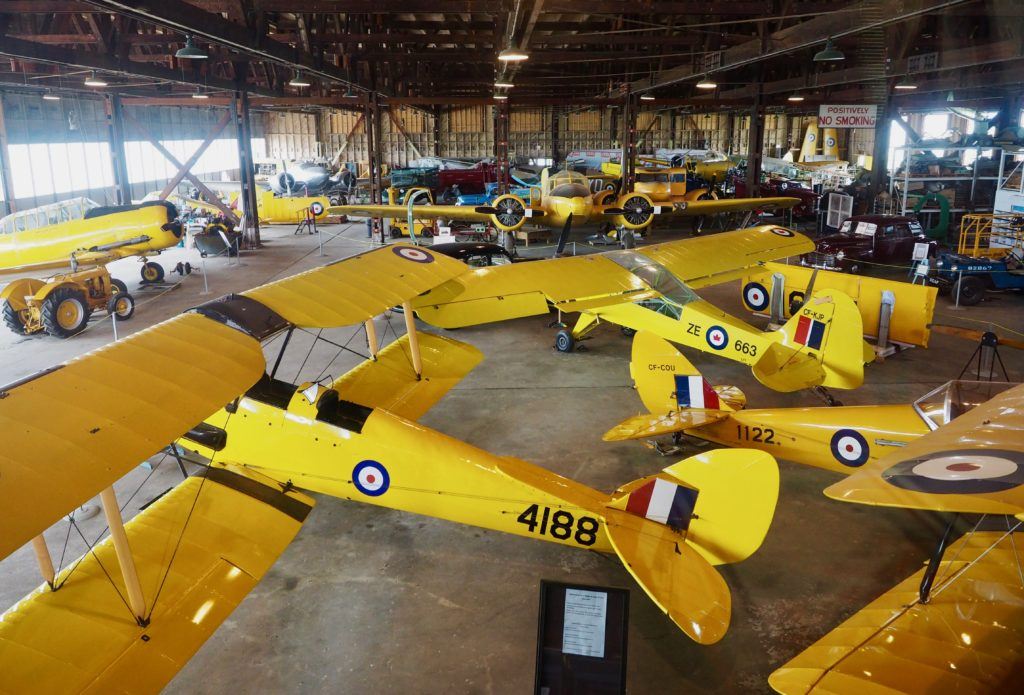 Directly from the Commonwealth Air Training Plan Museum website:
"At the time the [Commonwealth Air Training] Plan was signed in December 1939, Canada had only 4,000 people in the Royal Canadian Air Force but enrolment reached 250,000 by the end of 1943.
Aircrew personnel from Australia, New Zealand, England and Canada were all trained under The Plan. Canada was chosen as the training country because of its preferable climate and the fact it was far from the dangers of enemy activity. The Plan was referred to by Winston Churchill as Canada's greatest contribution to the allied victory".
Check out the local museums for art and culture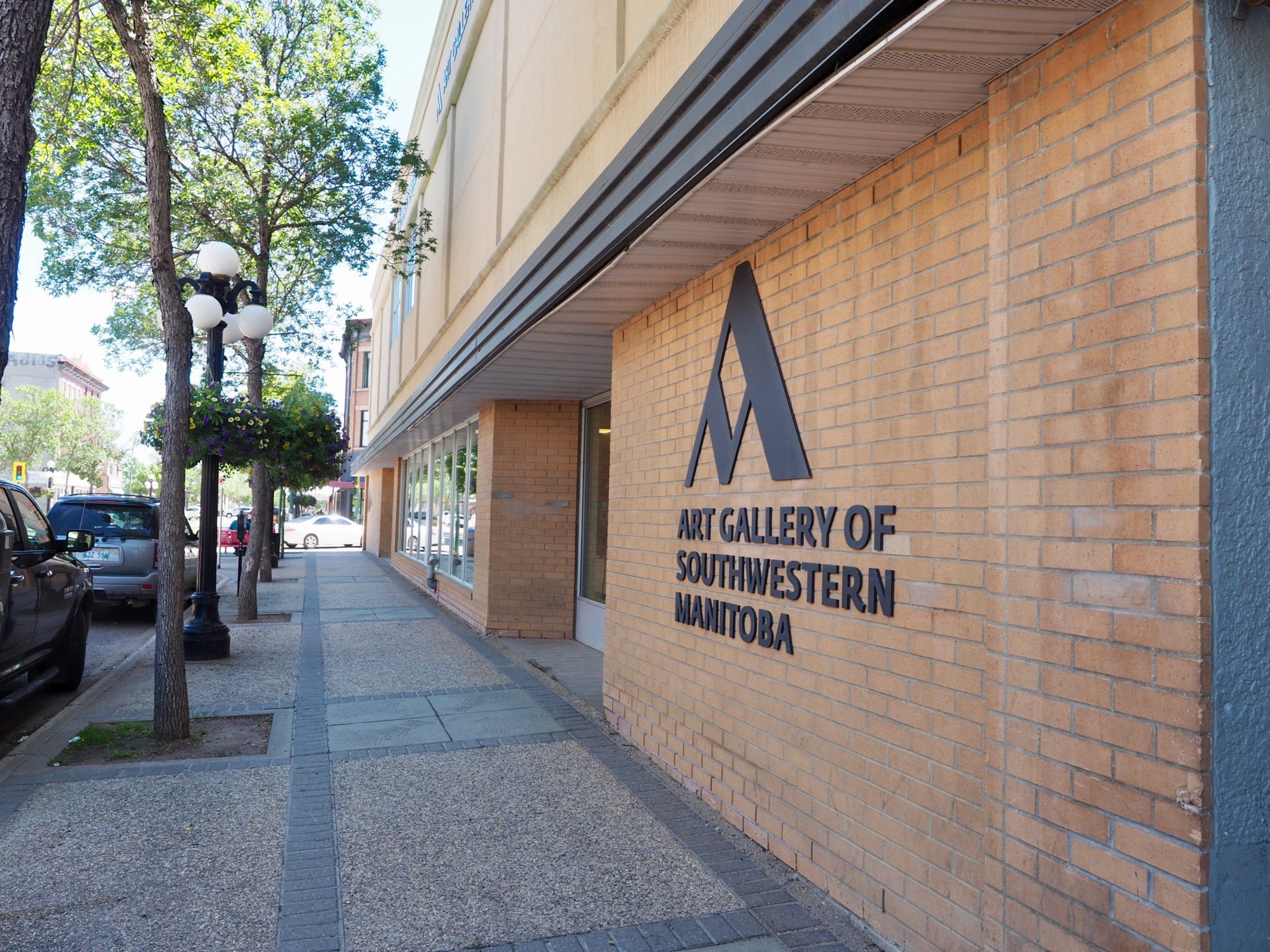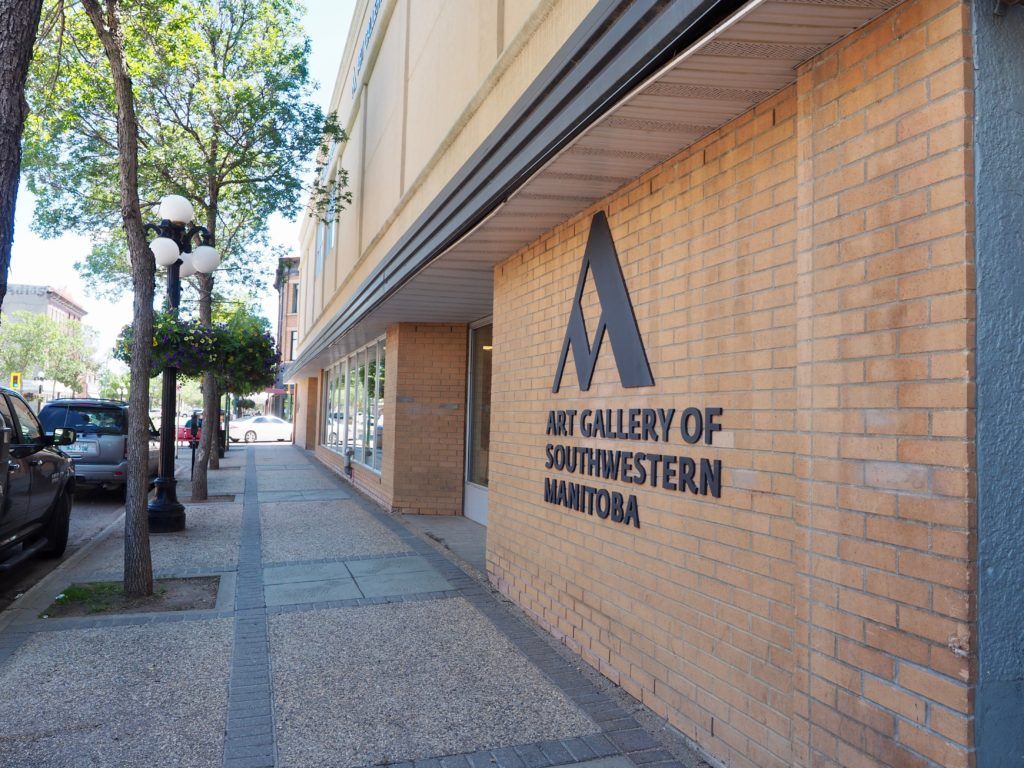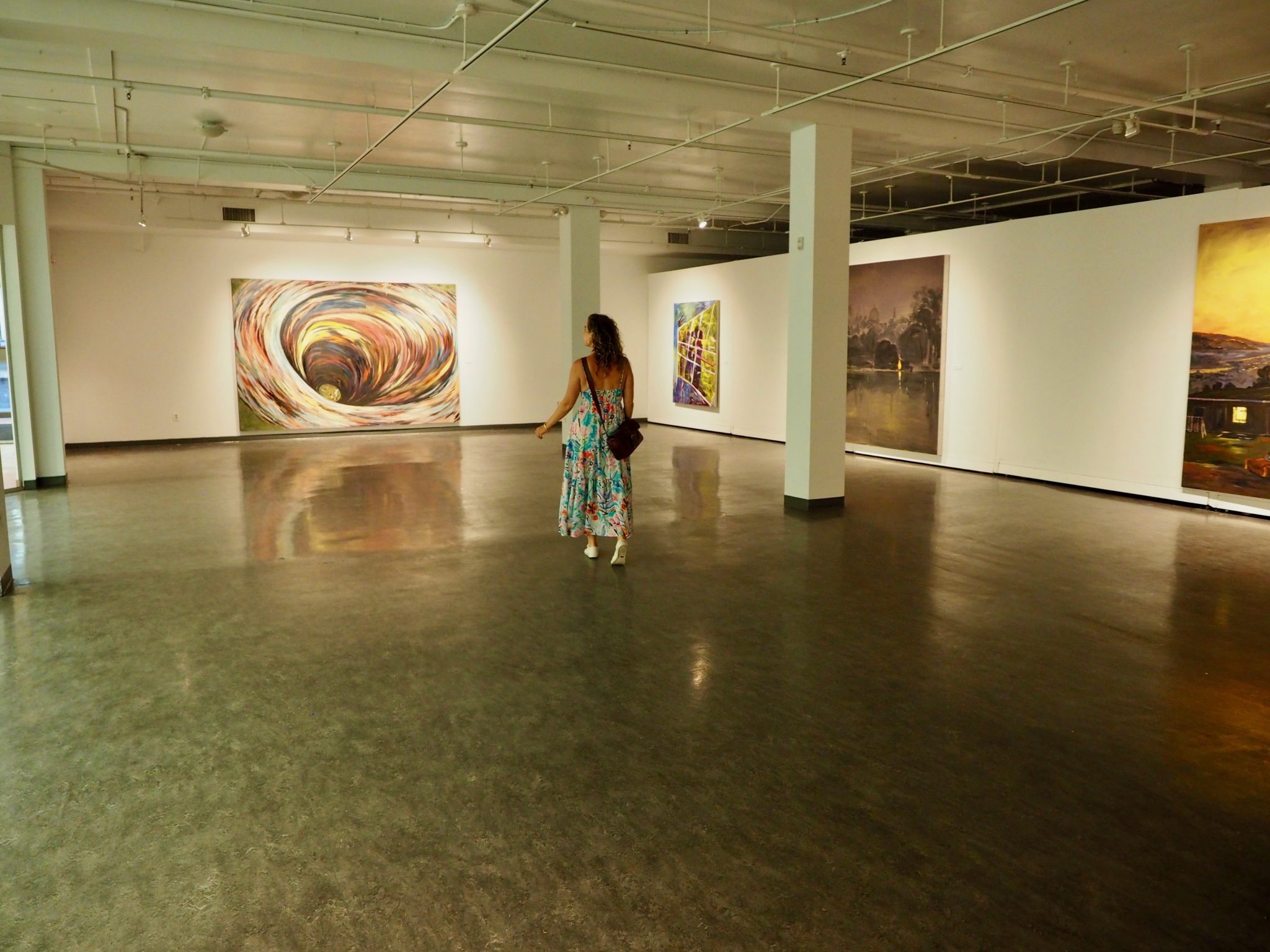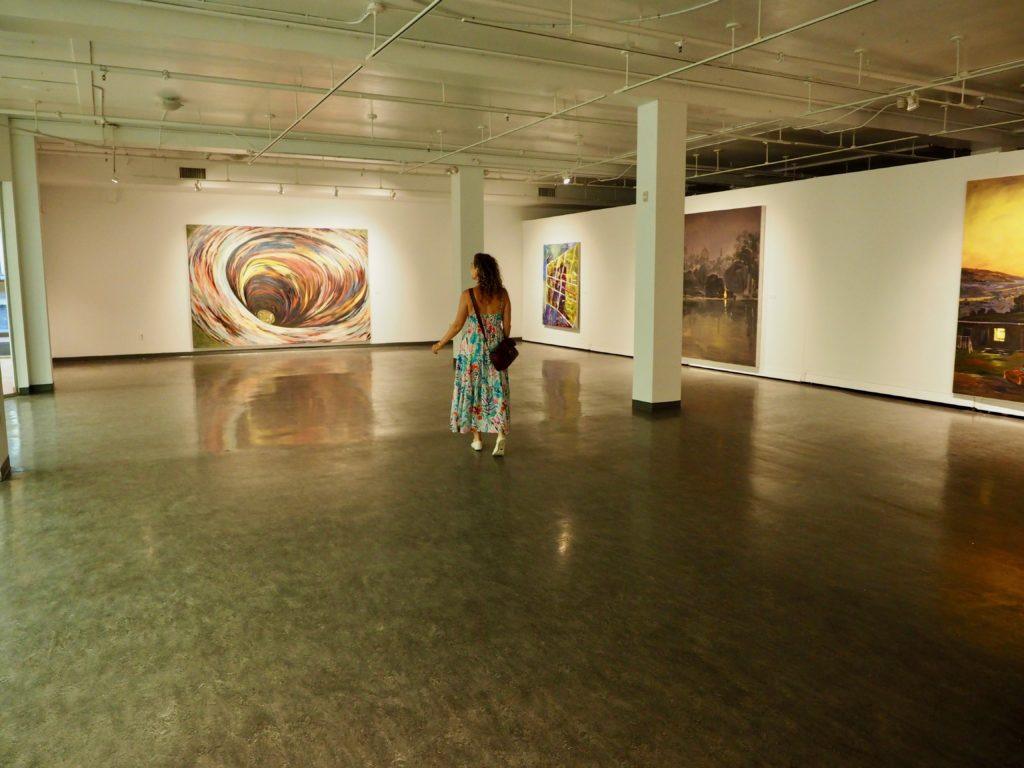 Free to visit (although donations are encouraged), the Art Gallery of Southwestern Manitoba (710 Rosser Avenue, Unit 2) is found in the heart of downtown Brandon. Head here to see local artists and ever-changing exhibitions; when we visited there was a fantastic exhibit from a local high school as well as an exhibit of more established artists.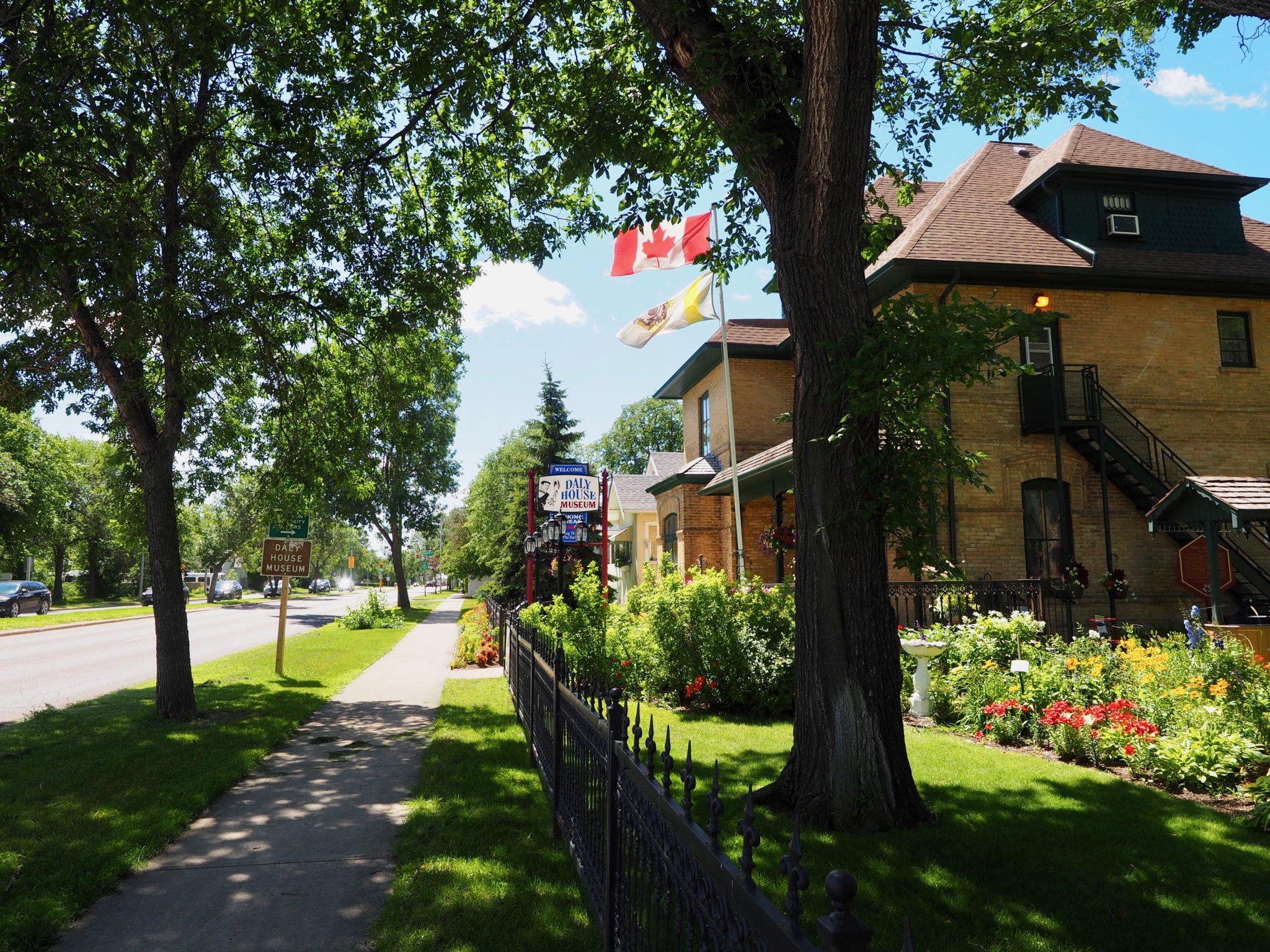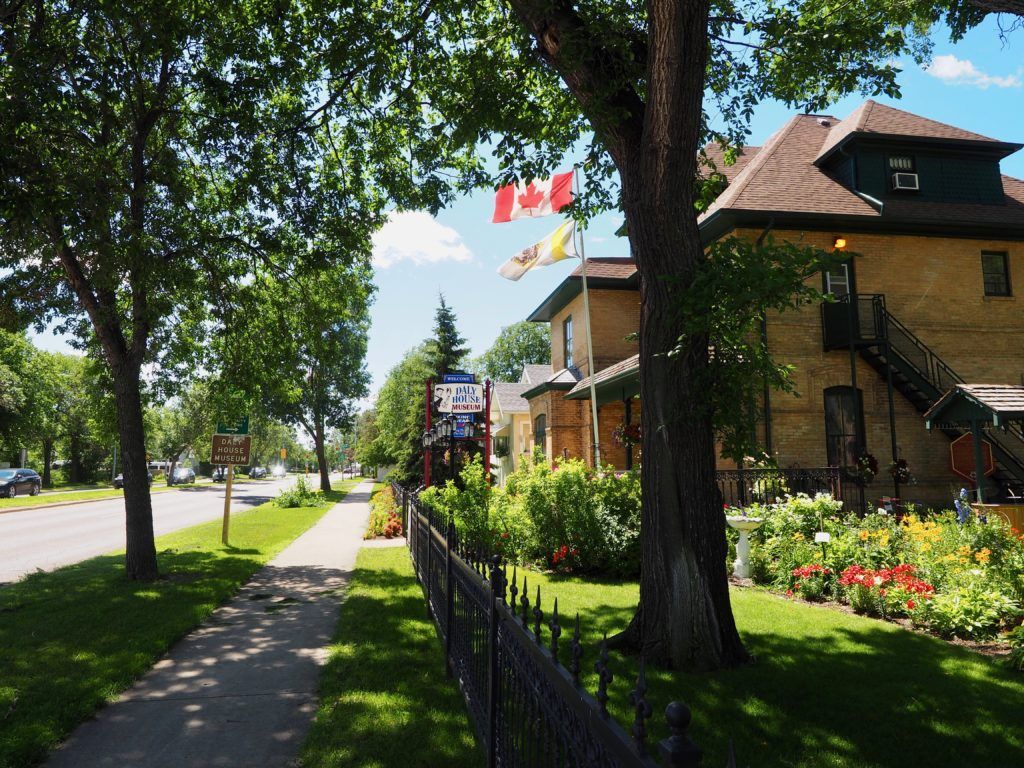 Although the Daly House Museum (122 18th Street) was closed when I visited, I still wandered around the beautiful gardens adjacent to the house. If you get a chance to visit the museum, you can enjoy a tour of this gorgeous Victorian house and its furnishings from the 1880s. Now a municipal heritage site, it's a great way to get a glimpse of days past.
There's also the Brandon General Museum and Archives, although I didn't have time to visit!
Walk around the beautiful Brandon Riverbank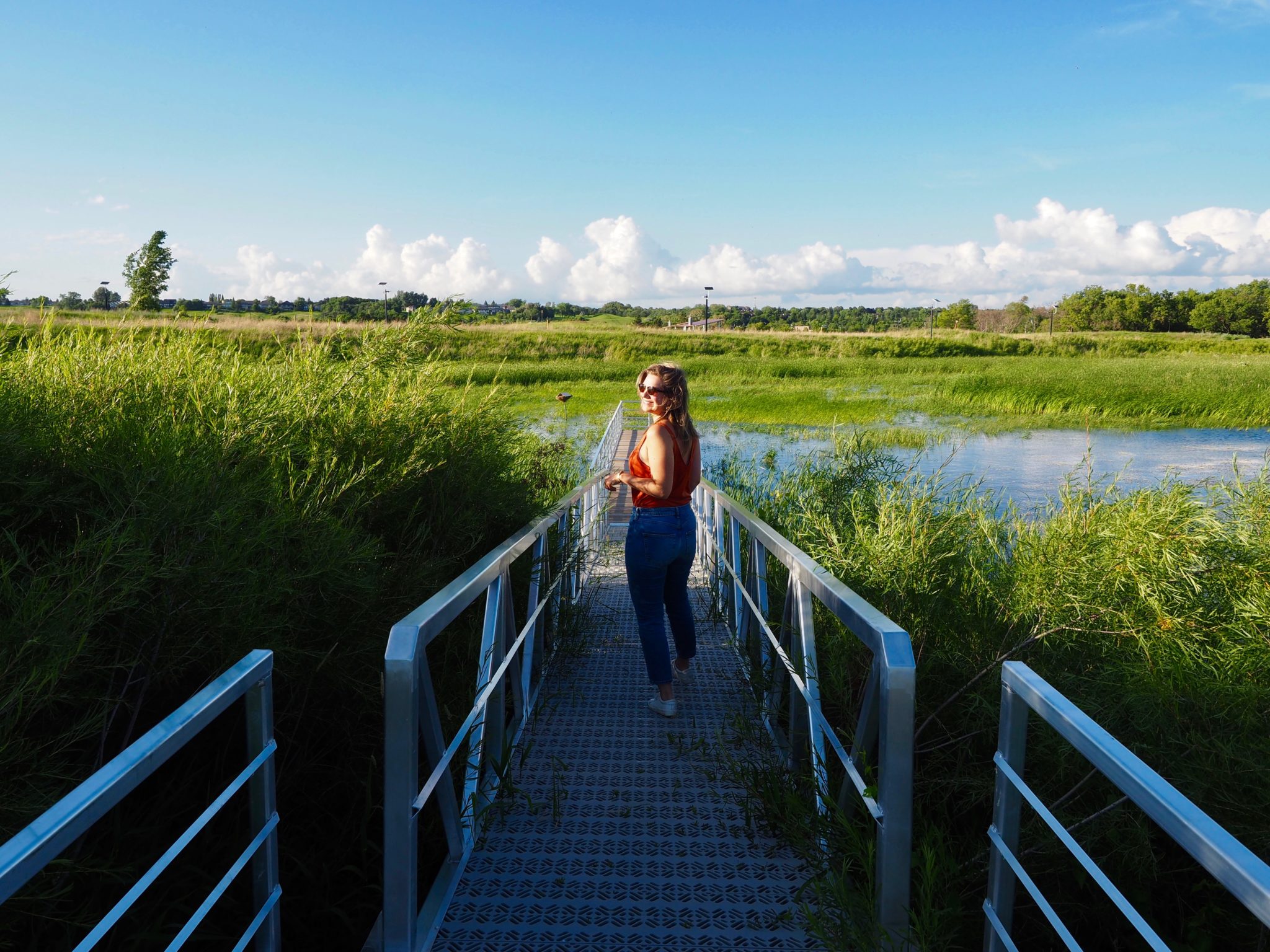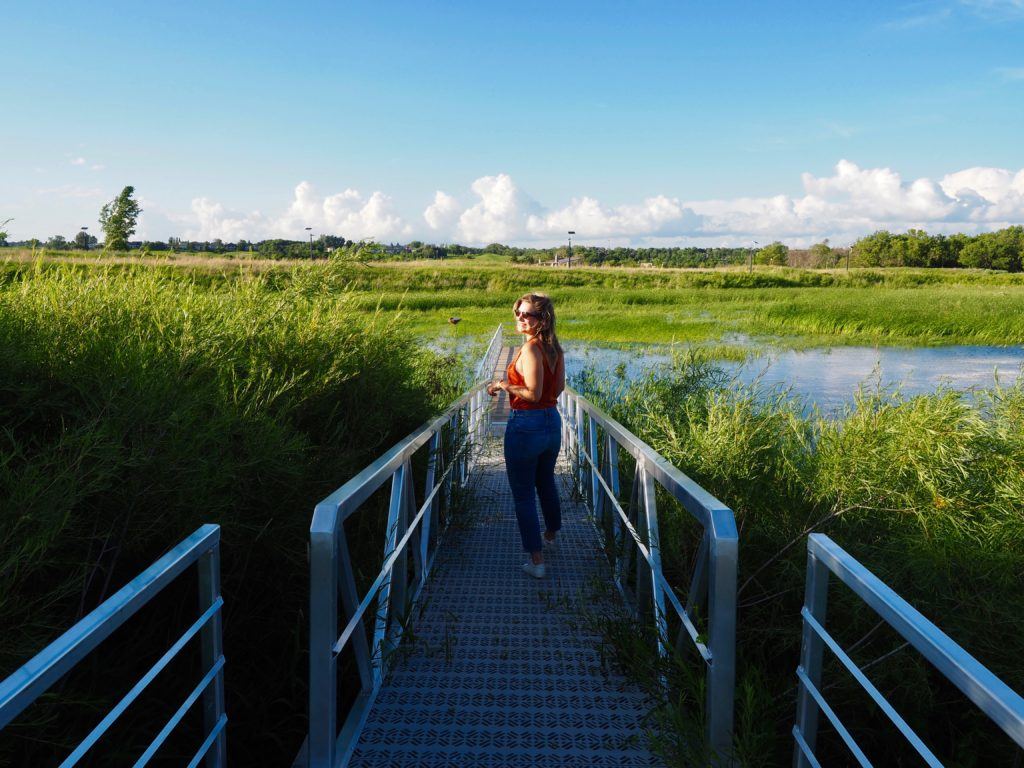 Perhaps my favourite activity in Brandon was the time spent at the Brandon Riverbank. It was the perfect evening for it: the wind was rustling through the marsh, the birds chirped in the distance, and those vast prairie blue skies seemed to go on for ever.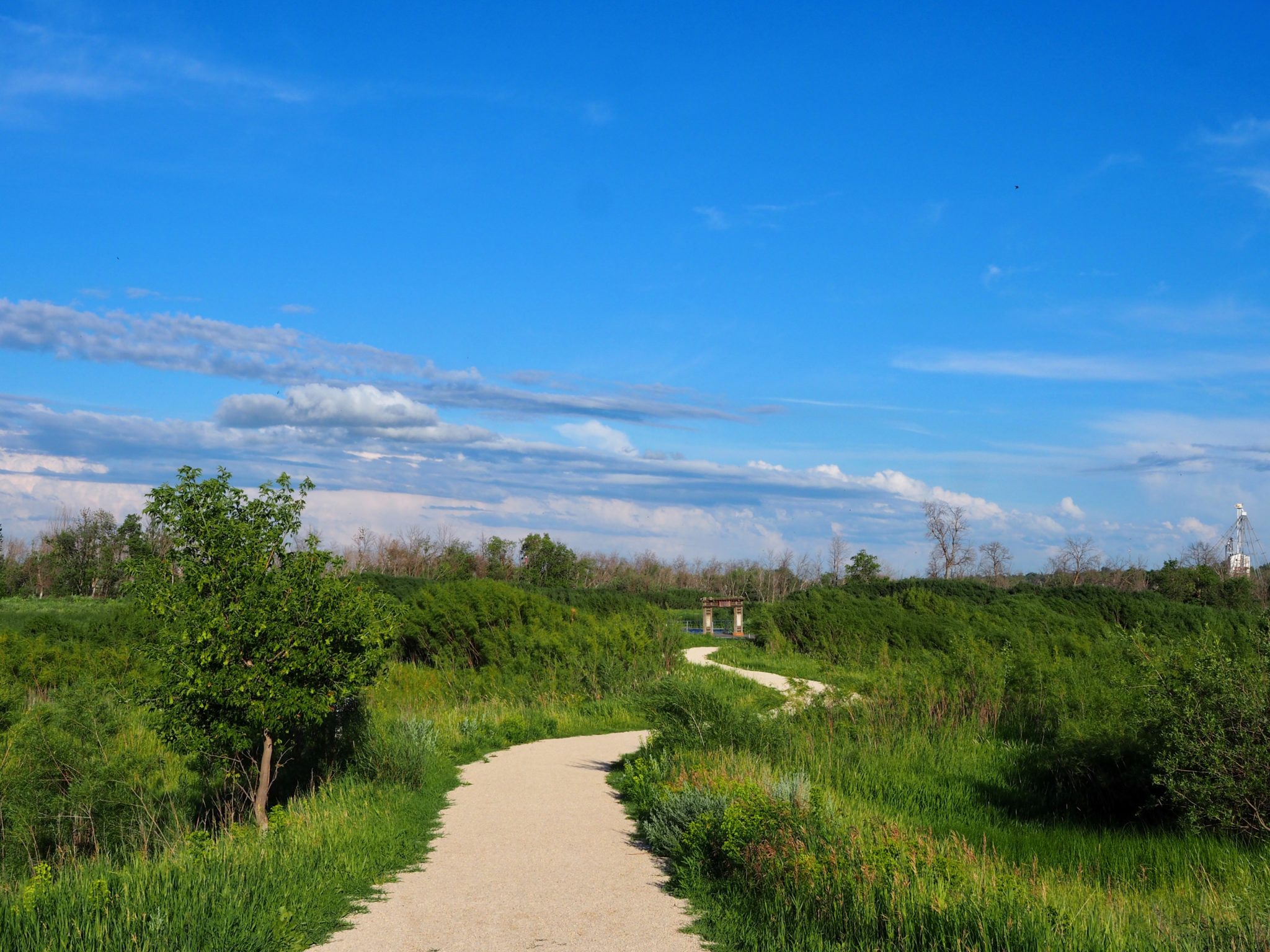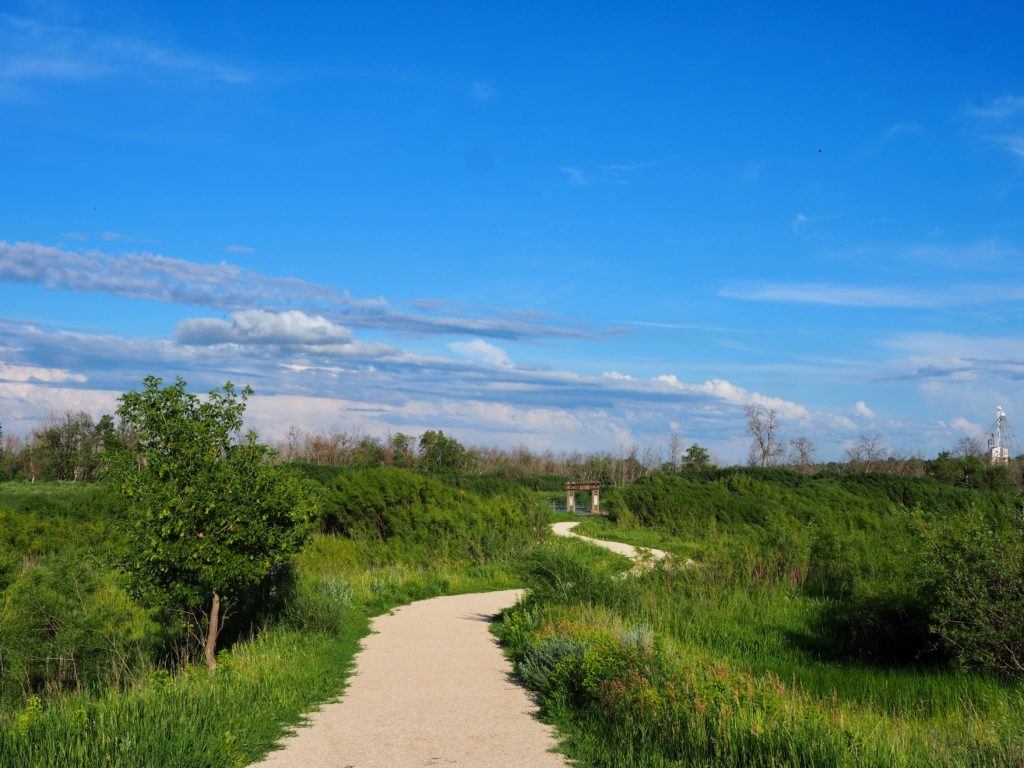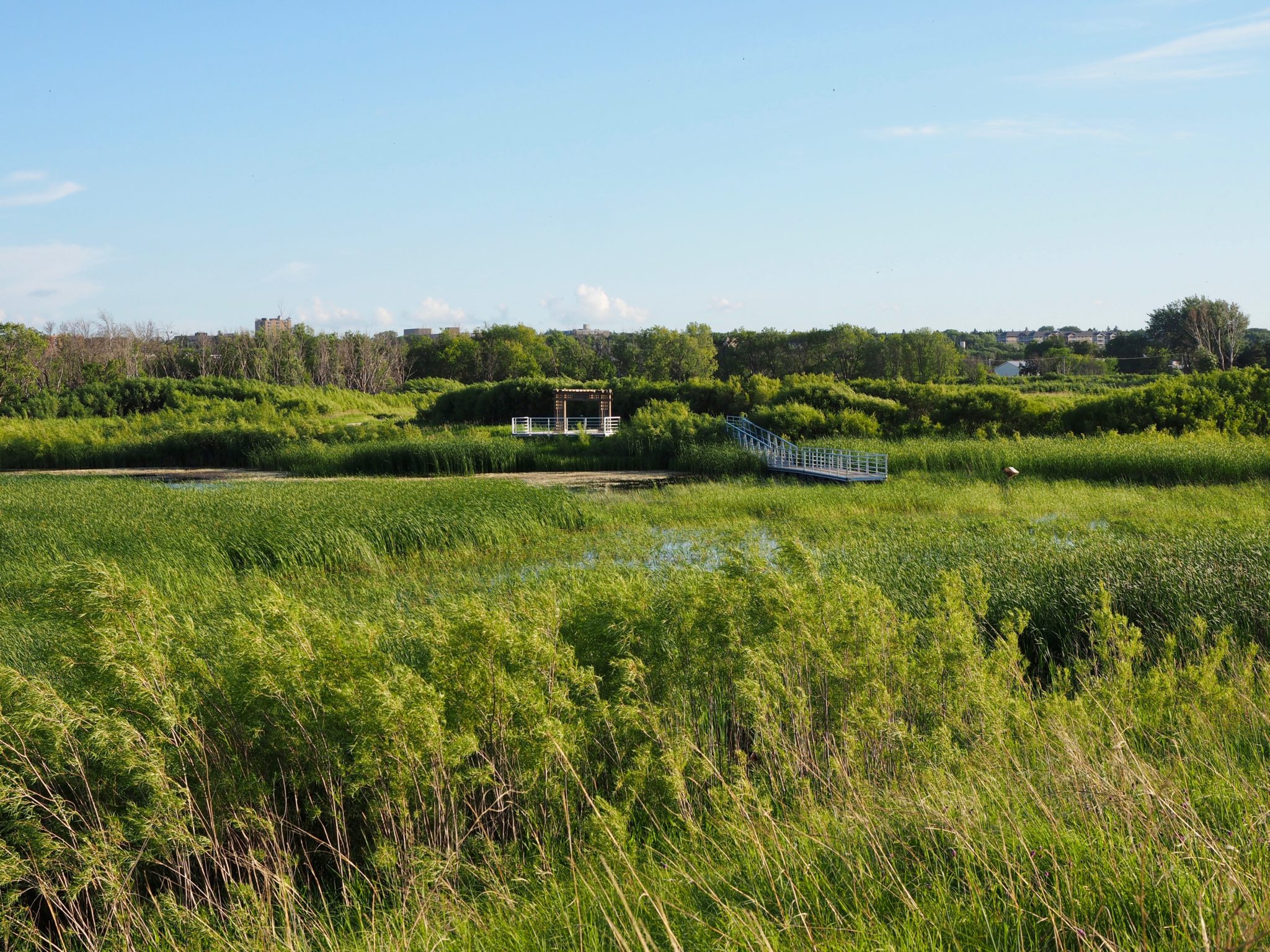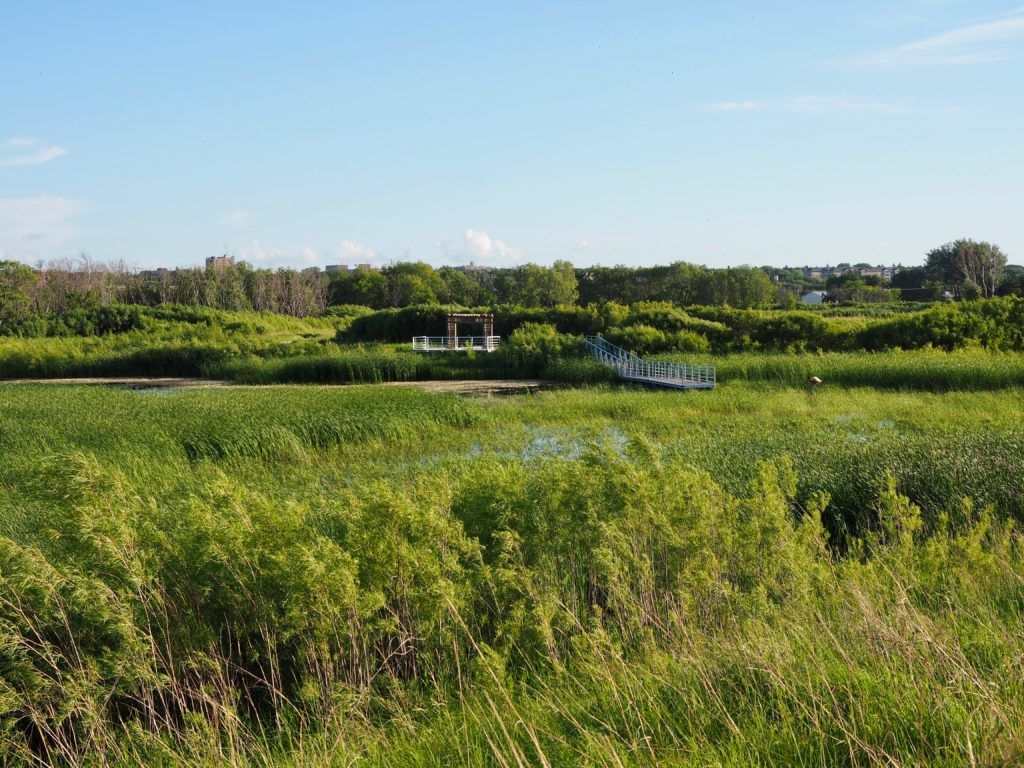 Jon and I spent a couple of hours wandering around the paths and stopping to take photos along the water. Make sure to spend time on the floating dock; I was able to spot a few birds.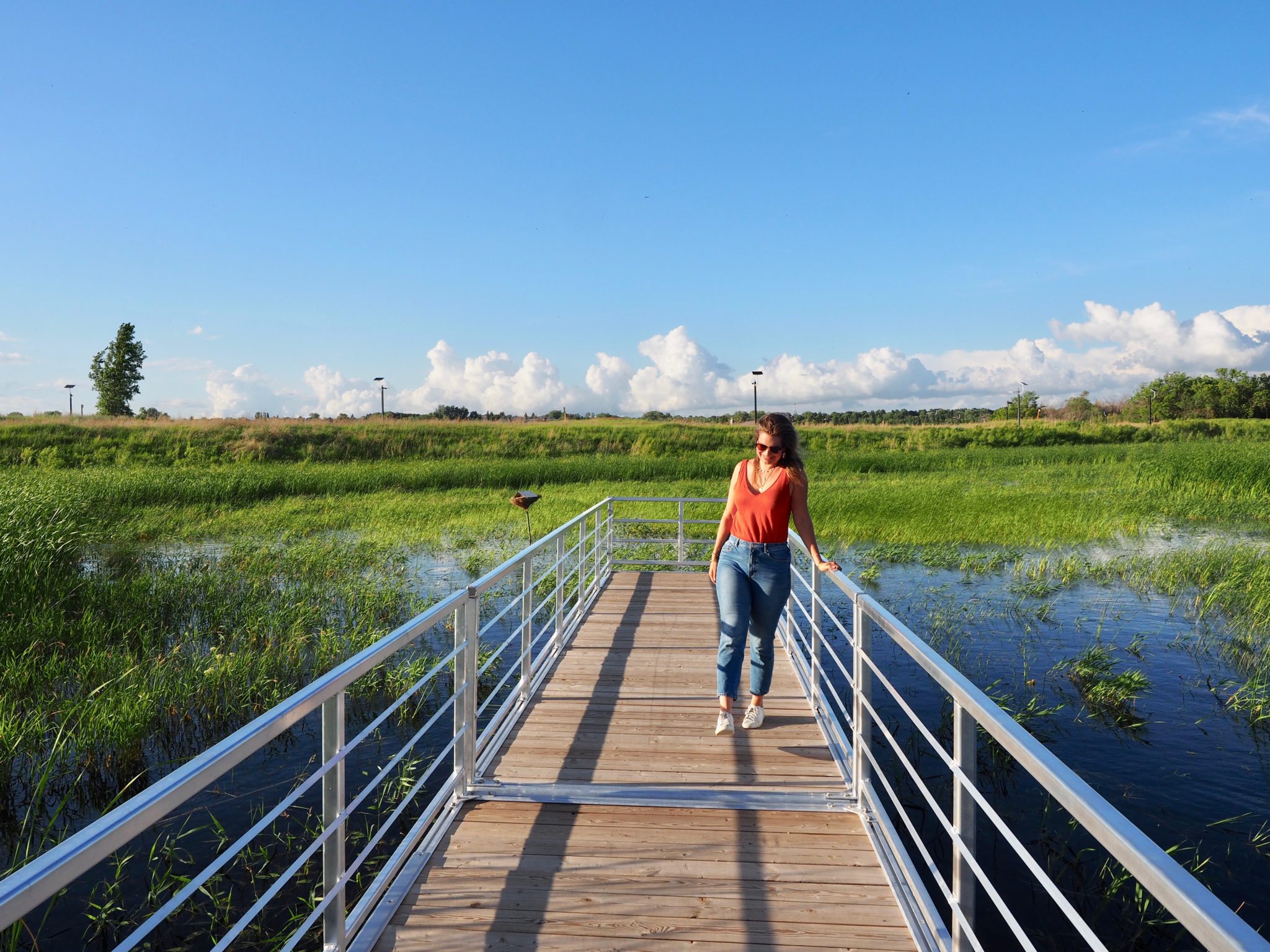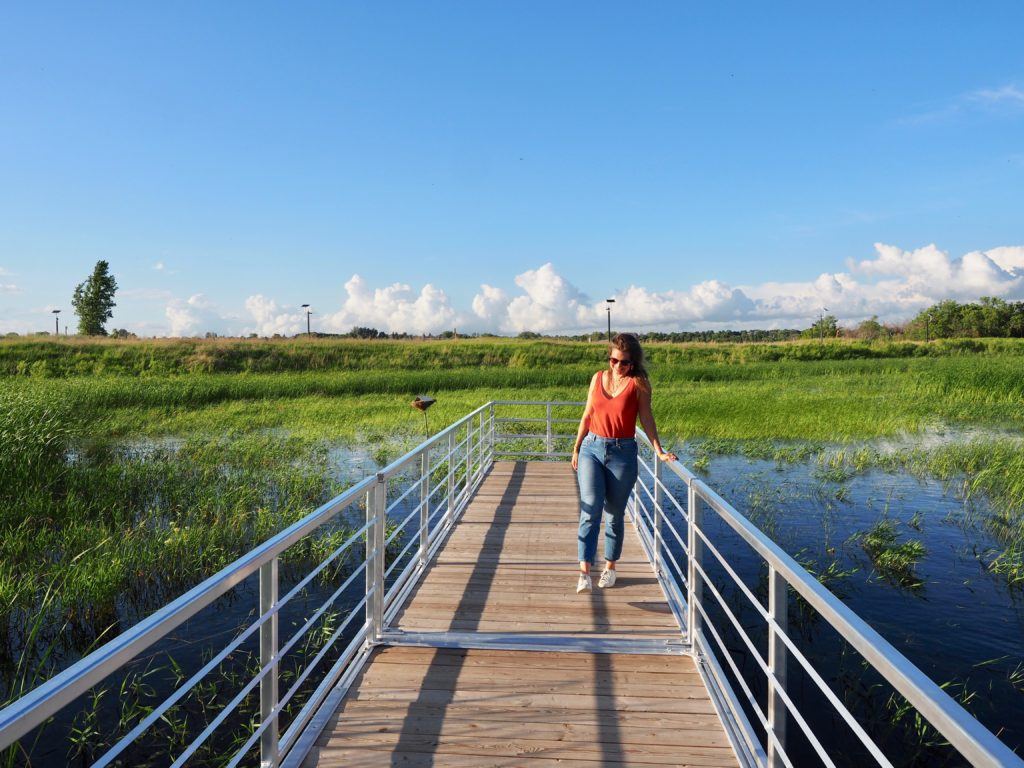 While you're there, you can stop into the Riverbank Discovery Centre for more information on Brandon!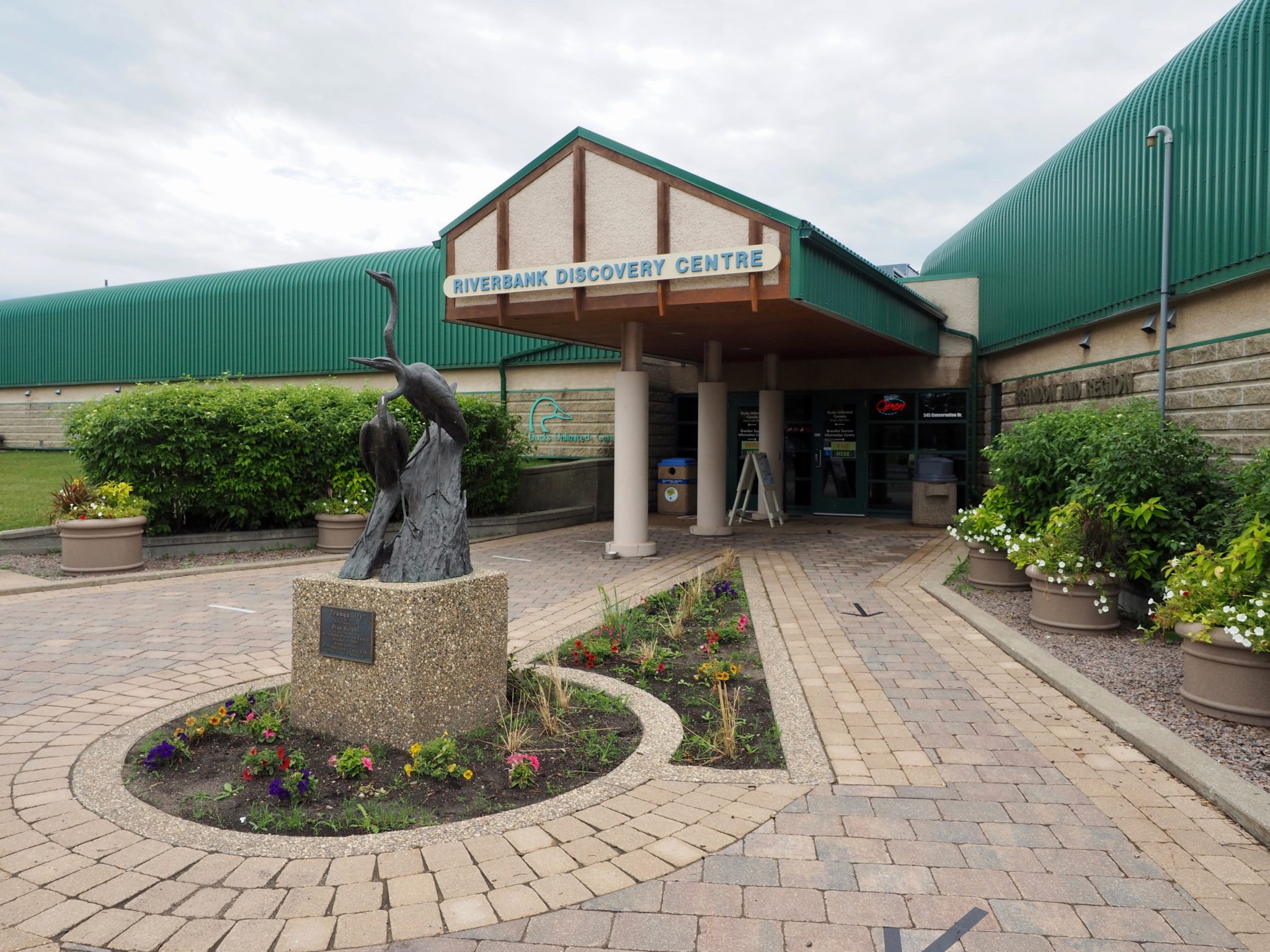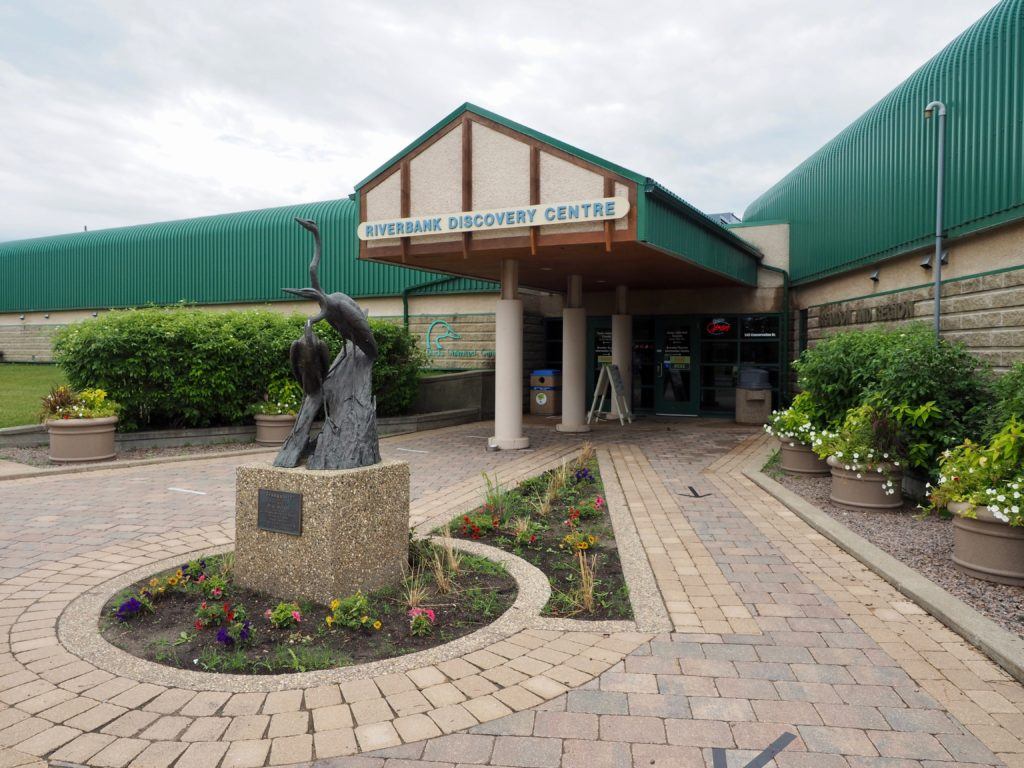 Go shopping at the local boutiques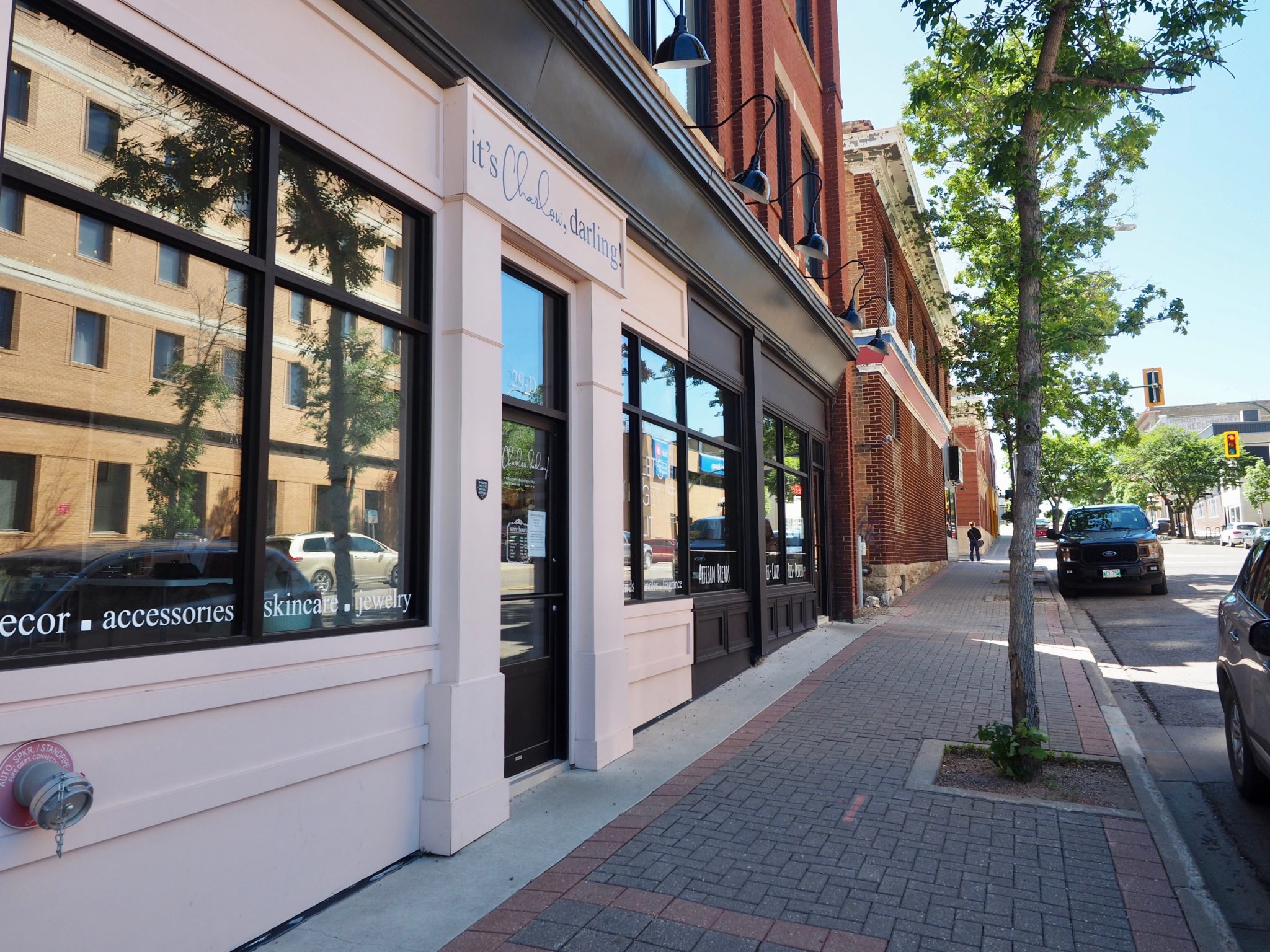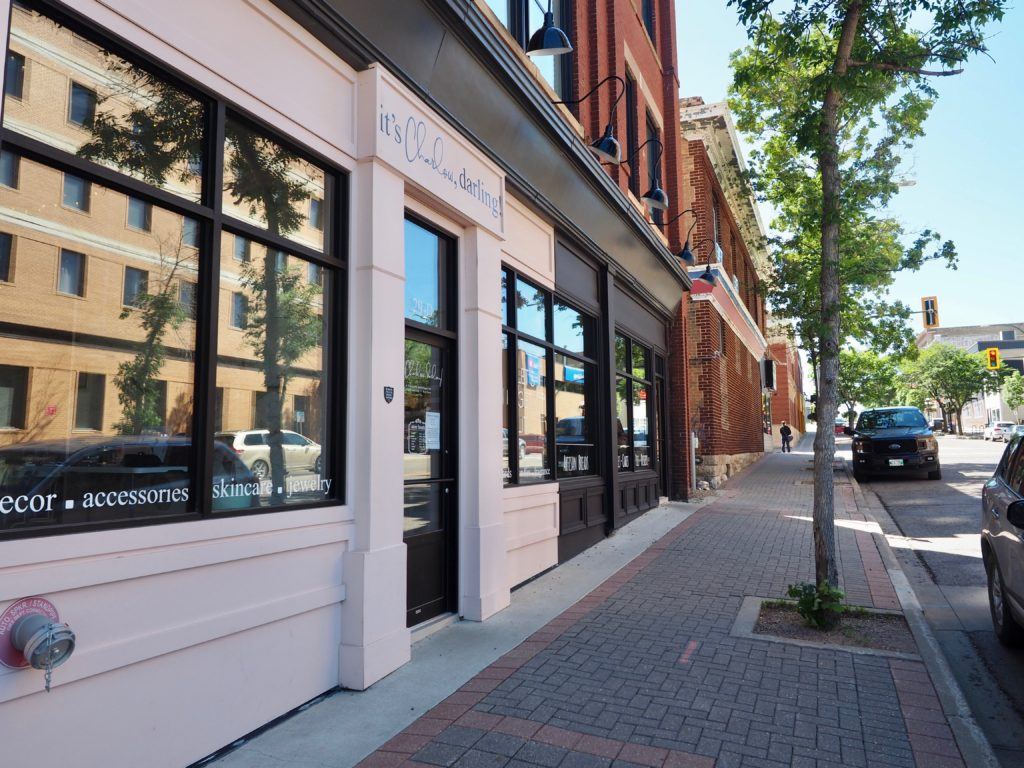 Although you'll have your pick of chain stores in Brandon that you'd find in any big city, my recommendation is to shop local. There's nothing better than supporting local businesses… and chances are you'll come away with a few one-of-a-kind items!
I really wanted to visit It's Charlow, Darling! (29-D 10th Street) but they were unfortunately closed when I visited. Thankfully you can purchase a lot of their products online; they sell handcrafted candles and Canadian goods.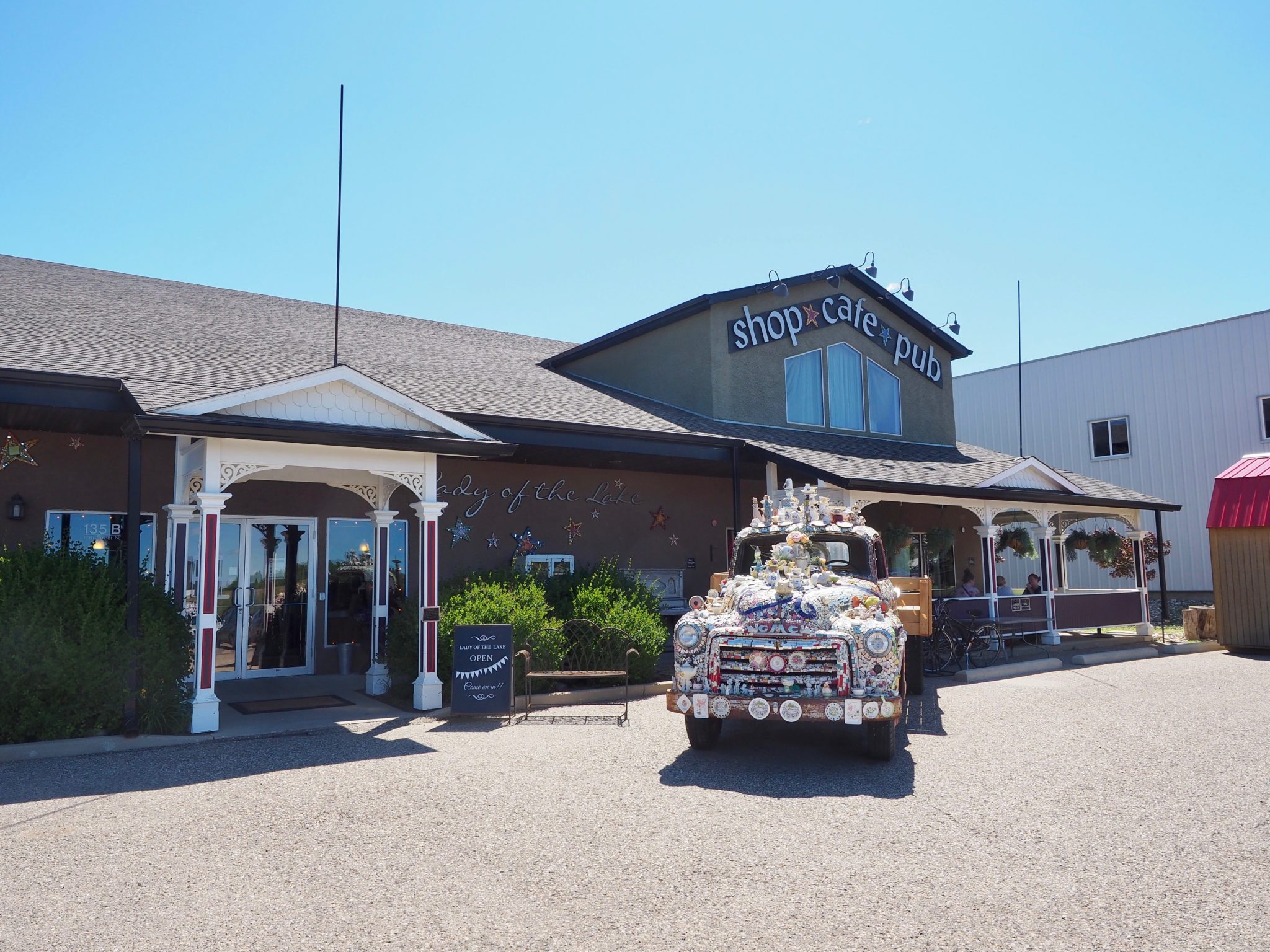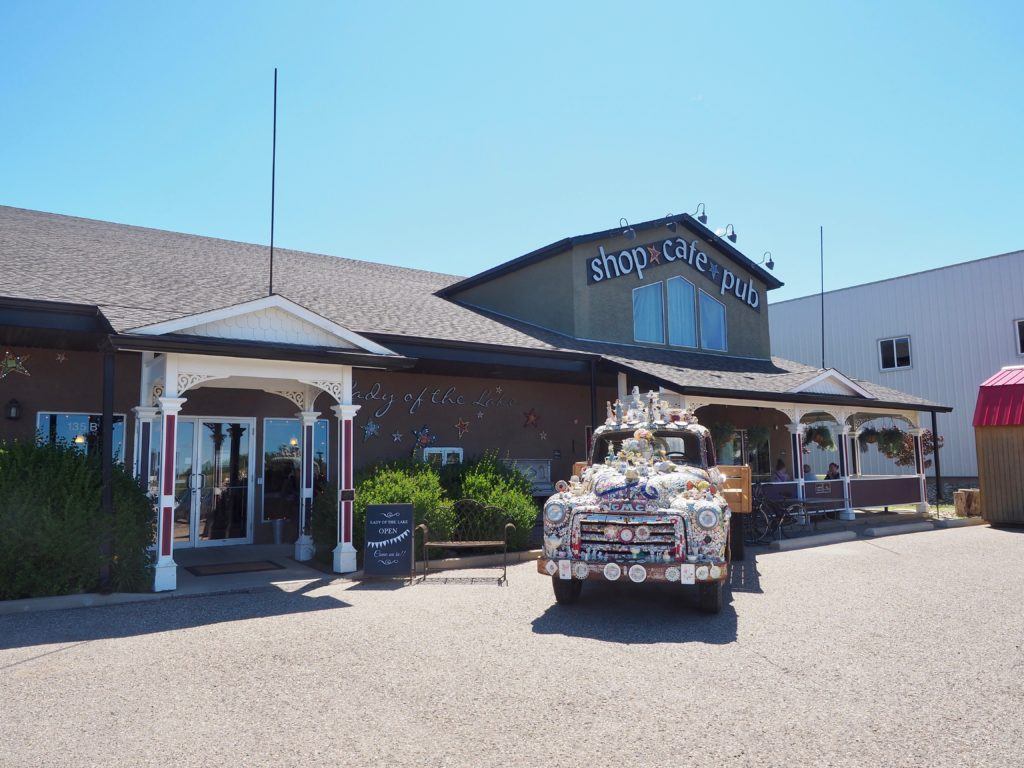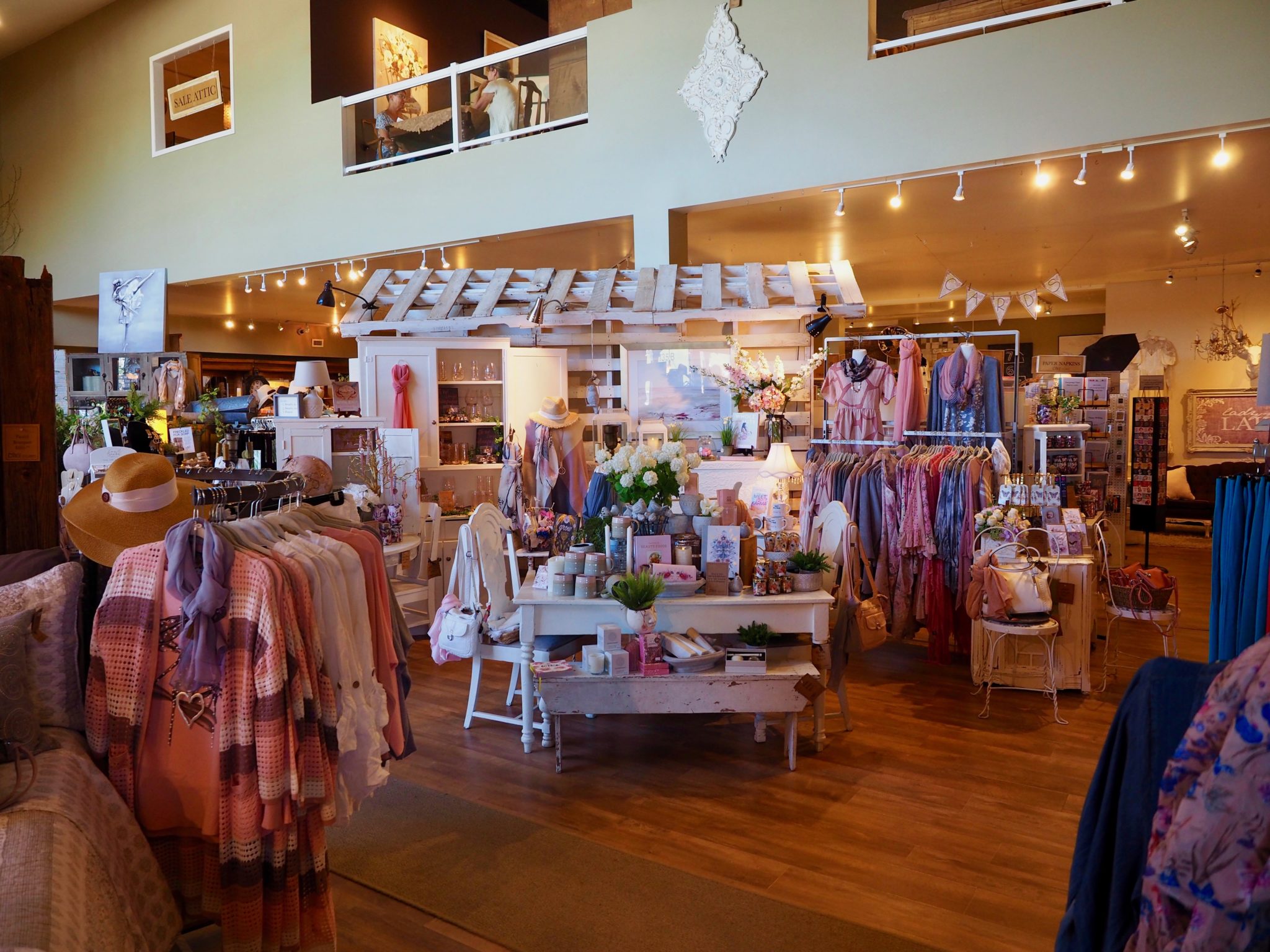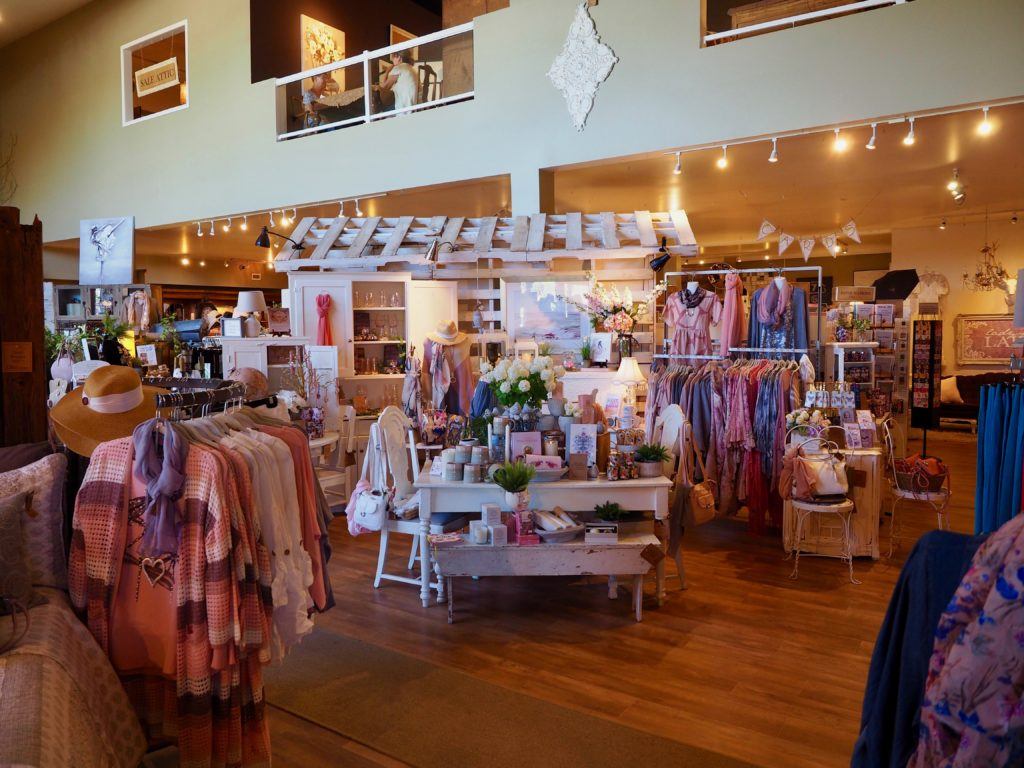 Lady of the Lake (135 17th Street N) sells a lot of Canadian products, clothing, jewellery, and books, with an emphasis on handcrafted items. I wanted to try the café while we were there – it gets wonderful reviews online – but we didn't have time!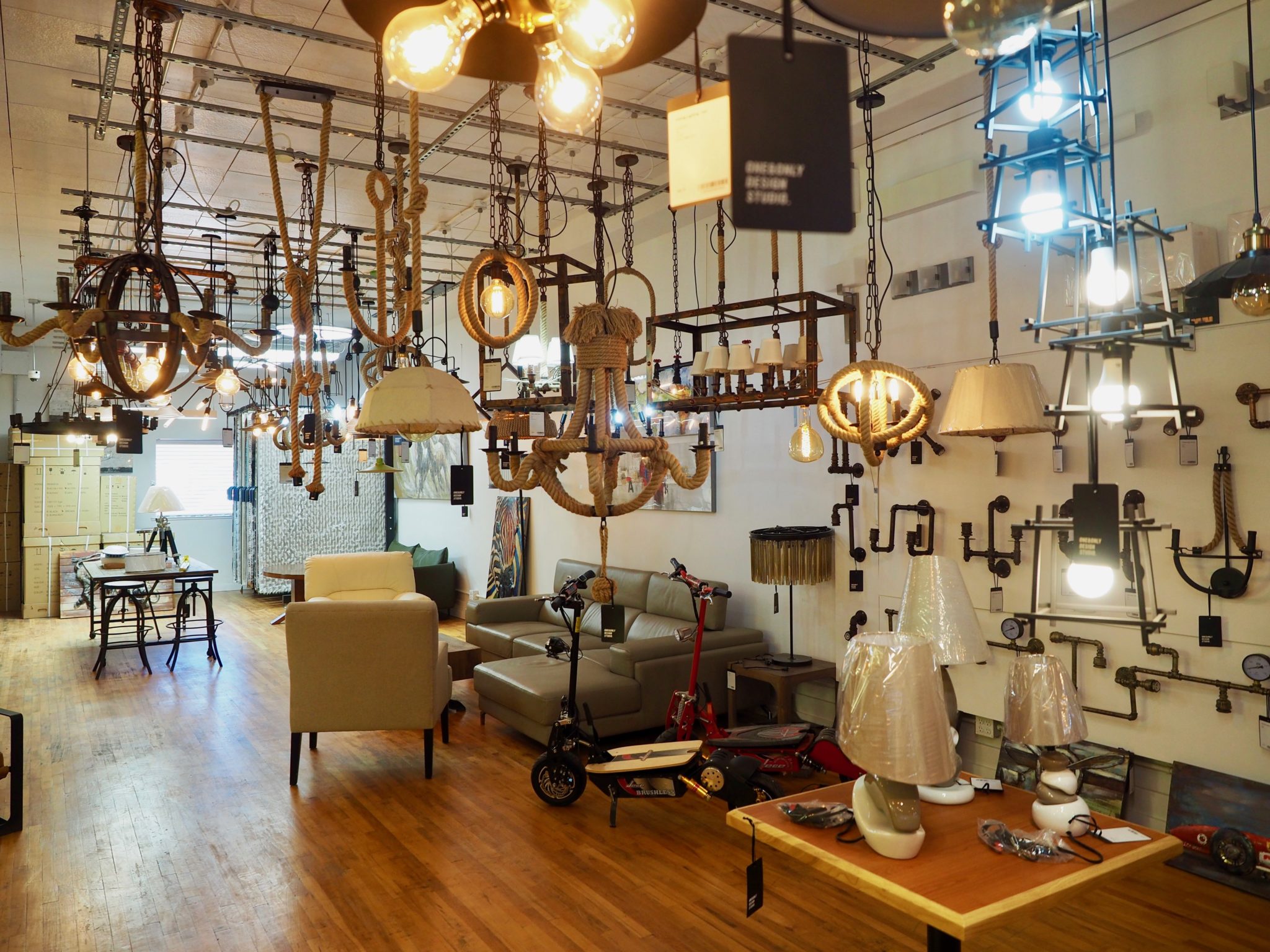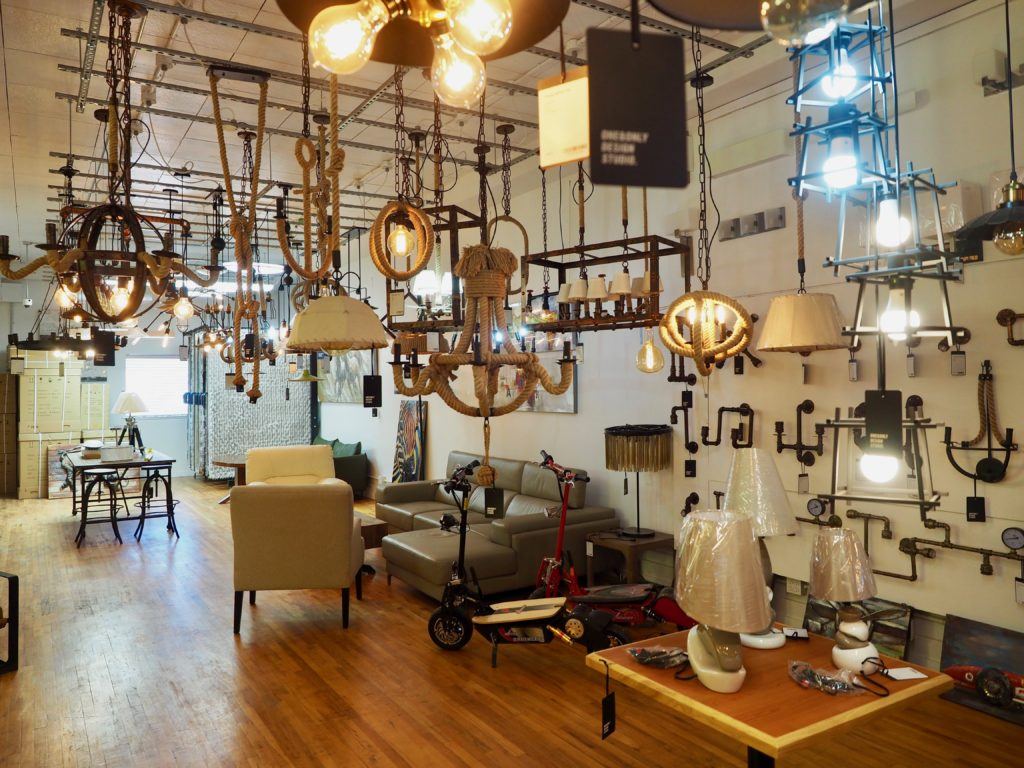 One and Only Design Studio (130 10th Street) had tons of amazing light fixtures and other furniture and home decorations. They also have a coffee shop inside which made for the perfect pick-me-up.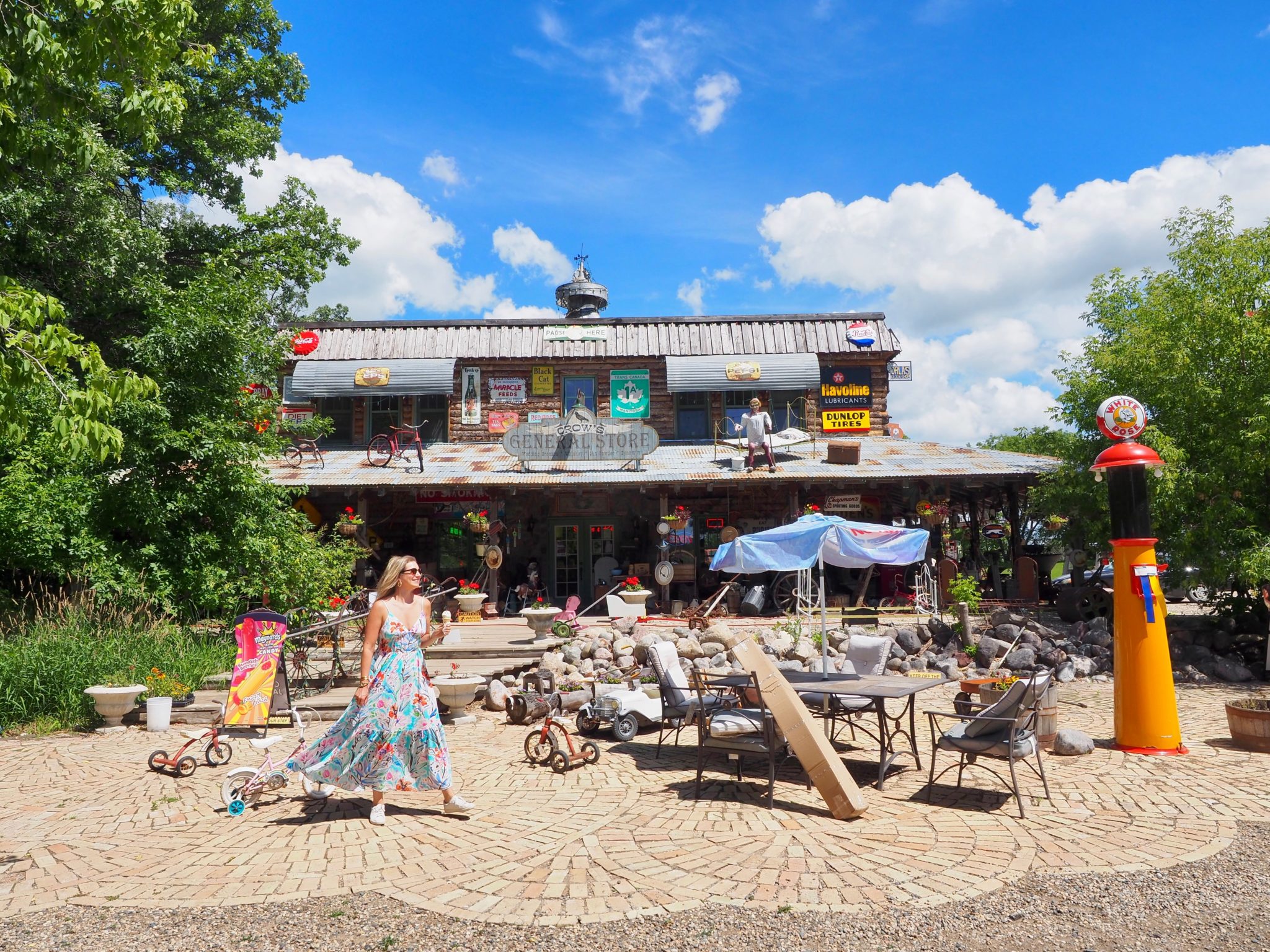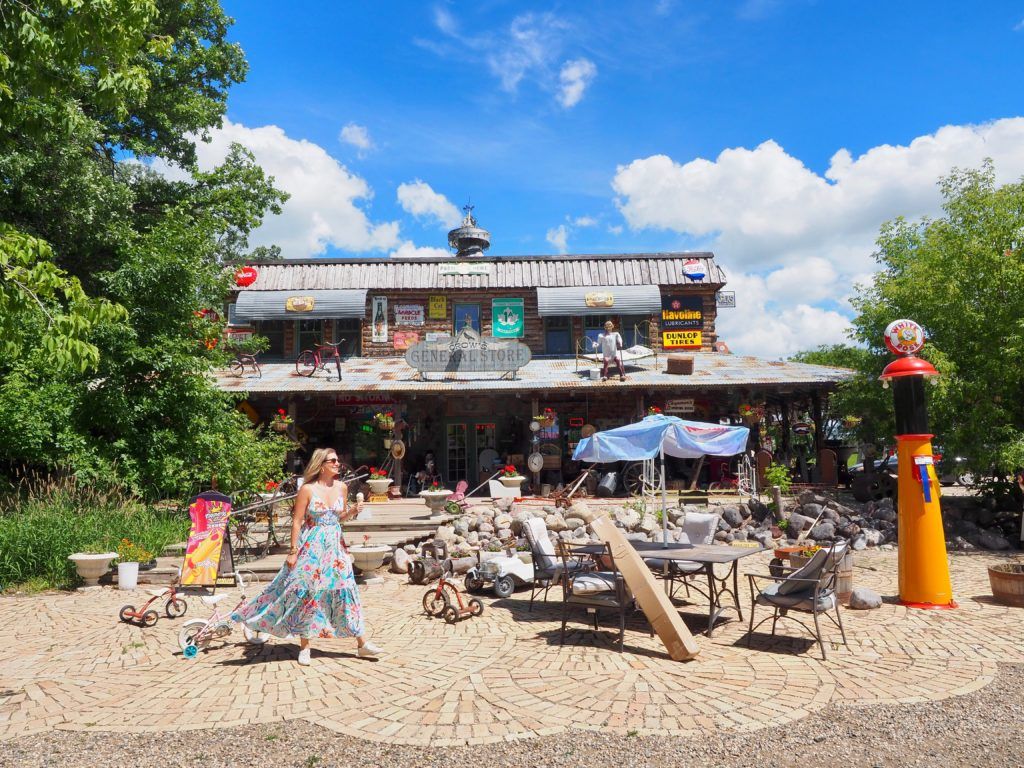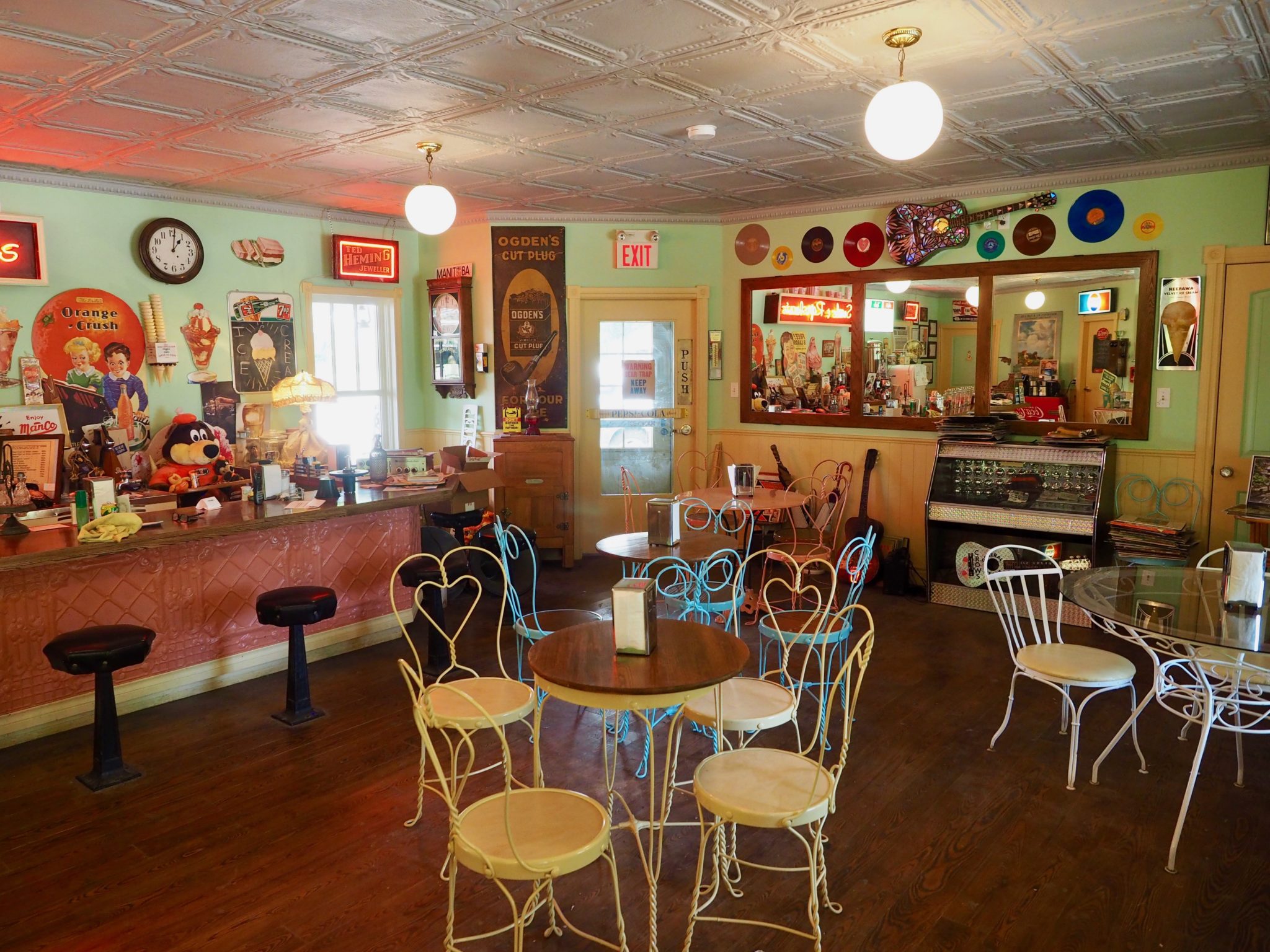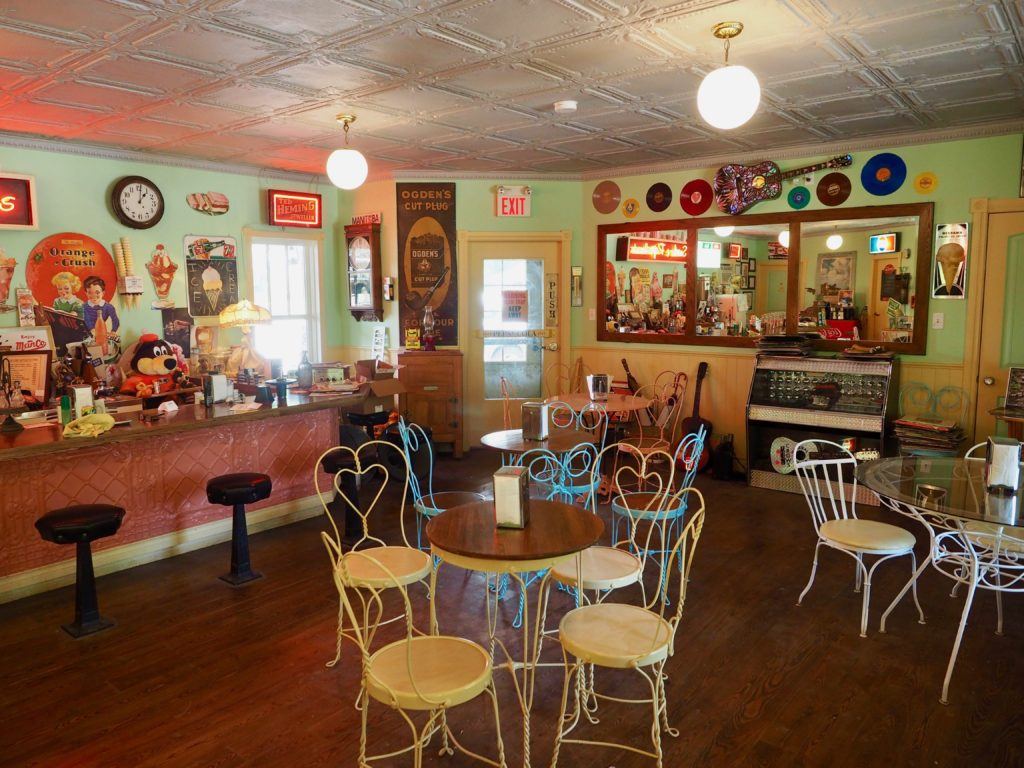 Though not really a shop per se, Crow's General Store (33 17th Street E) is considered a hidden gem in Brandon. This fantastically eccentric place is filled with tchotchkes and signs, making it a great photo op. Pick up some sweets or grab an ice cream to feel as though you've stepped back in time.
Relive your childhood with arcade games and bowling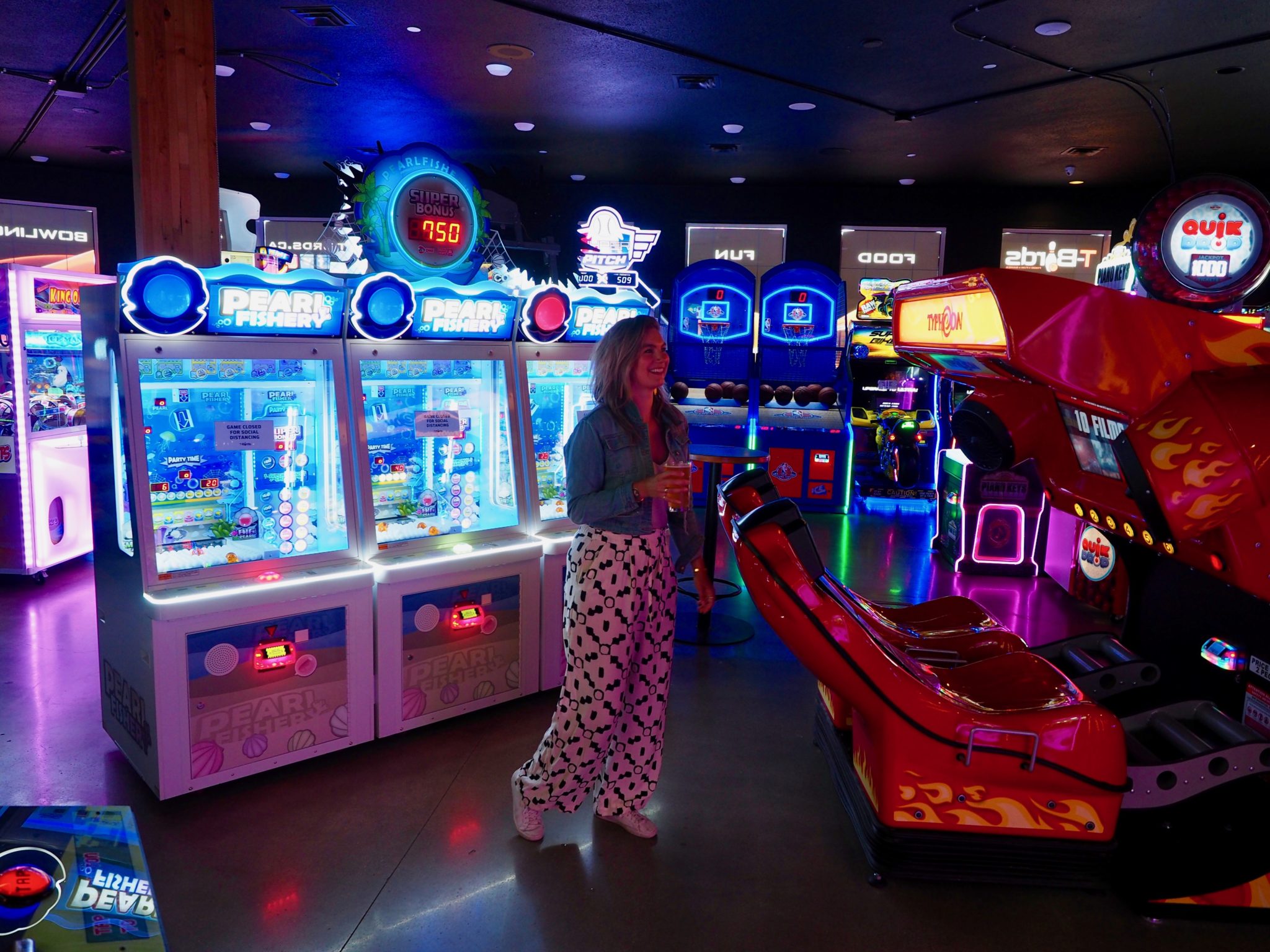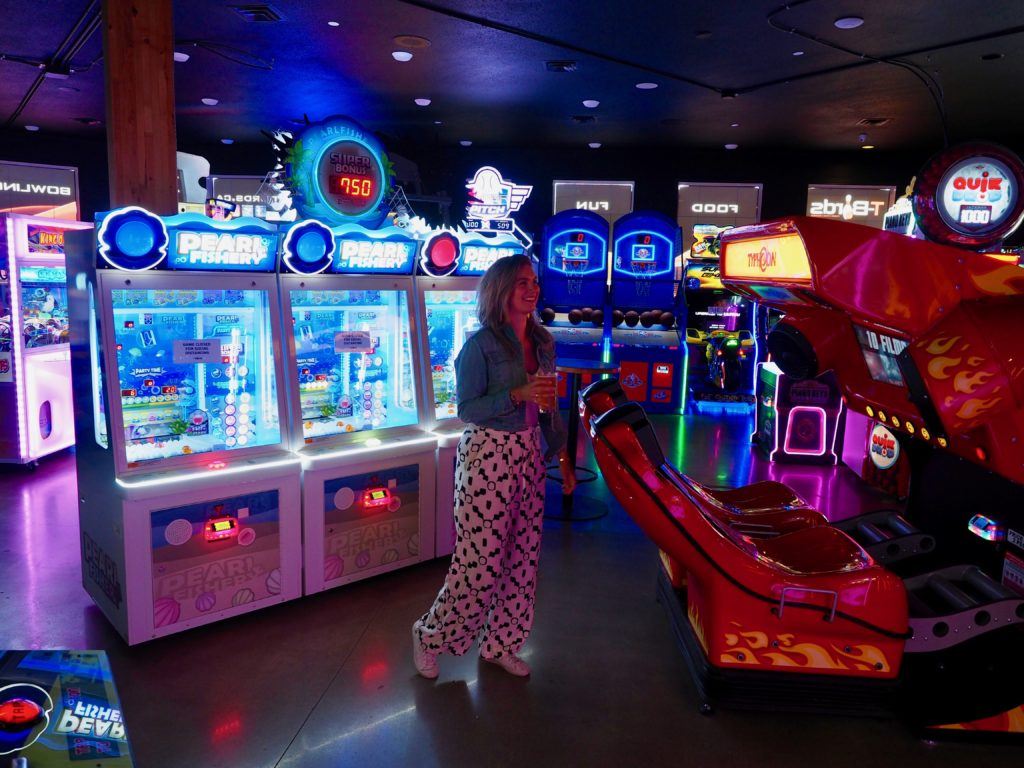 Jon and I spent a couple of hours at T-Birds, and oh man, was it fun. With tons of bowling alleys and a huge selection of arcade games, we grabbed a pint and happily tried to beat each other at air hockey (he won), mini basketball (he won), and skee ball (he, um, also won). While a lot of the games are currently closed to encourage social distancing, it was a perfect place to spend an afternoon when the weather was a bit gloomy.
Essential Information for visiting Brandon: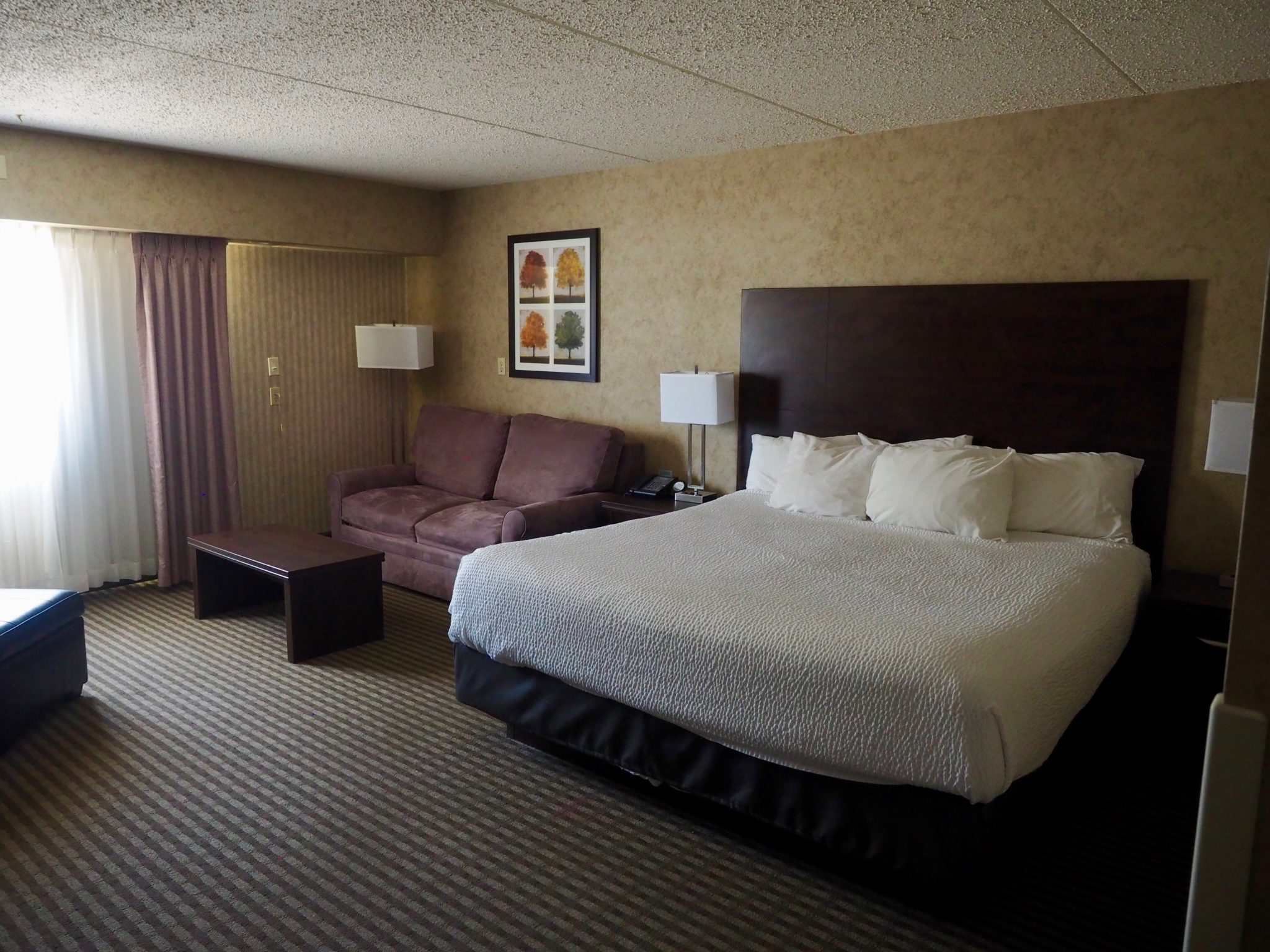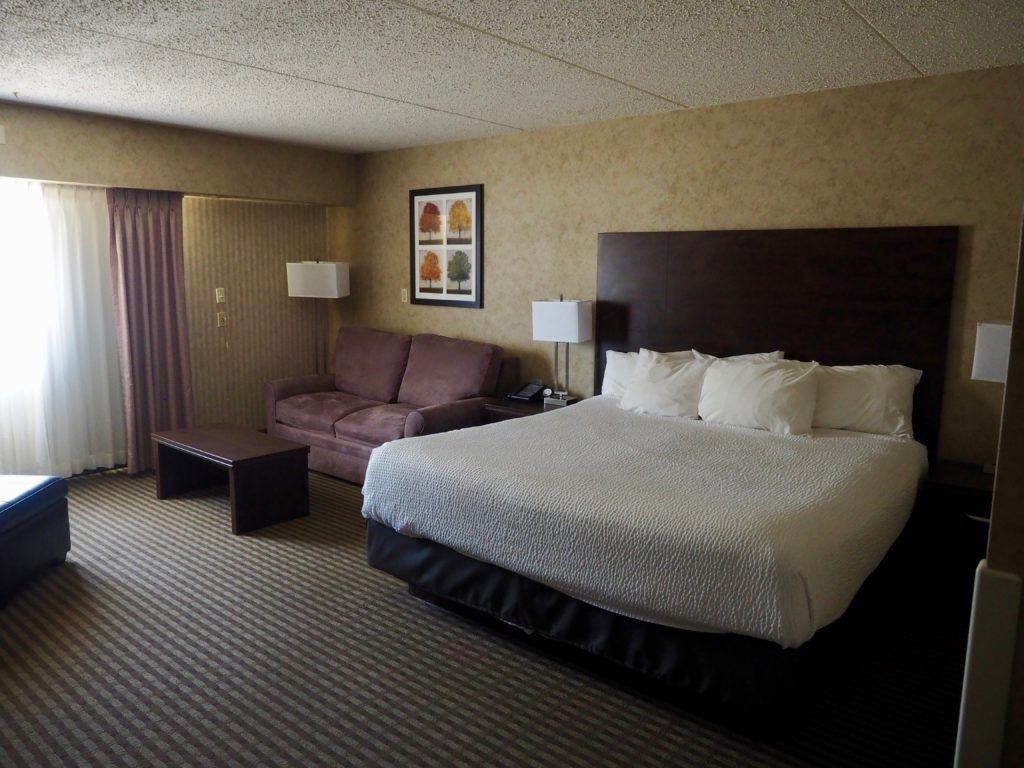 I stayed at the Victoria Inn, which is a locally-owned hotel franchise. It was super comfortable and the location couldn't have been better.
I do recommend bringing your own car or renting a car while in Brandon; although walking and public buses can definitely get you around the city, it's an incredibly easy city to drive around. Similarly, parking was very easy to find, although parking meters require coins during the weekdays.
Everywhere I visited accepted credit cards with the exception of Crow's General Store, which required cash.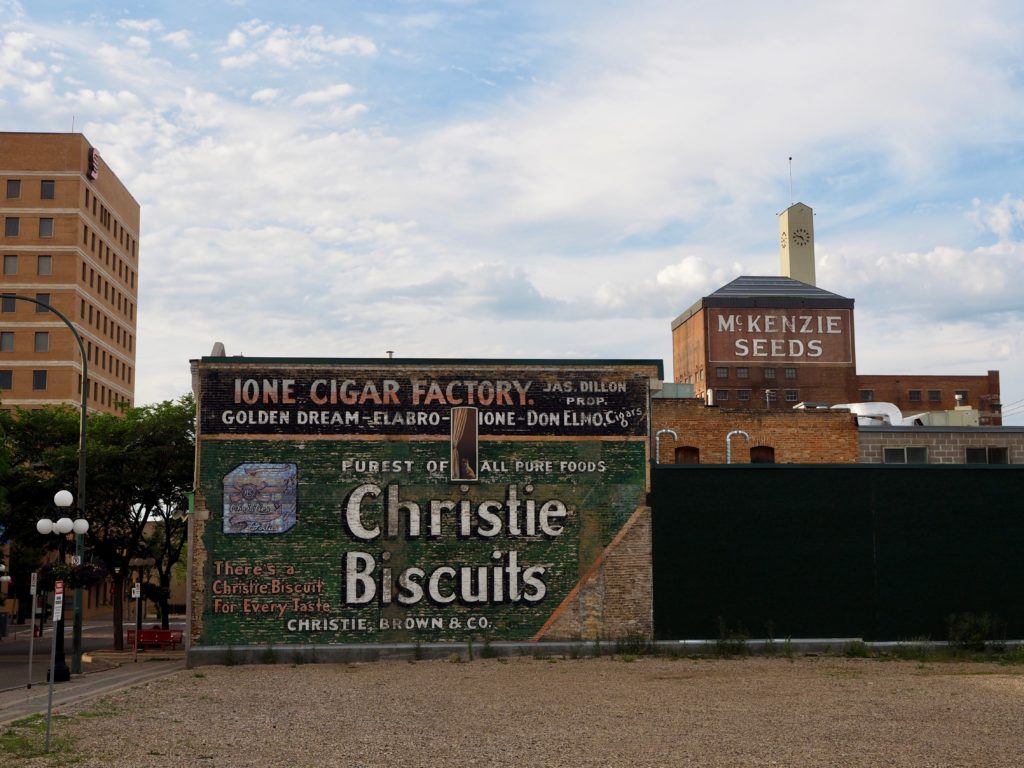 Brandon's slogan is, "Brandon brings you back," and I get it now. There's this idea that there's always something that will bring you back to Brandon: the prairie sunsets, the riverbank trails, the murals and museums, the incredible cuisine, the warmth of the people. That there's an open invitation to return again and again, and that you'll be welcomed with open arms.
One thing's for sure: Brandon, I will indeed be back.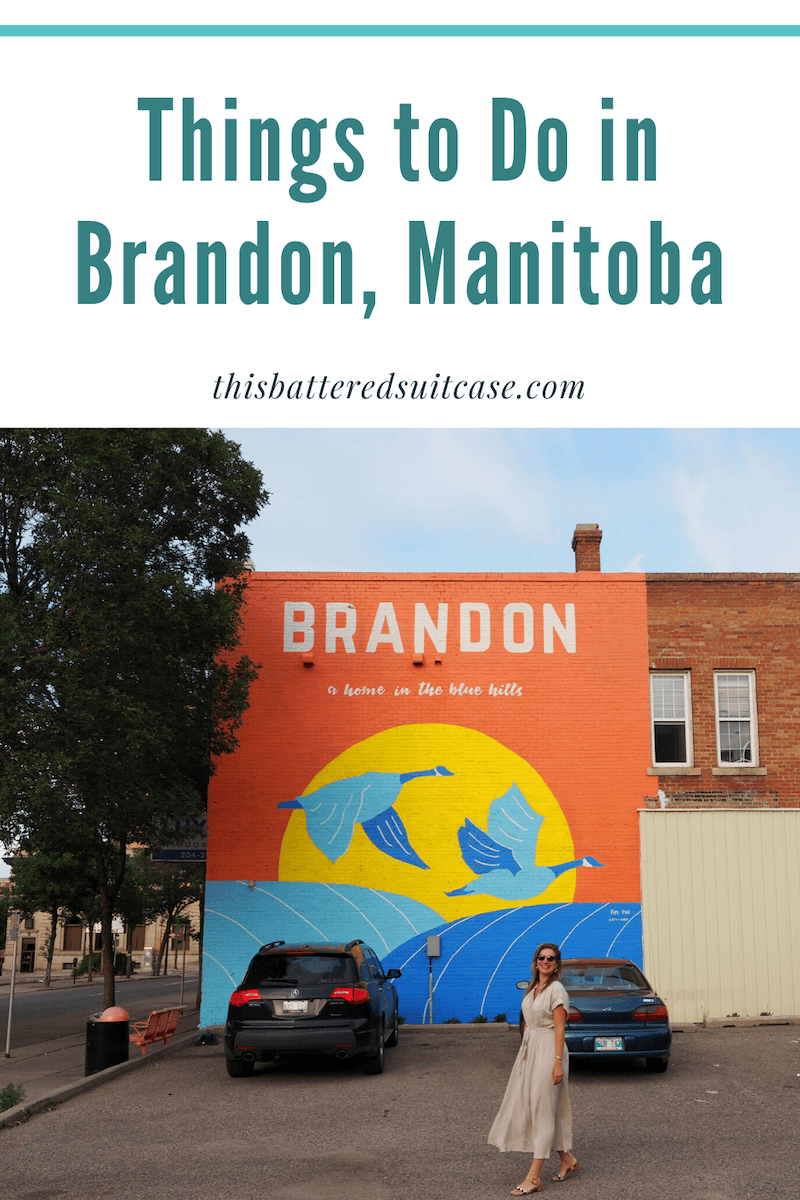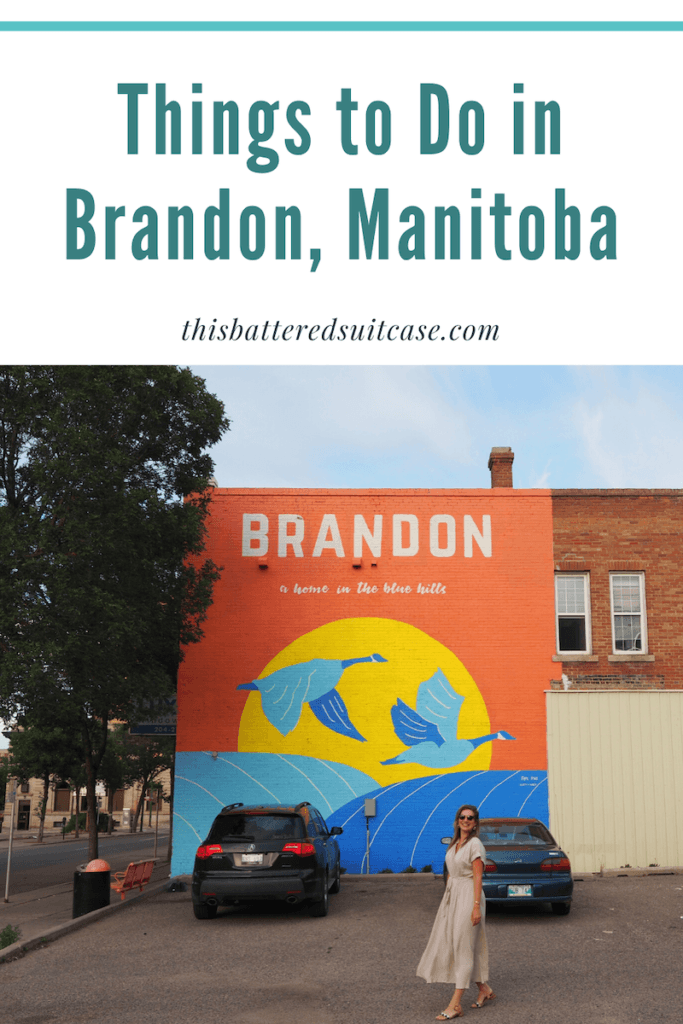 My many thanks to Travel Manitoba and Brandon Tourism for sponsoring this trip. For more information about Brandon, make sure to head to the Brandon tourism website. For more about Manitoba, check out the Travel Manitoba homepage. Many thanks to my travel partner and fantastic photographer, Jon.