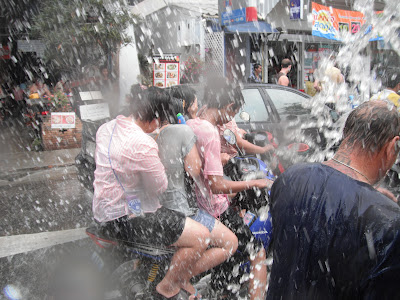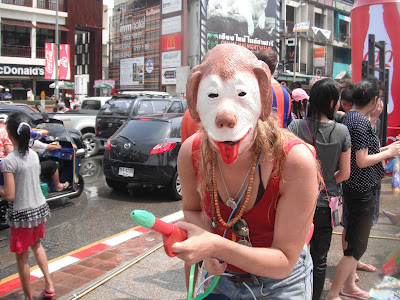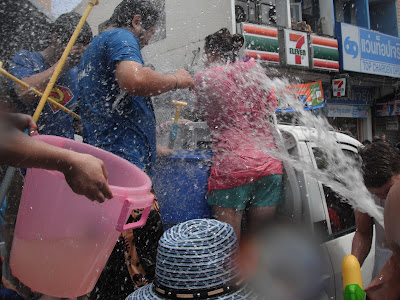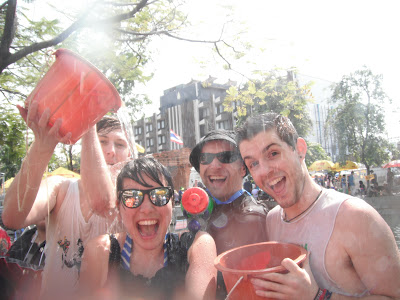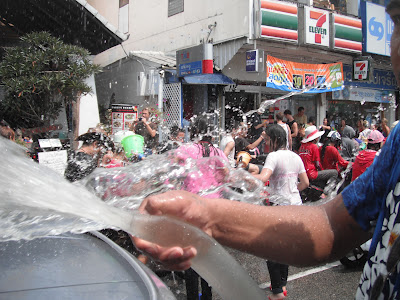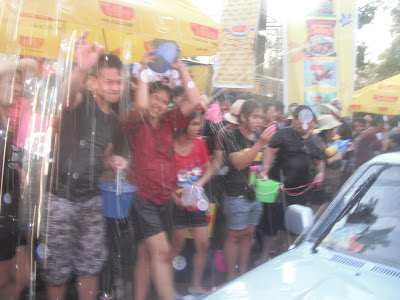 Chiang Mai, Thailand
I'm currently sitting in my new favourite cafe in Antigua, Guatemala, happy to have some good food and some strong internet. So why am I posting photos of a water festival, Songkran, that I attended last year in Thailand?
It's been raining here in Antigua, raining a lot. I knew it would rain, as it's the wet season, but I wasn't expecting nearly 48 hours of torrential downpour, the cobblestoned streets so slicked with water and puddles that even going to the shop around the corner means sacrificing a pair of shoes. Being the kind of woman who likes to pack for the worst (and having a very heavy backpack to show for it), I have an umbrella and a rain jacket already, but there's nothing I own that can actually motivate me to walk around the city, this colourful city that has been muted by dark skies and heavy rain. There's something romantic about it all, of course, of sitting on the covered terrace and watching storms roll in from over the surrounding volcanoes, of hearing the crack of thunder while you chat with strangers by candlelight, of seeing other travellers arrive soaked from head to toe, soaked but still smiling.
I was in Chiang Mai in mid-April of last year, which happily (and not entirely coincidentally) coincided with Songkran. The week I spent there presented both rain and sunshine, skies that filled with grey clouds and skies that shone brilliant blue. It didn't matter, however, because all day, every day, the streets were filled with the festival, people partying and drinking and, most importantly, splashing each other with water to celebrate the Thai New Year. From morning's first light until well after the sun went down, stepping outside was like stepping into an inescapable gauntlet of water guns, hoses, buckets, and even drive-by drenchings. We were soaked to the bone day in and day out, so much so that I didn't even bother hanging my clothes to dry at the end of the day, as wearing dry clothes made you an instant target.
I have managed to stay fairly dry while in Antigua; today, finally, the sun broke through the clouds and the streets are brighter, more accessible. I'll take advantage of it while I can; I'll explore, I'll sit in the main square, I'll look up and I'll see nothing but blue. And when the rain inevitably returns, I'll embrace it, for there's nothing else I can do.