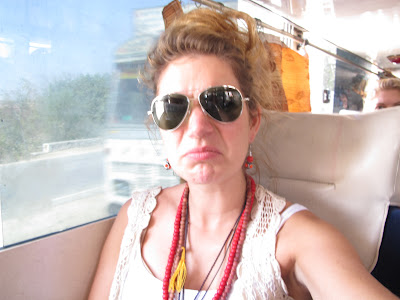 On the Bus in India (and not very happy)
I love to travel (obviously). I have dedicated nearly every moment and every penny in the last seven years to this passion, sacrificing jobs, relationships, and the comfort of having a bed that's truly my own, but I'm OK with that. I love meeting new people and having conversations in new languages. I love trying new food, walking through new cities, learning and laughing and loving all over the world. Travel is my life.
Sometimes, though, travelling really sucks.
Just like anybody, I have good and bad days. For the most part, I only write about the good days on this blog, just because often I don't want to relive the bad parts anymore than you probably want to read about them. 95% of the time, I am completely happy when I travel, be it in a museum or sharing beers with fellow travellers or even in the back of a pickup truck filled with smelly pigs (thanks for THAT memory, Salento). There's always that other 5%, though.
That 5% is filled with days when all of a sudden everything seems to fall apart, everything seems to go wrong, everything seems to annoy you. You are tired and sick and hungry and have weird bites on your legs and the bus is late and when it finally comes there's only a seat in the very back next to the toilet and a crying baby and the bus driver decides to stop every 45 minutes to have a snack and when you arrive the taxi driver rips you off and your hotel room has no wifi and no hot water but plenty of cockroaches and a gang of drunken fools in the lobby that carouse until 3am – sound familiar? On an ordinary day, you'd shrug most of this off, laugh about it with a travel buddy, rationalise that not every single day will be amazing. But during those 5% days, travelling can be a nightmare.
I've had bags misplaced, I've been so ill I needed to go to foreign hospitals, I've been mugged. I've stayed in the worst possible rooms, I've sat on the most uncomfortable buses, and I've eaten some of the most disgusting food. I've lost my temper, I've had my heart broken, I've cried myself to sleep in numerous countries around the world. But those things happen everywhere, and to everyone. We all have bad experiences in life, whether we're hiking through the Andes or sitting at home on the couch. I've simply chosen to accept that my bad days will happen to me while I'm on the road. I strongly believe that a necessary trait of any successful traveller is a positive outlook, and I pride myself on my optimism, my ability to see the silver lining in every dark cloud. A thick skin and a lot of patience help, too.
Today, I could have written a beautiful blog post about the Santuaria de Las Lajas in Ipiales, Colombia; it was a fantastic place, and it does indeed deserve its own post. I could have made the day sound romantic and adventurous, the church in the morning followed by the crossing into Ecuador. But here's what really happened today: I woke up freezing cold, with inadequate clothing for this unexpected chilly weather. There was no heat in my room, and no hot water for a shower. Still shivering, we took a taxi to the church, where, yes, we did spend a marvellous two hours. Back to the freezing hotel to pick up our bags, more haggling in the taxi to the Ecuador border. We stood in line for two hours in immigration all for the 15 seconds it took to get an entry stamp; there were no real food vendors around, so at this point all we had eaten were crackers. Another taxi. The crowded and smelly Tulcan bus station, where we were herded onto a large local bus – still no food, and the only bathroom around has no toilet seats and an ominous odour from the second stall. The bus takes off…no, it stops. It takes off again…ha ha! Just kidding, we're not really leaving yet. Third time's a charm…until we pull over to randomly search luggage. What's supposed to be a two-hour journey to Otavalo turns into nearly five hours of repeated stops, repeated passport checks, and repeated elbow-in-head as people pass up and down the aisles. Lunch? A melting coconut ice cream and some overly salted crisps. We finally arrive on the outskirts of Otavalo – another taxi, and then we're in our nice hotel with shaky wifi and a toilet that runs nonstop. Food will cheer us up, we think, but the only restaurants around serve only beef (my travelling partner's a vegetarian) or pizza. Pizza again, then, though my Hawaiian is suspiciously lacking ham. Back at the hotel and shivering, I check my email, but the email I'm waiting on hasn't arrived and the Internet is barely strong enough to support Blogger, let alone Twitter and Facebook and Instagram and Skype. I get into bed fully clothed for warmth, play some Hearts against the computer, and chalk this day up to a long, dreary one, but necessary nevertheless.
And tomorrow? Tomorrow I'll wake up and feel fine, I'm sure, ready to go to the Otavalo market, to prepare for the Galapagos on Friday, to relish in the beauty and wonder that is travelling. Today was a mediocre day, but that's all right – sometimes travelling sucks. Sometimes life sucks. It's whether or not we let those bad days affect us that is truly important; do we wallow in our misfortune or self-pity, or do we simply accept that we are human, strap our backpacks on our backs again, and look to the future?
The answer, fellow travellers, is clear.