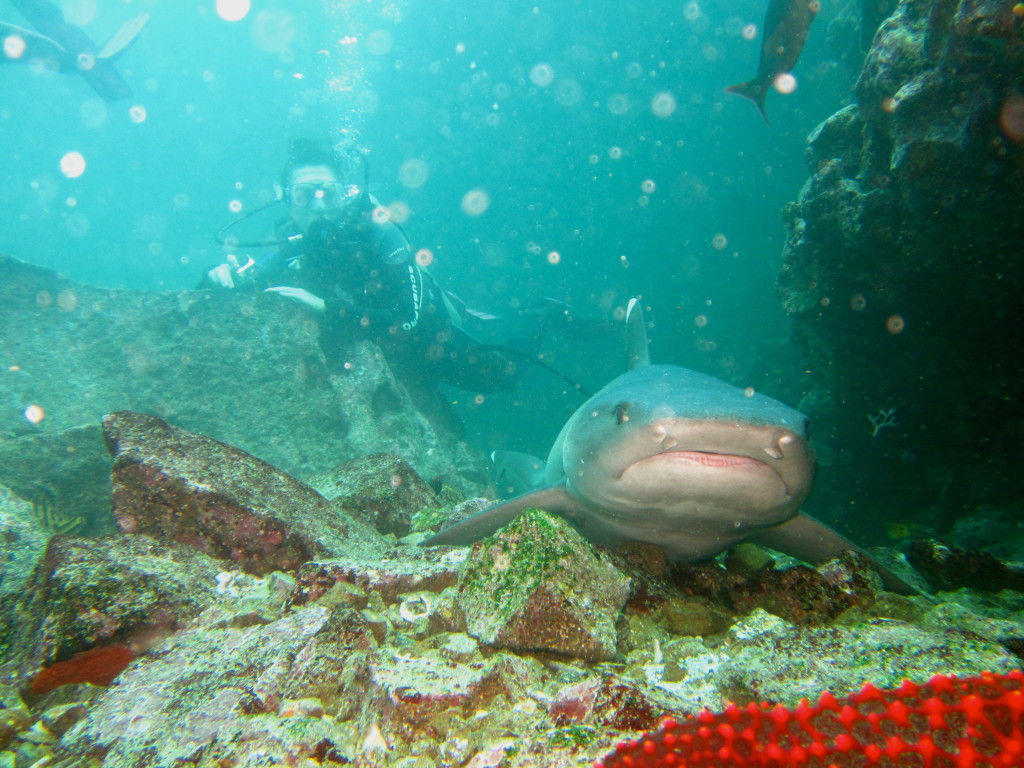 Diving with sharks in The Galapagos, Ecuador
As I've grown older, I've found myself questioning the morals behind travelling more and more. I have always been morally conscious, and have always tried to tread with the lightest foot possible in the countries I visit. With each passing year, however, and with more research and more experience behind me, I often feel that little nagging tug at the back of my brain, the one that says, "Is this really contributing to the country I'm visiting? Is this really moral?"
There are certain things I just do not participate in; riding elephants has become a hot topic for travel bloggers and travellers recently, and I hope that elephant riding soon becomes a thing of the past. Turner wrote a great series of posts on his time at Tiger Temple in Thailand and I hope that that, too, is something that people consider before visiting.
When I travel, I sincerely hope to give back to the cultures I visit. I learn as much as I can about the place, try to interact with the local people as much as I can, and consider each hostel I stay in and each activity I participate in. I've always thought, if something feels wrong, it probably is.
I am flying to Cape Town, South Africa next weekend, where I'll have nearly a week of independent travel before flying to Johannesburg to begin a tour through Botswana with G Adventures. I will end up in Livingstone, Zambia, after a day at Victoria Falls. In all I will be gone for about two and a half weeks. As my 30th birthday is on May 5th, this is my birthday present to myself.
There are a ton of amazing things I want to do in Cape Town, and many people have recommended restaurants and activities. I will be staying with The Backpack; I chose them because of their dedication to responsible tourism and their involvement in community projects. One thing a few people have asked me is this, however: will you be cage diving with great white sharks? It's a popular thing to do in Cape Town, after all.
It's one of those things that people put on bucket lists. The adrenaline and the adventure don't scare me at all; I know that I'll be perfectly safe, and it would be an incredible rush to be that close to such powerful animals. As a diver, I've often been around sharks, though never ones of this magnitude and this, well, terrifying-ness. However, there's that little nagging tug again… is it morally right?
In my research, I've found a few companies with great reputations and ones that seem to genuinely care about the sharks and the ocean's ecosystem. Despite that, from what I can gather online, every single company chums. To chum means to throw fish carcasses and blood overboard in order to lure the sharks near the boat. The sharks are certainly used to it by now, and without chumming, there is no guarantee that any sharks will be seen. There are many arguments for and against chumming, with some people claiming that it has led to more attacks on humans, and others saying it hasn't impacted the ecosystem at all.
I'm turning this issue over the blog because I would love to hear your opinion on the matter. I genuinely don't know what to think. As I said, if something feels wrong, it probably is. But on this, I legitimately don't know the details, and reading online articles only seem to confuse me further.
What do you think about cage shark diving? Does it really impact the ecosystem? Have you been cage shark diving, and if so, was it worth it?