…or Romania, or Bolivia, or Japan…
 When you ask a traveller what he or she loves most about being on the road, chances are he or she will, at some point, mention interacting with the local people and learning about new cultures. Most travellers are, after all, xenophiles at heart. But to the novice traveller, or even to those who have spent years on overseas adventures, talking with local people can seem daunting or intimidating. One can feel like a complete outsider, nervous to approach groups of people or to make conversation with a total stranger. Here are some surefire ways to break the ice and to connect with locals in new lands.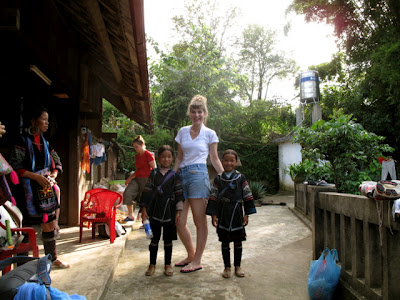 Chatting With Kids in Sapa, Vietnam
 How incredibly obvious, you may think. However, a lot of people can close themselves off when travelling, wary of being taken advantage of or of letting down their guard. There are ways of being both a conscientious and an open-minded traveller; one doesn't have to be mutually exclusive of the other. Smiling and being friendly to everyone (whether abroad or not) instantly makes people respect you and want to help you. I once went for a walk on my own through the streets of Bhaktapur, Nepal, smiling and saying hello to anyone who met my eye. Within about twenty minutes, I was sitting with a group of 15 people, hot tea in hand, learning how to knit traditional yak wool scarves and hats. If I had been closed off to the people around me, I would have never had this one-of-a-kind experience.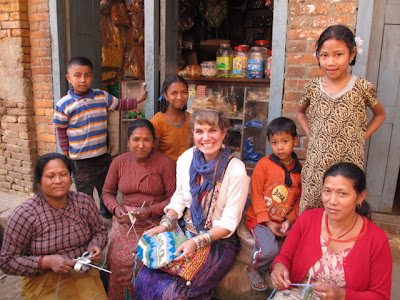 New Friends in Bhaktapur, Nepal
2. Make friends with the kids, and the adults will follow.
 Children are much more open and forward in approaching foreigners and saying hello. Kids are naturally curious, often eager to speak any words of English they know, or to play games. A great way to break ground with kids is to make them laugh, so something like joining in a game of soccer on the beach will instantly warm them to you. When kids are happy, parents are happy.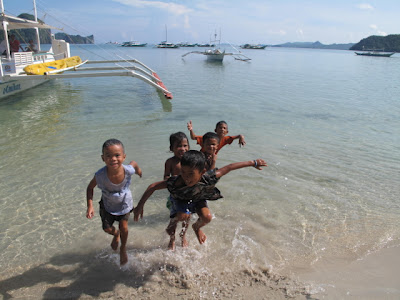 Horsing Around in El Nido, The Philippines
3. Learn key words of the local language. 
 It is impossible to become fluent in every language of every country you visit, but knowing a few key words in each language can mean the difference between only being able to interact with other English-speakers and being able to converse with and entertain local people as well. Polite words such as "thank you", "please" and "hello" are give-ins, but knowing phrases such as "how are you?", "this is delicious", and "so beautiful" can be crucial in separating you from the travellers who never bother to learn these simple bits of conversation. Even if you butcher the language, attempting to speak a few words of Tagalog, Portuguese, or Burmese, for example, will instantly show locals that you care enough about their country to take the time to learn.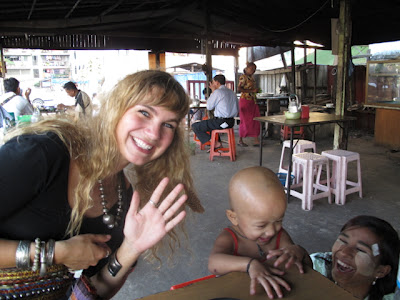 Butchering the Burmese Language in Yangon
4. Use home stays or couch surfing.
 There are multiple programs and websites, such as Couchsurfing, that can set travellers up with local people for a place to stay. Staying at a local's house means spending one-on-one time with someone who is familiar with the city, the language, and the culture, so you can get a lot of information that might otherwise not be available to you. When I was travelling across Russia via the Trans-Siberian, I stayed in home stays along the way, and I learned so much more about the local food, homes, and general lifestyle than I would have if I had only stayed in hotels. With couch surfing and home stays, you instantly have a friend, a teacher, a tour guide, and an insight into a local's way of life.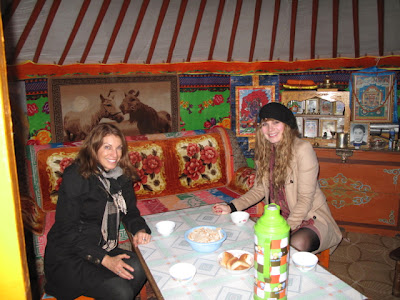 Drinking Yak's Milk in Our Mongolian Home Stay Family's Ger
5. If you do choose to stay in a hotel, do your research.
 Before booking a hotel or hostel, research whether or not it is a family-run establishment. You can often read reviews on, for example, Tripadvisor or Hostelworld that will tell you whether or not the owner was friendly and/or active in helping you to plan your stay. I once stayed at the excellent Lisbon Lounge Hostel in Lisbon, and the owner recommended lots of great sightseeing spots as well as organized a dinner twice a week for patrons to get to know each other and to sample the local food. Staying in family-run hostels and hotels has always proven to be an infallible way of interacting with locals and making the most of my time in foreign lands.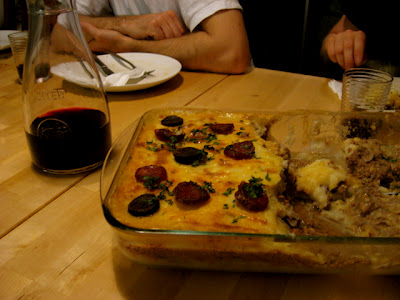 A Delicious Meal With New Friends in Lisbon
 Whether it is a weaving class, a dance lesson, or a day's cooking event, taking classes abroad is a terrific way of connecting with the local culture and meeting someone who is knowledgeable about that subject. Developing a unique skill is also a great way to start a conversation further down the road in your travels. For example, if you take a traditional flute lesson in Lovina, Bali, and then later see a local playing that same type of flute in Ubud, you can instantly connect with that person and impress him or her with your knowledge of the country's customs and traditions. Your teacher will also be a source of wisdom for local happenings, sights, and events.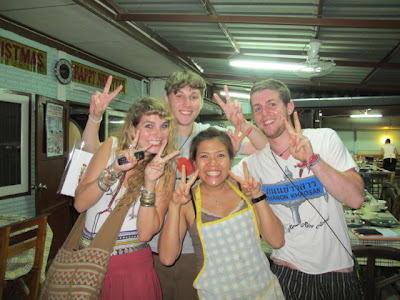 A Cooking Class in Chiang Mai, Thailand
 When you travel, you are guaranteed to talk to the people at your hotel, servers in restaurants, and shopkeepers (at the very least). Why not make the most of these conversations? Learning to haggle politely in marketplaces is an invaluable skill that will make the experience fun, not stressful. My mum and I experienced this firsthand with a man named Mohammed in Marrakesh in 2006; we playfully bartered with him for some teapots, jewellery, and shoes, until both parties were content with the price. Immediately after, he introduced us to his children and sat down with us for mint tea. Three years later, when in Marrakesh once again, my mother and I were shocked to hear our names being called through the souks: Mohammed recognized us! We once again sat with him and his family for tea and snacks, and the things we bought from him that day were not as precious to us as the hours we spent laughing and sharing stories of our homes.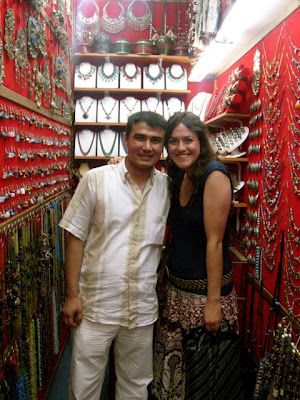 My Best Friend and Our Other Best Friend in Istanbul
8. Take photos, but ask before you do.
 This is a point that many people shy away from, experienced travel photographers or not. We are all familiar with the sneaky photo of an interesting outfit, a cute child, or a beautiful portrait. However, if we put aside our fears, asking to take photos of people is really not that difficult, and can often lead to conversation and friendships. Sure, some people will say no, but for the most part, people are happy to pose for the camera. Imagine it in reverse: if someone wanted to take your photo, would you not take it as a compliment that the photographer found you interesting or beautiful? Another way of doing this is to ask to take a photo with the person or people – you will definitely end up having a conversation, or at the very least, share a few smiles and handshakes.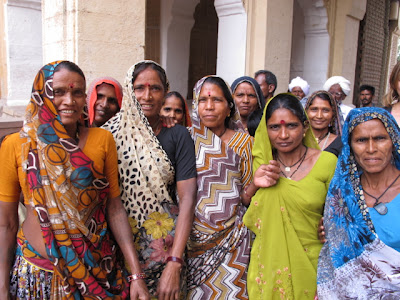 All Those Beautiful Saris in India (I couldn't resist asking for a photo)
 I've been asked which countries have the friendliest people, and, while a few countries do instantly spring to mind (Myanmar, Slovenia, Nepal, Japan), I feel that I have only had the best of experiences in each place I've visited. This is not to say that I have never been ripped off, scammed, or treated poorly, just that I've found my experiences with people of all nationalities to be really positive; I believe it's because I follow these guidelines for making friends when travelling. Just as you may be wary of people at first, remember that those same people may be wary of you; stop, then, and take the time to start a conversation. Or at the very least, smile. You'll be amazed at how different your travelling experience may turn out.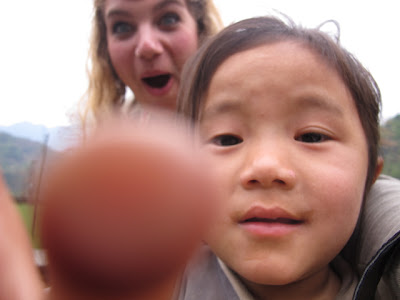 Fun With Cameras in the Himalayas