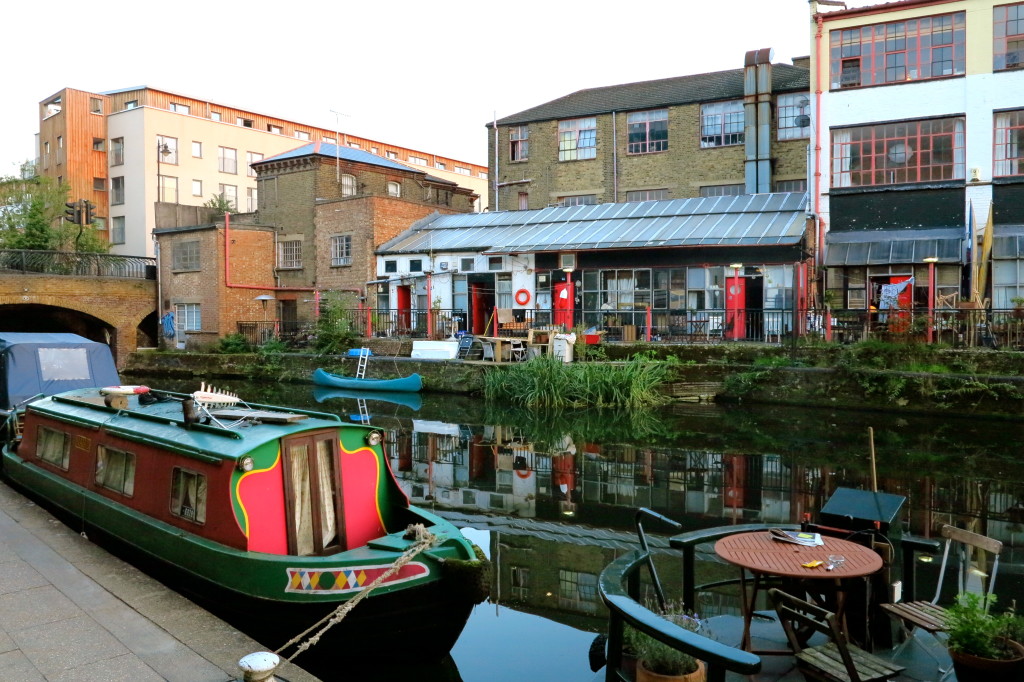 Regent's Canal, London, England
There, standing on the bridge that would take me to my flat, is a young man, his arms outstretched in wanting embrace, his face delighted at the sight of me. Looking at him you would think we were old friends, new lovers, that we had shared laughs or drinks or at least a handshake.
I have never seen him before in my life.
He is drunk. He is trying to remain collected, trying to remain unthreatening, though his very actions, his reaching for me and stumbling toward me, are belying his goal. There is something about his face that makes me stop, despite knowing I shouldn't, despite knowing that home is just around the corner. I need home, I need to sleep after an exhausting trip to Dublin and a long day of classes. There are very few people left walking up and down Regent's Canal, and I don't want to be standing out here with this stranger, but I let him speak.
"I seem to be a bit lost," he says, his eyes roving this way and that.
"We all get a little bit lost sometimes." Now is not the time to get philosophical, but I have just come from the pub where talks of travel and glasses of whiskey have done their deed. "Where do you need to go?"
At my reply he stops, peers at me. As if he is the first man to ever have such an epiphany: I am speaking to a foreigner.
"Where are you from?"
What a strange question, that. It should be easy by now, I should have an answer memorized, but for anyone who has ever spent time travelling, or left her hometown, or simply didn't fit into that place that was once so easy to fit into, the answer is a daunting one. It is the question I am asked more than my name. It is the first thing people say to me, in hostel common rooms and in smoky little bars and in overpriced taxi cabs and even now, right now, standing outside my flat. Even outside my home, I am questioned, I am needed to be compartmentalized.
I am guilty of it, too; it is an icebreaker, an easy way to make conversation. I learned long ago to never assume that I know the answer, no matter the accent, though that's perhaps the byproduct of years of erroneously being called an American.
John, as I now know him to be called, is still mumbling to me about finding a London "more east than this," about searching for Brick Lane bagels and pubs that might still be open for a pint. My bag is heavy, my feet hurt, but I'm genuinely trying to help him, gently urging him as far away from the street as I can while still herding him in the right direction. He keeps forgetting my name, but he's charming in that floppy-haired English kind of way. Blue eyes, plaid shirt. In another life, a few hours ago, we might have met in different circumstances, and I would have thought that he was cute.
He asks me again.
"Where are you from?"
And a few hours ago, if we had met over a drink and we had discovered we had a little bit in common, if I had felt that he was the kind of man who might want to know, I would have told him.
Where am I from? I was born in Winnipeg, though I left 11 years ago. I went to university in Halifax, and lived in Toronto for a short while. But then I made the road my home, and travelled for years, and lived in parts of the world I didn't even know existed until I arrived. I found homes in Russia, in Scotland, in Japan, in a backpack. I collected cultures, religions, languages, foods, faces. I remained staunchly patriotic, though part of me still got a little rush when someone told me my accent is hard to place. I took faith in all of those things you see on welcome mats: home is where the heart is, home is what you make it, where we love is home. To say I am simply from Canada doesn't quite seem to fit, because sometimes my heart is in another place. Sometimes I feel like I'm from everywhere, and nowhere.
"Here." I answer. "I'm from here."
With one more explanation of where he needs to go, John makes his way into the night, in search of bagels and adventure. And I, I unlock my front door.