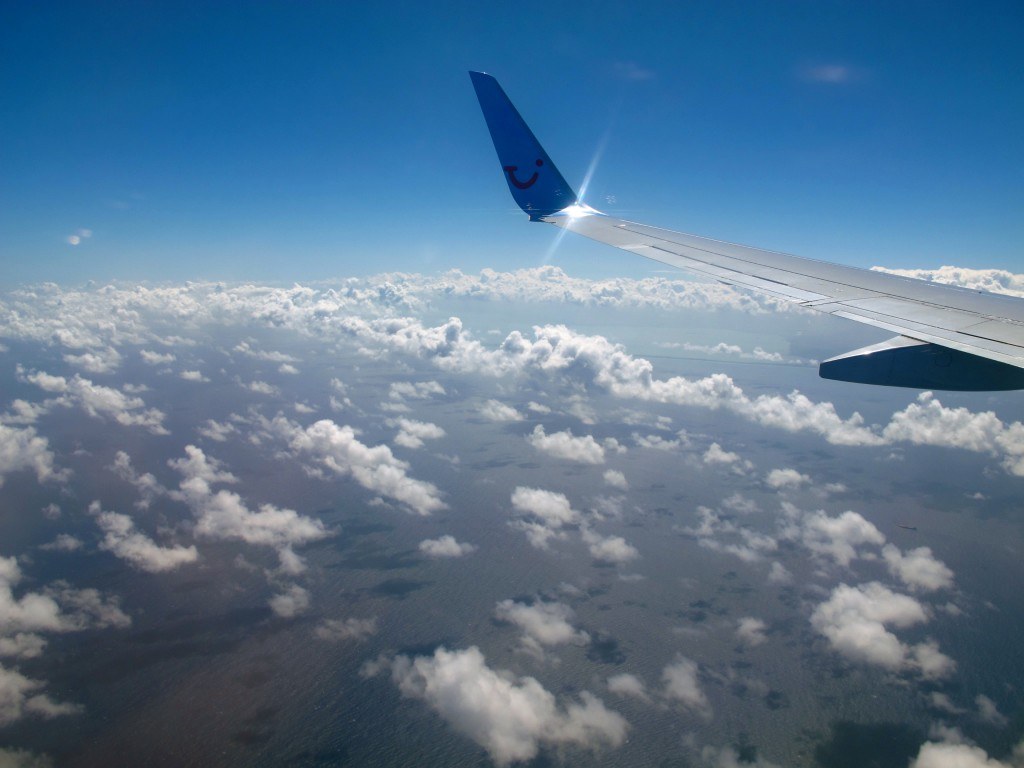 Flying Over Cuba
I've been through a lot of customs and immigration experiences. For the past year and a half living in London, for example, I go through customs and immigration about two or three times a month, depending on where I travel. As I travel on a Canadian passport, every single country – including my own – checks my passport and usually asks me a few questions (as opposed to anyone with an EU or UK passport, for example).
I've written about how to cope with customs and immigration before; I wrote that article a few weeks before I returned to Canada from nine months in Central and South America, and I was worried what kind of questions they'd ask. I always remember my dad telling my sister not to let Colombian officials stamp her passport… uh, it doesn't work like that, dad. Anyway, in all the travelling I've done, and I'm sure, that you've done, there have been some harrowing, stressful, hilarious, and just downright weird experiences when crossing borders. While I completely appreciate what these officers do every day, and am thankful that they keep countries as safe as possible, the experiences can often make for some interesting stories. Here are just a few of mine.
Scene: Toronto Airport
Just arrived from: Copenhagen
I had just spent a couple of months abroad, visiting my then-boyfriend in Denmark. I was living in Toronto at the time, and landed at the Pearson airport after a very delayed flight. It was about 3am, and I was exhausted. Everything at the actual immigration desk seemed to be fine; the officer asked me the usual questions, and stamped my form accordingly. For whatever reason (I never know the reason) I was pulled to the side just before exiting. There was a queue of about five or six people, and only two officers searching everyone's bags.
About half an hour later, it was my turn to be searched. The officer was a middle-aged man, and was acting extremely polite; he asked me what I was doing in Europe and where I had been.
"I spent the bulk of my time in Denmark, but I also flew to Greece for ten days with a short stopover in Berlin," I told him. I would like to state here and now that I always tell the truth to immigration officers. I see no reason to lie.
"Are you sure about that?" he responded, carefully lifting all of my belongings out of my bag.
"Yes," I replied, as he unzipped my toiletries bag and started to examine each article inside.
"You're sure you didn't go to Amsterdam?"
"No, not on this trip. I was there about six months ago, but I didn't go on this trip."
"Mmm-hmm," he murmured, continuing to go through my stuff. "You definitely didn't go to Amsterdam?"
"No, I didn't," I was getting annoyed now.
"So you didn't go to Amsterdam… but were you a good girl?"
I had to do whatever I could to remain calm and not explode into rage.
"I don't quite know what you mean, sir," was all I could think to respond.
"Well," he said, a little more deliberately this time, "Were you a good girl?"
At that exact moment, he happened to pick up a stack of my clothing and flip it over onto the table. Underneath that stack was a collection of very lacy, very intimate undergarments. The man blushed instantly.
"I still don't know what you mean, sir, but I hadn't seen my boyfriend in three months, so your guess is as good as mine. If you're asking if I did anything illegal, then no, I did not."
I know that this sounds made up, but I really did say that at 3:30 in the morning to a customs officer who then hastily stuffed all of my things back in my suitcase and let me go. I still don't know why this man was being so sexist and weird toward me but I'm thankful that, for once in my life, I said the exact thing I wanted to say when I wanted to say it.
Scene: Toronto Airport
Arriving From: Mexico City
Just because I may as well continue this Canadian customs officer sexism that I've experienced, here's another story about Pearson airport. I had just returned from visiting my sister in Mexico City, where she lived. I was wearing a new dress on the plane home – white, with big red flowers. I had bought it in a market and instantly fell in love with it. With a bit of a tan, I felt great. I strolled up to the immigration desk – I was the first one there.
"Well aren't you a breath of fresh air!" the young officer exclaimed. "You look great, where did you just come from?"
I'm pretty sure I blushed and giggled. I mean, he was cute, and he was wearing a uniform. I caved.
"Gee, thanks… I just came from Mexico City."
"Did you have fun?"
"Yeah, I had a great time!"
"That's good to hear. Well, welcome back to Canada," he smiled a big smile, handing my passport back to me.
"Wow," I thought. "That was the easiest immigration experience I've ever had." With an extra kick in my step, I grabbed my suitcase and headed toward the exit. And wouldn't you know… Dreamy McDreamerson had actually stamped my immigration form so that I was searched and questioned thoroughly. I didn't end up leaving the airport for another hour and a half. Moral of the story… don't flirt. Or just don't wear a cute dress, because apparently it arouses suspicion, or something. Who knows.
Scene: Winnipeg Airport
Arriving From: Cuba
Did you think that Toronto officers were the only creepy ones in Canada? Oh no, no no. Here's my last story about creepy Canadian officers, because I like to think that they're not all weird and slightly sexist. I arrived from Havana with my friend Rikki; we were on a flight filled with other holiday-goers. Rikki went right through, with no problems. The woman I spoke to, however, was much stricter.
"What were you doing in Cuba?" "What do you do for a living?" "Where do you live?" "How do you afford a holiday like this on a bartender's salary?" And so on, and so on. In the end, she let me through… only for me to be pulled aside to have my suitcase searched, the only person chosen from the entire plane. At this point I just assume that it's because I have a lot of stamps in my passport, and they're suspicious, but I could be wrong.
I ended up with a young male officer. Again, he was pretty cute, but obviously I didn't care – I just wanted to get out of there and meet up with Rikki, who was waiting for me. The officer had other plans, though. He went through everything, every last item and article of clothing. He even opened my journal and flipped through the pages. He also asked me a ton of questions about everything from my job experience to my family to what my favourite movie was. It was bizarre.
Finally, after helping me pack everything back in the suitcase, he asked which bar I worked at in the city.
"So, if I were to stop by on a Friday night… would you be working?" Okay, I'm really no expert at this, but what the fuck?! Was he asking me out? Had he been hitting on me all along? I mumbled a strange response – along the lines of "maybe" – and then got the hell out of there. In total he had "questioned" me for 45 minutes. I still don't know what was going on, but thankfully I never saw him again.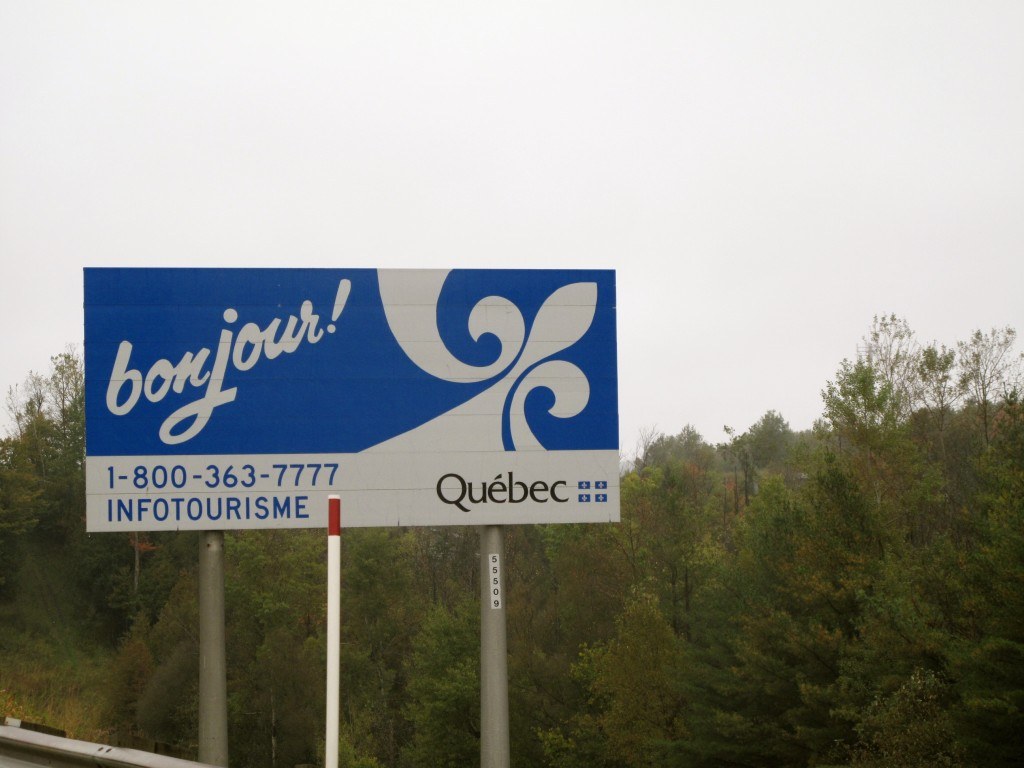 Scene: Canada/USA border
Arriving From: Windsor, Ontario
This one was just stupid on my part, and quite embarrassing to admit. I was dating an American at the time and we had just finished a massive road trip through America. We crossed into Canada from New Hampshire into Quebec and had a lovely couple of weeks in Quebec and Ontario; we were then set to drive across Ontario into Manitoba, from Toronto to Winnipeg specifically. It's about a 26 hour drive if you head directly west through Canada, so we set the GPS for the shortest route and set out from Toronto. I should also mention that the car was packed; not only had we camped through America and so had all of our camping gear, I also had everything from Burning Man and stuff from living in Colorado for a couple of months. I also had gone a bit crazy at IKEA in Toronto, and so the car was full of dishes, photo frames, etc. At that time, there was no IKEA in Winnipeg, hence the shopping spree.
We headed down the highway, following our GPS. All of a sudden, a couple of hours later, my stomach dropped.
"Wait," I said to my boyfriend. "Did that sign say Windsor??"
For those that know this part of Canada, you have probably figured out what was happening. Having set our GPS to go the fastest route to Winnipeg, we failed to take into account that it might redirect us under the Great Lakes instead of over them. That would mean going through America again, and having to cross the border.
We really had no choice; we figured we may as well venture forth and continue the route. Otherwise we would have had to turn around and retrace a few hours of driving and start all over again. We realised we could make it through Michigan in about eight hours and go through the border again, taking us back into Ontario. No problem, right?
We pulled up to the border and, to our surprise, the American officer was quite sympathetic and didn't give us that hard of a time. He took a quick look in the backseat and then asked me to pop the trunk. Within ten seconds, he was back at my window, fuming.
"Would you mind stepping out of the vehicle and explaining something to me?" He was red in the face. I was freaking out.
"No problem," I said, and got out of the car. I starting frantically racking my brain for anything weird that could possibly be in the trunk. When I met the officer at the back of the car, he was pointing at a plastic bag.
"Can you explain this?" he asked. It was a plastic bag that I had got in Thailand, and it held my jewellery. The bag was covered in Buddhist symbols, including, you guessed it, a swastika. For those who don't know, the word swastika originates from the Sanskrit svastika, which means lucky or auspicious object. It is still a common symbol in Buddhism and Hinduism, but it has, of course, been forever stigmatised by the Nazi's adoption of it. And… do you think I was able to explain all of this to the now extremely scary and extremely angry American officer who believed I was a neo-Nazi?
We were able to drive away after an incredibly awkward scolding by the man, who told us to dispose of the bag immediately.
For the record, when we had to cross back into Canada later that evening and explained our situation to the officer, she merely laughed and waved us through.
Scene: Johannesburg Airport
Arriving From: London
I had just flown ten hours to Johannesburg from London, and was pretty exhausted. I still had a short flight to Cape Town to go, but first had to go through South African customs. I queued up and waited for my turn to be called forward and finally, I was. A pretty young woman took my passport, scanned it, and then looked at me inquisitively.
"Where… where did you get your lipstick from?" Even when travelling, I wear very bright lipstick. Even still, I was totally taken aback.
"Um… it's from Canada. Cover Girl. I don't know if you can get it here…" I fumbled in my bag until finding it and handed it to her. She examined it closely, then handed it back.
"Welcome to South Africa," she said.
That was that. Glorious.
Scene: Toronto Airport
Arriving From: Edinburgh
I had fully planned for this post to be about a variety of countries, not just (mainly) North America… but oh well. This is perhaps my favourite story about customs and immigration just because it is so ridiculous. I had just arrived from Edinburgh after calling it home for about eight months. I was nervous returning to Canada – I always am when I spend quite a bit of time away – and so was running over a list of possible questions the officer might ask me (I've been asked some weird things… see above). I was next in the queue when the officer went nuts on the guy he was questioning. From what I can surmise, the guy had lied to the officer, and the officer was definitely not happy about it. With a shaved head, lots of tattoos, and a very angry expression, the officer looked all kinds of intimidating.
"Do I look like the kind of man you lie to?" he said loudly, to the now terrified passenger.
Finally, it was my turn to be called forward. Having just witnessed the extent of his intimidation, I was even more nervous.
"Where did you arrive from?" he asked.
"Edinburgh, but I also visited a few other European countries in my time away." I clutched my bags to me even tighter. The officer looked me up and down, his eyes stopping on my ukulele case.
"And did you fund your travels across Europe by playing the ukulele?" His face showed absolutely no signs of sarcasm.
"Uh… no…" I stammered out. He nodded, then handed my passport back to me. I was able to exit without being stopped again. That was it. That was the only question.
These are just a few of the stories I have from customs and immigration. What about you? Do you have any horror and/or funny stories?