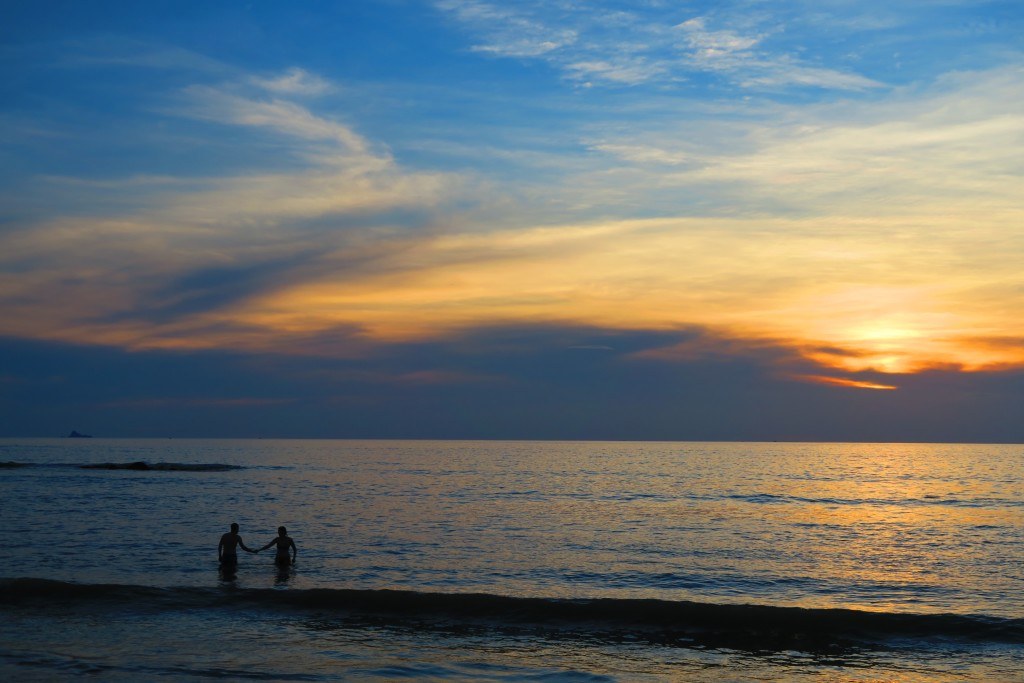 The last time I saw you, you were walking away from me, your hair shining blue-black in the streetlights. I had turned back to wave again, but you didn't, and so all I saw was the back of you, receding into the night.
***
We met at a beach party on another continent, a place where the water turned smooth as glass when the sun set. The night we met the moon shone low, turning the sand a pale grey.
"You don't need salt," I said to you, reaching for the salt shaker in your hand. Those were my first words to you, leaning up against the bamboo bar.
"Oh, I don't?" you replied, the shot of tequila in your hand full to the brim. You smiled a wicked smile, your teeth flashing like the Cheshire Cat.
"No, you don't. It will taste better without salt, trust me." I was flirting with you, my hand still lingering on top of yours, both of us holding on to the salt shaker, neither of us breaking eye contact. I was wearing a long turquoise dress; it brought out my tan and my blue eyes. I felt good that night. I felt like flirting with you, the most handsome man at the bar.
"OK," you laughed. "You win. No salt. But if I'm doing one, then you're doing one." Your voice revealed an accent.
"Deal," I smiled back, finally letting go of your hand.
For the rest of that night, you didn't leave my side, your hand always finding the small of my back, or the inside of my arm, the softest, most vulnerable spots. We talked and talked, our conversation fuelled by tequila and lust, your pupils dilating in the glow of the beach bonfires. You lived in London too, it turned out, but you were originally from France, and you had travelled the world: Brazil, Tunisia, Micronesia. You smelled like coconut and sweat, a heady mixture that seemed to fit right into our tropical paradise.
When the night was winding down, the dance music's heavy bass turning to a softer, calmer acoustic guitar, you grabbed my hand and pulled me toward the ocean. We kicked off our flip flops and ran into the water fully-clothed, creating ripples in the moonbeams, our chaos interrupting the quiet. And just before the moment could pass, just when all was beautiful and right, you pulled me to you and kissed me, your lips tasting ever so faintly of lime.
***
I change when I travel. I used to think that I was always the same – that the person I was on the beach was the same person I am right now, the person who works in an office and who pays bills on time. The older I get the more I realise maybe I'm not the same when I travel. I'm lighter somehow, as if the newness of it all, the excitement and the spontaneity of being on the road, of being free and unbridled – it's as if it conspires to shape me into a more relaxed version of myself, a happier version. It's why I'm addicted to travelling, or perhaps why I'm addicted to the feeling of becoming the person I am when I travel. Of becoming who I really am, perhaps, or who I really want to be.
And you – who were you that night we met? I didn't know anything about you except the superficial: that you were French, that you were handsome, that you made me laugh, and that we both happened to be on this secluded little beach on that idle Tuesday night, ready for and open to anything. Maybe you could have been anyone. Maybe I could have been anyone, too. We were soulmates, albeit fleeting ones.
The next day you messaged me on Facebook and asked to take me to dinner. You showed up at my guesthouse on a motorbike, your shoulders tinged red from the day's sun, your hair curly with salt and wind. I held on to you as you drove down dirt roads, using each pothole and bump as an excuse to hold you closer, tighter.
"I'm glad I met you," you told me that night over spicy noodles and plump chicken, your eyes fixed on mine.
"I'm glad I met you, too," I said back, clutching a sweating bottle of beer, trying to alleviate some of the heat: of the food, of the night, of you.
That night we walked hand in hand down the beach, silent save the lapping of the water and the faint, tinny echo of another party somewhere in the distance. The silhouettes of palm trees reached into the inky sky, their trunks thin and straight, watching over us like giants. We walked and walked, lit only by the moon, sometimes stopping to kiss or collect shells or to put our feet in the water. I could hear our laughter reverberate across the water, as if there were more of us, many of us, all of us enjoying the moment that could never last.
That night I let my dress drop from my bare shoulders and left it in the sand. I walked into the water, waiting until I was waist-deep before turning around. You were watching me, still standing on the shore, your hands full of shells, your smile glowing in the dark.
***
You got back to London a few days before I did.
"You promise you'll write to me when you're back?" you asked me on our last night together.
"I promise," I said back. You didn't feel like just another ship passing in the night. But then again, none of you ever do, not when we're sailing the proverbial sea together.
The first time you cancelled I understood your excuse. London is the kind of city that doesn't encourage spur-of-the-moment meet-ups; it's a city where everyone is always busy and nobody wants to make the hour commute. It's not like a quick motorbike ride down the beach path.
The second time you cancelled, I couldn't decide if I was angry or sad, or maybe both.
And then, after days of no communication at all, you called me.
"Hi you," I heard your voice on the other end, and I couldn't help the rush of feelings that came back. We arranged to meet in a little dive bar in the East End.
You looked different – your hair wasn't as curly, your beard was trimmed, you were wearing a jumper. I looked different, too – my skin paler, my hair straighter, my shoulders covered. You greeted me with a kiss and a big hug.
We spent that whole night talking again, just like we had on the beach. You felt both strange and familiar, like a taste you've had before but can't quite name. Our conversations this time were different, though; there it had been all adventures and wanderlust, our words overlapping each other's, filling in the blanks. Here it was work, our favourite London bars, how much we hated the tube. It wasn't a bad conversation, but it lacked a spark. I could feel us both slipping away, our alternate identities – those wild ones, those ones whose eyes shined so bright – becoming a half-remembered dream.
"This is not who I really am!", I wanted to tell you. "I'm that girl on the beach!" I wanted to prove. But of course this is who I am. I'm the girl who works in the office and who pays her bills on time, but I'm also the girl who wades waist-deep into water and kisses a man she just met, the moon as her witness. Maybe I can't have one without the other. Maybe the best part of me – the part I like most – only exists because there's the other side to balance me out. Maybe you're the same way.
We kissed goodbye, a short kiss. I knew as I watched you walk away that we'd never see each other again, and I was right. You faded into the city landscape, became just another stranger, just another cheshire cat disappearing into the woods.
The Last Time I Saw You is a series of love letters to people I meet on the road (or sometimes right at home). To read more of these stories, click here. Please note that some of the details in this story have been changed to protect the identity of this person.