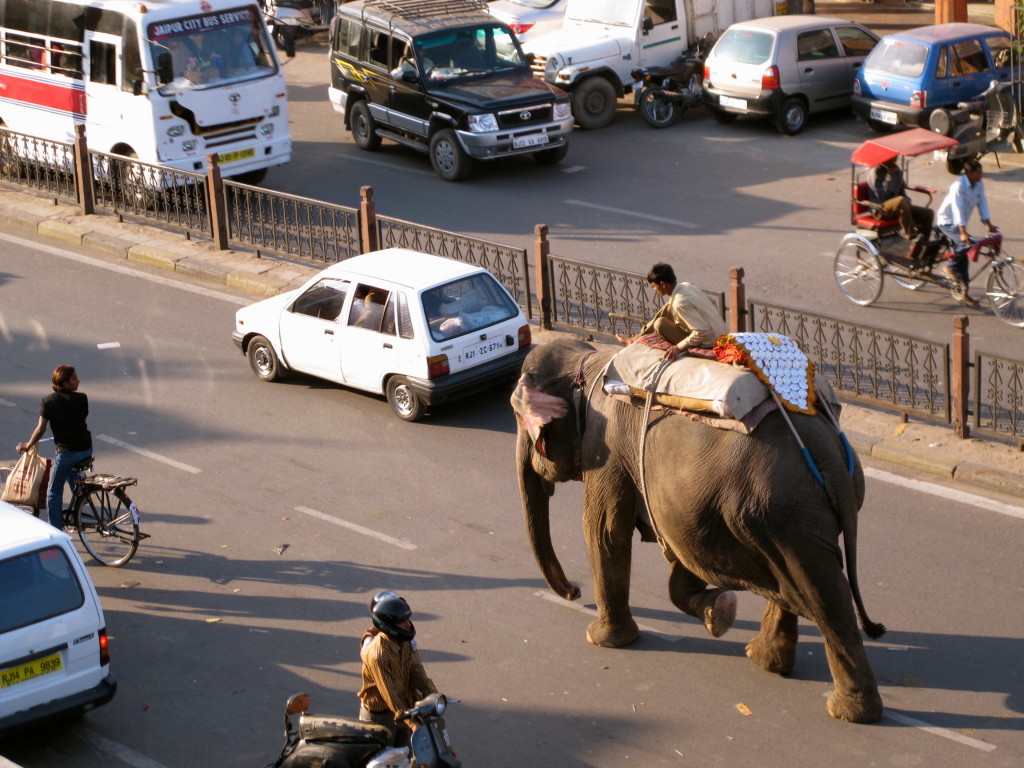 Jaipur, India
12 years ago, I was getting ready to start another day at high school; it was my first week of being in Grade 12, my first week as a prefect. It was picture day, so I had woken up early to spend a bit more time on my hair and makeup, make sure my shirt and blazer were ironed properly. I was in the kitchen when my dad called from work.
"Something happened in New York, " he said. My mum and brother were there, too, so the three of us huddled around the TV and watched with horror as the towers burned. My hometown is an hour behind New York, and so we had been sitting there, eating cereal, chatting about the upcoming day, without knowing what had happened, without knowing that the world was falling apart.
We stayed in the kitchen for as long as we could, missing our bus. Finally, my mum drove us to school. I sat in the front seat, listening to the radio; it was announced that the Pentagon had been attacked. We were silent, staring ahead, my mother white-knuckled. I wasn't scared, I was numb.
When I got to the locker room, nobody else knew what had happened; I lived closest to school and so they had all been on the bus long before I had to leave home. The rest of the day is a blur of worry and tears, of teachers trying their best to console and calm us, of whispers regarding a war on America, terrorist attacks, conspiracy theories. I sat in an English classroom with Shakespeare quotations tacked to the walls as I watched the towers fall. "Oh my God,", we all kept repeating. "Oh my God, oh my God." My teacher was crying. We all cried, quietly and secretly, the boys trying to stay stoic, the girls trying to stay stoic. A few people held hands. At some point we were called to the gymnasium to have our class photo taken, because nobody knew what to do but to keep doing what we were supposed to do. We smiled, empty hollow smiles. The smiles were so forced and our faces so blotchy that the school would redo picture day two weeks later.
At lunch, I called my dad from the main office's phone. "Dad," I sobbed out.
"There's nothing you can do right now, Brenna."
10 years later, I was taking photographs of an elephant walking down the road in Jaipur, India. It had a painted face and bells around its neck, and I was watching as it made its way through the traffic, just another beast on the crowded highway.
"Something happened in Japan," a friend with an Indian mobile told me. My stomach dropped.
"What?" I asked, but he couldn't give me anymore information, as he had received only those blunt words in a text message. I quickly looked around me for anyone who could help: someone with a smartphone, someone who wasn't smiling. Somebody must know something.
"Parakram, do you know anything about Japan?" I asked my guide.
"Oh yes," he responded. "An earthquake. Many people died." This time, my stomach twisted into knots. I instantly thought of the tragedy in Kobe in 1995, and of how close it was to Osaka, my home for over two years. Of all my friends and coworkers. Of all my students.
It was over an hour before I could get to a computer and find out about the tsunami, and I wrote frantic messages to friends even though they were hundreds of kilometres away from Tohoku. Slowly, they responded, and it was clear that nobody I knew directly had been hurt. I spent the rest of the day in a fog, hovering near the guesthouse's one semi-working computer, trying to find out whatever I could. I couldn't even call anyone.
We often talk about disconnecting when we travel, those blissful days or weeks or even months when there is nothing in your life but what's in front of you. There are no phones or TVs or computers, no Facebook or Twitter or email or texting. I have happily travelled without connecting at all: lazy days in Colombia's Tayrona Park, a month in Mongolia and Russia, a week in the desert to partake in Burning Man. I half-heartedly tell my family where I'm going ("I'll be in Berlin from the 4th to the 10th") but they never know flight numbers, hostel names, sometimes even city names. We've always been fairly lackadaisical about things like that. It's not for a dearth of love or care, it's just the way we do it, a family of travellers.
But then tragedy can strike, or something can happen that makes you feel so far from home, each kilometre a stabbing pulse. You can be standing on the side of a highway in India, or in a hostel room in Nepal, or just in the school gymnasium down the street, but you think it, you do, every single time: "I want to talk to somebody I love, I want to know what's going on." We never outgrow this. We are happy to disconnect until something happens, and then connecting is all we can think of, connecting is the hardest thing to do.
I can't even begin to imagine the pain of the families and friends of those lost in tragedies like 9/11. I've always been an outsider to these tragedies, one who watches from afar. One who carries the weight of the day, and of all the years of turmoil after it, but who still doesn't know what to do with it. I'm not even American. And, what the years and what the news have taught me is this: there will always be tragedies. There will be war, and famine, and acts of God. There will be things we cannot control, no matter how many times we call home to talk about it, or tweet about it, or post a link about it on Facebook: there will be days of disaster. Understanding that has been a big part of my becoming an adult, and as we grow we tend to become more and more aware of our own mortality, of the mortality of our friends, our siblings, our parents. Though I'm never told to, I try to connect when I can. It's nice to be without wifi, yes, but it's nicer to be able to tell my family that I love them.
"There's nothing you can do right now, Brenna," my dad's words to me that September morning resonate in my ears from time to time. But there is something I can do, always. I can do it a thousand ways: by text or Facebook message, by WhatsApp voice memo, by picking up the phone, by telling those who mean the most to me face to face. No matter the distance, there's always a way to connect. There's always a way to ensure that, tragedy or not, the people in your life know that you still keep them close.
"I love you, dad." I stammered.
"I love you, too."