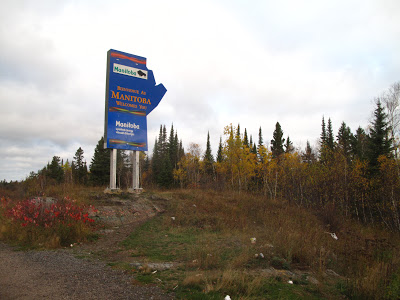 Welcome to (Friendly) Manitoba
I was born and raised in a city called Winnipeg, Manitoba, Canada. For those who don't know, it is a medium-sized city located in the very centre of Canada – when I describe its location to people, I often say that if you were to fold Canada in half, Winnipeg would be in the crease. It's a city known for snow, festivals, and farming.
It's also a city that seems to be the butt of many jokes.
"Oh, you're from Winnipeg?" a young woman from Montreal said to me recently. "I'm sorry."
Sorry for what? It is rude and condescending to say that to somebody, no matter where they're from. There are, certainly, places in the world that are considered to be boring for whatever reason, but I am a firm believer that nobody has a right to judge or comment negatively about a person's hometown. I meet people from London that hate it. I meet people from Paris that think it's a dump. I also meet people from tiny towns in South Dakota that think their home is the absolute best place in the world to live. It's all about perspective, and, unless you've been to a place and have some solid examples of why a place is so terrible, I'm going to call bullshit.
I can't remember how many times people have made fun of me for being from Winnipeg; without fail, none of these people have ever been to the city. "Who's from Winnipeg??" I've gotten. Um, me, obviously. "Don't you all just want to kill yourselves due to boredom?" That one was said to me recently by a middle-aged professor from England, to which I simply replied, "No", and turned my back to him, signalling that the conversation was promptly finished.
I've travelled a lot, and, though I absolutely love big cities, I've realised that some of my favourite places in the world are smaller towns. When I reflect on my past two years of travel through Asia and South America, for example, the highlights are not Bangkok or Panama City, Kuala Lumpur or Lima, even though I've enjoyed those locations. My favourites are tiny Pai and quaint Popayan, sleepy Kampot and relaxed Mendoza. Sometimes I feel that I get to know a country the best by spending time in a smaller place – in cities, we're bombarded by the hustle and bustle, by the crushing of a rush-hour crowd, by a million different restaurants and a million different faces. In smaller cities there's a familiarity, a sense of immediately fitting in. Again, these are just my experiences, but when I talk to other travellers the opinion seems to be universal.
Going back to my own hometown, then, I've found that these past years of travelling have made me appreciate Winnipeg more than I ever could when I lived there. We have snow, yes, but it's beautiful and (can be) fun: cross-country skiing and snowshoeing and ice-fishing and hockey. We have great breweries, fantastic restaurants, and an active music and art scene. We have some of the best festivals in North America, both in winter and in summer. We have perfect weather from June to September, hot and sunny but not humid. We have loyal sports fans, even when our teams leave us for nearly 15 years. We have a rich history, and have been home to many very important Canadians. We survive in even the coldest of temperatures – not only survive, but function quite well despite the freezing cold and the snow (I never once had a snow day in 13 years of school). We have been consistently called the nicest people in Canada, and that's in a country that is known for being really, really nice. We're the goddamn Christmas capital of Canada, all right?! Winnipeg is one great city, despite what the Weatherthans sing.
And, on top of all that, Winnipeg is my city. It's where I was born, and where my mum and dad and sister and brother and most of my favourite people in the world were born, too. It's where I learnt a lot of what I know now. It's where I laughed and loved and cried the most. It's where I started to become who I am today. I don't live there now and I don't plan to live there again, but it will always have a soft spot in my heart.
I'm proud to be from Winnipeg, even if we have the nickname "Winterpeg". Guess what, big city girl who just insulted me? If you were stranded in a snowstorm and couldn't get your car to start, I'd bet you'd be mighty happy to have a Winnipegger around. We'd hand over our mittens and toque for you to keep warm, give your car a boost, share our Timmy's with you…and do it all with a smile.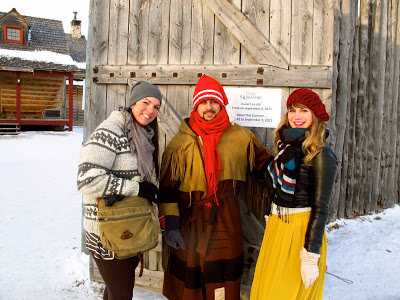 Festival du Voyager (in -30°C)