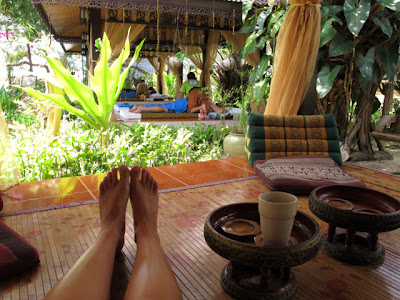 Koh Phi Phi, Thailand
I am seriously addicted to cheap massages/spa treatments when I travel. When I was in Southeast Asia, I got spa treatments a few times a month (or even a week) if I could; the 60 baht foot massages in Chiang Mai, the 40 000 kip full body massages in Vientiane, the 100 000 dong pedicures in Hoi An, they all seemed worth it at the time, despite my backpacker budget. No matter how much I was trying to scrimp and save, I could always justify a few dollars for a relaxing hour spent in a spa or a massage chair.
The advantages of getting these treatments done when in Asia are plentiful: they are cheap (much, much cheaper than in Canada, for example), they can be highly relaxing after a long day of walking around/carrying a backpack/sitting on an uncomfortable bus, and, if you are opting for a "beauty" treatment such as a pedicure or facial, you can feel a little bit glammed-up while you're on the road. The disadvantage is that, even at those cheap prices, these treatments are luxuries, and therefore not necessities (although I personally consider a massage after a 30-hour Vietnamese bus ride a necessity).
That being said, here are some of my favourite spas in Asia, some great spots to unwind and relax after a long day of travelling.
Spa World was one of my absolute favourite places in Osaka, and I frequented it a lot when I lived there. It is a huge complex with multiple services offered; they often had special deals where, for 1000 yen, you could spend the day in the featured onsen (bathing facilities). My friend Ali and I used to lounge around in these pools for hours, trying the salt scrubs, hot and cool baths, tea pools (they literally had huge tea bags floating in the water), hot stone loungers, steam rooms, and mud baths. We would always leave feeling relaxed, cleansed, and refreshed. You must be comfortable being naked (the tiny towels they give you barely covered my Western behind) and all tattoos must be covered by bandages.
When I was in Hoi An in 2009, I ended up going to this spa three times. They had an incredibly relaxed atmosphere, with private massage rooms lit by candles. It was here that I tried a honey and milk massage and a coffee grind massage, both followed by hot baths filled with lemongrass. I was made to feel very special and very comfortable, and I always left in a dreamy, peaceful state. The combination of these massages and
cao lau
, my favourite food of all time, made me stay in Hoi An for nearly 10 days.
Vientiane, Laos: Multiple Spas on Nokeo Kumman Road
Wandering around most cities in Southeast Asia, you'll find a variety of spas and massage parlours. All around Luang Prabang, Bangkok, Pai, Manila, Hanoi, etc., you'll see endless shops advertising cheap massages and other spa treatments. It's worth it to ask other travellers or even your hotel or hostel for recommendations; some of the places are much better than others and sometimes spending an extra dollar or two is well worth it. I found a great string of spas along Nokeo Kumman Road in Vietntiane, close to the Mekong. I had excellent massages as well as a great pedicure, and I found out about these places by asking a server at a nearby restaurant.
Singapore, Singapore: Little India
Little India in Singapore is the place to go if you want to get cheap treatments done. There are multiple shops offering henna (just make sure to check out a portfolio first, and make it clear that you want good henna and detailed designs) as well as threading, which is great for those neglected eyebrows.
Seoul, South Korea: Dragon Spa of Yongsan District
This one comes courtesy of my best friend, Kerri of
expatkerri.com
. I have personally never been to one of the famous Korean jjimjilbangs, but Kerri recommends this particular spa. Not only does it have a variety of hot baths and rooms to relax in, you can also indulge in a multitude of services such as massages, facials, and can even spend the night. The highlight of the spa, however, is that it has a gorgeous rooftop saltwater pool, perfect for a night swim to gaze at the stars. It is a bit more expensive than some other jjimjilbangs, but Kerri assures me that it is worth it.
Pretty Much All of Thailand
OK, so perhaps that is a cop-out, but everywhere I went in Thailand, be it Chiang Mai or Bangkok, Koh Lanta or Koh Tao, deep in the hills of the north or lounging on the beaches in the south, I found some of the best, most affordable spas I'd ever encountered. You simply must indulge in a bone-cracking Thai massage when you are in Thailand; though painful at times, I would always leave feeling wonderful, and, if it's possible, taller. I have so many memories of getting massages in Thailand: a tiny old woman walking across my back and cracking every vertebrae with her toes in Phuket, relaxing with a foot massage after a night of sampling new foods and trying to find bargains at the Chiang Mai night market, nearly falling asleep getting a full-body massage on the beaches of Koh Phi Phi. I can't even imagine how many baht I spent on massages in Thailand, but I would spend it all again.
These are just a few places where I had great spa treatments; there are many more, of course, and there are many times when I didn't have the money or the time to visit a spa (I regret not trying any of the Auyrveda techniques in India, for example). I firmly believe that getting massages and spa treatments is worth it on the road, and I will continue to do so as I travel. I suffer from chronic back and leg pain due to sciatica, and so carrying a heavy bag combined with sitting for hours on a bus, train, or plane often leaves me in a lot of discomfort. Massages are often one of the only things that really make me feel better, so I feel that my money is well-spent. There's also that little extra bonus that it feels amazing to be pampered…
Do you indulge in spa treatments or massages when you're abroad? Do you have any other recommendations for spas in Asia?